Introducing the Hyundai KONA Hybrid & Electric
As one of the market leaders in electrified vehicle technology, Hyundai have a lot to offer when it comes to hybrid and electric vehicles. They've now taken all of this knowledge and expertise and applied it to their compact SUV offering, the KONA.
There are two different ways to go with an electrified KONA - in addition to the conventionally powered petrol models:
Both of these versions offer all of the practicality, space and comfort of the regular KONA, but have drastically lower emissions and are much cheaper to run. Here we explain the differences between the two versions in more detail, so you can decide which one is for you.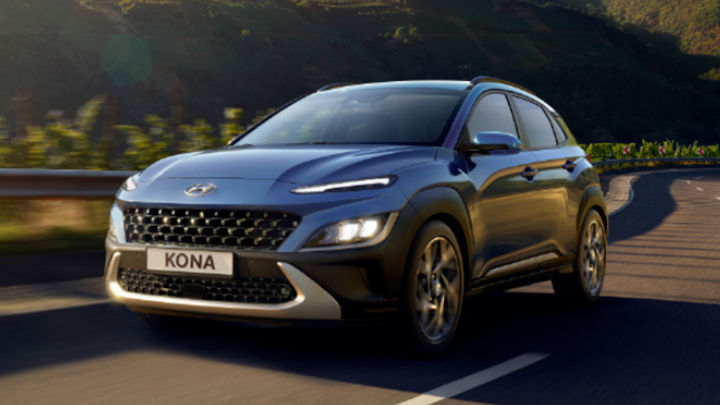 Maximised power with minimised fuel consumption, the KONA Hybrid utilises a 104bhp 1.6-litre GDI direct injection petrol engine and a 41bhp electric motor to deliver a total power output of 141bhp.
The intelligent hybrid (HEV) system can determine the most energy-efficient power source, whilst driving at a constant speed, switching between the petrol engine or the electric motor.
With an impressive all-electric driving range of up to 300 miles the KONA Electric is one of the most convincing all-round electric cars you can buy.
With the notorious 0 to 62mph sprint taking just 7.9 seconds, the KONA Electric delivers a surprisingly exhilarating driving experience thanks to the electric motor providing 100 percent torque instantly to the wheels.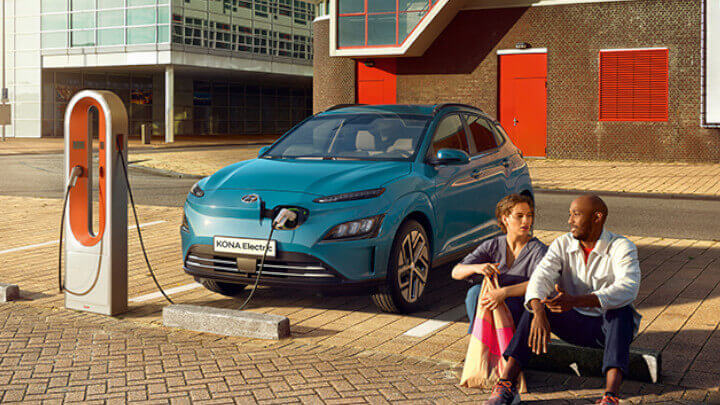 Seeing as the KONA Electric is fully-electric it requires plugging-in to charge either the 39.2 or 64kWh battery, depending on model. Rapid chargers at 100kWh, located at public charging stations, can charge the 64kWh battery from 10 to 80 percent capacity in just 47 minutes.
Alternatively, the more cost-effective option is to charge the KONA Electric at home using a home charging station. In just six hours the 39.2kWh battery variant can be charged from 10 to 100 percent capacity or the larger 64kWh takes a little longer time of just over nine hours. Charging over night is the best option using this method.
If charging your vehicle doesn't appeal to you then there's the KONA Hybrid, which still offers reduced emissions and enhanced performance but it's self-charging. Referred to as regenerative braking, during deceleration the electric motor acts as a generator by regenerating kinetic energy into electric energy and stores it in the battery.
Test drive the Hyundai KONA Hybrid or Electric
The Hybrid and Electric versions of the KONA make a great deal of sense if you're considering an electrified vehicle for your next new car.
Hybrid versions offer better fuel economy and reduced emissions without significantly changing your driving experience, which may be appealing for those who want a more environmentally-friendly car.
KONA Electric on the other hand has the ability to shift your perceptions about what's possible with a mainstream electric car. With a range that's comparable to a normal vehicle and the ability to fully charge up overnight, this is electric driving without the fuss.
To arrange a test drive of either vehicle please contact your nearest Evans Halshaw Hyundai retailer.