What To Do After A Car Accident
13th Jul 2023
By Edward Cook
What to do if you have a car accident
British roads are a busy place, with thousands of motorists using them each day for activities such as the daily commute, school run, and road trips. As humans, we're bound to make mistakes, and unfortunately these mistakes can sometimes lead to accidents or road traffic collisions (RTC).
However, with the shock and panic of an RTC, it's easy to forget what to do to ensure all parties involved can arrange safe recovery and repair. This handy guide provides all the steps you'll need to follow in the case of an accident.
Immediately after the car accident
Immediately after a collision, if you're in good health, there are a few things you can check off your list to make sure everything is in proper order and safe to proceed.
Although it may be difficult to stay level-headed following a car accident, it's crucial to ensure all checks are thoroughly carried out for the safety of yourself and everyone around you.
Check for injuries in a safe place
Following an accident, the priority should always be the safety of all involved. The first thing you'll need to do is stop your vehicle if it's safe to do so. You should then move the vehicle into a safe place away from oncoming traffic. Once there, check for injuries to all occupants of your own vehicle, and double-check the health of other parties, too.
In the case where the car(s) cannot be moved due to damage or injury, you should attempt to give prior notice to oncoming traffic by hand signals, or by using an emergency warning triangle. This way, the risks of a further accident are reduced, especially when visibility is reduced, such as when driving at night.
Initially, it may seem as if there are no injuries, but this may not be the case. Road accidents can produce adrenaline and cause shock, which can sometimes delay or bypass the initial feeling of pain. So, in the case of major accidents, it's always worth getting checked by a qualified health professional to ensure you're okay to drive.
Should I call the police after a car accident?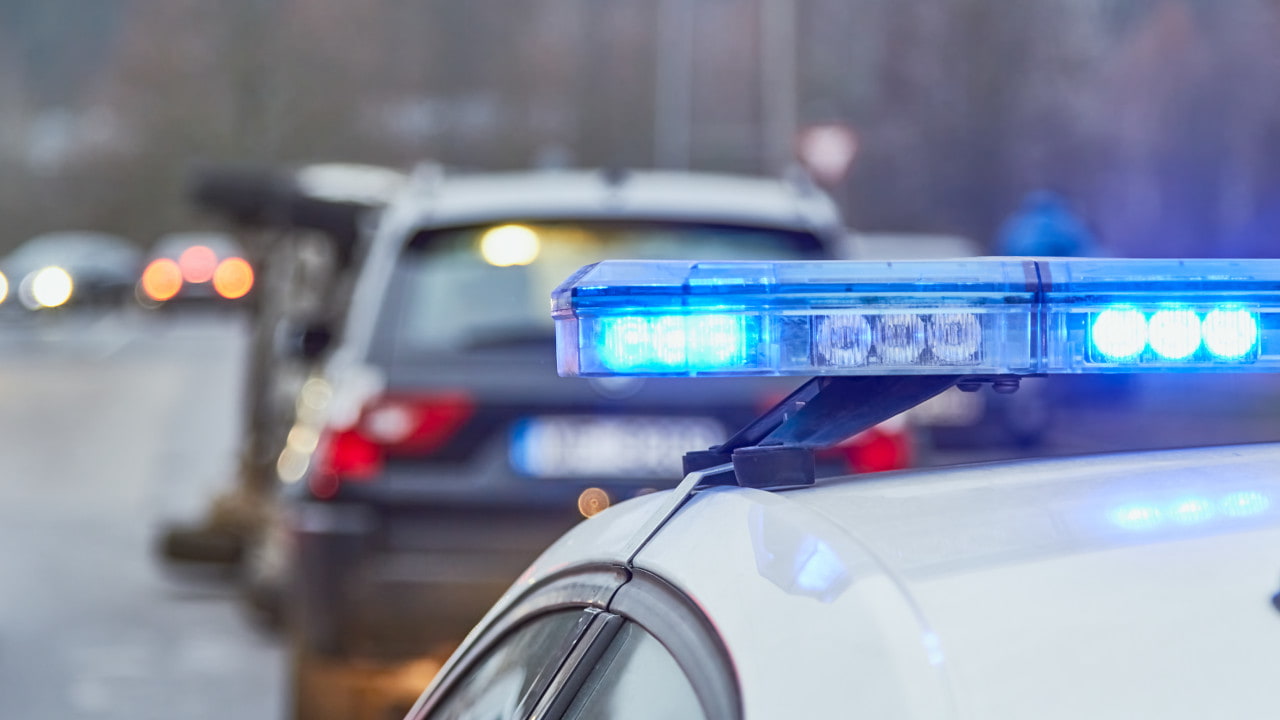 Should a major accident occur, the emergency services should be contacted as soon as possible by dialling 999. Stay calm, and give the responder as accurate a description as possible. This ensures the correct services are sent to the scene. Police will also need to attend if the road is blocked.
The emergency services should also be contacted straight away if you suspect the drivers of other vehicles are under the influence of drugs or alcohol, driving dangerously, or don't have the correct insurance as they will be committing a crime and may be hostile to deal with.
Even when the accident is minor and there are no injuries to either party, it may be worth notifying the police to make a record of the accident. This can be done by dialling 101, which is the non-emergency phone number for the police.
Take Photographs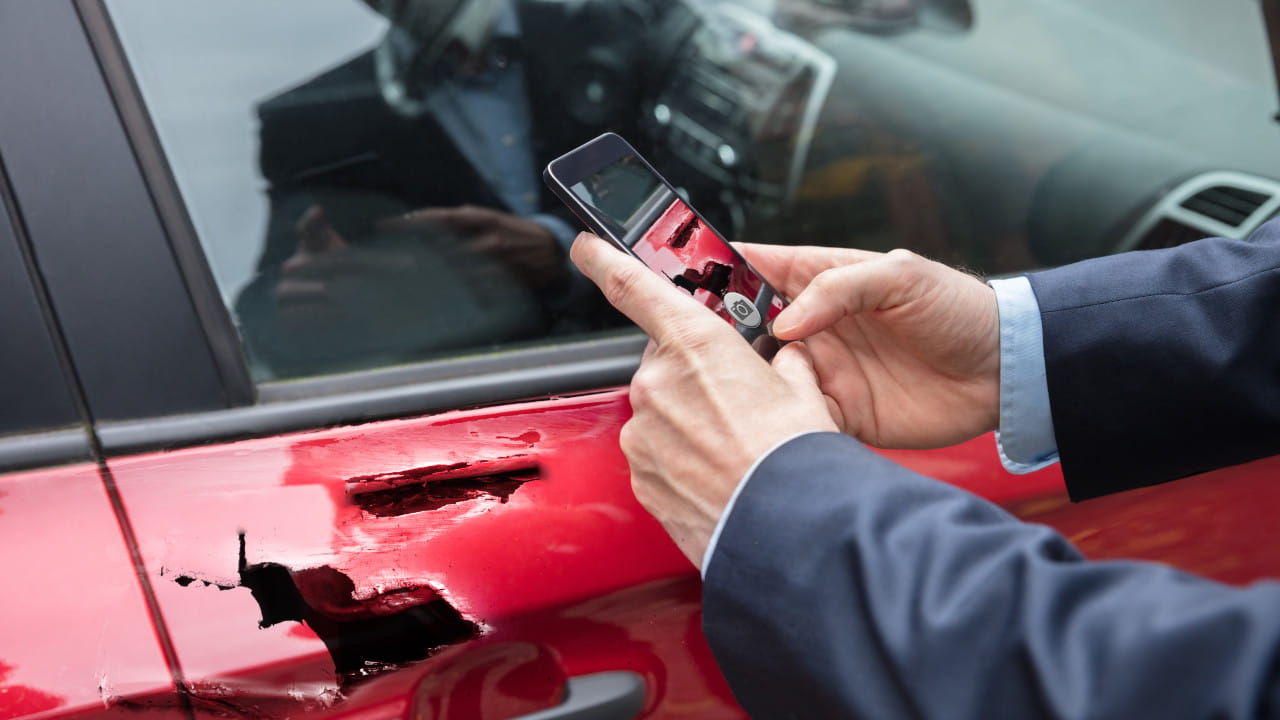 When it's safe to do so, it's worth taking photographs of the vehicles involved, any damage, and the location the accident happened. Photographs can help insurance companies and the police to understand how the accident occurred and can serve as evidence to prove it wasn't your fault.
Photographs also reduce the chances of fraudulent claims being submitted, as some individuals may claim for more damage than that caused in the accident, or claim the accident was worse than it actually was.
Installing a dashcam is also a good idea, as this captures the exact moment the collision happened. If you do have a dashcam installed, remember to make sure the footage has been saved.
What details to exchange after an accident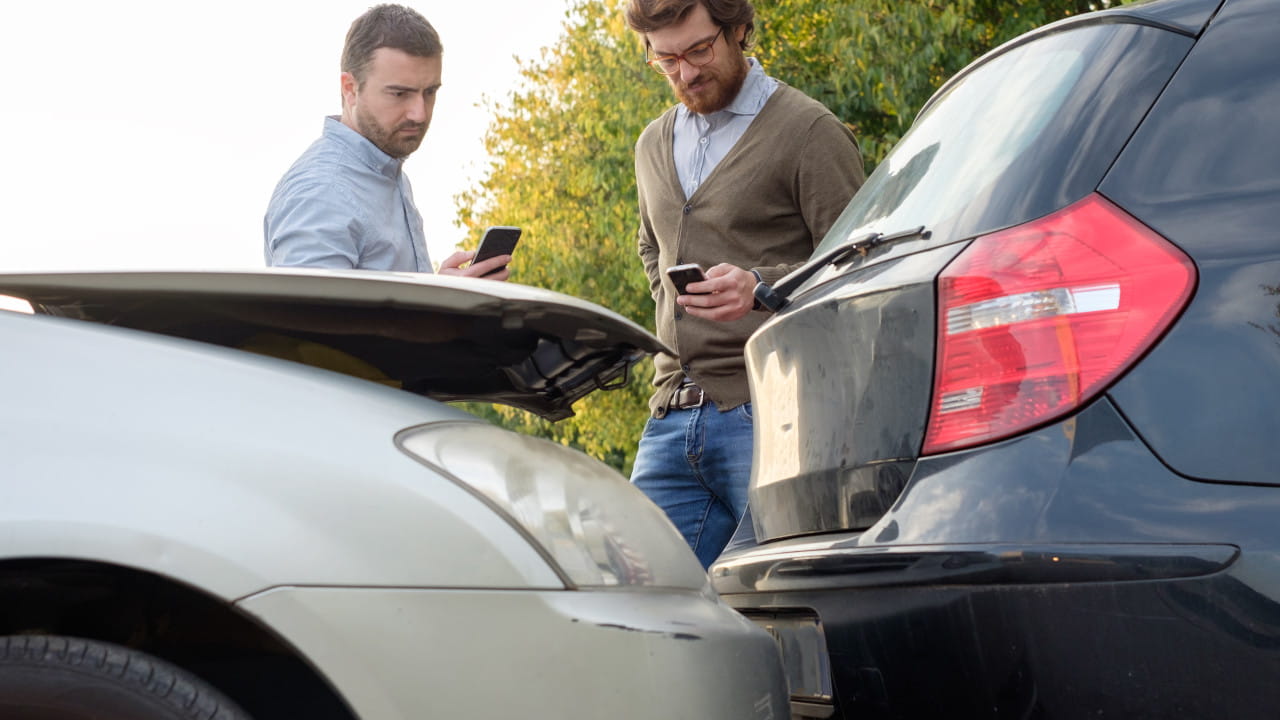 Once everybody is safe and photos have been taken, you'll need to get the following details from all parties involved for insurance and communication purposes:
Names of policyholder(s) and driver(s)
Address
Registration number
Make and model of car, as well as colour
Insurance details
Phone number
If there are any witnesses to the accident then it's worth noting down their contact details too, as they can give a statement to your insurance company and the emergency services if required.
Finally, it's beneficial to make a note of the time and date of the accident, as well as the weather and road conditions. These details can go a long way in working out how and why the accident happened.
Arrange Recovery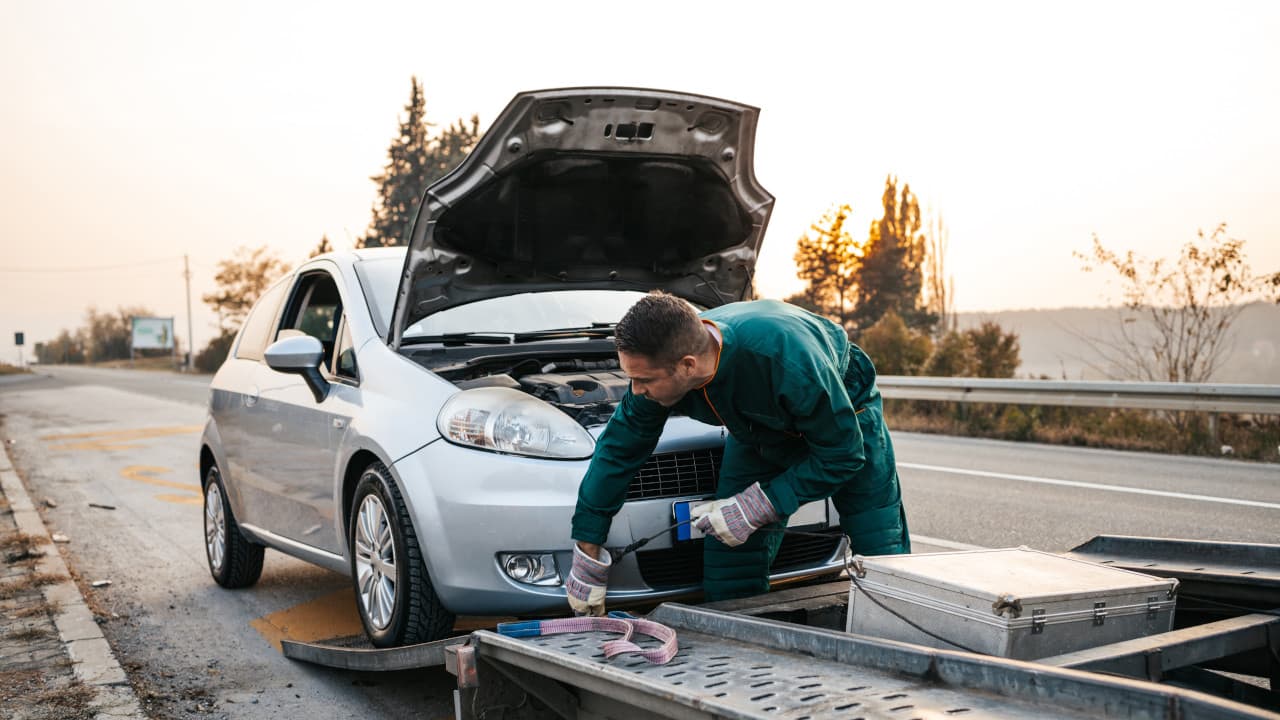 If your car is in an undriveable or unsafe state, then it will need to be recovered. Plenty of insurance companies offer roadside assistance in the case of breakdowns or accidents, so double check yours to see if your provider offers this service.
Once recovered, your car will most likely go to a repair centre that's approved by your insurance company, but again, this may differ dependent upon your insurance policy and cover.
You don't have to have your car recovered and repaired by your insurance provider, the choice is yours, but you may need to pay for the costs of recovery if you choose to do so.
The Evans Halshaw Accident Assistance service offers complimentary recovery in the case of an accident, helping you to get your car repaired at our authorised repair centres and back on the road as soon as possible.
Making a car insurance claim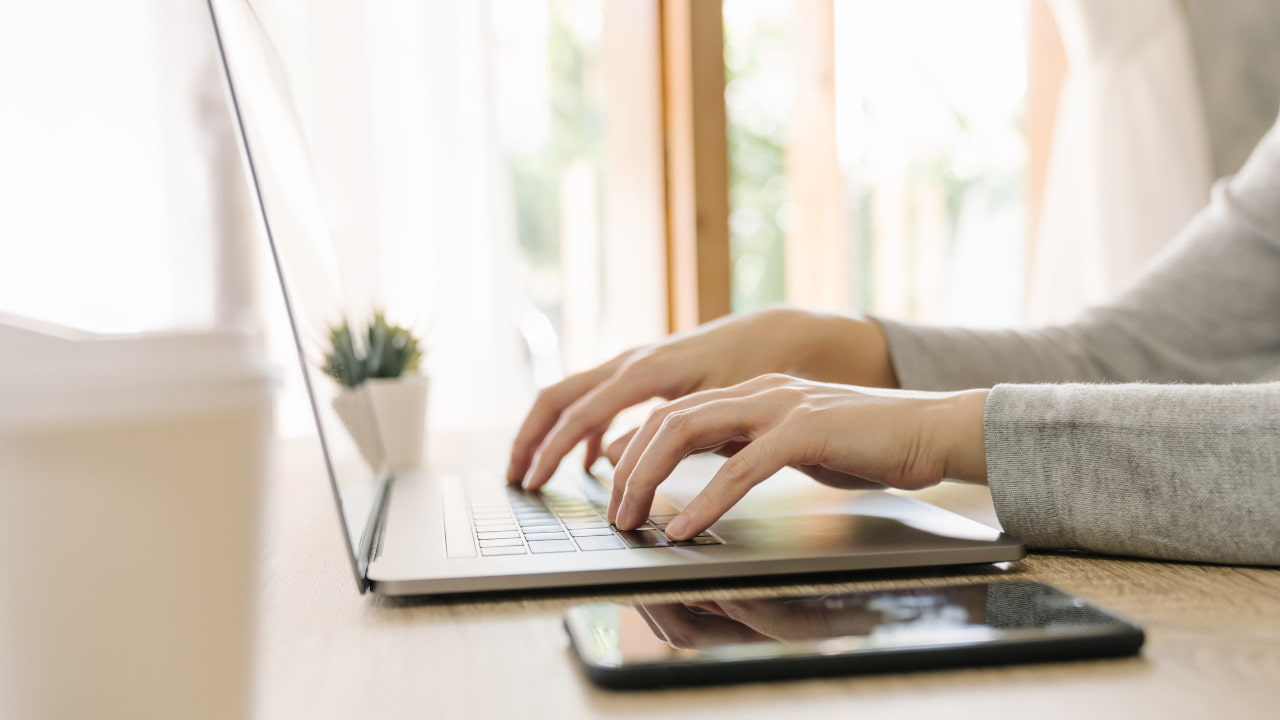 If you didn't contact your insurance company at the roadside, then you'll need to do so when you're back at home, even if you don't plan on claiming on your insurance. Failing to inform your insurance company may lead to your agreement being void, which would need to be declared on future insurance applications.
Whether you were planning on making a claim on your own, or the other party's insurance, you'll need to contact your insurance provider and give them the details gathered at the scene of the accident. You'll also need to let them know if your car has been recovered by a third party, as they will contact the repair centre to arrange repairs.
Those with cars on finance deals such as PCP or PCH may also need to contact their finance provider too, notifying them of the accident and what's happening with the car. If you don't, you may be breaching your contract, so double-check your finance documents.
More motoring help with Evans Halshaw
Being in a car accident isn't a pleasant experience, but unfortunately they do happen on a daily basis across the UK. However, you should now be clued-up on what to do after a car accident, and be fully prepared should the worst happen.
As mentioned previously, the Evans Halshaw Accident Assistance service offers complimentary 24/7 recovery of your vehicle following an accident. We will also arrange repairs with your insurance company and provide a replacement car while yours is off the road.
Our blog section is also home to a wide range of informative articles, including buying, driving, and owner's guides.
Frequently Asked Questions
Is it a criminal offence to sell a car with outstanding finance?
You should strive to report any accidents to your insurance company in a swift manner, as soon as possible, but most insurance providers state you have to inform them within 24 hours, otherwise you may be voiding your agreement.
Can I pay for a car accident without including insurance?
Yes, you're free to pay for repairs to your own and other party's cars (if you're at fault) providing the other parties agree to this arrangement. However, you're still required to notify your insurance company of the accident in case any claims are made against you.
What happens if I crash a car that's on finance?
For the most part, your actions following an accident in a car that's on finance will be the same as a car that's owned outright. However, as mentioned previously, you'll need to notify your finance provider of the accident and any repair work that's being completed.

If your car is deemed as a write-off, then your insurance provider (or the third party's dependent upon fault) will pay your finance company the market value of the car. If the market value of the car is less than what you owe the finance company, then the remaining balance is your responsibility. You may want to consider Asset Protection Insurance (API) to prevent you from being caught out, as this will cover the difference between what you paid for the car and what the insurance company will pay out.
Should I see a doctor after being involved in a car accident?
If you or any of your passengers are suffering from any serious injuries directly following the car accident, you should contact emergency services right away, where they can send you an ambulance or advise you to go to A&E. However, if you suffer with mild pain or other symptoms after a car accident, it's important to get in touch with your GP for an examination to make sure it's nothing too serious.
What should I do if I am stranded on the motorway hard shoulder?
If you've ended up on the hard shoulder of a motorway, you should:
Attempt to stop as close as possible to an emergency telephone
Turn your hazard warning lights on
Move yourself and any passengers to a safe space
If you're travelling with pets, leave them in the vehicle
What should I do if I crash into a parked car?
The first thing you're required to do if you crash into a parked car is to stop the vehicle, as continuing on could get you in serious trouble with the law. If the owner of the parked vehicle is nowhere to be found, you should leave your name, car registration, and home address somewhere on the damaged car. You can then contact your insurance provider to make them aware of the accident, should you need to make a claim.
What should I do if I hit an animal?
Hitting an animal can be a challenging and upsetting event, whether it's a deer, fox, badger, or a dog. A few simple steps you can take directly after hitting an animal are:
Notify the police
Stop if it's safe to do so
Move the animal to a safe space if possible
Call the RSPCA, where they'll be able to check for a microchip
Check for any tags and call the owners