Top 5: Coolest UK Police Cars
10th Sep 2021
British Police Cars
As motorists we've become accustomed to seeing police cars roaming Britain's roads. We're mostly used to seeing Her Majesty's constabulary driving around in regular hatchbacks and saloons, which include the likes of the Vauxhall Astra and Skoda Octavia.
However, every now and then you might see the police driving something a bit more exotic. That's because the police sometimes invest in higher-powered vehicles to deal with crooks driving an equally fast car. Alternatively, it's not unknown for the police to strike a deal with manufacturers as part of a publicity campaign, which grants them access to some tasty motors.
Over the years, we've seen some incredible pieces of machinery being driven by the police, so we thought we'd highlight five of our favourite models.
BMW 3 Series (330d)
Although there's nothing outlandishly 'cool' about a regular BMW 3 Series, there is something appealing about the 330d you see here. Powered by a turbocharged 3.0-litre diesel engine, this version of the 3 Series produces 245bhp alongside a decent wedge of torque. Speed certainly isn't an issue, then.
The 3 Series is available as a traditional saloon or as a Touring, which is what BMW call an estate, meaning the police have no issue getting all their kit in the back.
Sure, it's no M3 but then a few eyebrows would be raised if the police were rolling around in a top-of-the-range M car. Therefore, being a diesel the 330d will still pass many petrol stations with ease thanks to great mpg, ensuring criminals will more than likely run out of fuel before the 330d ever will.
Ford Focus ST and Ranger Raptor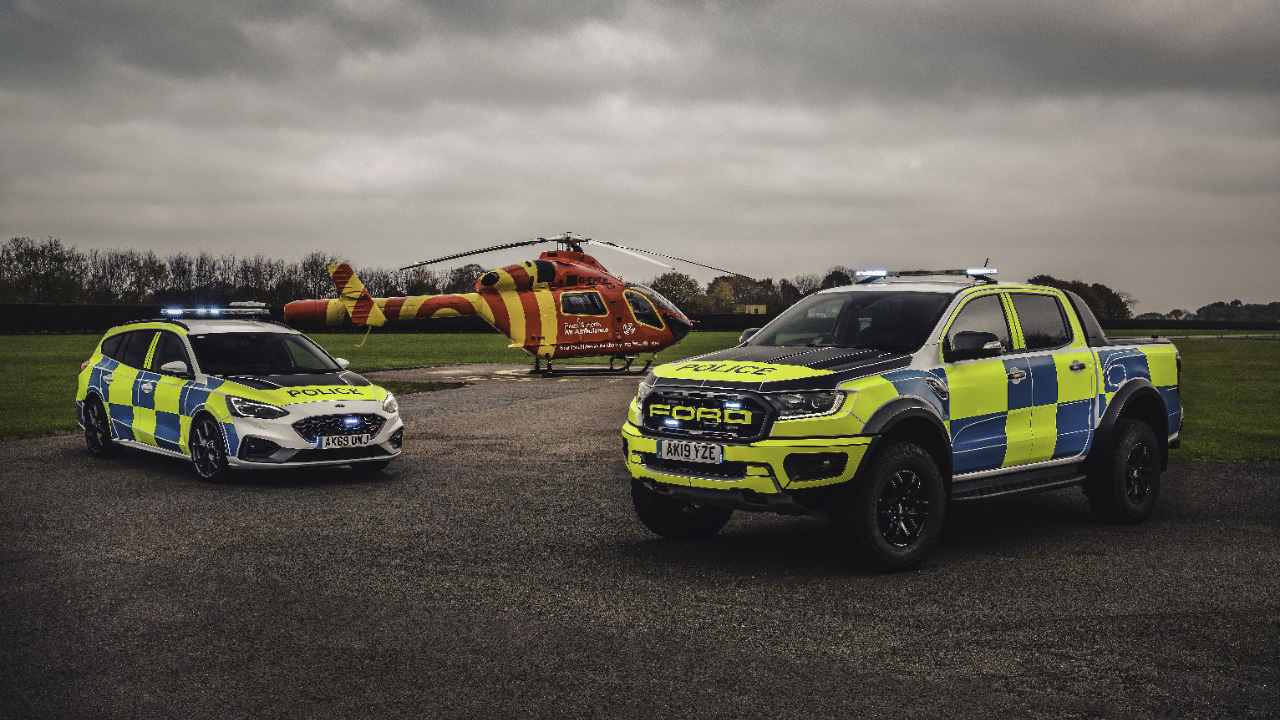 Us Brits love a fast Ford, and that's because they're quick, affordable to own and fun to drive. That combination makes them perfect police car fodder, as we've seen over the years in the form of the Sierra Sapphire Cosworth and Escort Cosworth.
The love affair between Ford and the UK police has continued in recent years, with different forces getting to test the two cars you see here: the Focus ST and the Ranger Raptor.
With 280bhp and a sophisticated suspension setup, the Focus ST is ideal for tackling criminals who try and escape using the roads. However, for the occasions when the going gets muddy, there is the Ranger Raptor, which is fitted with unique FOX suspension and special drive modes as standard.
Lexus IS-F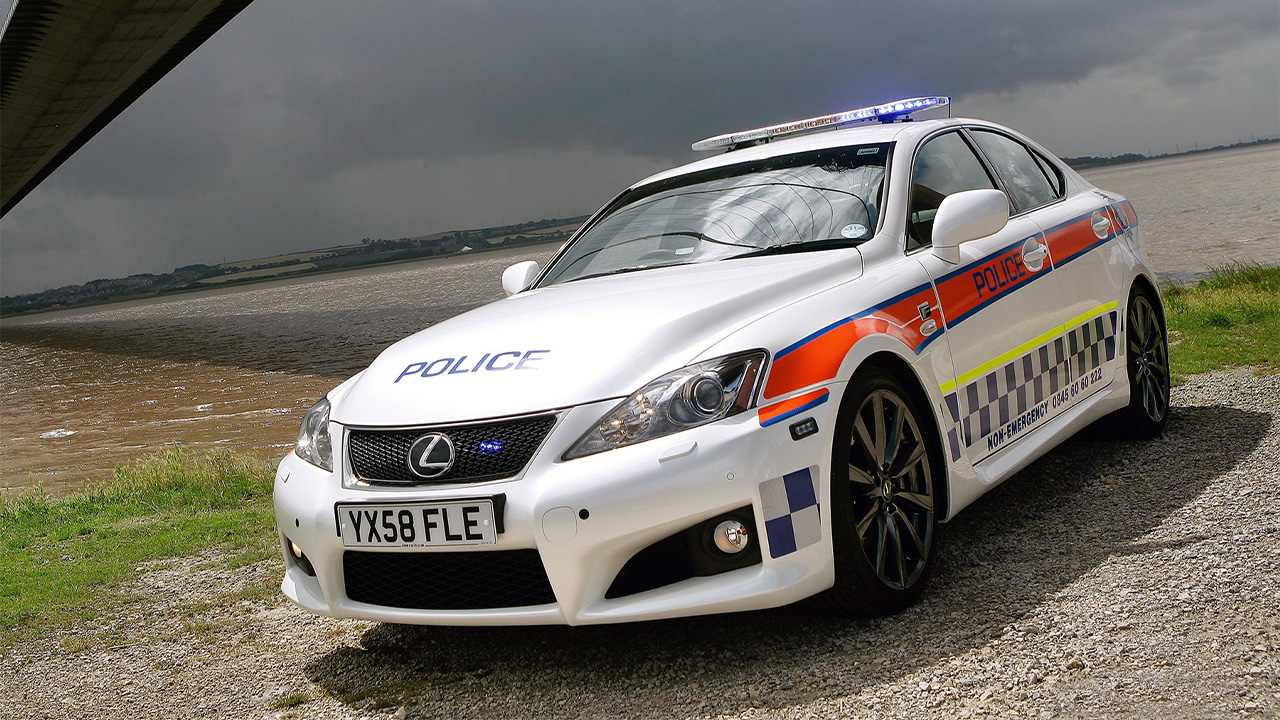 Humberside police caused quite a stir when they opted to spend a considerable amount of money on a Lexus IS-F in 2009. It caused such an uproar at the time, that ex-Prime Minister, David Cameron, targeted Humberside police and their decision to spend over £50,000 on the Japanese super saloon, and a further £30,000 fully equipping it.
Truth be told though, we think the IS-F is a brilliant choice of car for chasing naughty motorists down on the motorway. The reason for that lives under the bonnet in the form of a 5.0-litre V8 petrol engine, which produces a significant 417bhp. Paired with the automatic gearbox, this large saloon can achieve 0 to 62mph in less than five seconds. It sounds good, too.
Perhaps the most appealing thing about the IS-F is just how subtle it is, with the only major giveaways being the quad exhaust tips and large brakes behind the front wheels.
Mitsubishi Lancer Evolution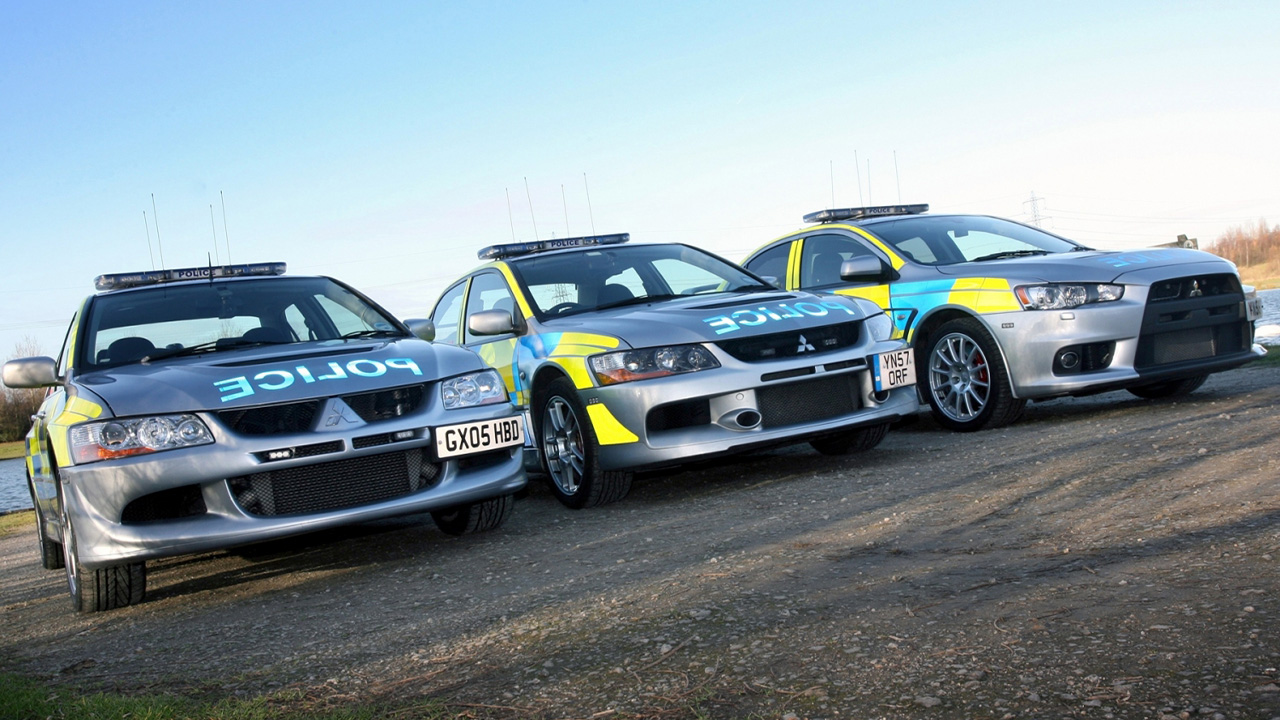 Nowadays, Mitsubishi are known for making economical family cars, with the Outlander PHEV being a prime example. However, there used to be a time when they were renowned for making a car called the Lancer Evolution, which was essentially a road legal rally car with a powerful engine sitting under the bonnet.
Police forces, such as the South Yorkshire constabulary, have had their fair share of Lancer Evolutions over the years, with the last one being the Evolution 10 that is pictured above on the far right.
Regardless of the model, each Evolution 10 came with a turbocharged 2.0-litre petrol engine, which would deliver anywhere between 276 and 403bhp depending on the specification selected.
As you can imagine, it didn't long for the Evolution 10 to hit 62mph from standstill, with the least powerful engine achieving it in 5.2 seconds and the most potent taking just 3.8 seconds.
Unmarked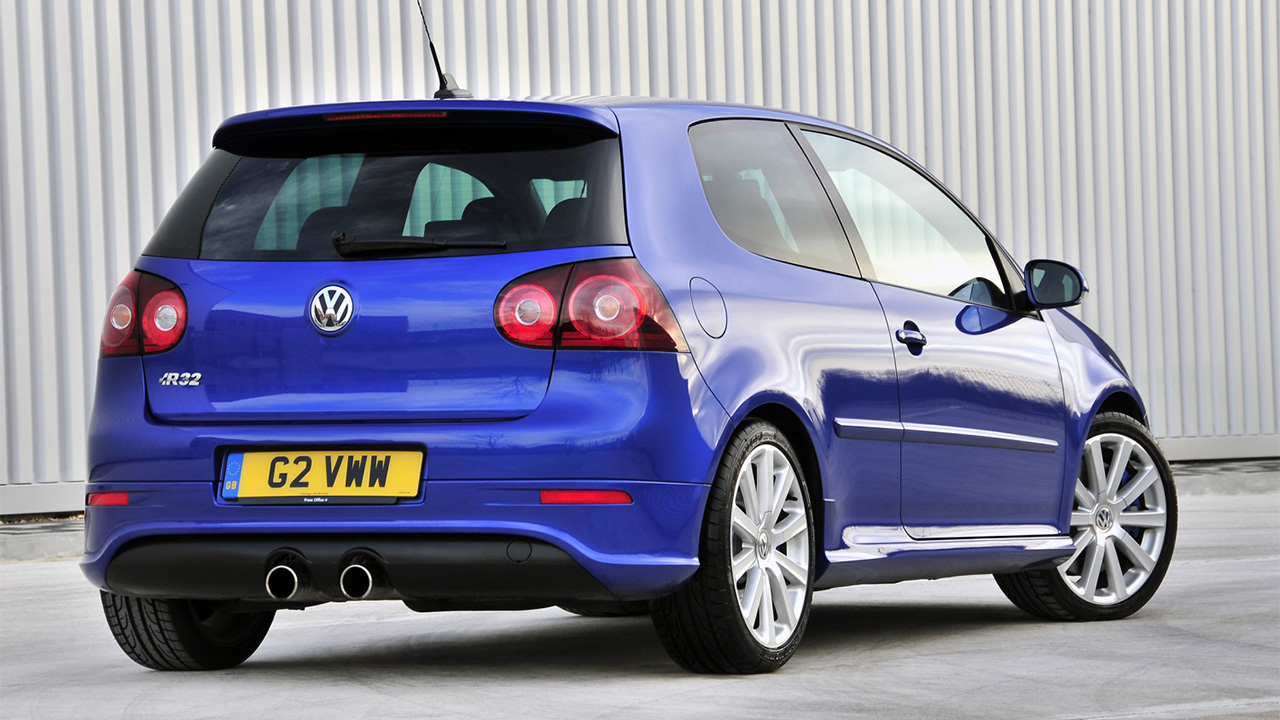 We're going to be a bit cheeky here, because this final section is dedicated towards a type of car, as opposed to a specific model. Here, we're talking about unmarked police cars, which are about as cool as they come.
The reasoning behind that is because they fly under the radar with no livery to let people know they represent the local constabulary. Over the years, various police forces have disguised themselves as regular motorists with a host of incredible vehicles, which include:
Subaru Impreza
Skoda Octavia VRS
Volkswagen Golf R32
Sadly, you won't see an Impreza or Golf R32 flying around after speeding motorists these days because newer and more efficient alternatives are available. One thing's for sure though, you can't beat the noise made by the Impreza's flat-4 engine or the R32's creamy V6.
Explore guides and tips with Evans Halshaw
There you have it, five (well four plus the unmarked cars) of the coolest cars that have been driven by UK police over the years. It's a shame we don't see some of these models kicking around anymore, but it's great to see that the police still have some cool police cars nowadays.
For more interesting articles you can head over to our blog section, where you can also find useful buying guides and generally useful tips.