New Grandland SUV from Vauxhall
03rd Mar 2022
By Chris Russon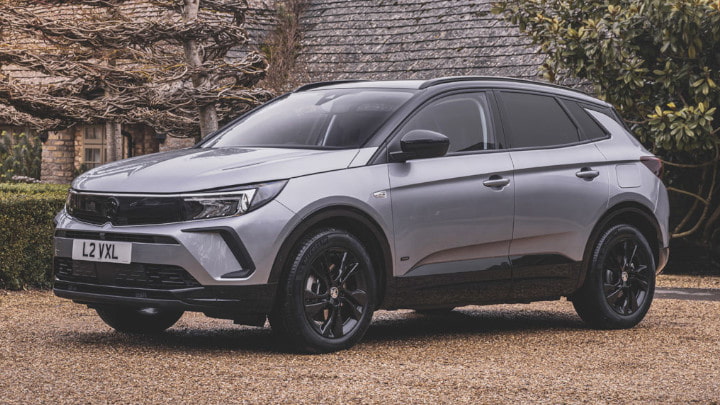 A new Vauxhall Grandland has been revealed, bringing the large SUV right up to date with design cues taken from its smaller Mokka model.
Priced from £25,810 for a 1.2-litre version in Design trim, the 11 model range tops out at £37,375 for a plug-in hybrid in Ultimate specification.
The new Grandland is available with petrol, diesel and plug-in powertrains as Vauxhall continues its electrification strategy with the Hybrid-e capable of up to 39 miles of all-electric driving.
Emissions on the PHEV are down to 31g/km while the 1.5-litre diesel is rated as low as 133g/km with the petrol at 139g/km.
That equates to 211mpg for the hybrid, 54.3mpg for the diesel and 45.6mpg for the petrol.
Recharging the plug-in can be done in less than two hours from a 7.4kW charger or under six hours from a domestic supply.
The diesel Grandland is auto only and priced from £28,310 while automatic versions of the 1.2-litre petrol are also available priced from £27,310.
As with the new-look Mokka, the Grandland now gets Vauxhall's Vizor nose with a single panel across the front of the vehicle, while inside it's fitted with Pure Panel instrumentation with a double screen display controlling most functions.
A new feature is a night vision system with a display on the instrument panel as a £1,300 extra.
Boot space ranges between 514 and 1,642 litres on the petrol and diesel versions, while the plug-in is 390 litres extending to 1,528.
The plug-in develops 225p and is the quickest of the range with a 0 to 62mph acceleration time of 8.9 seconds with a top speed of 140mph.
The combustion engines both have 130ps on tap, with the petrol topping out at 122mph with a 10.4-second sprint time, while the diesel comes in at 12.3 seconds 0 to 62mph and a maximum of 119mph.
Only three trim levels are being offered and all come with LED headlights, lane departure warnings, and cruise control.
Mid-range GS Line specification adds sat nav and adaptive cruise control among it standard fittings, while Ultimate vehicles come with adaptive headlights, keyless entry and a 360 degree panoramic camera set up.