Top Euro NCAP Safety Scores for Nissan ARIYA and X-Trail
16th Nov 2022
By Chris Russon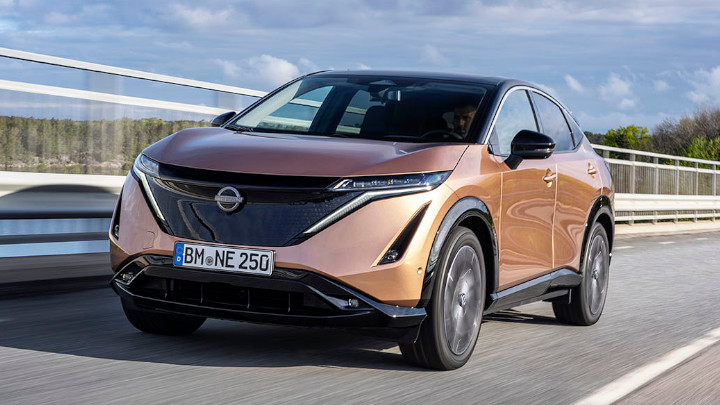 The Nissan ARIYA all-electric SUV and the electrified Nissan X-Trail e-Power have been awarded five star safety ratings in the latest round of Euro NCAP assessments.
Existing five-star ratings for two other Nissan models - the Juke and Qashqai - have also been expanded to include the hybrid and e-Power versions respectively, rounding out the full range of Nissan electric vehicles and electrified crossovers with five-star Euro NCAP ratings.
In the adult occupant protection category, both the ARIYA and X-Trail scored highly, with the ARIYA achieving a score of 86 percent and the X-Trail achieving 88 percent.
In terms of child occupant protection, both vehicles achieved near identical ratings, with the ARIYA at 89 percent and the new X-Trail 90 percent.
In the crash-test assessment for child occupants based on 6 and 10-year old children, the X-Trail scored 23.3 points out of a possible 24, reflecting the protection it offers young occupants. The ARIYA also achieved an outstanding score, with 22.9 out of 24.
Both vehicles also achieved a maximum 12 points for the installation of child restraint systems.
In the category of testing that assesses the vehicle's ability to identify and alert drivers to pedestrians or other exposed road-users, the new X-Trail achieved an overall score of 70 percent, while the ARIYA achieved 74 percent.
Both vehicles feature several active safety aids, including intelligent emergency braking, which warns the driver and applies the brakes if the car anticipates an impact with a vehicle, pedestrian, or cyclist. Moving object detection alerts the driver to a possibly unseen object in proximity to the vehicle.
David Moss, senior vice president, regional research development, for Nissan in Europe, said: "The outstanding performances of both the new X-Trail and the ARIYA , which are very different vehicles, built on different platforms, demonstrates the cross-car strategy Nissan has for its models."
Also achieving five-star ratings in the latest tests were the new Range Rover and Range Rover Sport, the DS 9 large saloon, the Hyundai IONIQ 6 all-electric fastback and the soon-to-arrive new large SUV from Renault, the Austral.