Introducing the Nissan NV400
Nissan's NV400 has built its reputation on dependability and versatility, which is why it remains a strong performer in the UK market.
The flexibility is one of the biggest selling points for the NV400, because it can be tailored to just about any business you can think of. We aren't exaggerating either, because this commerical vehicle is available as a panel van, crew van, dropside, tipper, chassis, or platform.
More than just a flexible piece of transport, Nissan have crammed their largest van with a host of driver aids for a better driving experience. Under the bonnet is much of the same story, with efficiency and performance in plentiful supply.
Nissan's engineers have designed the NV400 to be tailored to your business needs, which is why a number of useful and practical features are included or available.
There's a number of different load lengths, depending on your needs and whether you want your van to be front or rear-wheel drive. The front-wheel drive variant cargo space ranges between 8m3 and 14.8 m3, with payload capacity sitting at between 966kg and 1,684kg.
The rear-wheel drive version ups the game, with cargo space increasing to between 12.4m3 and 17m3, while payload capacity ranges from 1,134kg to 2,254kg.
A low loading sill is standard across the range, while the side sliding door is a must-have for loading large items into the back. Inside you'll find various anchor points and a reinforced steel bulkhead.
The spacious and practical cabin is complemented by Nissan's latest driver aids and safety features, which have been programmed to keep you comfortable throughout every journey.
Manual or automatic air-conditioning is available if you want it, while features such as the automatic-dip headlights and automatic windscreen wipers are guaranteed to make life easier. Better yet, go for the air-conditioning and it will keep food and drink cool when left in the glovebox.
Other available features include DAB radio, a premium audio system with Apple Car Play and Android Auto, as well as Bluetooth connectivity.
Available safety technology overview:
Anti-lock brakes (ABS)
Stability Control
Rear parking sensors
Tyre Pressure Monitoring System
Lane Departure Warning System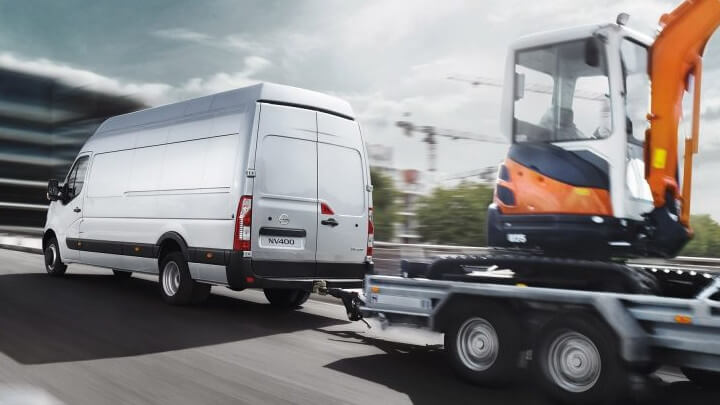 The flexibility of the NV400 continues under the bonnet, with a wide variety of engines available depending on the drivetrain you have selected. Regardless of the variant you opt for, service intervals are every 2-years or 25,000 miles.
Each engine descends from a 2.3-litre dCi turbodiesel engine and is readily available with five different outputs, which range from 135bhp up to 180bhp. Despite their punchy nature, they meet strict Euro 6 emissions standards thanks to the inclusion of features such as the diesel particulate filter (DPF).
As standard, you get a 6-speed manual gearbox across the majority of the range. However, opt for the 150 bhp or 180 bhp engine and you get a 6-speed automatic transmission, which optimises performance and efficiency.
Visia
Specification highlights:
Gross Vehicle Weight: 2.8T
Front-wheel drive
Seating capacity: 3
Length: L1
Height: H1
Driver seat with longitudinal & height adjustability
Nearside sliding door
Full steel bulkhead
50:50 split 180° unglazed rear doors
DAB Radio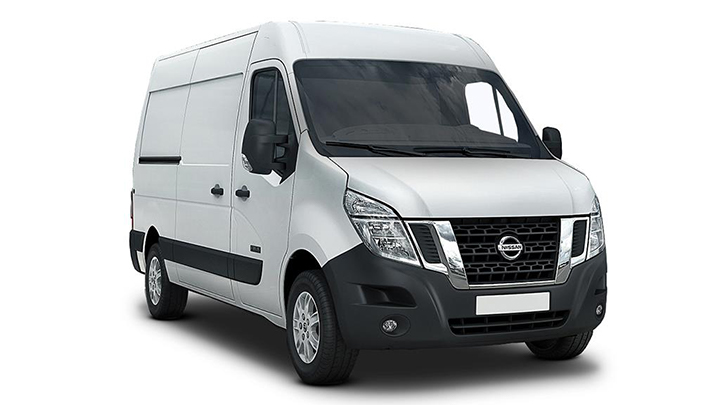 Acenta
Specification highlights:
Gross Vehicle Weight: 3.3T or 3.5T
Front (FWD) or rear-wheel drive (RWD)
Seating capacity: 3
Length: L1- L4
Height: H1- H3
In addition to Visia
One-touch driver window
Lumbar support on driver seat
105 litre fuel tank
Rear parking sensors
Cruise control and speed limiter
Available as Panel Van, Crew Van, Tipper, Dropside, Platform or Chassis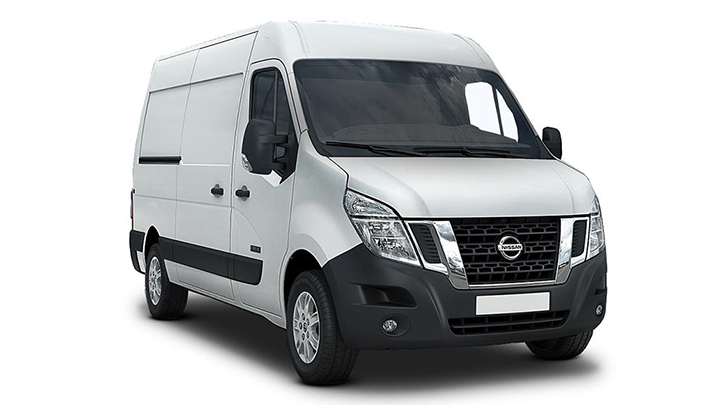 Tekna
Specification highlights:
Gross Vehicle Weight: 3.3T or 3.5T
Front (FWD) or rear-wheel drive (RWD)
Seating capacity: 3
Length: L1- L3
Height: H1- H3
Manual air-conditioning with pollen filter
Automatic wipers & headlights
Front fog lights
Note: Available as Crew Van, Tipper, Dropside, Platform or Chassis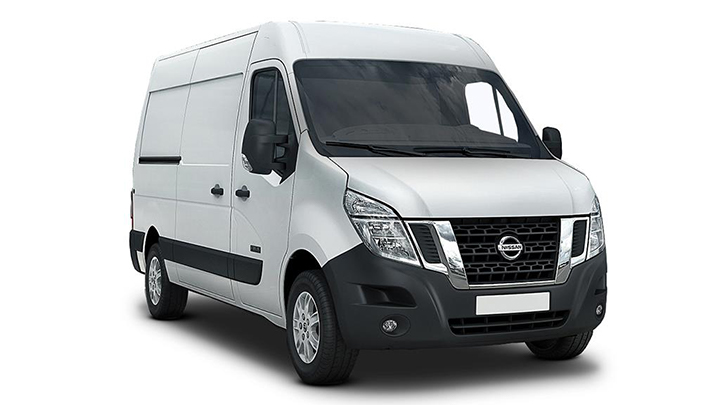 Test Drive the Nissan NV400
Having read the above, it's easy to see why the Nissan NV400 has been such a strong performer for the Japanese manufacturer. The van's practical nature is enhanced by the sheer amount of versatility during the configuration process.
To top it off, a wide array of clever technologies are available alongside a number efficient engines and gearboxes. All-in-all, this is an excellent large van for any profession.
Fancy taking a look around an NV400 for yourself? Why not contact your nearest Evans Halshaw Nissan retailer and arrange a viewing. Alternatively, view our latest offers.