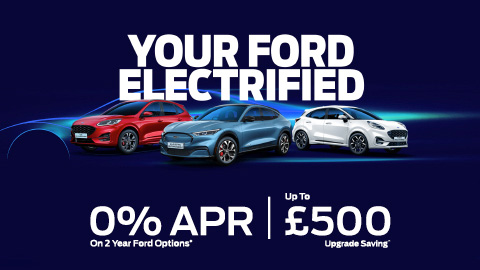 0% APR Representative and £500 upgrade saving available across selected new Ford electric and hybrid electric models.
Introducing the Ford Kuga Full Hybrid and Plug-in Hybrid
Cleaner, quieter and more sophisticated SUV driving can be expected with both the Ford Kuga Full Hybrid and Plug-in Hybrid.
Whether you opt for the model you charge by plugging-in or the model that is self-charging, both offer a more efficient drive with lower CO2 emissions and cheaper running costs, compared to the conventionally powered Ford Kuga.
Pure electric driving is an option in both hybrid vehicles, with the ability to engage the internal combustion engine for longer journeys; they really do offer the best of both worlds.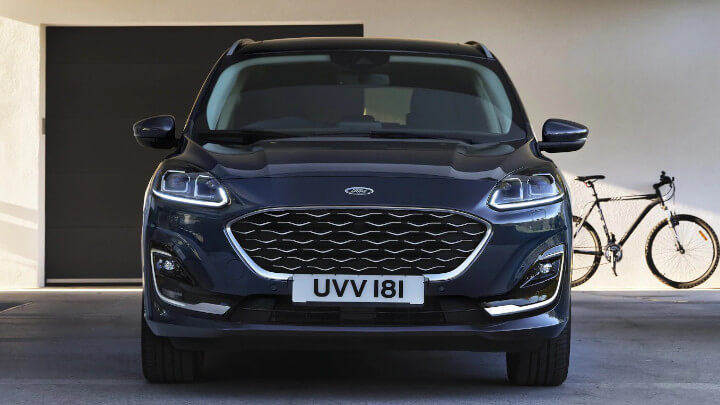 Combining a highly efficient 2.5-litre petrol engine with a battery-powered electric motor, the Kuga Full Hybrid (FHEV) has a larger battery than the mild hybrid (MHEV) version, enabling it to store more power to further improve fuel economy and allowing drivers to travel short distances in pure electric mode.
Due to be a self-charging hybrid the Kuga FHEV allows drivers to appreciate enhanced efficiency without having to alter their driving style. Just like the MHEVs, the FHEV recaptures energy usually lost while decelerating to recharge the battery.
If you're wanting a vehicle with significantly lower CO2 emissions (32g/km) and the ability to drive further in all-electric mode, the Kuga Plug-in Hybrid (PHEV) will be the better option for you. Delivering a combined power output of 222bhp, the PHEV model can be driven on just electric power for up to 35 miles.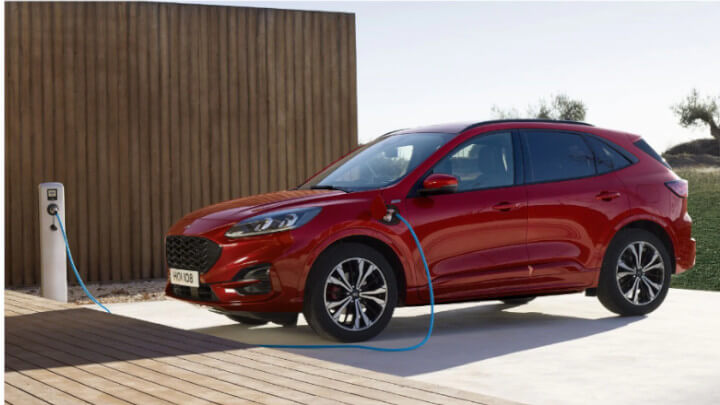 Charging is the main differentiator between the FHEV and PHEV Kuga. Aforementioned, the FHEV is self-charging so you can drive in the exact same way you would a traditionally-powered vehicle.
However, the PHEV has a larger battery which requires plugging-in to a power source to recharge. Ultra fast charging from zero to 100 percent in under 3.5 hours is achievable with the Ford Wall-Box, which can be installed at your home as an optional accessory.
Alternatively, you can use a standard 3-pin socket, but this will take much longer. There are also thousands of public charging stations located around the UK found at motorway services, supermarkets and even at the side of roads.
Test drive the Ford Kuga Full Hybrid and Plug-in Hybrid
All the advantages of the petrol and diesel-powered Ford Kuga, the benefits of an SUV and the perks of an electrified vehicle. Choosing either the plug-in hybrid or full hybrid versions of the Kuga will ensure you retain the driving pleasure experienced in the traditionally-powered Kuga with the extra appeal of a more environmentally friendly and cost effective vehicle.
If you would like to test drive the Ford Kuga Full Hybrid or Plug-in Hybrid, please contact your nearest Evans Halshaw Ford dealership.