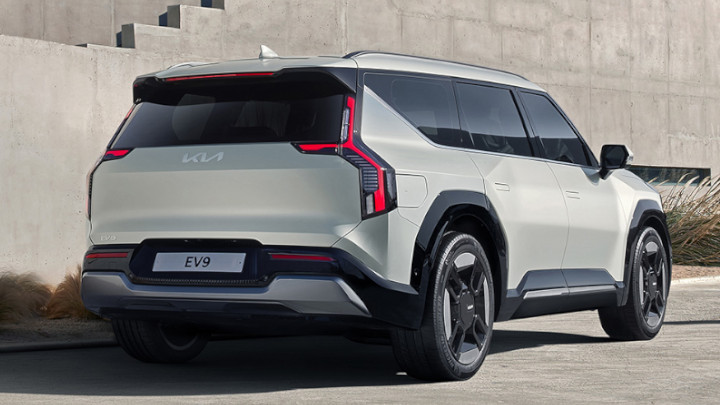 Kia are bringing a game-changing all-electric SUV to the market, the EV9. This modern and bold EV is the first 3-row SUV in Kia's range of cars, making it a great option for larger families needing a bit more room.
Adding to their electric range, Kia are dedicated to providing more sustainable solutions, and the EV9 is the next step in that journey.
With a sophisticated and sleek design, plenty of intelligent features and technology, the EV9 will provide an incredible experience for drivers.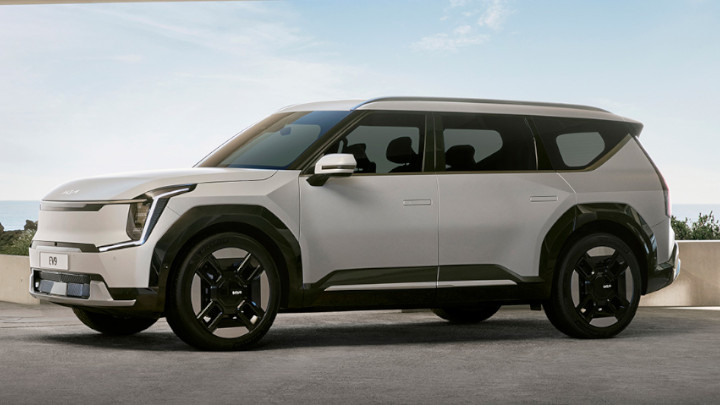 With a muscular body and impressive stance, the EV9 really brings the wow-factor. It's rugged yet sophisticated, with clean-cut and smooth lines, bringing plenty of detail and style to Kia's range.
The 'Digital Pattern Lighting Grille' at the front coupled with the EV9's 'Digital Tiger Face' gives a futuristic feel. The Digital Tiger Face is made up of small cube lamps with corresponding bodywork to give a new and modern lighting pattern, which will be featured on future Kia EV models.
The EV9 will be offered in two formats, with either six or seven seats available that can be configured in different ways to provide the most flexible and comfortable experience for everyone. The second row of seats can be swivelled 180 degrees, so they can be facing the third row of seats, providing endless entertainment opportunities for bigger groups or families.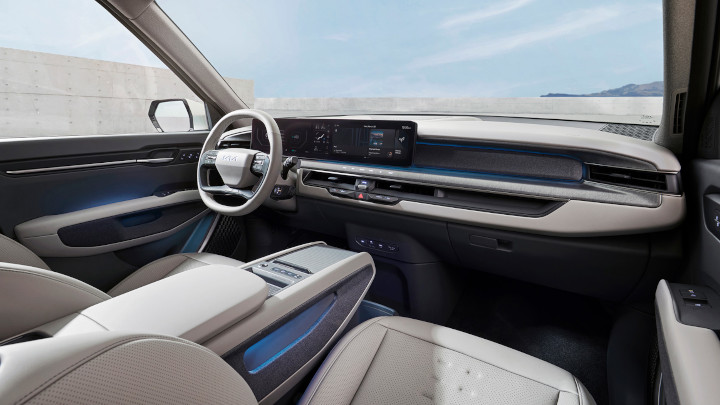 When it comes to technology, Kia haven't held back with what's on offer with the EV9. Two 12.3-inch touchscreens are integrated with a 5-inch segment display to give the best digital experience possible and making functions easier to control with less physical buttons.
The extended display high-definition audio, visual, navigation, and telematics (AVNT) screen gives a real immersive and enjoyable experience. Under this screen are a selection of hidden touch buttons that can control the screen as well as the heating, ventilation, and air conditioning. All of this makes for a very user-friendly vehicle.
There are handy charging points for mobiles throughout the cabin, including in the third row, so even the passengers at the very rear of the vehicle won't miss out on all the fun tech the EV9 has to offer.
The Kia EV9: Coming soon to Evans Halshaw Kia
With state-of-the-art technology, and a modern and bold design, the EV9 is sure to be a hit in the electric market. And as Kia's first electric SUV offering three rows of seats, it offers all the practicality and space you could possibly need for a large family.
If you'd like to find out more information regarding the Kia EV9, or to be first in line when the order books open, please contact your nearest Evans Halshaw Kia dealership.