Is the Hyundai IONIQ the right Motability car for you?
'At last, a hybrid that doesn't make you suffer from its green ideals. Top of the class' - Top Gear Magazine. The Hyundai IONIQ Hybrid is an exceptional car to own through the Motability Scheme because of how efficient it is, with over 60mpg realistically achievable!
The interior is certainly well-equipped, with plenty of driver aids to keep you in-check should you get into a spot of bother. The slick infotainment system is easy to use, with all the buttons laid out in a logical design.
Despite having an electric motor, interior and boot space is remarkably good. There is plenty of room for passengers sat in the rear. And it's easy to get into the back thanks to the wide opening doors that aren't impeded by the rear wheel arches (it makes a difference, trust us). The boot is substantial; the hatchback nature means it provides a massive opening, ideal for transporting large and bulky items.
What versions are available?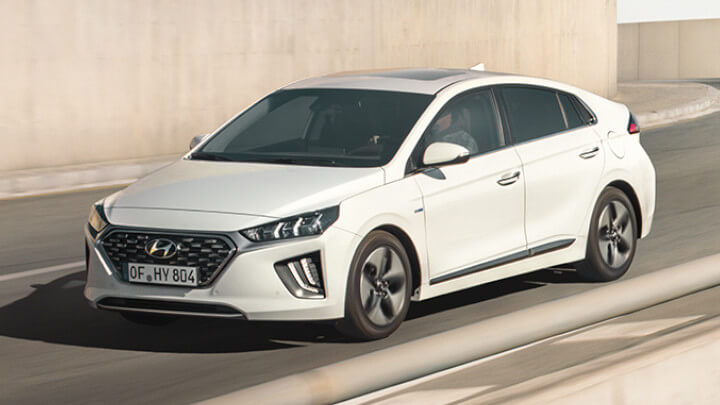 Engines and transmissions
Only one powertrain is currently on offer to Motability customers. However, the 1.6-litre petrol hybrid is highly efficient and extremely reliable. All available models come with an automatic transmission.
Bodystyles
The IONIQ is a practical five-door five-seat hatchback, despite looking like a saloon.
Model variants
There are a few different variants of the IONIQ available with Motability. Each model is well equipped with rear parking sensors, climate control and alloy wheels as standard.
Order the Hyundai IONIQ through Motability at Evans Halshaw
The Hyundai IONIQ is designed with pure efficiency as its priority. However, there's so much more than efficiency to brag about with the IONIQ; such as stylish looks, a comfortable interior and advanced technology featuring throughout.
If you'd like to learn more about the IONIQ, please contact your nearest Evans Halshaw Hyundai dealership where a trained Motability specialist will be able to answer any questions you may have, or take you for a test drive.