The Future of Commercial Vehicles
Plug-in hybrid electric vehicle technology is new in commercial vehicles, and Ford have launched the first ever plug-in hybrid one-tonne van: the new Transit Custom Plug-in Hybrid.

Its 35-mile electric-only range and 310 mile total range are sufficient for a multitude of business uses, and the selectable driving modes are designed to maximise available battery charge and minimise vehicle emissions.

With an ever-increasing number of ultra-low emission zones popping up across Europe, now is the right time to invest in a van that is at the forefront of plug-in hybrid technology.
Zero Emission Driving. Zero Range Anxiety.
Combining the ability to drive emission-free with a lack of range anxiety was a real engineering challenge, but Ford have pulled it off in tremendous fashion.

The new Transit Custom Plug-in Hybrid has the ability to drive up to 35 miles on electric power only, meaning inner-city jobs and short trips can be completed emission free, allowing it to enter the growing number of ultra-low-emission zones that are being introduced in towns and cities.

When the electric range has been used up, the 1.0-litre EcoBoost petrol engine kicks in, acting as a range extender to charge the batteries that power the 123 bhp electric motor, providing a total driving range of more than 310 miles. Official fuel economy is 91.7 mpg, and emissions really are ultra low at 60 g/km. The battery pack is covered by an eight-year 100,000 mile warranty.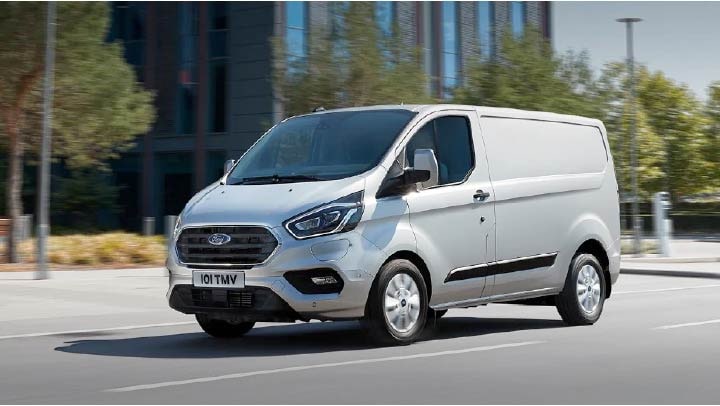 Hybrid Driving with the Transit Custom Plug-in Hybrid
Rechargeable in 4.3 hours from a domestic 240 volt 10 amp power supply or just 2.7 hours using a commercial-grade type-2 AC vehicle charger, the four selectable EV modes allow the driver to choose how and when to use the available electric range.
EV Auto lets the vehicle's control algorithms monitor battery energy levels and the current driving scenario and decides whether to activate the petrol engine for more charge
EV Now makes use of stored battery energy for emissions-free driving, deactivating the range extender until battery levels reach a minimum state of charge
EV Later prioritises the range extender and leverages regenerative charging to most efficiently maintain the current level of battery charge, ready for later use
EV Charge utilises the petrol engine to charge the batteries so that they can be used later on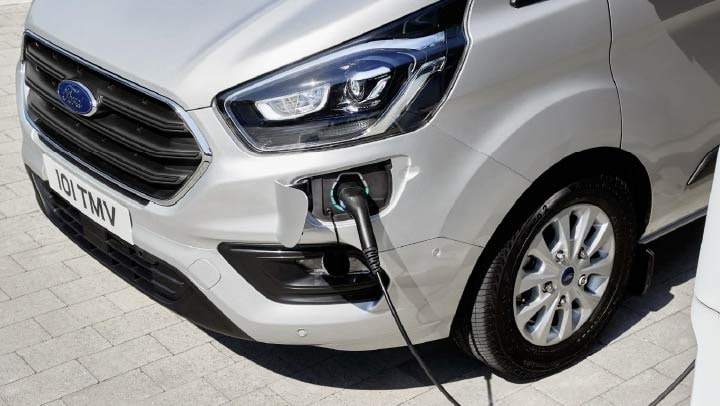 Equipped for Business
The Transit Custom Plug-in Hybrid is a true Transit model at heart, and will be offered in the popular L1H1 variant in either van or Kombi bodystyles.

Tradespeople will be pleased to learn that the 6.0 m3 load volume is unchanged from the traditional Transit Custom, and the net payload is a generous 1,130 kg.

Standard specification includes air conditioning and a heated windscreen, while Ford's innovative SYNC3 communications and entertainment is available as an optional extra too.

Available safety technologies such as Active Park Assist and Lane-Keeping Alert are designed to mitigate or prevent accidents from happening in the first place.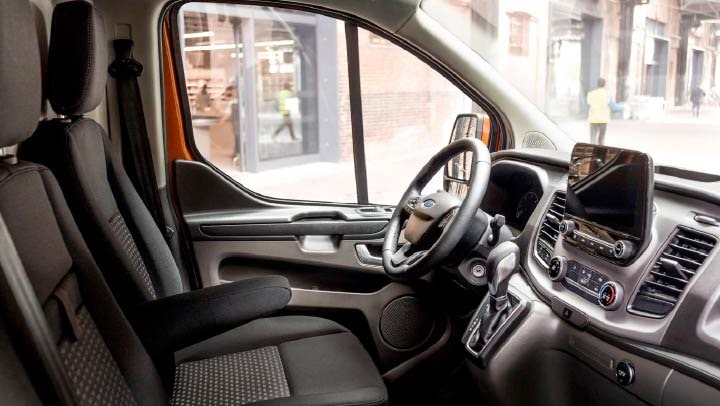 If you've been waiting for the right time to electrify your business fleet, the Transit Custom Plug-in Hybrid is ready for you. With a genuinely useable electric range and comparable total driving range to a traditional van, there really aren't any drawbacks to plug-in hybrid van ownership, especially with the vastly reduced running costs.

Contact your local Evans Halshaw Ford Transit Centre to experience the future of commercial vehicles for yourself.