Used Dacia Duster Commercial for sale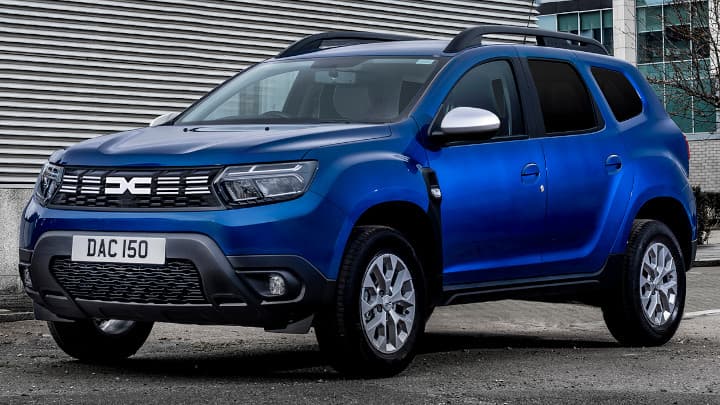 The Dacia Duster Commercial has been around since 2015, showcasing a very simplistic idea. In layman's terms, Dacia has taken the Duster SUV, removed the rear seats and replaced them with a fixed loading area - effectively turning it into a van.
With only a few SUV-like commercial vehicles on the market, with the others being premium offerings from Land Rover in the form of the Defender Hard Top and Discovery Commercial, the much more affordable Dacia Duster Commercial has an attractive niche.
But what are the other highlights in opting for a Dacia Duster Commercial:
Drives like an SUV
Affordability
Spacious and practical
Decent load area
4WD ability
Economy, Towing, and Performance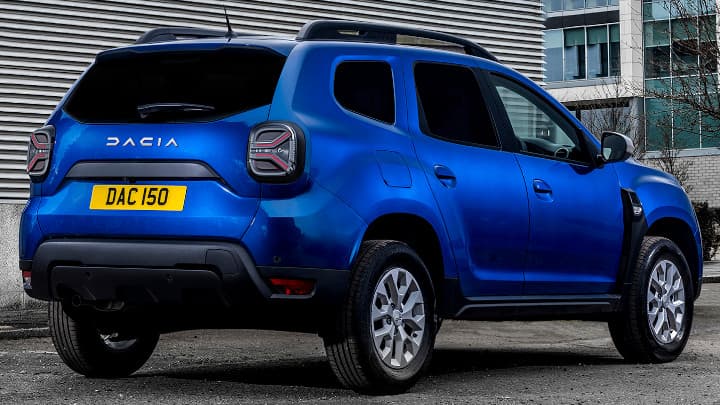 Economy in the Dacia Duster Commercial range is very good. The petrol versions will return around 45mpg, whilst the diesels will return around 57mpg.
If you're looking to tow with your Dacia Duster Commercial, all versions feature an unbraked towing rating of 750kg - as is the limit. The braked towing rate is 1,500kg.
Performance is also decent, with the option of 2WD and 4WD depending on what your needs and wants are. As is the case with many vehicles, entry-level trims perhaps won't be for everyone, so if you want to carry heavy loads and not dent the Duster's performance too much, it's worth seeking out higher spec models, which still represent great value.
Bodystyles, Payload, and Capacity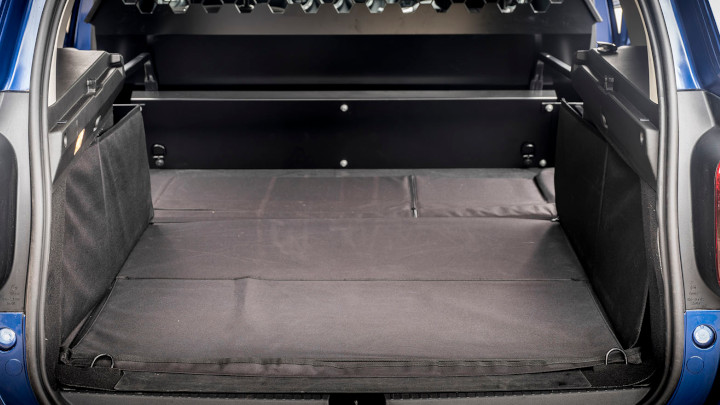 As for bodystyles, there's just the regular SUV-like body, which is not as boxy or stands out as much as a van does. The SUV body also means it drives better than a van, which again has its unique appeal.
Payload ratings depend on the spec of the used Dacia Duster Commercial you're looking at, but ranges from 473kg to 503kg - not massively different, but best to check when buying.
As for capacity, maximum load length comes in a 1,792mm, whilst maximum load height is 814mm for the 4WD and 917mm for the FWD.
Maximum load width is 977mm.
Interior, Technology, and Safety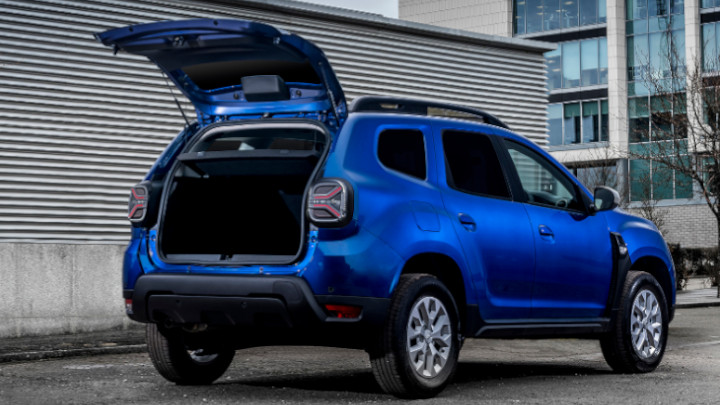 Interiors are neat, unfussy and easy to use. They won't appear to be as amazing as a Land Rover Defender Hard Top with its smart infotainment and digital dials, but the simplistic nature of the Duster Commercial is part of its charm, and affordability. However, the overall vibe still feels better than your average van.
You can get an infotainment screen in later models, but overall the interior does feel robust and as mentioned its simplistic charm does the job well.
Safety is pretty basic, but the essentials are there, so you get airbags, electronic stability control and hill descent control in 4WD models.
Is the Dacia Duster Commercial right for me?
If you're in the market for a used commercial vehicle, but don't like the idea of a boxy van, you can go two ways in the form of a car-based van or SUV-based van.
The Duster Commercial is the latter and has no real direct competitor due to its affordable price. As mentioned, the Land Rover Defender Hard Top and Discovery Commercial are also SUV-based, but are much more expensive.
The Duster Commercial is a great buy, if you're in the market for a unique used vehicle.
Why buy a used van from Evans Halshaw?
Find your perfect used van at Evans Halshaw
At Evans Halshaw, we stock an exceptional range of used vans, with a comprehensive selection of quality, robust vehicles from compact vans to pickup trucks.
All of our vehicles are fully HPI checked, giving you peace of mind when making a decision. In addition, we're able to offer same-day delivery on a selection of used vans, meaning you never have to wait for the van you want.
If you're still in the market for your perfect used van, our friendly associates at your local Evans Halshaw dealership can help you find the vehicle that's ideal for you.