Dacia Jogger Now Available for Wheelchair Conversion
14th Mar 2023
By Chris Russon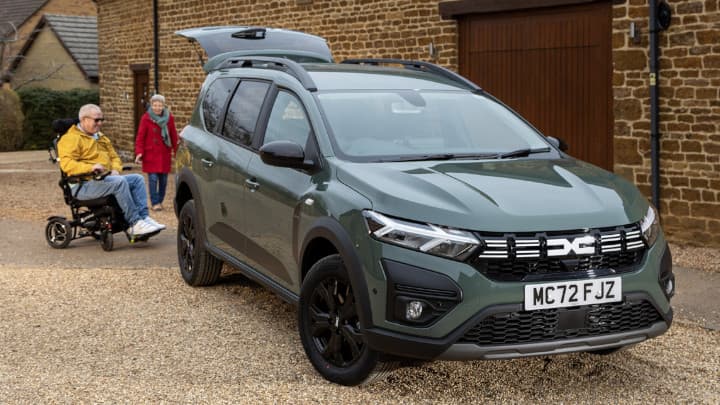 A wheelchair conversion is now available for the Dacia Jogger MPV, making the car more accessible for disabled passengers.
The conversion is being carried out by Sirius Automotive, a company with more than 20 years experience in mobility solutions based in Wednesbury in the West Midlands.
It makes the Jogger the only new wheelchair accessible car in the UK and the vehicle is available through the Motability Scheme from £4,495 advance payment, or for private purchase priced from £26,995 excluding VAT.
Under the conversion, the 7-seat Jogger loses one of its seats to make way for a wheelchair, allowing the passenger to sit with other occupants in the vehicle.
The car brand's 3-year, 60,000-mile warranty is supported by a 3-year conversion warranty.
Simon Pearson, Sirus Automotive founder and managing director said: "We selected the Dacia Jogger, so we could offer our customers all the benefits of a family car at an affordable price. We were impressed with the quality and reliability of Dacia's range, so the Jogger was the ideal car for us, giving us a choice of trim levels which includes the latest driver assistance and infotainment technology."
Luke Broad, Dacia brand director for the UK, said: "We're delighted that the Dacia Jogger's clever packaging has enabled Sirus Automotive to create such an innovative wheelchair accessible car.
We're immensely proud of how the Dacia Jogger will play a vital role in providing greater mobility for many wheelchair users and their families, allowing them the freedom to make their own adventures and explore the great outdoors with the minimum of fuss."
The conversion enables wheelchair access via a lightweight, counterbalanced ramp. By lowering the floor, Sirus Automotive has been able to achieve a seated head height of 139cm with the Dacia Jogger's space and headroom ensuring a wheelchair user can sit comfortably.
The mid-row seats – capable of seating up to three people and with integral ISOFIX mountings for two car seats – can be folded out of the way to create additional space, or left in place so a wheelchair user can sit with other rear-seat passengers.
An anti-slip coating on the ramp gives safe access even in wet weather, while a variety of wheelchair restraint systems – including manual or automated locking and winch-assisted loading – are also available.
Prices correct as of 14/03/2023 and are subject to change.