ELLE Special for Citroën C3
18th May 2022
By Chris Russon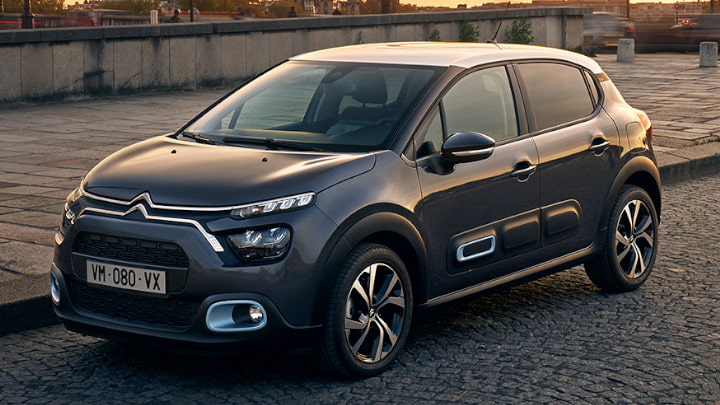 Citroën is continuing its collaboration with leading lifestyle magazine ELLE by adding a new C3 ELLE trim to its supermini range.
This latest model follows on from an initial collaboration between the two brands in 2018, which saw the introduction of a C3 edition that saw over 9,000 sales worldwide.
The collaboration between the two French brands sees the C3 ELLE come with a two-tone exterior as standard and a choice of two roof colours – white or black – referencing the colours of the ELLE logo.
The model is available with a choice of five body colours and the new model also features the ELLE brand signature – 'Since 1945 forever' – across various elements of the vehicle, both inside and out.
For the first time, Alcantara – a material generally offered on premium models – appears on the C3 ELLE dashboard trim, whilst the ELLE monogram appears in full on the floor mats, with a black ribbon featuring the white slogan.
The Citroën C3 ELLE boasts a reversing camera and 17-inch diamond-cut alloy wheels, dark-tinted rear windows, a chrome surround around the digital instrument panel and a leather steering wheel, all of which are standard.
The Citroën C3 ELLE is powered either by a 1.2-litre PureTech 83 petrol engine with a 6-speed manual gearbox or by a 1.2-litre PureTech 110 petrol mated to a 6-speed automatic transmission and priced at £18,150 and £20,760 respectively.
The model is due for release in August 2022.
Sandrine Gay, director of the ELLE Licence Collection, said: "For 77 years, the ELLE brand has always been by women's side, supporting them in every area of their lives by offering an exclusive and unparalleled approach to fashion, beauty, culture and lifestyle. This partnership is part of a philosophy shared with Citroën, of promoting all women and their elegance, in their habits and their daily lives."
Prices correct as of 18/05/22 and are subject to change.