Vauxhall Astra Electric Revealed With 258 Miles of Range
30th Nov 2022
By Chris Russon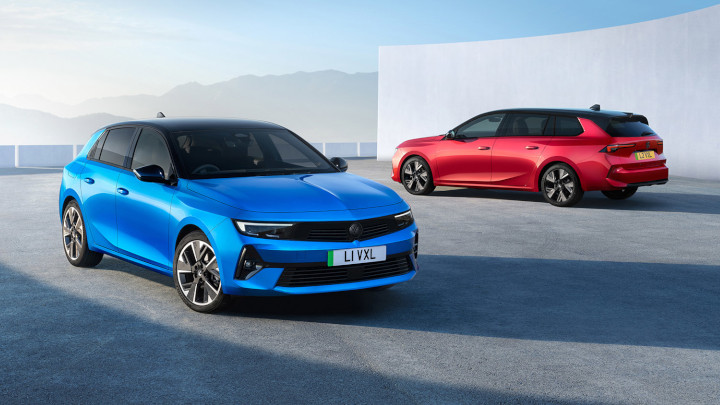 Vauxhall is continuing its electric journey with the reveal of the fully electric new Astra Electric and Astra Sports Tourer Electric, arriving in the UK in 2023.
The new Astra Electric joins a growing line-up of electric Vauxhall models, with the Astra Sports Tourer the first fully electric estate from the brand and one of just a handful available on the market.
Already available with efficient petrol and diesel engines, advanced plug-in hybrid powertrains, and soon-arriving sportier GSe electrified variants, the Astra Electric and Astra Sports Tourer Electric extend the powertrain offers.
The arrival of the two zero emission models will also increase the number of fully electric Vauxhall passenger vehicles on sale to six.
By 2028, Vauxhall has committed to being an electric-only manufacturer – seven years ahead of the Government target of 2035.
James Taylor, managing director of Vauxhall, said: "The Astra going electric is a big milestone for both our popular family car and for the Vauxhall brand as we move towards our commitment of only offering fully electric cars and vans from 2028. Astra Electric and Astra Sports Tourer Electric will offer everyday practicality, comfort and locally emission-free driving pleasure combined with the innovative technology and bold and pure design language that Vauxhall is known for."
Both the Astra Electric and Astra Sports Tourer Electric feature the same, fully electric powertrain which is powered by a 114kW (156hp) electric motor and a 54kWh battery.
The Astra Electric achieves a WLTP-certified range of 258 miles from a single charge and reaches a top speed of 105mph.
An 80 percent recharge takes 30 minutes to complete from a rapid charger.
Cargo space on the Sports Tourer is the same as on the PHEV variant, with 516 litres of space with the seats up and 1,533 with them folded.
First deliveries of the Astra Electric are expected in the summer of 2023 with the Sports Tourer following later in the year.
Prices are still to be announced, but are expected to start from around the £35,000 mark.
Prices correct as of 30/11/22 and are subject to change.