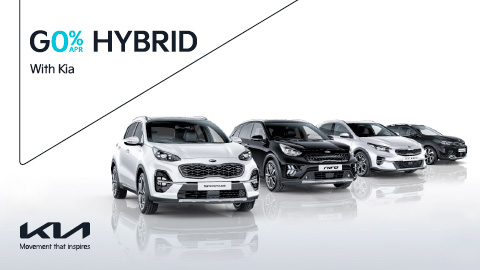 Enjoy 0% APR, your First 2 Services Free and 2 Years RAC cover when when you purchase a new Kia Hybrid before 28th February 2021.
For a limited time only, all Kia customers that purchase a new Plug-In-Hybrid, are eligible for a £2,500 grant.
Introducing the all-new Kia Sorento Plug-in Hybrid
The all-new Kia Sorento PHEV (plug-in hybrid electric vehicle) aims to further reduce the environmental running costs of the already super-efficient petrol and diesel all-new Sorento models.
Able to travel a reasonable distance of 35 miles without the turbo petrol engine ever firing up, the vast majority of journeys made by UK drivers can be made with zero tailpipe emissions.
The plug-in hybrid version retains all of the comfort, space and practicality of the regular all-new Sorento, including its desirable seven-seat interior layout. Levels of refinement are enhanced thanks to its smooth powertrain and seamless transitions between petrol-electric and full electric driving.
The all-new Kia Sorento Plug-in Hybrid has an electric driving range of up to 35 miles, rising to around 43 miles in purely city driving. This means many of your regular trips, including daily commutes, can be completed without using a single drop of petrol, reducing your environmental impact and also saving you money.
When the batteries are nearly empty, the vehicle automatically switches into hybrid mode, allowing you to continue your journey and use up the 67-litre fuel tank.
Out on the road, performance is impressive. Despite achieving the lowest Co2 emissions figures of any all-new Sorento model, it's also the most powerful, producing a total of 261bhp and a useful 350Nm of torque.
Unlike some plug-in hybrid vehicles, the Sorento PHEV is a very capable tow car, able to tow a braked trailer of up to 1,500kg in weight.
Keeping the batteries of the all-new Sorento Plug-in Hybrid topped up should be no trouble at all. You can charge it at home, the workplace (providing your employer allows it) or at public charging points that are located at service stations, shopping centres and supermarkets.
At home, you can simply plug-in the car to a standard three-pin socket and let the batteries recharge overnight, or you can make full use of the 3.3kW on-board charger and have a dedicated chargepoint installed at your property for faster charging.
Higher grade models have a chargepoint finder built into the infotainment system, so you can find one that's near you and set the navigation system to guide you to it.
Test drive the all-new Kia Sorento PHEV
Taking all of the space, refinement and comfort of the regular Sorento and combining it with plug-in hybrid technology was a masterstroke by Kia. It reduces running costs for owners, while also providing excellent performance without any compromise in terms of the journeys you can make.
To experience the all-new Sorento for yourself, please book a test drive at your nearest Evans Halshaw Kia dealership.