Introducing the Kia Ceed Sportswagon Plug-in Hybrid
With such an excellent base to build from in the form of the Ceed Sportswagon, the Plug-in Hybrid version adds a significant layer of eco-friendly technology.
The major benefit of the Ceed Sportswagon Plug-in hybrid is that you can execute your daily commute or shorter journeys using only electric power, whilst the petrol engine means you can keep on going even when the juice runs out.
It gives you the flexibility of going anywhere you want to go, without having to worry about charging, but you can drastically reduce your CO2 output at the same time - win win.
All of this advanced technology, including the hybrid system and batteries, is backed up by Kia's magnificent seven year warranty.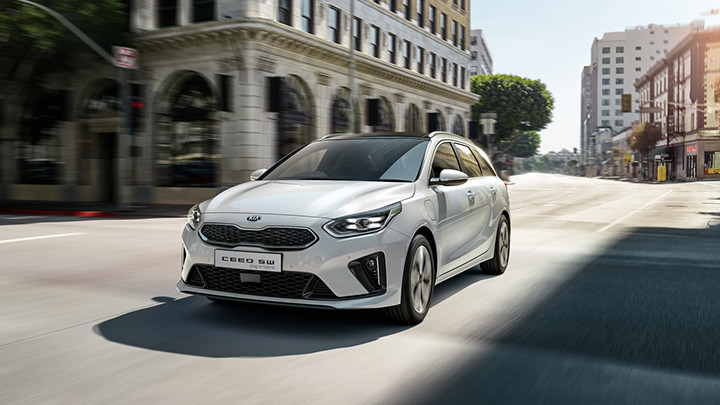 The pure electric driving range of the Ceed Sportswagon Plug-in Hybrid is up to 35 miles. While this might not sound like a lot, it is enough for most people's daily commutes, meaning you can charge up at night and drive to work all week using precisely zero petrol.
When the batteries are low, the car automatically switches into petrol-electric hybrid mode, giving you the same total range that a normal petrol or diesel car would have - no range anxiety here.
Because the petrol engine and electric motor work together, you get a healthy 139 bhp of power and 196 lb-ft of torque to push you along, so the car feels nice and responsive at both low and high speeds. All Kia Plug-in hybrid models have an automatic gearbox, too.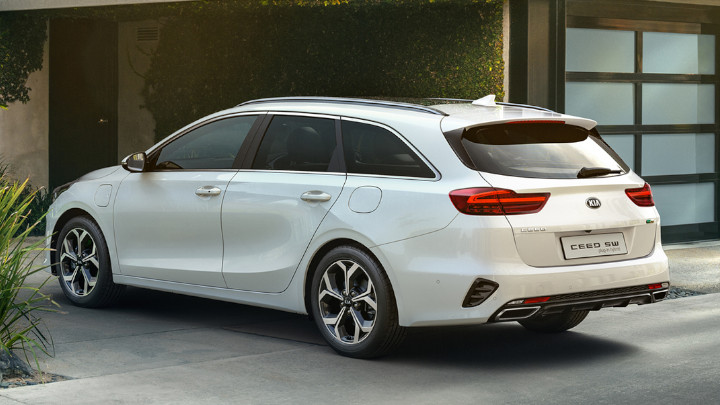 The process of charging the Ceed Sportswagon Plug-in Hybrid is simple. Open the charging port that's located on the passenger side front wing, and connect the supplied cable. Connect the other end of the cable to a charging point and you're good to go.
It takes just 2.15 hours to charge the batteries from empty to full, using a 3.3 kW charging point - so plug it in at home while you're asleep and it'll be ready for you in the morning without an issue.
The handy charge status indicator is clearly visible on top of the dashboard. This allows you to check whether or not the vehicle is charged with a quick glance from outside, without having to open it up and get inside.
Ceed Sportswagon Plug-in Hybrid Models
3 PHEV
Key features:
17" Alloy Wheels
LED Bi-Function Headlights
10.25" Touchscreen Satellite Navigation with Telematics
Dual Automatic Air Conditioning
Electronic Parking Brake (EPB)
Smart Key & S/S bottom
Power Lumbar Support (Driver & Front Passenger)
Rain Sensing Front Wipers
Rear Parking Sensors & Reversing Camera System
Forward Collision-Avoidance Assist (FCA) - City/Pedestrian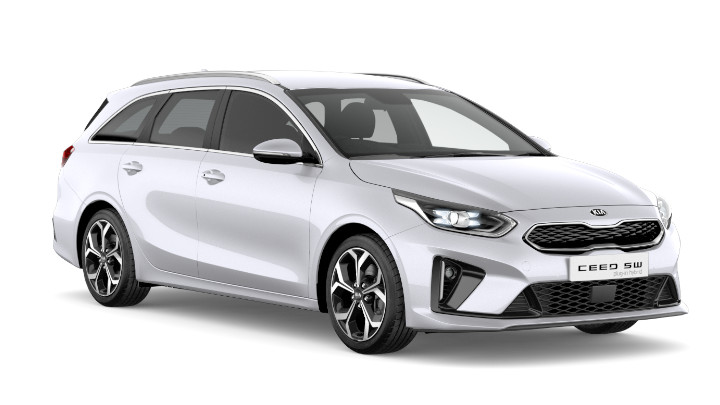 Test Drive the Kia Ceed Sportswagon Plug-in Hybrid
The Ceed Sportswagon Plug-in Hybrid is ideal for those who want to execute their daily commute without using any petrol, and drastically reduce their CO2 footprint by doing so, but need the flexibility of a petrol-powered vehicle.
To experience what it's like to drive and see all of the benefits first-hand, please contact your nearest Evans Halshaw Kia dealership to book a test drive.