Introducing the Hyundai IONIQ 5 N
The first all-electric N model from Hyundai, introducing the Hyundai IONIQ 5 N.
Hyundai N models offer fine dynamics, fun and character and with the IONIQ 5 N, new benchmarks are set for high performance electric vehicles.
This is high performance, electrified. Discover all you need to know about this exciting new chapter in the history of Hyundai N models below in more detail.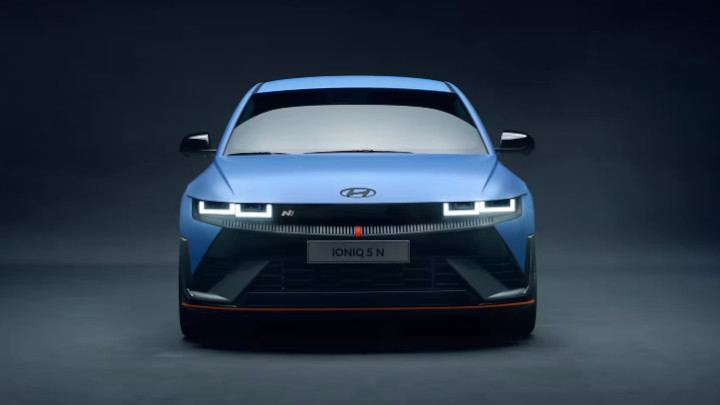 First things first, this is an all-electric N car, and being an IONIQ 5 means it's always had an electric motor and battery providing the power rather than a more familiarinternal combustion engine.
However, in the regular IONIQ 5 the power produced is a healthy 302bhp. So, what does this N version muster? Over double the power. Yes, you read that right, the Hyundai IONIQ 5 N has a total of 641bhp.
Combined with all-wheel drive means this is one seriously fast hyper hatch crossover vehicle, which can complete the 0 to 62mph dash in a supercar taunting 3.4 seconds.
So, it's rapid, but there are plenty of electric cars that are quick, so is it any good to drive?
Weighing over 2-tonnes, it's got its work cut out. But thanks to Hyundai N wizardry, it manages to hide its weight and offer plenty of thrills and grins behind the wheel, using its power to disguise its mass and paint a grin on the driver's face.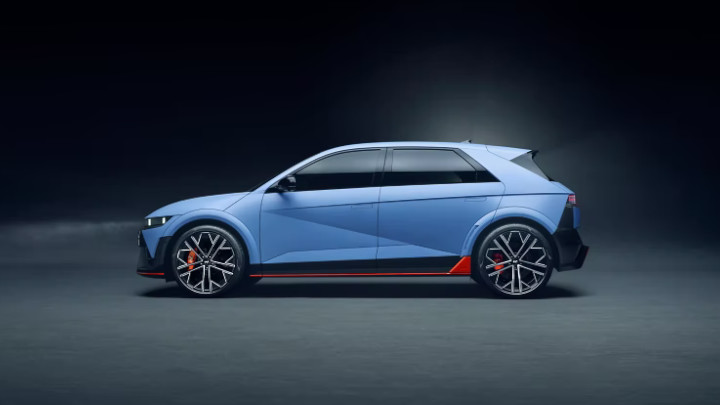 The steering is light, but the Hyundai IONIQ 5 N controls itself like a dynamic N car should. The driving modes help ensure this is one fun car (more on those below).
But essentially it's those modes that give the IONIQ 5 N its character and driver customisation to make it feel like an ICE N car.
N Torque Distribution for example allows the driver to configure the car to send more power to the rear or front wheels, essentially giving the car front-wheel drive or rear-wheel drive, rather than its standard all-wheel drive, meaning the handling can be tailored to the driver's preferences, giving the car a more playful and dynamic character.
Technology and Drive Modes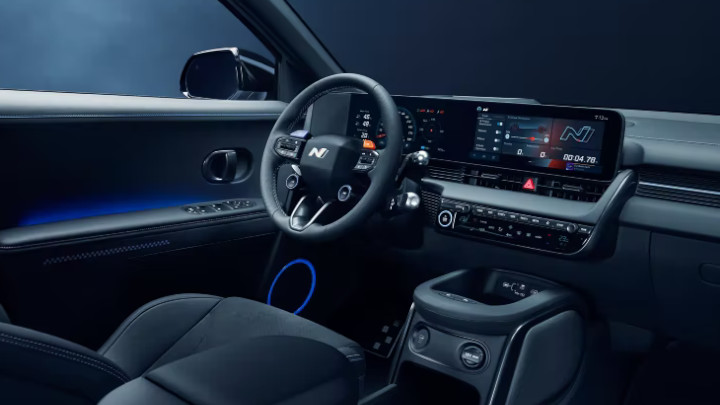 As touched on above, the technology and Drive Modes on offer with the IONIQ 5 N really allow you to tailor this electric car to be more like a traditional performance car.
Along with N Torque Distribution, there's also N Pedal, N Race and N Drift Optimiser to further tailor the car to be more playful on a racetrack.
Of course, there's also the standard Eco, Normal and Sport driving modes too for road use.
You can change the sounds the car makes too, pumping artificial engine sounds into the cabin, along with some fighter jet inspired sounds too - it could be gimmicky to some, but you can't fault Hyundai N for giving you so many options to tailor. After all, it's all part of the fun and character in this new age of electric performance cars.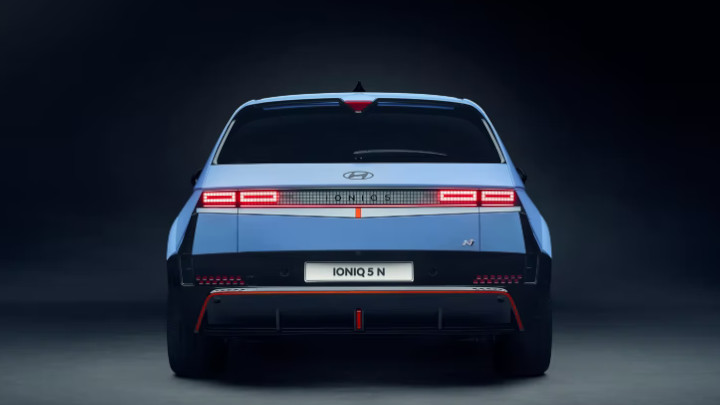 As with all electric cars, the set-up you have at home or the chargers you use will alter the time it takes to charge the Hyundai IONIQ 5 N.
A regular overnight charge (Wallbox 7kW single phase) will take around 11 hours and 30 minutes.
A 10.5kW 3 phase will take around 7 hours and 35 minutes.
Public charging using a 50kW CCS to 80 percent will take around 1 hour and 10 minutes, whilst a 350kW CCS to 80 percent will take between 18 and 36 minutes.
Hyundai IONIQ 5: Coming soon to Evans Halshaw Hyundai retailers
With electric cars being more popular than ever, it's great to see Hyundai N giving us an electric performance car, with so many options to make the car more fun and interesting.
If you're a petrolhead and are perhaps thinking of trying an electric car, but one that's a bit more performance and grin educing, the Hyundai IONIQ 5 N may be the one to get you to think that little bit differently.
To learn more, and to keep up to date with the release of the Hyundai IONIQ 5 N, or to test drive one once available, contact your preferred Evans Halshaw Hyundai retailer.