Servicing Through Evans Halshaw Ford
Maintaining your vehicle in line with Ford's recommended Service Schedule is the best thing you can do to prolong the life of the engine and other components, while ensuring it retains maximum resale value.
In addition, by keeping up-to-date with the Scheduled Service Intervals, you're also ensuring your vehicle returns maximum efficiency while improving fuel economy and maintaining low CO2 emissions. There's a variety of benefits to having your car serviced through an authorised retailer, explore them below alongside what's included.
What's Included in a Ford Schedule Service?
Ford Video Check
What better way to understand what a service involves than by seeing it with your own eyes? One of our Ford technicians will produce a free visual report* of your vehicle detailing any servicing or repair work completed and then send it straight through to your phone.
You'll also receive a report that covers 30 different elements of your vehicle and its overall health, with a competitive estimate included for any recommended work.
Specialist Diagnostics
Thanks to the state-of-the-art equipment that our technicians use, we can perform fault diagnosis quickly and effectively, meaning we can get you back on the road swiftly.
Our technicians will also access Ford's specialist systems to identify any outstanding Field Service Actions (e.g. recalls) that may be required to ensure your car continues to perform at its best.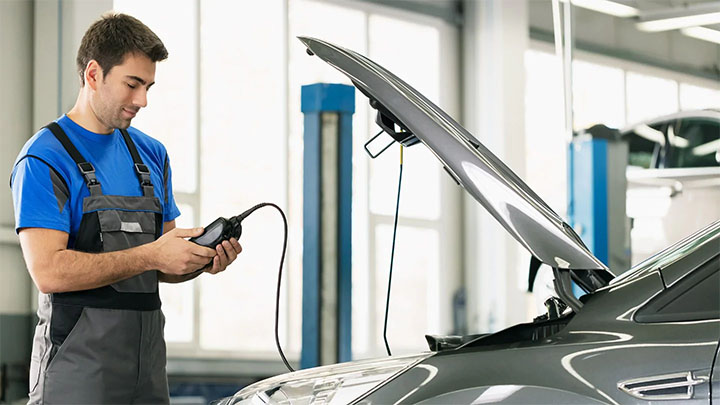 Oil and Filter
Your vehicle's engine oil and filter will be changed with every scheduled service, and your Intelligent Oil Life Monitor will be reset (where applicable).
The oil is the life blood of your engine, so ensuring it is changed in-line with Ford's schedule will maximise working-life and fuel economy, while ensuring CO2 emissions remain low.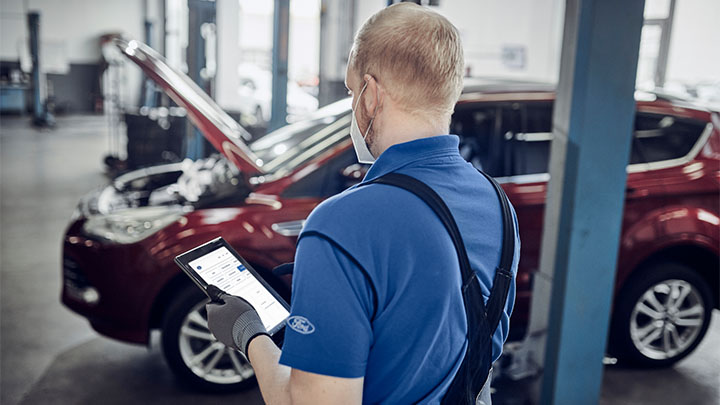 Air Filter
The condition of your vehicle's air filter will be checked with every scheduled service to ensure it isn't clogged up or past its best.
The air filter is responsible for ensuring debris don't enter your engine, but if it gets too blocked up then it will cause your engine to work harder, and therefore emit more CO2 while using more fuel in the process.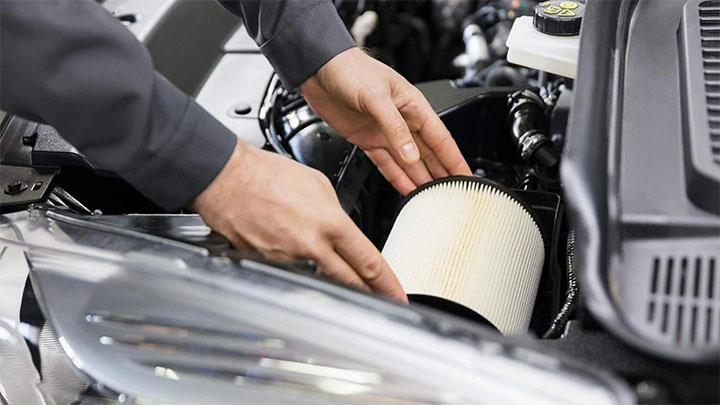 Fluid Top Up
During your Ford service, the technician will check your vehicle's essential fluids and top them up where necessary**. The fluids topped up include:
Engine oil (Max 1 litre depending on the service being completed)
Coolant (Max 0.5 litres)
Screen wash (Max 0.5 litres)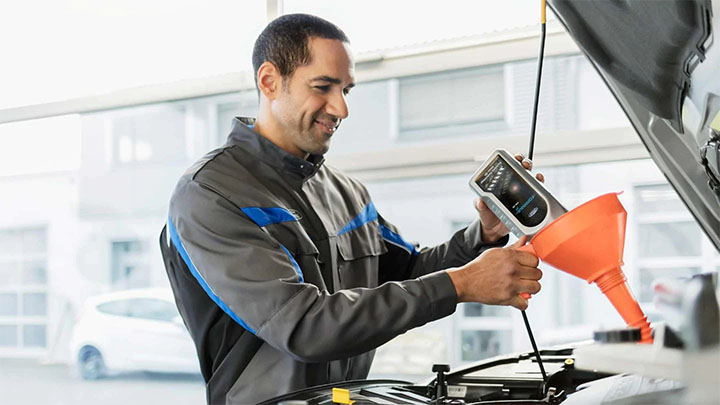 Digital Service Record
Have your vehicle serviced at any Evans Halshaw Ford retailer we'll ensure all of your vehicle's details are recorded in the Ford Digital Service Record system.
We'll be able to access the Digital Service Record for your vehicle at anytime and confirm its service history and warranty status, which is ideal if you decide you want to sell the car.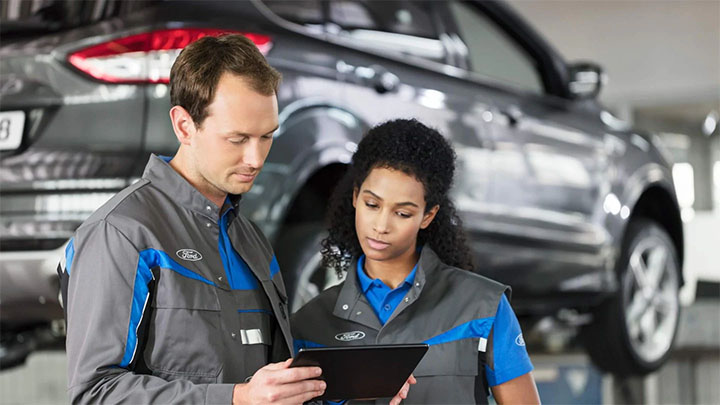 Transparent Pricing
In addition to using genuine Ford parts and offering competitive prices on scheduled servicing and maintenance, we use a transparent price quotation and menu system so you know exactly how much you're paying and what it is you're getting for your money.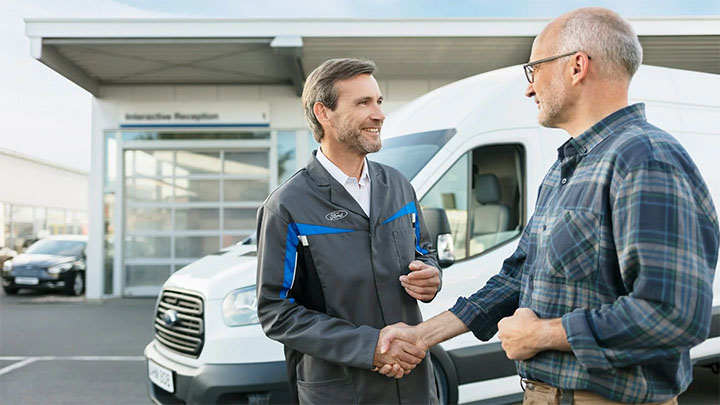 Benefits of Ford Scheduled Service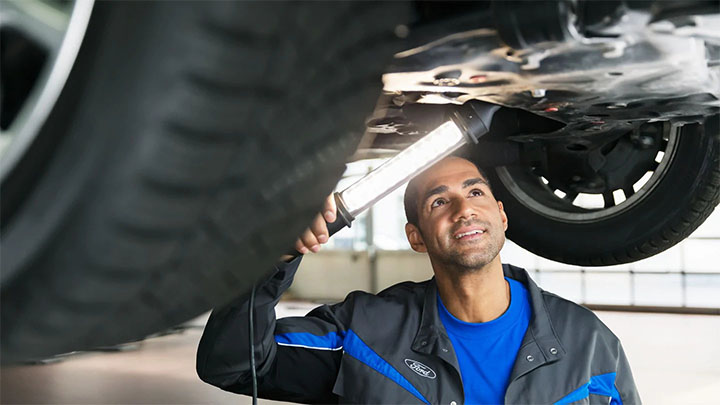 There's a number of reasons you should have your vehicle serviced at one of our authrorised retailers in-line with recommended schedules:
Servicing is completed by a factory-trained technician using genuine Ford parts, helping it to stay in the best possible condition.
The latest diagnostic equipment is used, meaning we can find issues promptly, which means less waiting for you.
Maintaining your vehicle in-line with Ford's recommended schedule will help prolong its working life and reduce the risk of expensive bills later on.
By having your car serviced by an authorised Evans Halshaw Ford retailer, you are helping to retain its value.
On top of using Ford genuine parts, each service is completed using engine oils that are recommended by Ford, which prolongs the life and efficiency of your vehicle.
There's no better place to have your vehicle serviced than through your nearest Evans Halshaw Ford retailer, who have factory-trained technicians on-site that will maintain your car in-line with Ford's recommended schedules using genuine parts.


Terms and Conditions
*Ford Video Check is a visual only inspection. Your participating Ford Dealer may recommend that certain essential work be carried out on the grounds of safety before you drive your vehicle. Decision of the participating Ford Dealer is binding and final in all matters.
** Fluid levels will be topped-up to the vehicle manufacturer recommended levels and are limited to half a litre of coolant, half a litre of screen wash and 1 litre of engine oil. Additional quantities of fluid will be charged accordingly with customer's consent. Should a fault be identified as the reason for a fluid top-up being required then further investigation would be necessary and therefore fluid top-up will not be included.