New Transit Custom Revealed by Ford
23rd Sep 2022
By Chris Russon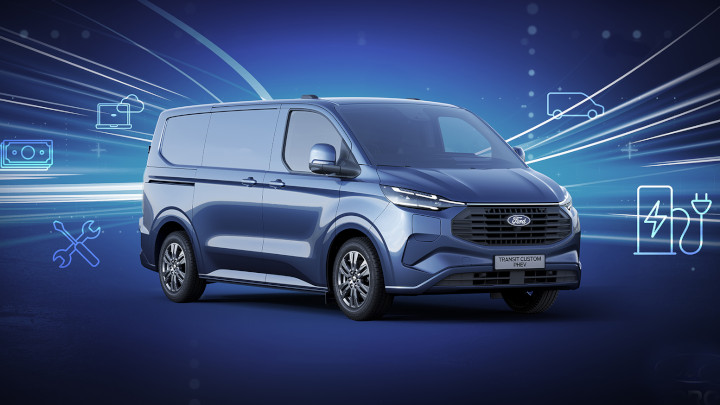 Ford has showcased its latest electrified Transit Custom van at Europe's largest transportation event.
The new E-Transit Custom had its global debut at the IAA Transportation Show in Hanover where Ford also revealed more details about the next generation Transit Custom range including plug-in hybrid and EcoBlue diesel-powered derivatives.
Other productivity-boosting initiatives include the advanced new Ford Pro Upfit Integration System, which is designed to enable smarter and more efficient digital-first vehicle conversions, and an enhanced Mobile Service offering in key markets.
"Spiralling costs are putting our European business customers under huge pressure, and the need for productivity solutions has never been greater," said Ted Cannis, chief executive of Ford Pro. "Ford Pro's revolutionary single platform is designed to help our customers cut costs and streamline their operations as they make the switch to electric vehicles."
The Ford Pro Vehicles line-up in Hanover is headlined by the all-electric E-Transit Custom. Featuring next-generation battery technology to enable a targeted range of 236 miles and 125kW fast charging ability, the van delivers highly competitive performance for a wide range of customer needs.
As part of the most comprehensive Transit Custom range ever, customers can also choose an all-new Plug-In Hybrid version for applications where additional flexibility is required; pure-electric driving capability for city centre work, as well as petrol power for extended highway trips.
The new powertrain is similar to that used by the Ford Kuga Plug-In Hybrid, which uses a 2.5-litre Atkinson cycle petrol engine with a 11.8kWh battery to deliver a targeted driving range of up to 35 miles.
Customers can also specify Transit Custom with the latest generation of Ford EcoBlue diesel engines in 108bhp, 134bhp, 148bhp, or 168bhp power outputs. The 6-speed manual gearbox is available with an optional mechanical limited-slip differential for enhanced traction.
In addition, a high-efficiency 8-speed automatic gearbox will be introduced, which offers a maximum towing capacity of 2,500kg and is available in combination with a new all-wheel drive system.
The new Transit Custom has been designed from the ground up to deliver outstanding performance and load-carrying capability, and like the all-electric model features an extensive range of new fixtures to enhance productivity, such as the Mobile Office option with innovative tilting steering wheel.
Key features and derivatives include an all-new vehicle architecture with lower cargo floor height, sub-2m overall height and independent rear suspension, four size variants – L1 or L2 lengths, with H1 or H2 roof heights, panel van, double-cab-in-van, kombi and L-shaped bulkhead body styles, a 5G modem and 13-inch SYNC 4 touchscreen.
The series line-up starts with Base specification followed by Trend, Limited, Active, Trail and Sport versions. Kombi models are offered in high-series Limited and Trail form for the first time.
"Our all-new E-Transit Custom is going to help more small businesses than ever transition to all-electric. And for those businesses not yet ready or able to go all-electric, the all-new Transit Custom Plug-In Hybrid and EcoBlue variants will still boost productivity, supported by an all-new architecture and the Ford Pro ecosystem of intelligent, connected solutions," said Hans Schep, General Manager, Ford Pro, Europe.
The new Transit Custom will be built by Ford Otosan in a state-of-the-art new plant in Turkey. Customer deliveries of Transit Custom with EcoBlue powertrains are set to begin in mid-2023, with additional variants available from later in the year.