Introducing the All-New Ford Ranger
Ford have announced that they'll be releasing a new version of their popular pickup truck, the Ranger.
With strong input from their customers across the globe, Ford have given the next-generation Ranger a bold and rugged exterior appearance. An inviting interior complements the looks, coming with a host of new technologies that include the brand's signature SYNC 4 infotainment system.
The Ranger will be available with Ford's proven 3.0-litre V6 turbocharged diesel engine, which is one of three engine options available at launch.
Order books are set to open from late 2022, with deliveries set to take place in early 2023. Please contact your nearest Evans Halshaw Ford Transit Centre to register your interest or learn more.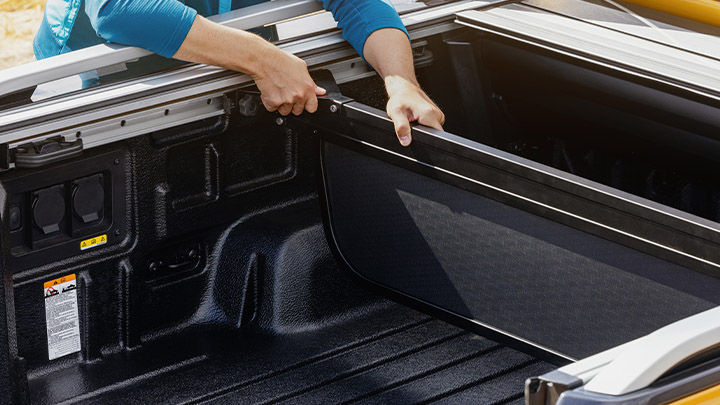 Ford have placed a lot of focus on the finer details whilst designing the Ranger. The front wheels have been moved forwards by 50mm, which allows for a better approach angle and outboard for improved off-road articulation.
A tough plastic bedliner helps to protect the steel from scratches and general damage, and also provides a more comfortable platform to kneel on.
Because the Ranger is 50mm wider than its predecessor, it can accommodate more cargo, including building materials and a full-size pallet.
Another useful feature is that the tailgate can double up as a mobile work bench thanks to the integrated ruler and clamp pockets.
You'll have the choice between two different four-wheel drive systems depending on your requirements:
Electronic shift-on-the-fly system
Full-time four-wheel drive system with set-and-forget mode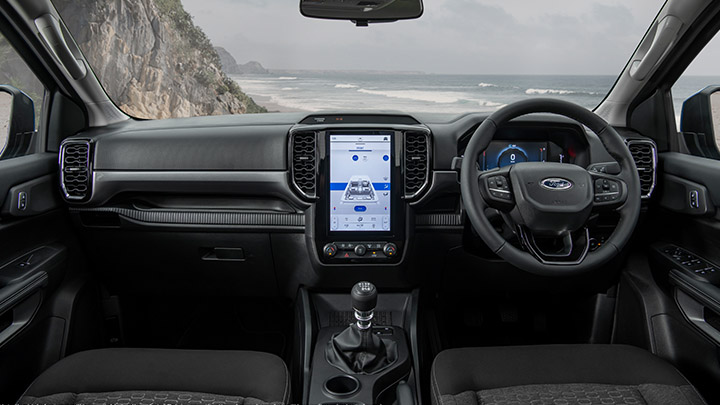 Catering for work and family life can be difficult. However, the Ranger boasts a robust interior design that's finished with a host of plush materials.
Dominating the cabin is the central touchscreen, which is available in two different sizes: 10.1-inch or 12.0-inch. It's been loaded with the brand's intuitive SYNC 4 infotainment system, which comes with voice-activated commands for the entertainment and information settings.
Courtesy of the FordPass Connect modem, you can enjoy enhanced connectivity via the FordPass app, which allows you to access features such as Remote Start, Vehicle Status and remote unlock/lock functions (among others).
The next-generation comes with a host of other driver aids and useful features, some of which include:
Driving modes (with dedicated on-screen settings when off-roading)
360-degree camera
Exterior zone lighting system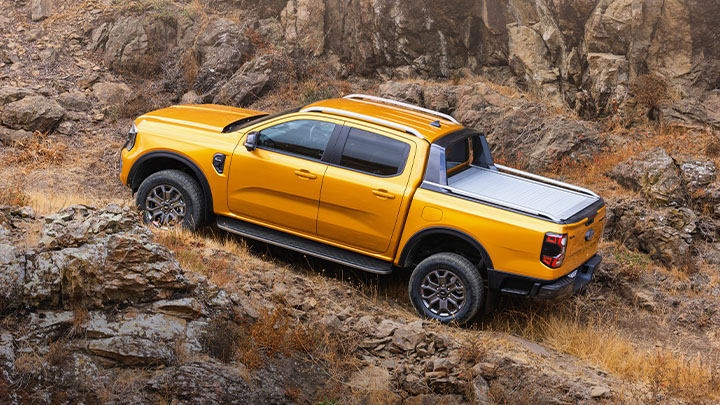 The Ranger will be available with a variety of diesel engines, all of which are tailored to different requirements.
Sitting at the top of the range is a proven 3.0-litre V6 turbocharged diesel, which has been engineered to provide a huge amount of torque for extreme off-roading and towing heavy loads.
Making up the rest of the range are a handful of 2.0-litre diesel units, two of which utilise a single turbo with the other recruiting two turbochargers.
The single turbo engines are ideal for fleets and those wanting to keep fuel consumption down, whereas the bi-turbo option provides more flexibility.
Those who seek the pinnacle of performance will want to look at the 284bhp 3.0-litre V6 petrol-powered Ranger Raptor.
All-New Ford Ranger: coming soon to Evans Halshaw
By listening to what their existing customers wanted from the Ranger, Ford have managed to further tailor their pickup truck to those who use them every day.
The refreshed appearance and hi-tech interior will no doubt appeal, but it's the attention to detail that really distinguishes the Ranger from rivals.
To register your interest or learn more about the Ranger, then please contact your nearest Evans Halshaw Ford Transit Centre.