Introducing the new all-electric Ford Explorer
The ultimate all-electric SUV is here; introducing the new all-electric Ford Explorer. Encompassing iconic design, the latest in state-of-the-art technology and fast charging capabilities, the Explorer is adventure ready.
Presented in a sharp crossover design, the all-electric Ford Explorer is an important part of the step towards electrification and is a new direction of compact yet practical Ford vehicles.
Learn more about it's features below, or watch the video opposite to understand more about the new all-electric Ford Explorer.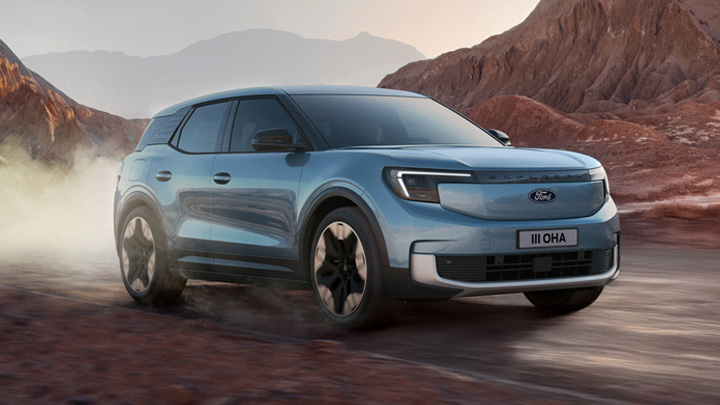 If you're thinking you've heard the Explorer name before, you're not wrong as it was first seen in 1991 in America on the large and dominant Ford Explorer SUV. The UK also saw the second generation from 1997 until 2001.
However, it's now the name for this re-imagined all-electric fully-modernised crossover SUV. With a floating roof design thanks to black A, B and C-pillars, the Explorer manages to encapsulate a fresh new vibe, whilst mimicking the original Ford Explorer SUV of old.
The Explorer will be able to be specified with a number of wheel designs ranging from 19 to 20-inches. And with the retro yet modern looks, don't think practicality has been forgotten about, as there's plenty of boot space, with 450 litres on offer as well as MegaConsole which offers 17 litres of storage space in the centre console too.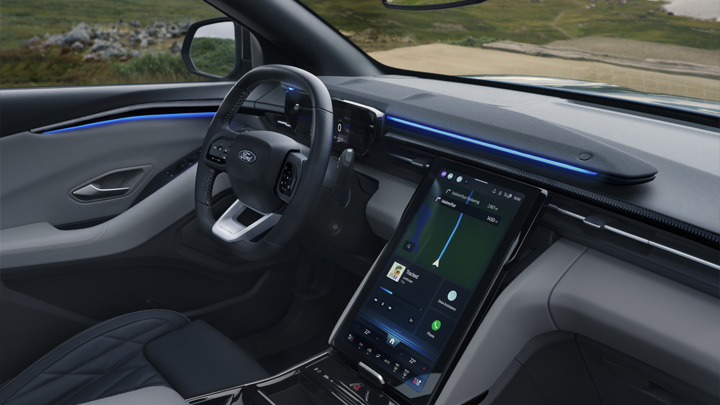 Step inside the fresh, modern design of the new all-electric Explorer and you're greeted by a trick 14.6-inch movable touchscreen and fully-digital instrument cluster, complete with effortless smartphone connectivity.
There's also a precision soundbar, because every adventure should be complemented by a great soundtrack, and with the Explorer, this neat audio set-up does just that.
And with smart and secure hidden stowage via 'My Private Locker' a clever lockable behind-screen storage compartment, can keep your valuables safe and hidden from view.
And safety and tech is enhanced further thanks to a built-in EV trip planner, complemented with cloud connected navigation, so you'll have total confidence on the road and the adventure ahead.
Virtual Test Drive the new all-electric Ford Explorer
An exciting time for the Ford brand, as the Explorer joins the likes of the Ford Mach-E in being the first two all-electric models for this iconic brand. To virtual test drive it for yourself, experience the Explorer here.
If you would like to register your interest, please contact contact your preferred Evans Halshaw retailer or reserve now. Remember to select us, "Evans Halshaw", as your preferred Dealer when you reserve your place.