Is the Ford Mustang Mach-E the right Motability car for you?
The Ford Mustang Mach-E makes a fantastic choice on the Motability Scheme for drivers looking for a practical all-electric SUV with a thrilling driving experience. Ford have managed to create a superb all-rounder which manages to keep up with plenty of premium rivals, even surpassing them in various areas.
With 273 miles of real world range promised by Ford, the Mach-E eliminates range anxiety completely, so there's no need to worry about maxing out your miles during your daily commute. Using a 150kW Rapid Charger, you can replenish 73 miles of range in just 10 minutes, so you can continue your journey in no time.
And that's not all that'll impress with the Mach-E. A host of helpful technology will provide you with enough support and entertainment to make every journey a positive one.
There's also numerous advanced safety features, so a worry-free and relaxing ride is to be expected.
What versions are available?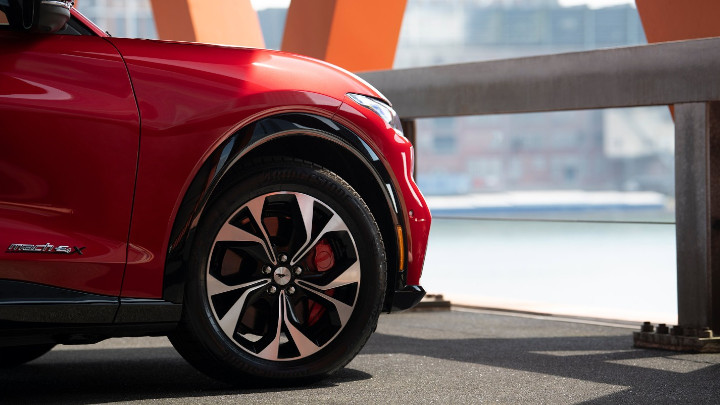 Engines and transmissions
The Mustang Mach-E is available on the Motability scheme with the standard range powertrain, with a 70kWh lithium-ion battery as standard, which gives you up to 273 miles range.
Bodystyles
The Mach-E is a 5-door SUV with seating for up to five.
Model variants
On the Motability Scheme, you can choose the Mustang Mach-E exclusively in the Select series, which comes with a huge range of standard equipment.
Order the Ford Mustang Mach-E through Motability at Evans Halshaw
The Ford Mustang Mach-E is perfect for families and individuals who want a spacious all-electric SUV with added driving thrills and an abundance of technology to play with. Not only is the Mach-E entertaining to drive, it's also hugely practical and comfortable for long journeys.
To learn more about the Mustang Mach-E, you can simply contact your nearest Evans Halshaw Ford dealership where a trained Motability specialist will be able to answer any questions you may have, or take you for a test drive.