Is the DS 4 the right Motability car right for you?
The DS 4 is an ideal choice for Motability customers who are looking for a car with sophisticated styling that's both comfortable and easy on the eye. Combining the hatchback and coupé SUV bodystyles, the DS 4 offers sharp looks that are sure to turn the heads of many.
Various enhanced features not only make the DS 4 great to drive, but enhance safety too. For example, the DS EXTENDED HEAD-UP DISPLAY delivers vital information to the driver without them having to take their eyes off the road. The DS IRIS infotainment system also gives occupants full control over various systems through touch, voice and gesture control.
There are several safety features available to make sure you have safe journeys. The Lane Keep Assist is an example of a feature that prevents the vehicle from getting off lane.
The latest DS hybrid technology is available with the DS 4, in the form of an efficient plug-in hybrid E-TENSE model. Alternatively, there's traditional petrol and diesel engines that are equally enjoyable. With a respectable 430 litres of boot space, the DS 4 is fairly practical too.
What versions are available?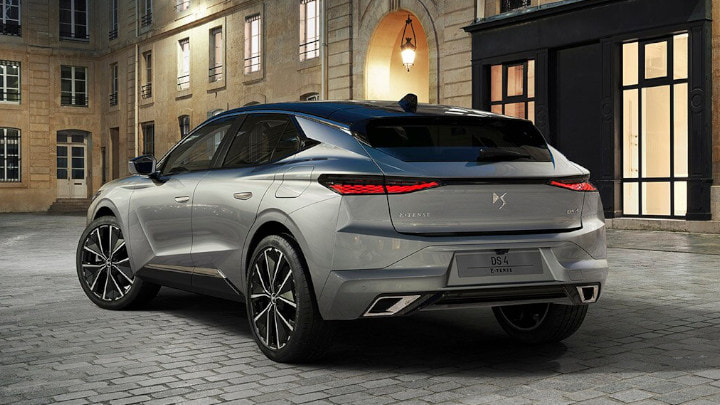 Engines and transmissions
Two petrol and one diesel engine are currently available for Motability customers. The smaller, 1.2-litre petrol engine offers 128bhp, whilst a larger, more powerful 1.6-litre offers 178bhp. There's also the 1.5-litre diesel which offers the best fuel economy figures. The fully-electric DS 4 E-TENSE can do more than 30 miles in pure electric mode without producing tailpipe emissions, and it's also available with Motability scheme.
Bodystyles
The DS 4 is considered an amalgamation between the hatchback and coupé SUV bodystyles. Each DS 4 comes with its own style, dependent upon which variant you choose.
Model Variants
There's a wide range of DS 4 and DS 4 E-TENSE variants currently available for Motability customers. Each model comes well-equipped with features such as smartphone mirroring infotainment system, LED headlights and a reversing camera as standard.
Order the DS 4 through Motability at Evans Halshaw
Thanks to its sleek styling and road presence, the DS 4 is a top choice for the fashion-conscious Motability customer that likes to grab the attention of others while out on the road. But it isn't all about looks, as the DS 4 performs well in the areas of comfort, practicality and technology as well.
If you'd like to find out more information about the DS 4, or take it for a test drive, then please contact your nearest Evans Halshaw DS Salon where our trained Motability specialists will be happy to help or find out more about DS through our website.