As the clocks go back this month, use the extra hour to prepare for darker nights and colder weather by making sure that your car is all set for Winter.

For the basics you can buy a Winter Pack. A standard car winter pack should include:
De-icer – use sparingly as it can corrode the paintwork
Screen wash – a ratio of 2:3 in colder conditions should help to prevent windscreen from freezing up as much
Scraper – don't skimp on your scraper as a good one will save you time in the morning
De-mister pad – quickly clear inside windows when setting off



Most motoring retailers sell the basics as separates but packs tend to be sold at a discounted price. That said, it is well worth shopping around. Larger cans of de-icer can be bought cheaply at most supermarkets as part of your weekly shop at this time of year and a good scraper is worth its weight in gold so be sure to find a strong one, preferably with a squeegee blade as well as ice scraper edge.

If you are interested in purchasing a Winter Pack, your nearest Evans Halshaw dealer will stock one, dont hesitate to visit or contact us.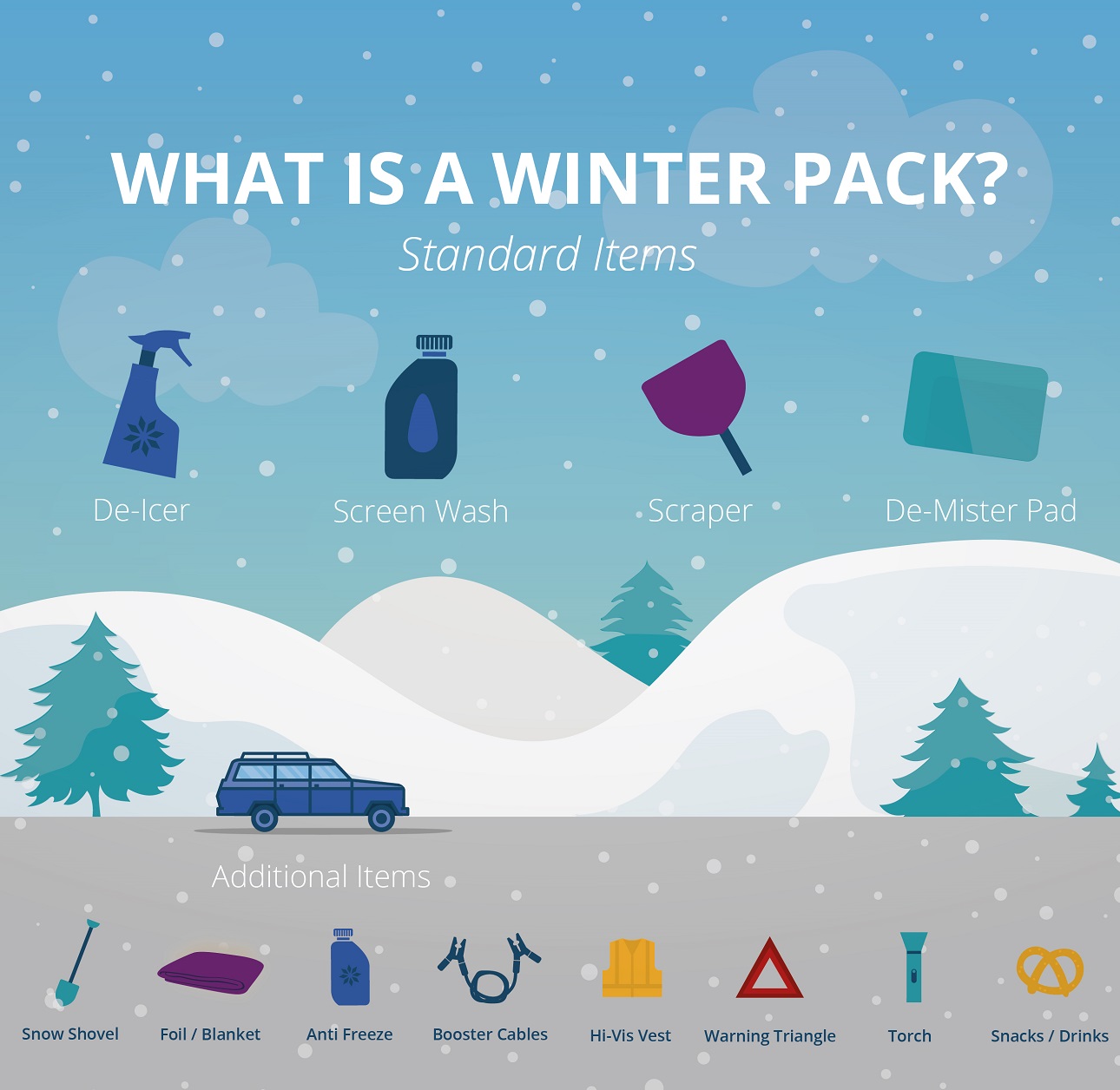 Planning is Key for Winter Driving
Other useful items to consider buying to see you through the coldest months:
Antifreeze - Putting antifreeze in with your water will keep your radiator and associated pipes from freezing this Winter
Booster Cables – Keeping booster cables or even a jump starter kit handy will ensure you can get going when you need to
Snow Shovel – It doesn't have to be a full-sized one, many motoring retailers sell folding snow shovels which will work in most circumstances
Foil Blanket/Woollen Blanket - Will keep you warm should your car break down or you get stranded in harsh weather conditions
High-vis Vest or Jacket – As nights draw in, it is especially important that you are visible should you need to leave your car
Warning Triangle – Will alert oncoming vehicles
Torch – To illuminate the pathway if you are stuck in an area with no streetlights
Snacks - Some non-perishable foods for long journeys in case of being stranded
Portable Air Compressor – To keep your tyres inflated at the correct pressure, increasing your grip on slippery roads


There is no definitive list as to what you should and shouldn't take with you when driving. Suffice to say though, that each year we tune in to news of drivers who have been stranded in freak storms, floods, blizzards or high winds. It's impossible to prepare for every eventuality but we hope that by taking that extra hour to think about the things you carry in your car, you will stay safe this winter.