If you're looking at this blog, or browsing our website, then the chances are you're thinking about getting a new car. With one in four cars being owned through personal leasing in the US, there's no doubt leasing is and will continue to become more popular in the UK car market.
One of the most important decisions to make when buying a new vehicle is which payment option will suit you best. You'll probably already have heard of the terms: Personal Contact Purchase (PCP), Personal Contract Hire (PCH) and leasing. You might however still be wondering what exactly they mean, and which is the best for you.
There's many things to consider when getting your new car, here we round up all the pros and cons you'd face when choosing to lease or buy a car.
Leasing Explained
PCH offers all the benefits of a brand-new car, without the hassle of owning the vehicle, so it's plain to see why its popularity is increasing.
PCH also alleviates the worry of depreciation associated with car ownership, as you simply return the vehicle upon termination of your contract. Leasing can often be more affordable than buying a car because you aren't paying to own the car at the end of your contract. With 29 brands to choose from, we'll ensure you not only get the best value personal contract hire, but the best choice too.
Pros and Cons of Leasing
| | |
| --- | --- |
| Pros of Leasing | Cons of Leasing |
| You'll be able to choose from the latest vehicles | You will not own the vehicle so you can't modify it |
| Guaranteed protection against vehicle depreciation. | You will not have the option to purchase the vehicle at the end of the contract |
| You also don't have to deal with the hassle of selling your car when you want to get a new one. | If the vehicle is returned with damage then you will need to pay for it to be repaired. |
| Fixed monthly rental payments | You will incur extra charges if you go over the agreed annual mileage |
| A Maintenance package can be added to the contract | |
| You can customise the annual mileage that suits your needs and budget | |
| At the end of the contract you'll be able to take out a new lease on another brand-new car | |
| Road Tax will be covered by the leasing company | |
Buying Explained
Whether it's through PCP, or a one lump sum payment, buying is currently the most popular choice for UK buyers.
Buying is the perfect option for those who want ownership of their car, and are happy to keep it for a longer period of time. If that sounds like you, then buying may be the best option for you.
Pros and Cons of Buying a Car
| | |
| --- | --- |
| Pros of Buying a Car Under PCP | Cons of Buying a Car Under PCP |
| You'll be the owner of the car (after all finance has been paid etc.) | The car's value will depreciate quickly |
| You'll be free to modify the car | All servicing, maintenance, MOTs, road tax and breakdown cover will have to be covered by you |
| No mileage limits in place if you purchase the car at the end | Monthly finance payments may be higher under PCP than PCH |
| Insurance costs will decrease | You have to pay a final payment at the end of your contract or hand the vehicle back. |
| The car can be used in part-exchange for a new one, or sold using ourSell Your Carservice | If you don't pay the final payment and decide to hand the car back at the end then you have to deal with most of the cost of leasing anyway. |
| You can put the money you get from selling your car towards buying another car. | |
So, would you lease or buy a car?
Deciding whether to buy or lease a car is a personal choice. With pros and cons for each, the decision comes down to personal preference and circumstances, but for most people the decision is based on whether they believe the vehicle will appreciate or depreciate in value over time.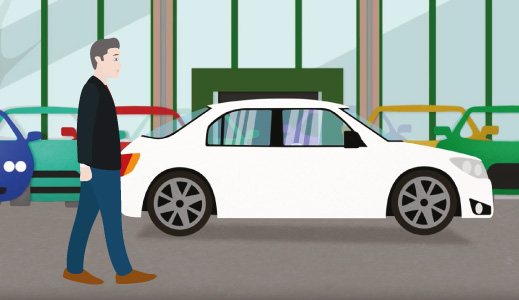 If you'd like to find out more about how our latest leasing offers see our PCH Offers.
If you think buying is the right option for you then view our PCP Offers.