Hark now hear, the away fans sing
Every year, millions of football fans exchange their seat in front of a nice, warm fire singing Christmas carols, for a fold-down seat in a chilly football stadium singing terrace chants and club anthems.
To ensure all fixtures can be played within the length of a season, clubs are required to play throughout the Christmas period (19th December - 2nd January). A notoriously busy time of year for football fans, this period has often seen many clubs hard done by when it comes to away day travel distances.
At Evans Halshaw, we've analysed six years' worth of data from England's top five divisions and Scotland's top four divisions to discover:
Which club(s) will be travelling the furthest/shortest this year.
Who has travelled the furthest historically.
The least/most difficult stadiums to visit in terms of home goals conceded.
Miles travelled per away goal scored and miles travelled per away point gained.
Total distance travelled for all clubs from Christmas 2016 to Christmas 2021.
Which league scores the most goals per game on Boxing Day?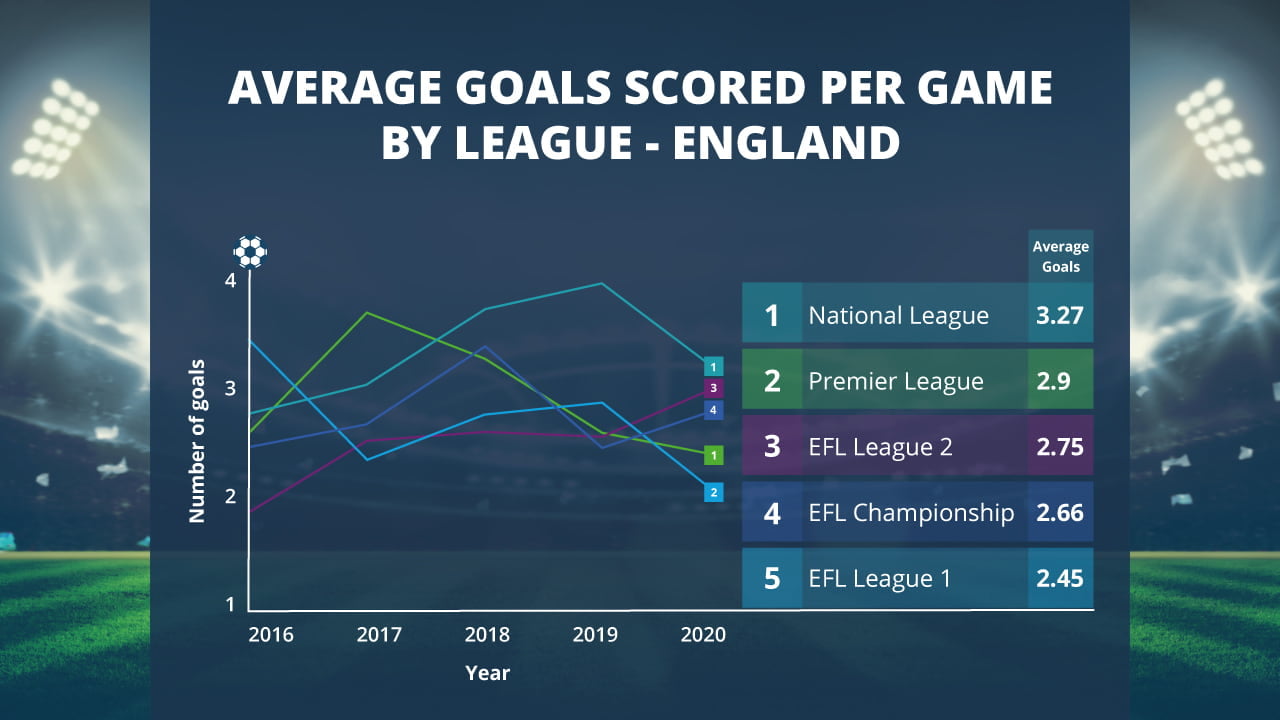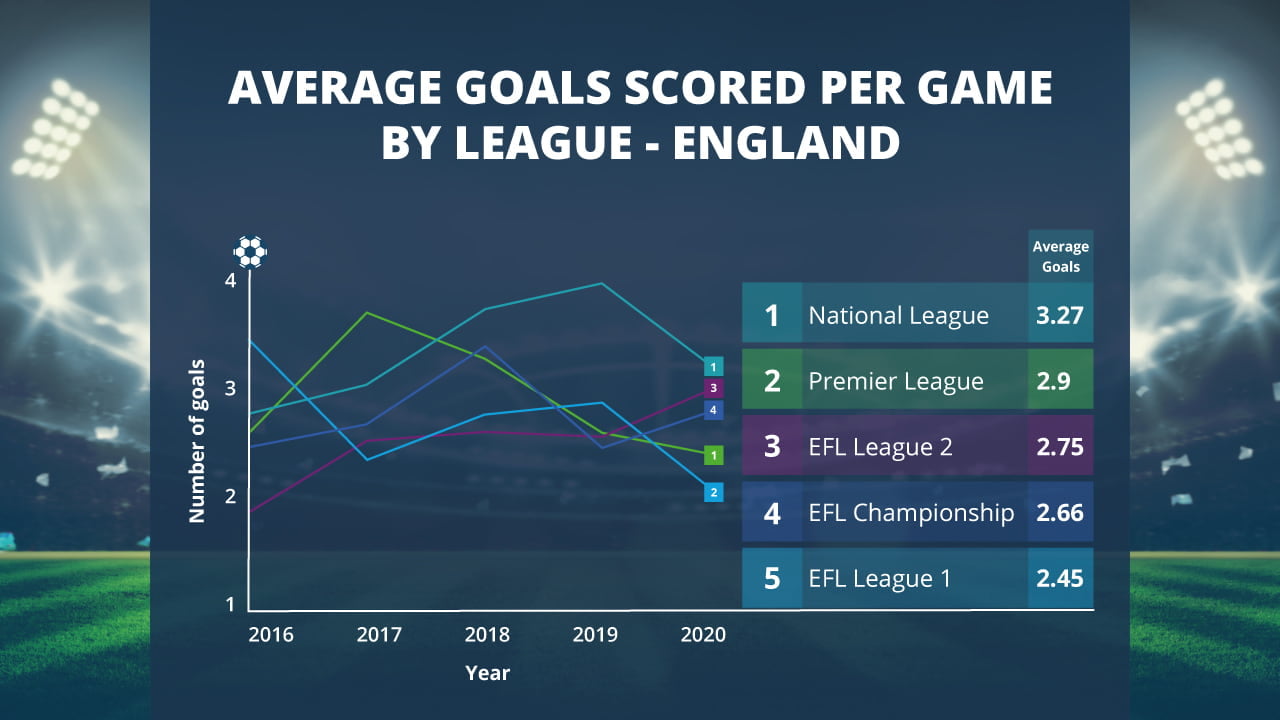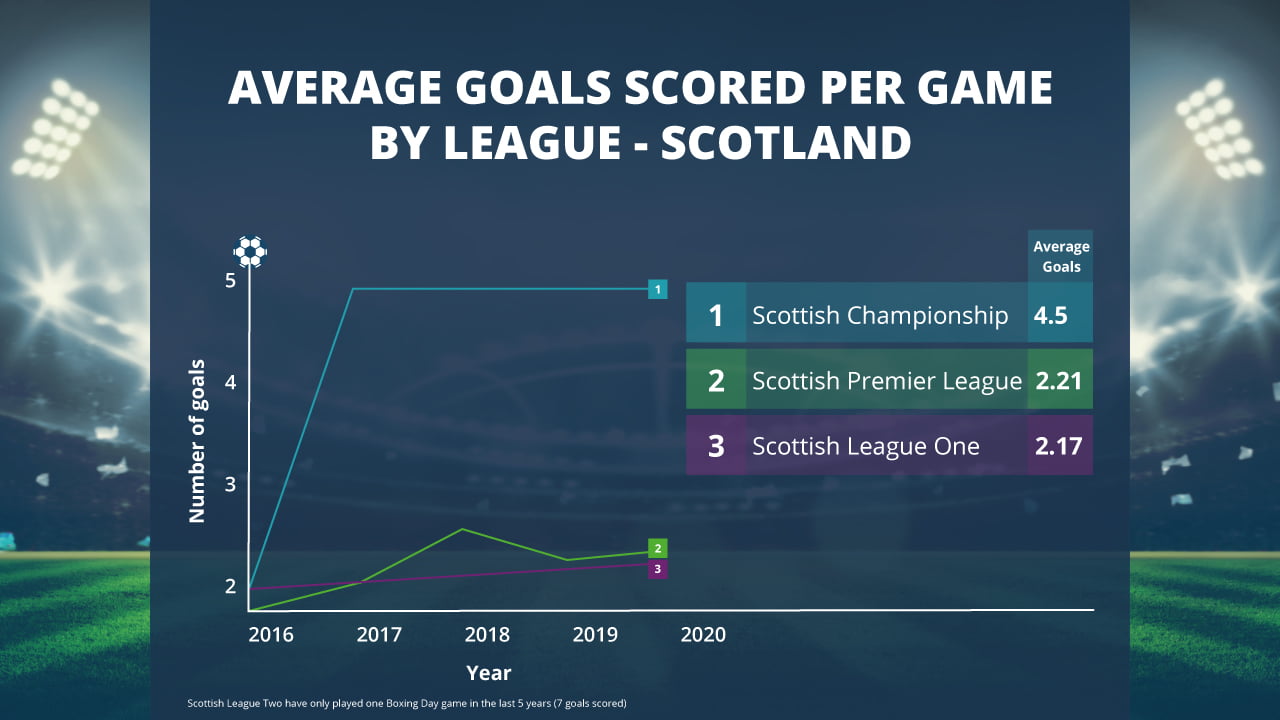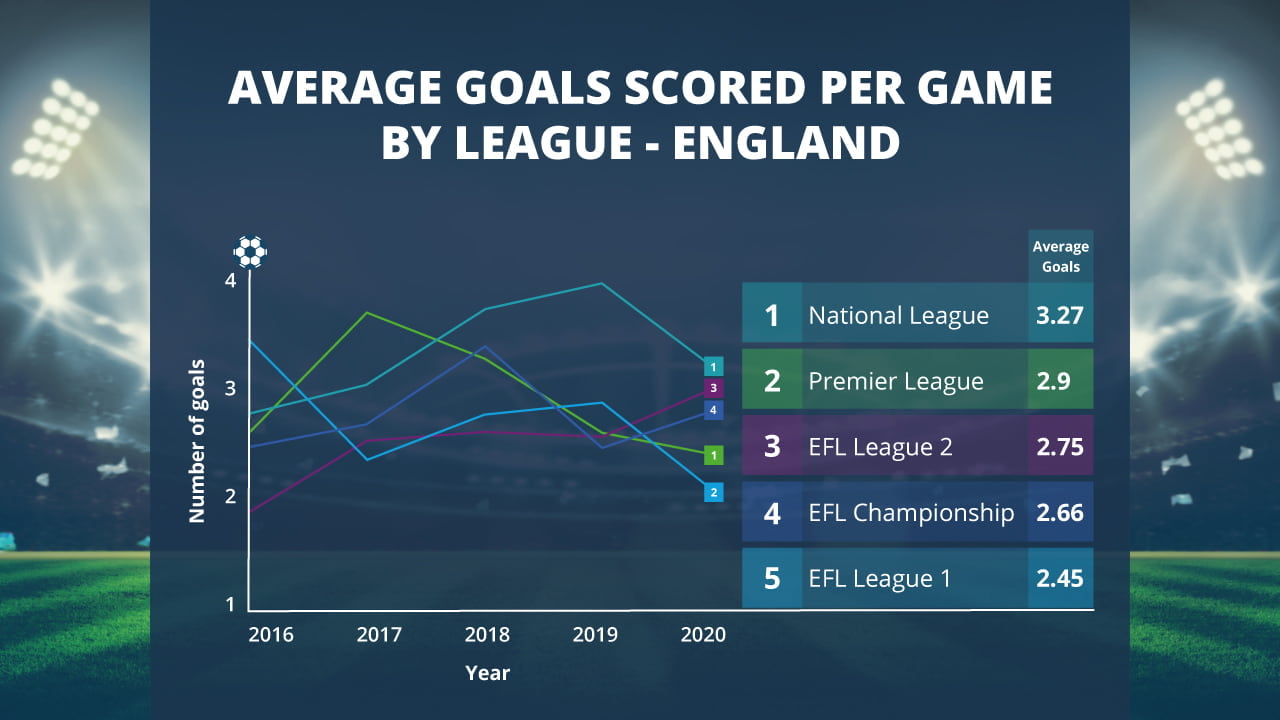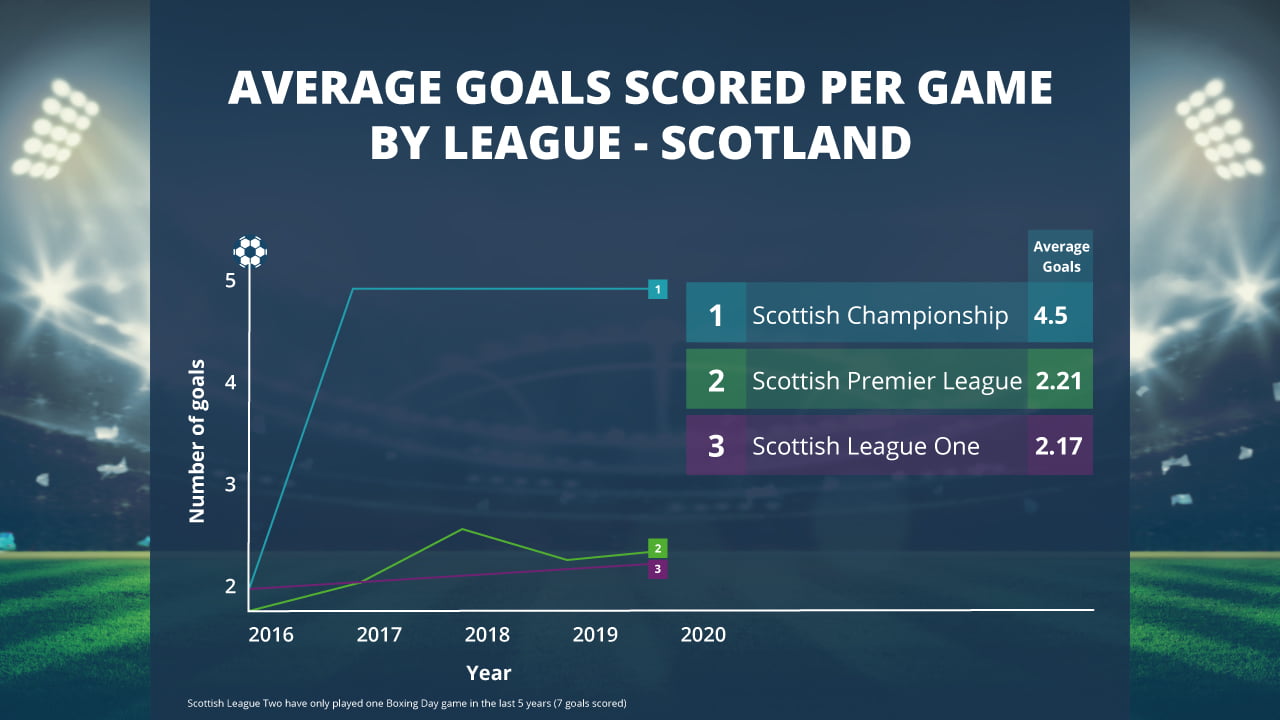 Football fans love working off their Christmas calories by singing their heart out and frantically celebrating as the ball hits the back of the net. Luckily for them, the Boxing Day fixtures have a rich history of providing plenty of action.
One of the most common examples shared by supporters is the 1963 Boxing Day fixtures, where a tremendous 66 goals were scored in the then English First Division alone; an average of a whopping 6.6 goals per game.
Due to increased investment, more advanced training techniques and rigorous data analysis, clubs have managed to tighten up their defences, for the most part. In the last five years, no league has managed to come close to the goalfest of Boxing Day 1963, but the Scottish Championship gave it a good go in 2020, averaging 5 goals per game.
Scottish Championship and English National League can expect to see the most Boxing Day goals this year, scoring 4.50 and 3.27 goals per game on average.
Scottish League 1 fans may be disheartened to learn that Santa may not be bringing them as many goals; averaging 2.17 per game.
Who will travel the furthest this Christmas?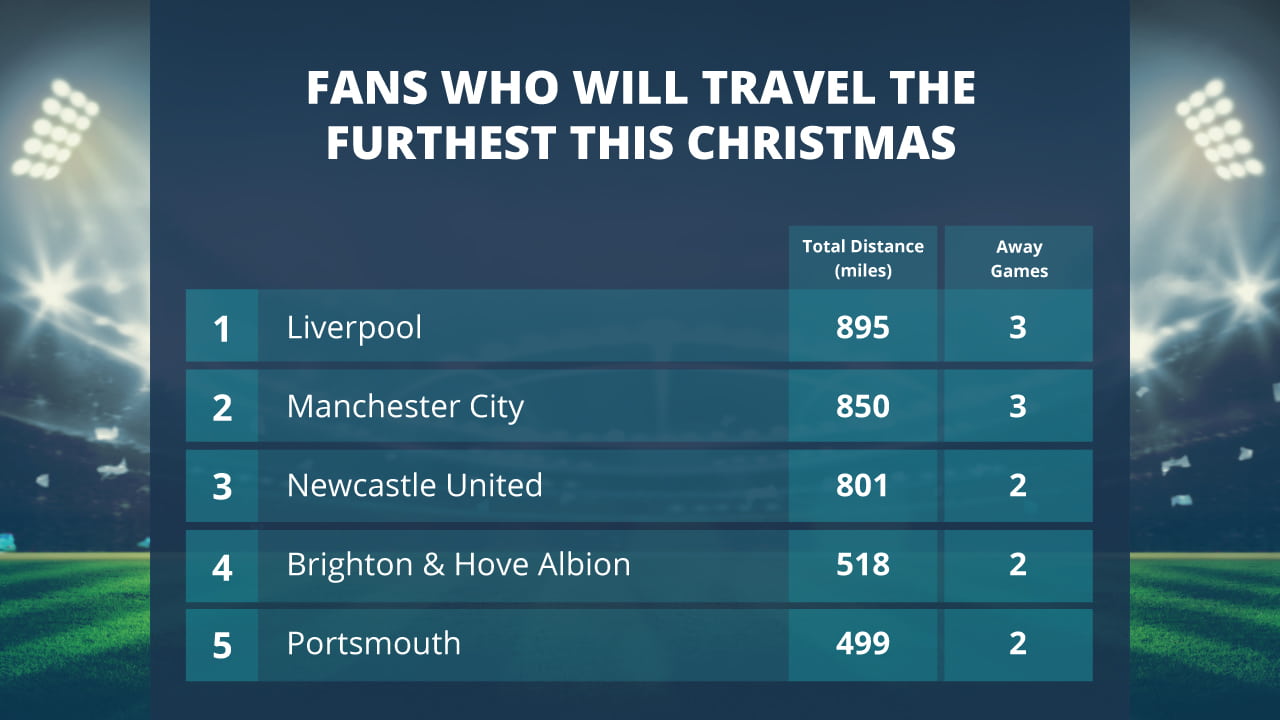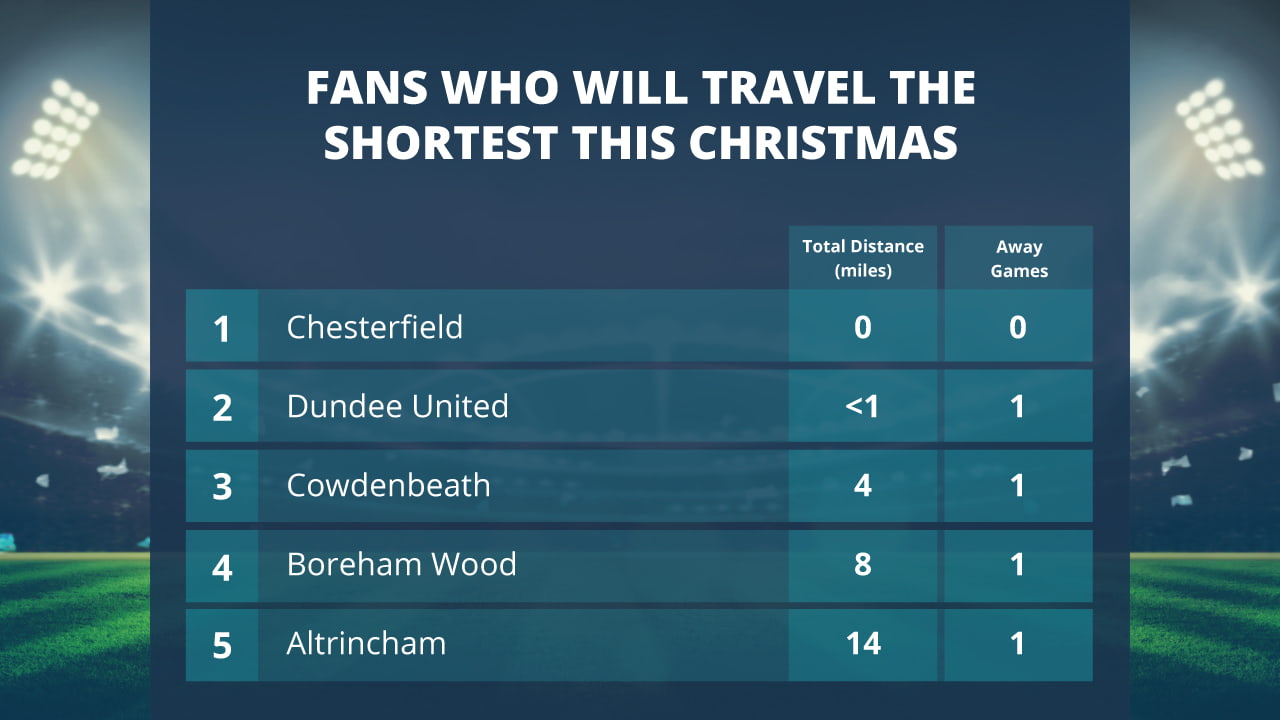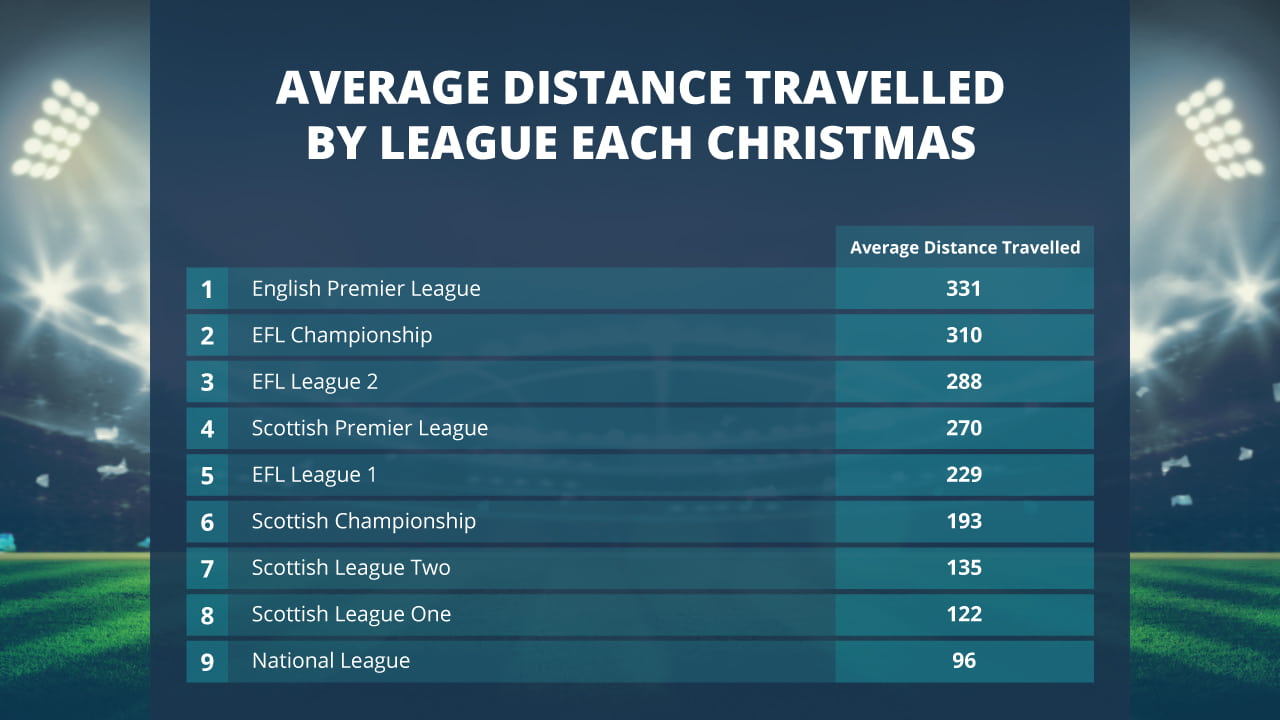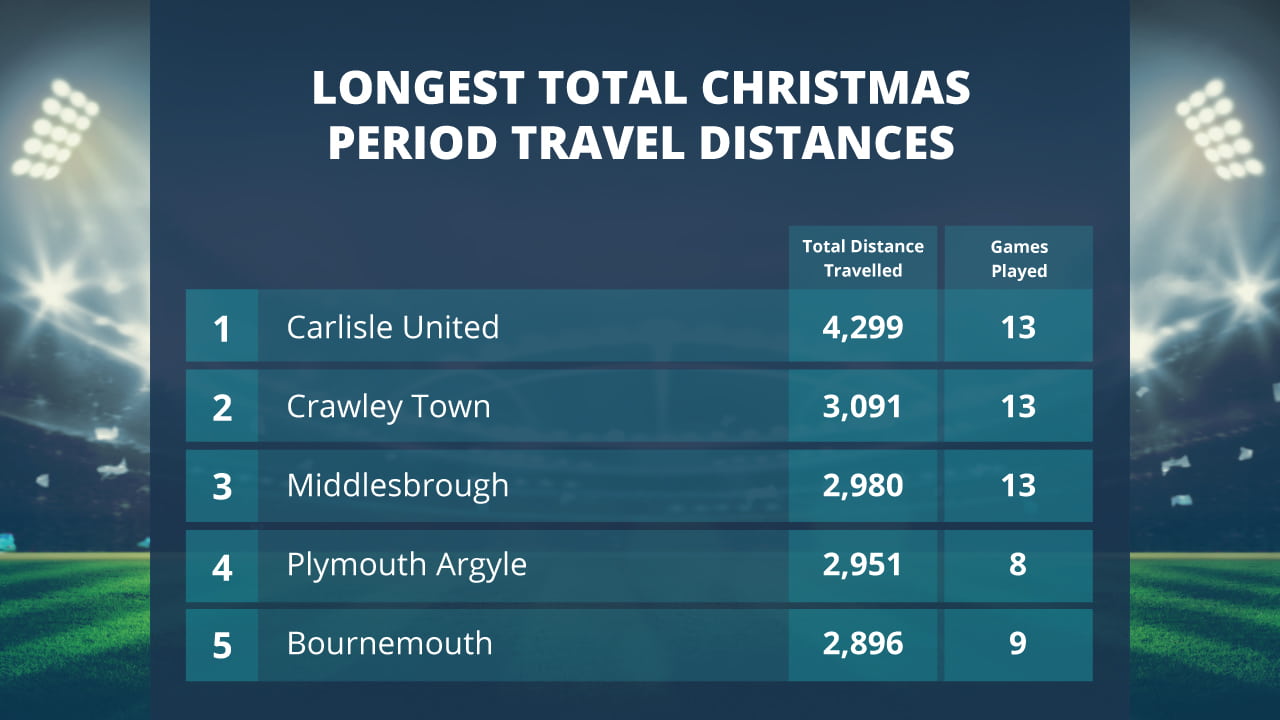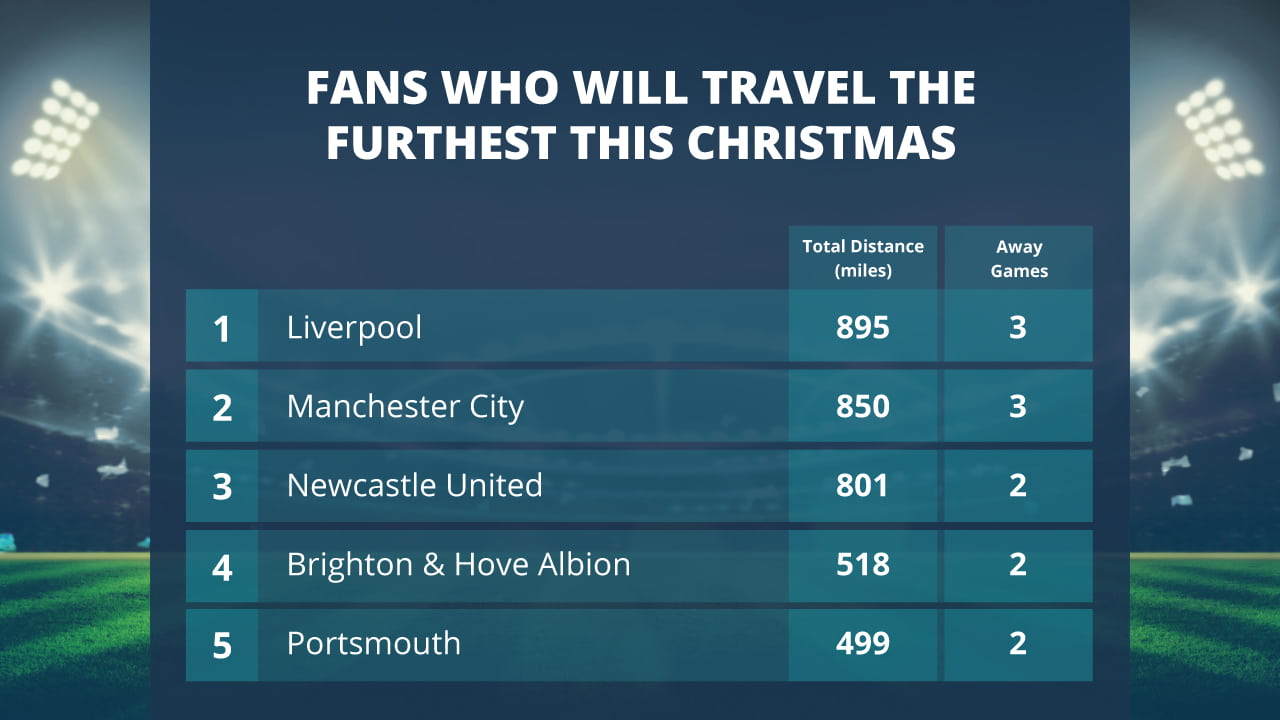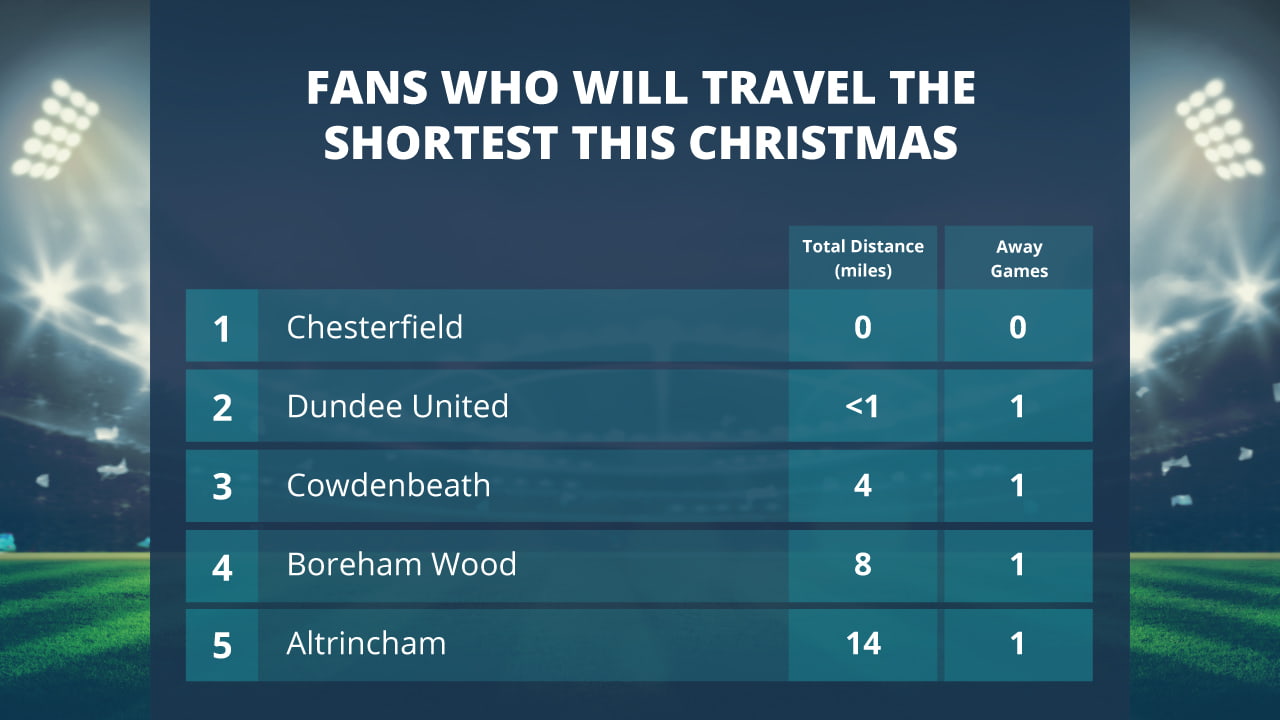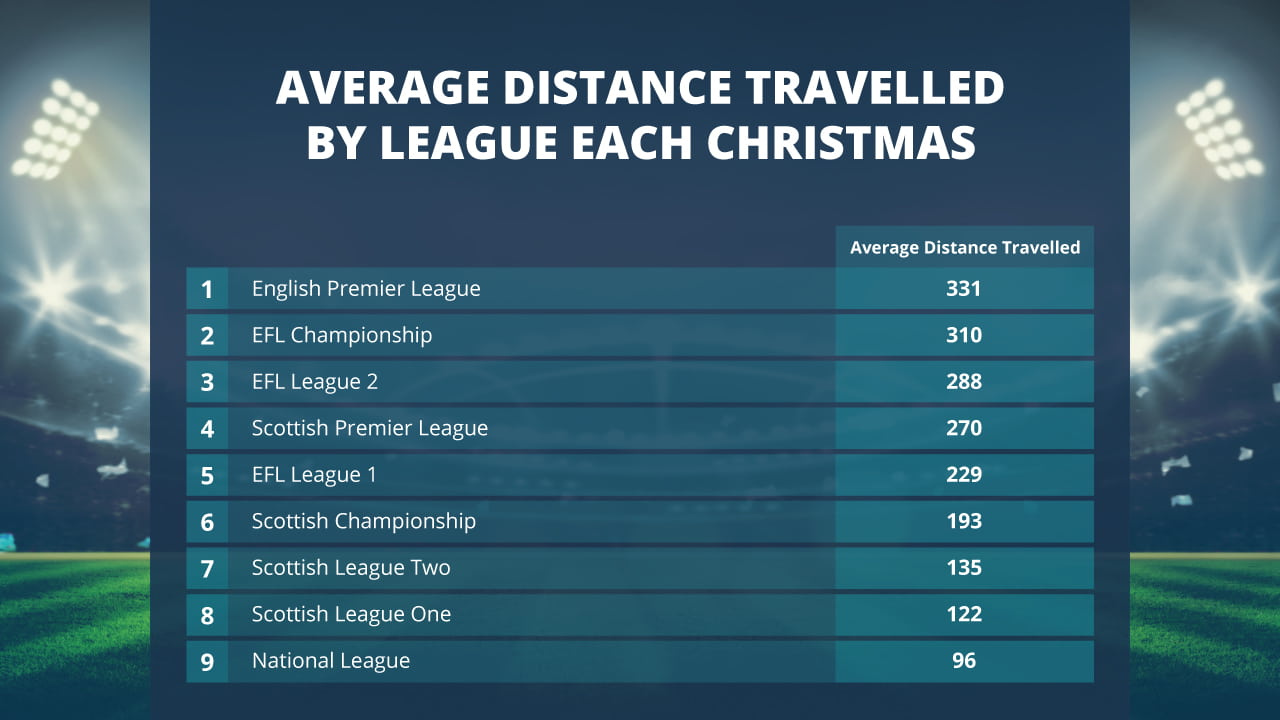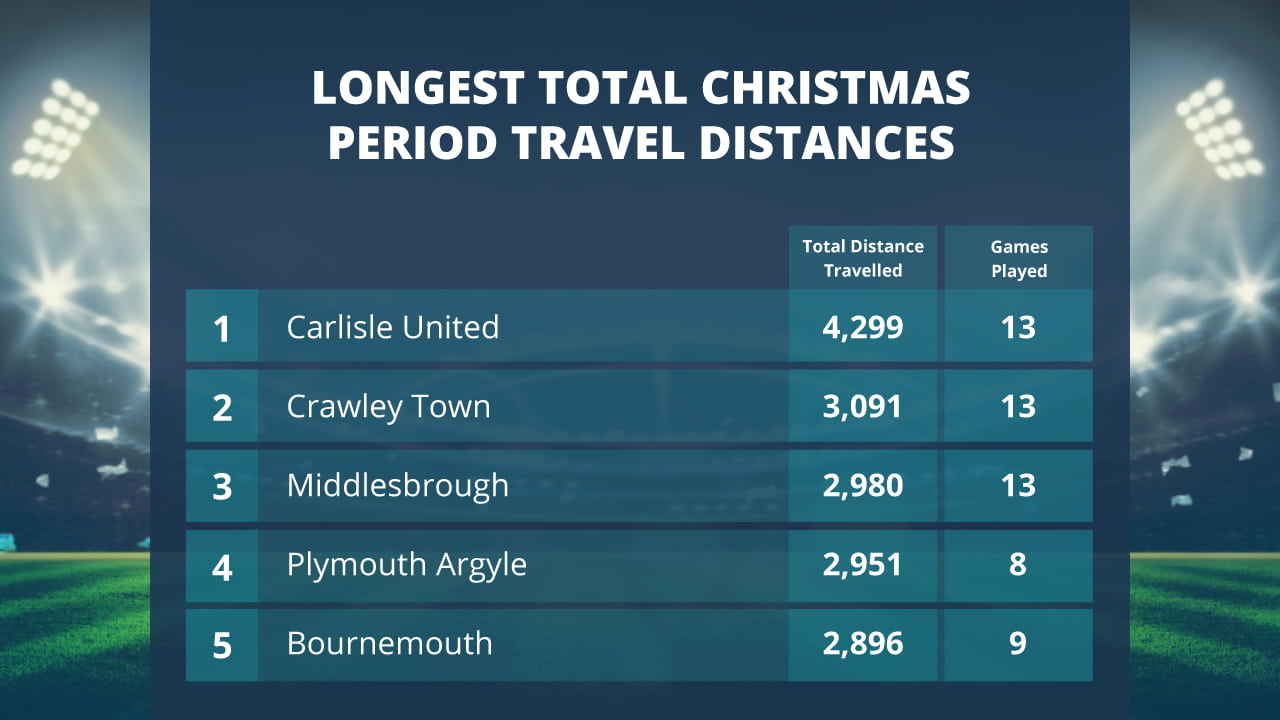 The weather outside is frightful, as is the travel distance for some clubs. If you're a Liverpool, Manchester City or Newcastle United fan you may want to look away now as you'll be travelling the furthest this Christmas.
The Reds are the hardest done by in the UK, having to travel a total of 894.96 miles during the two week Christmas period. Closely following are the Cityzens and Magpies, who will travel 850 and 801 miles respectively.
Fans of top flight English clubs will spend the most time behind the wheel this Christmas, with an average travel distance of 331 miles.
On the other end of the scale, National League fans will only travel an average of 96 miles.
Local rivals Notts County will be coming to town as well as Santa Claus if you're a Chesterfield FC fan, as one of three games hosted by the Spireites at the Technique Stadium during the Christmas period, without having to travel a single mile away.
Which team have travelled the furthest in total?
By the end of this Christmas period, it's Carlisle United who will have racked up the most miles over time, totalling 4,299 miles from 2016 to 2021. To put this into perspective, the Cumbrians could drive from Carlisle to Lapland (via France, Belgium, Netherlands, Germany, Denmark and Sweden), say hello to Rudolph and the elves, and travel back in a similar distance.
Which fans face the longest away days on the festive holidays?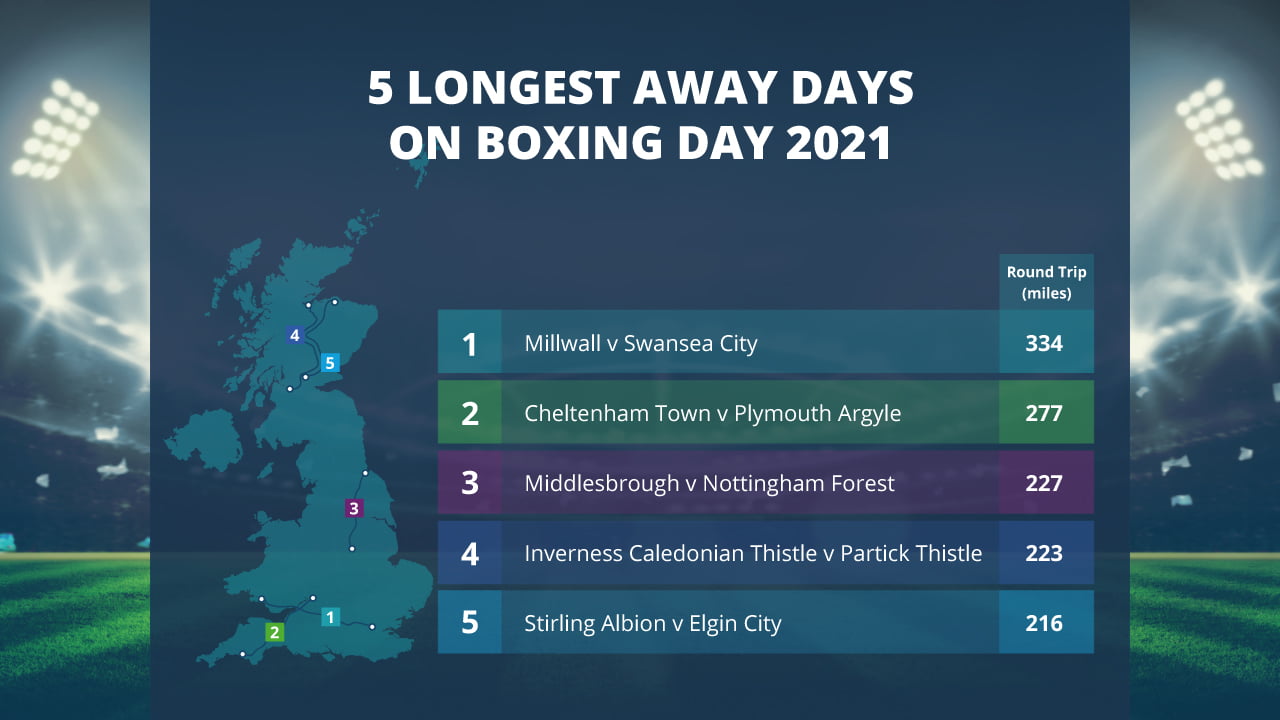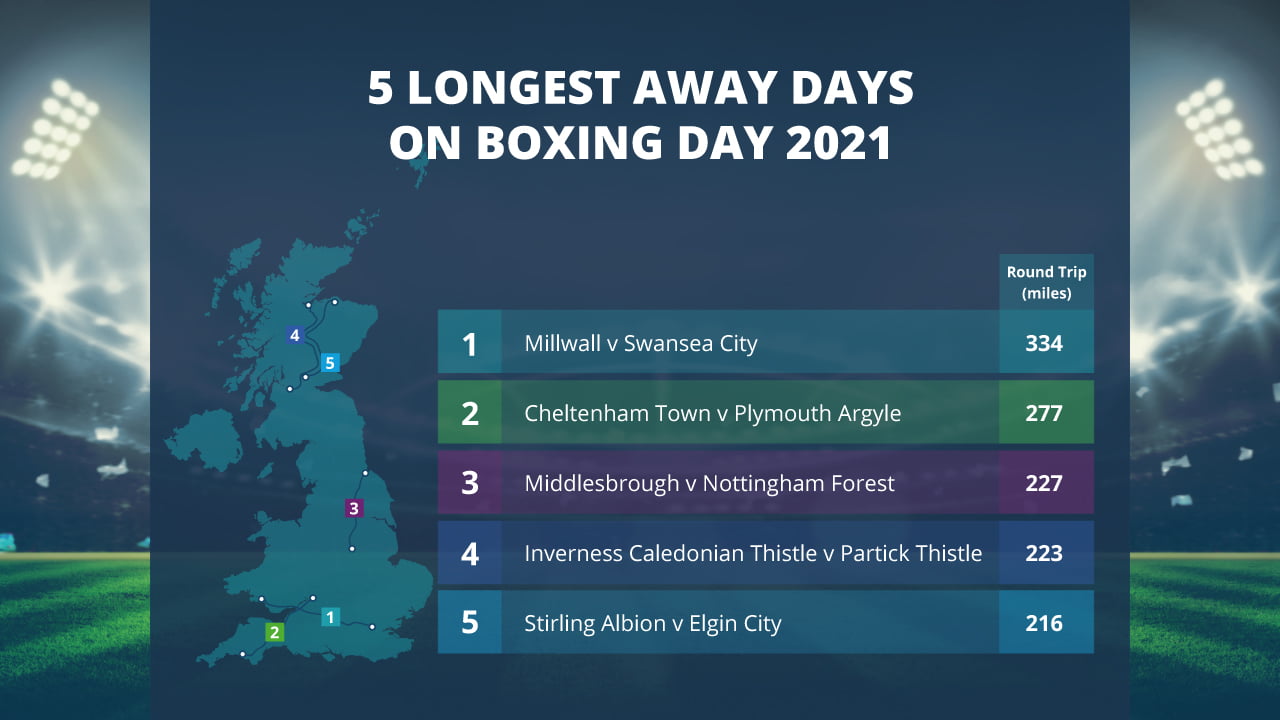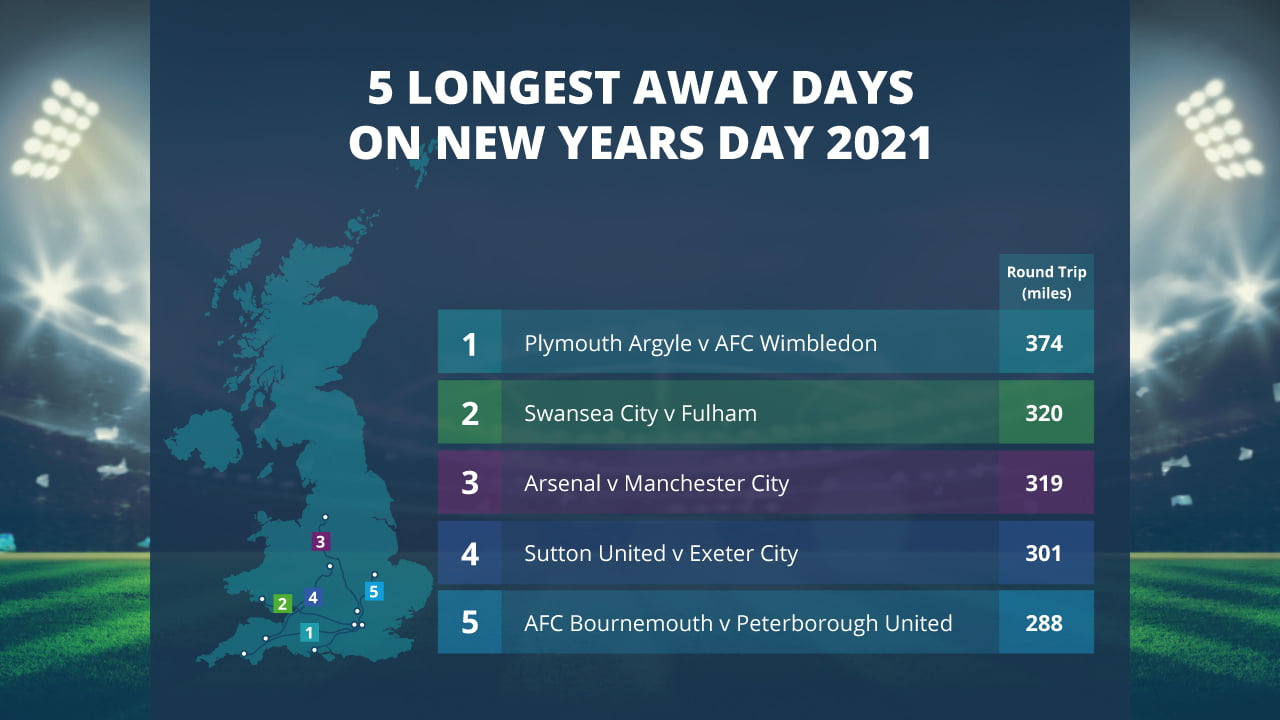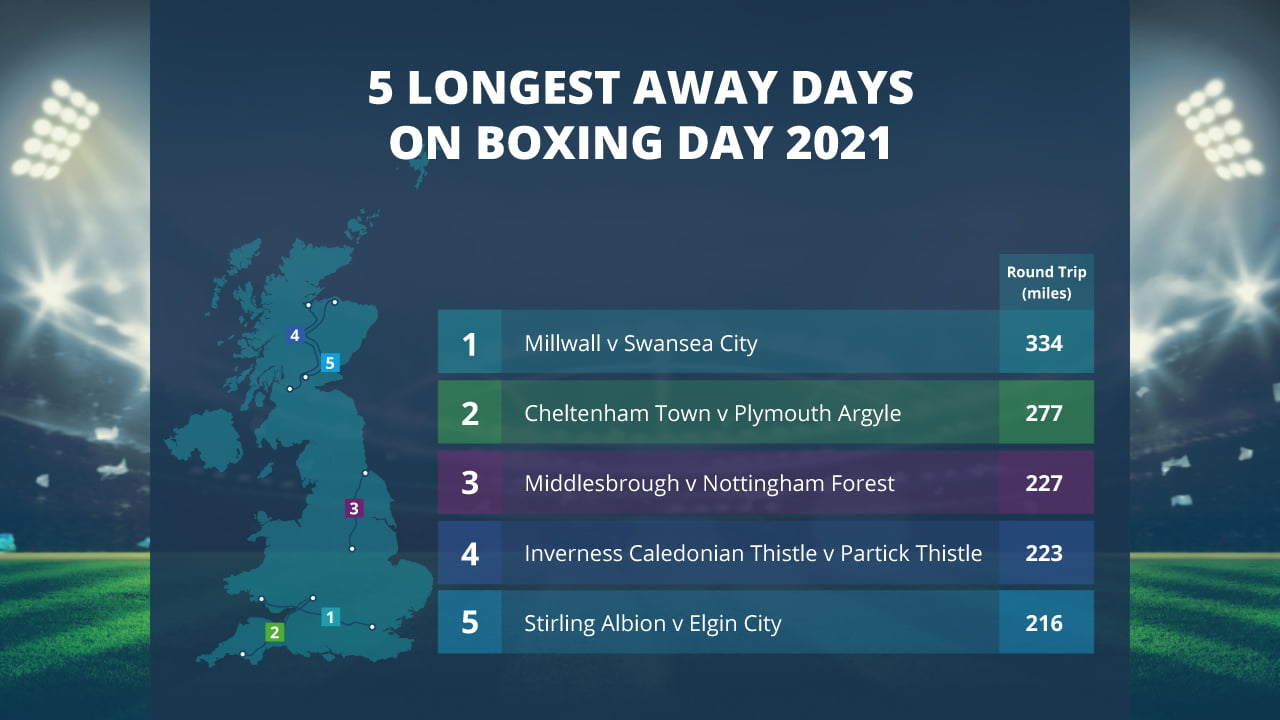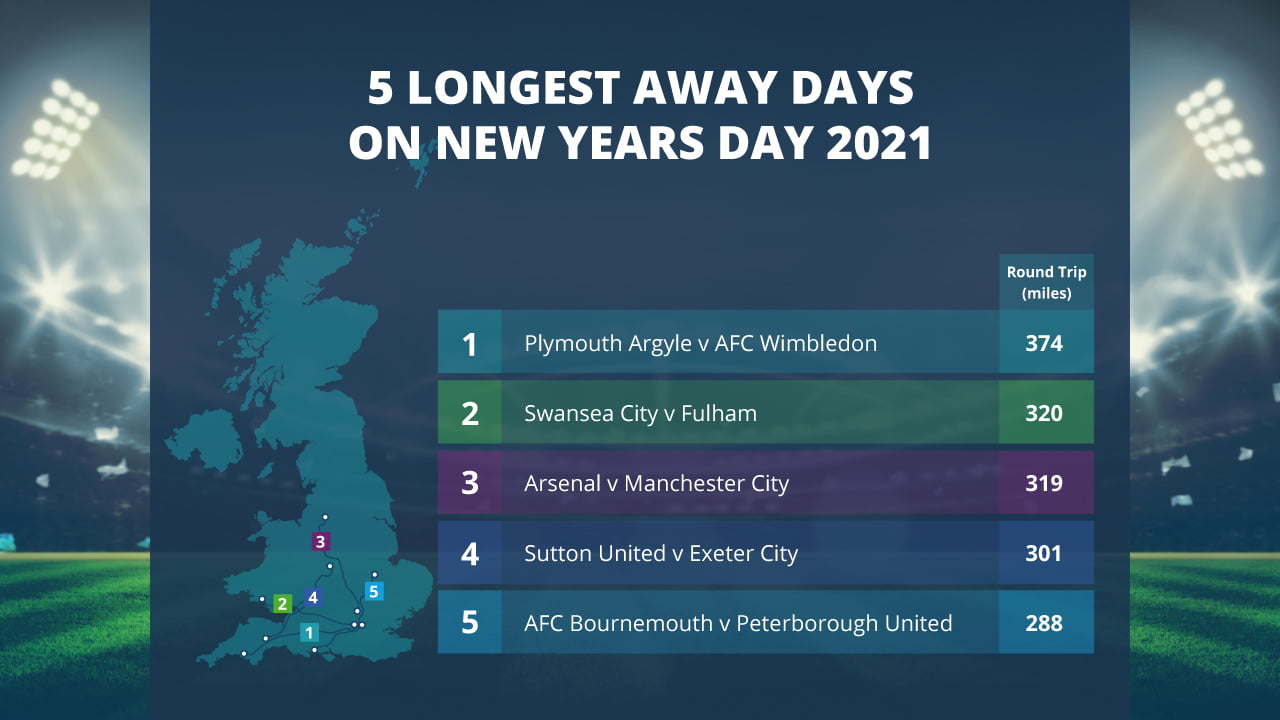 Following your team on the lead up to Christmas is one thing, but it's the Boxing Day and New Year's Day matchdays that football fans most fear when the fixture list is announced. There's been some pretty notorious away day trips throughout history, but the good news is no fans will have to hit the road on both festive holidays.
Boxing Day Fixtures
Fancy a day out in the capital of England, Swansea City fans? We hope so, as that's where you'll be headed on Boxing Day for a 3pm kick off against Millwall at The Den. The 334-mile round trip is almost double the average for EFL Championship clubs.
At least you won't be battling the unpredictable weather conditions of the Cairngorms like Partick Thistle fans who have a 223-mile round trip through the mountain range to complete in order to see their team play on Boxing Day.
New Year's Day Fixtures
After their New Year's celebrations are done, AFC Wimbledon will have a mammoth 374-mile round trip on New Year's Day to play Plymouth Argyle; not far off triple the EFL League 2's average. Swansea City fans could give a few Fulham fans a lift on the way back from their Boxing Day fixture in London, as they'll be hosting the Cottagers on New Year's Day.
Manchester City will also have to cut their New Year's celebrations short in order to ensure they have enough sleep for the 319-mile round trip to the Emirates Stadium for a 12:30pm New Year's Day kick off against Arsenal.
Most clubs will kick off at either 14:30 or 15:00 on New Year's Day, giving fans an extra few hours in bed.
Who's got the most challenging away day this Christmas?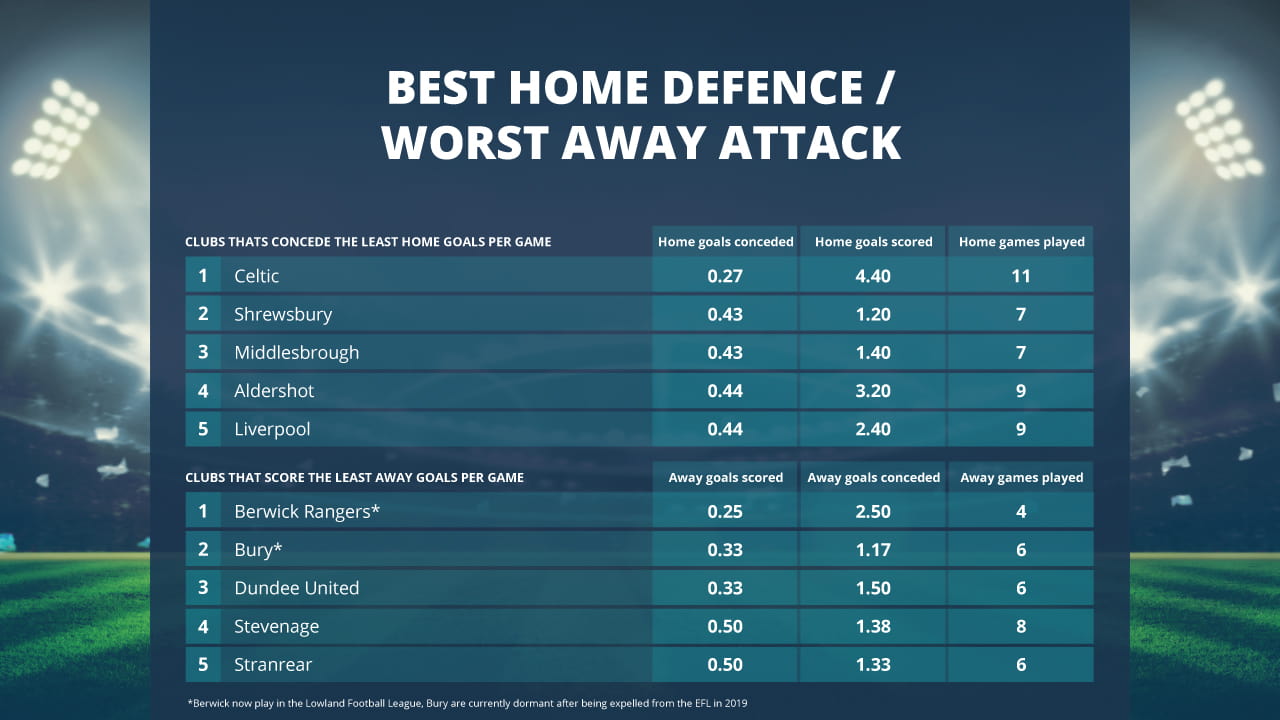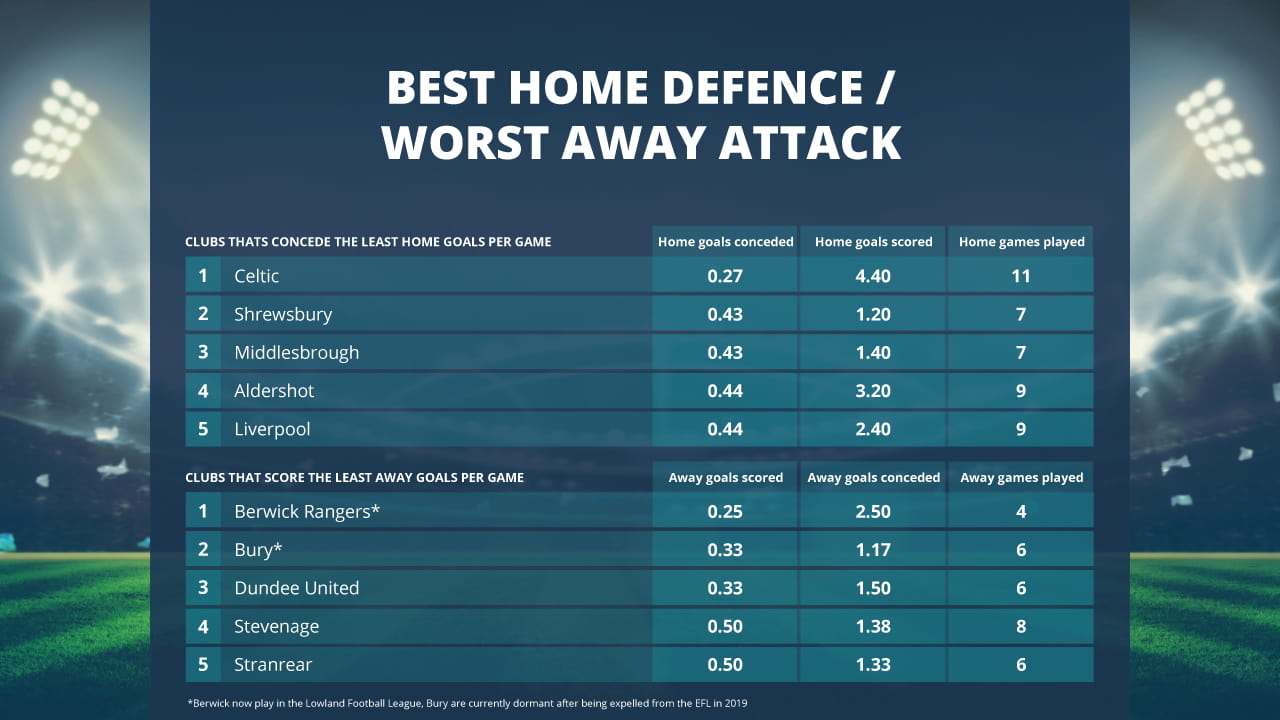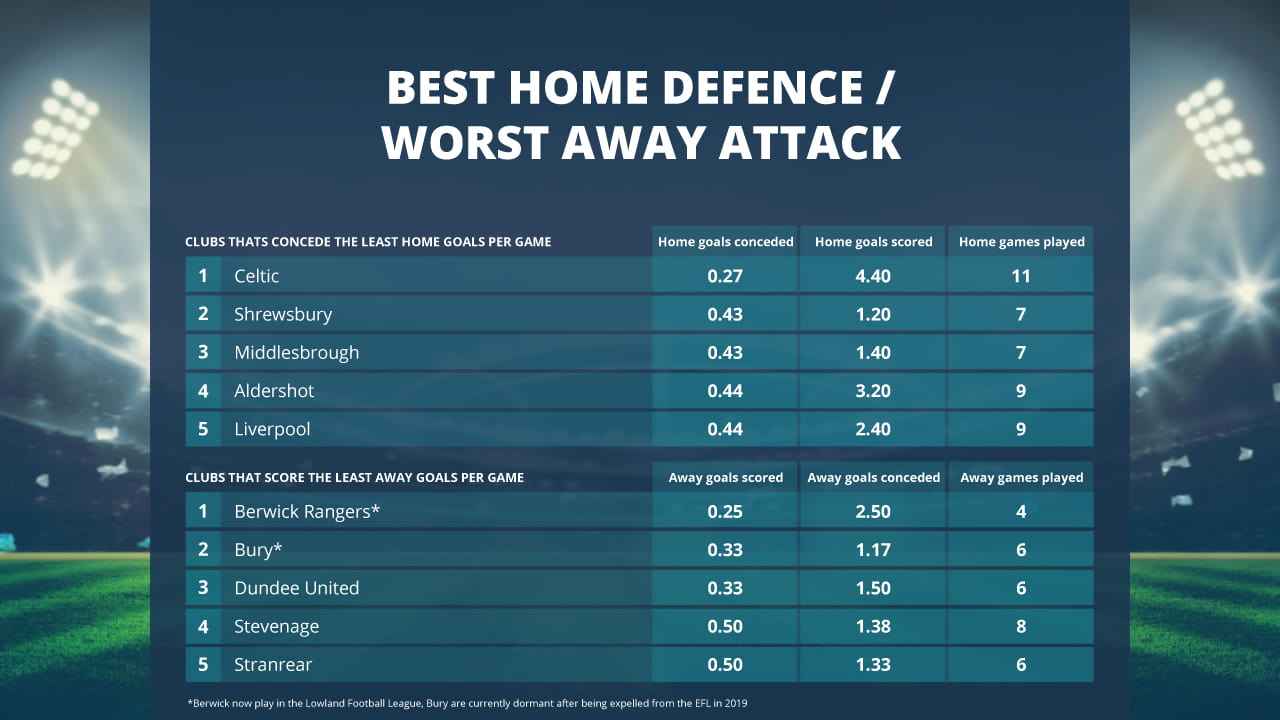 We've all heard the phrase 'can they do it on a cold, windy night in Stoke?', but based on our data, it should be changed to 'can they do it on a cold, windy night in Glasgow?'.
Celtic concede only 0.27 goals per game when playing at home during the Christmas period and have the UK's best Christmas defensive record. Not good news for fans of Hibernian who score an average of 0.83 goals per game during the two weeks and will travel to Celtic Park this winter.
Nottingham Forest are you listening? Middlesbrough's defence is glistening... The Boro concede just 0.43 goals per game at the Riverside Stadium over Christmas, enough for them to share the title of England's best winter defence with Shrewsbury Town. Fans of the Reds may need a Christmas miracle to come away with any points from their 227-mile round trip on Boxing Day.
The winter winds have seemingly affected the Dundee United players over the last five years too. Scoring an average of 0.33 away goals per game, the Terrors are more tame than terrifying. However, Dundee United fans won't be travelling very far at all this year - a total of 0.36 miles to be exact - to play in the Dundee derby on 27th December.
Who loves playing away and who struggles at home?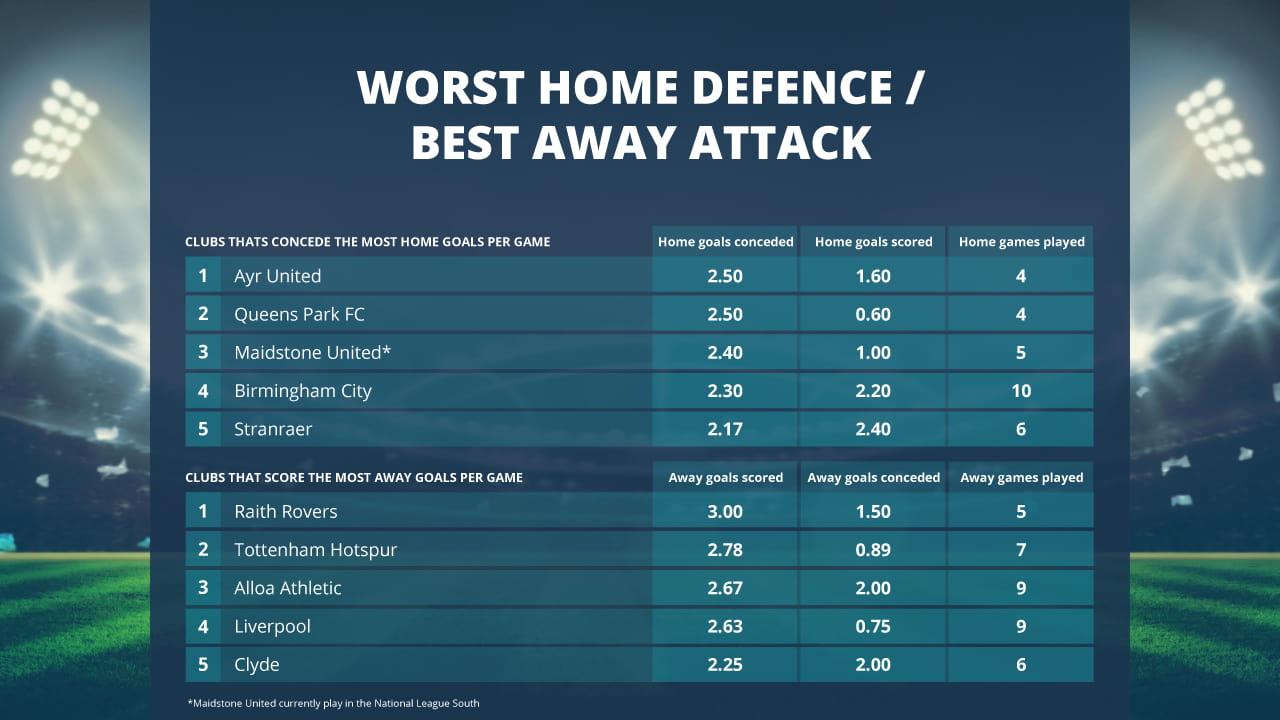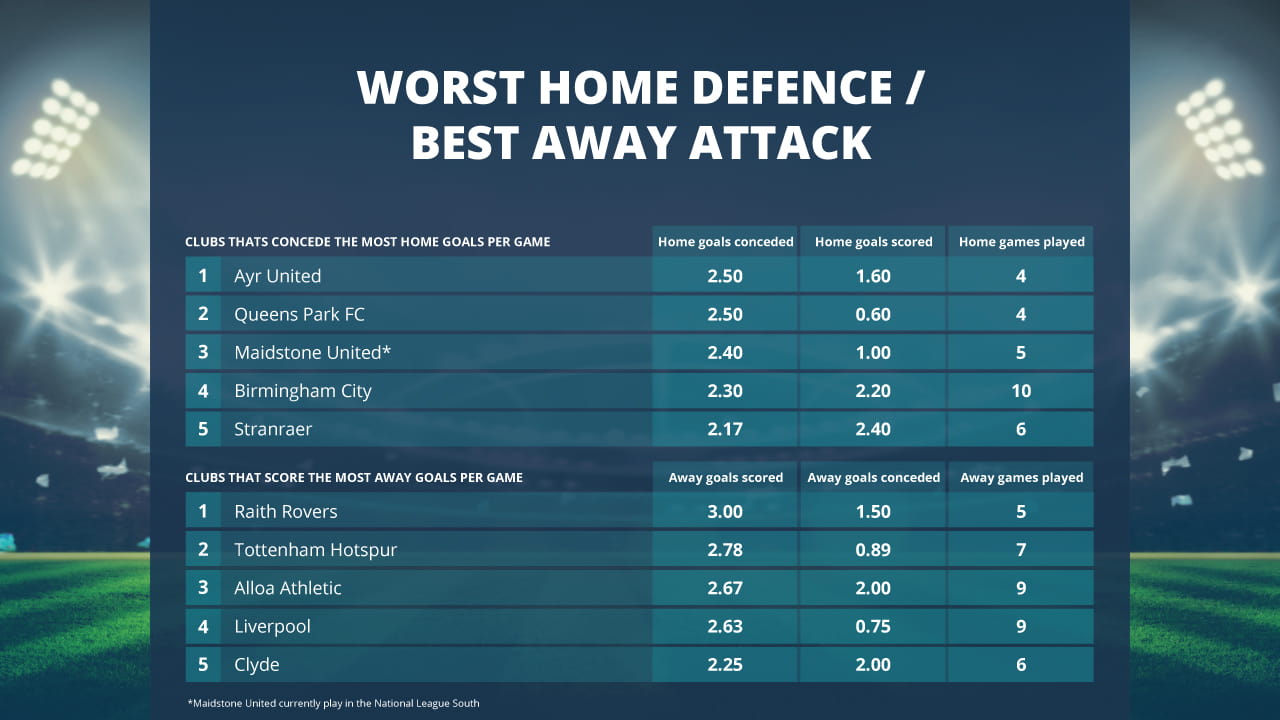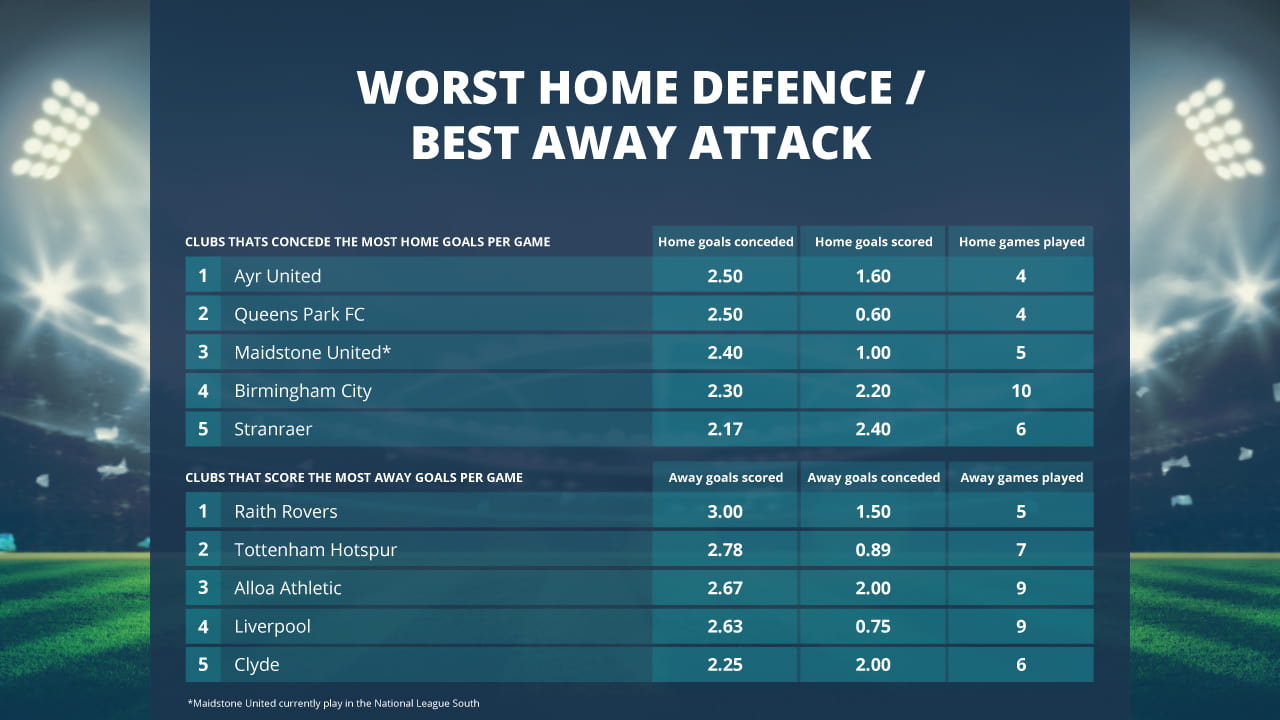 It isn't all bad news if you're on the road this Christmas, though. Whilst some teams dig in for the winter and concede very little when playing at home, others use their festive spirit to entertain the fans with plenty of goals on their journeys.
Topping the list is Raith Rovers, who score an average of 3 away goals per game. They only travel an average of 66 miles each year however, which may explain their good run of form during this period. Tottenham Hotspur on the other hand have to travel an average of 370 miles each Christmas, scoring an impressive 2.78 away goals per game.
With long away day trips on their mind, Queens Park FC and Ayr United forgot to fortify their own stadiums, conceding 2.50 goals per game when playing at home.
St. Andrew's is the place to travel to this year in England, as Birmingham City concede the most at home over the Christmas period, with 2.30 goals per game being shipped.
It's a game of two halves. How do teams perform in each?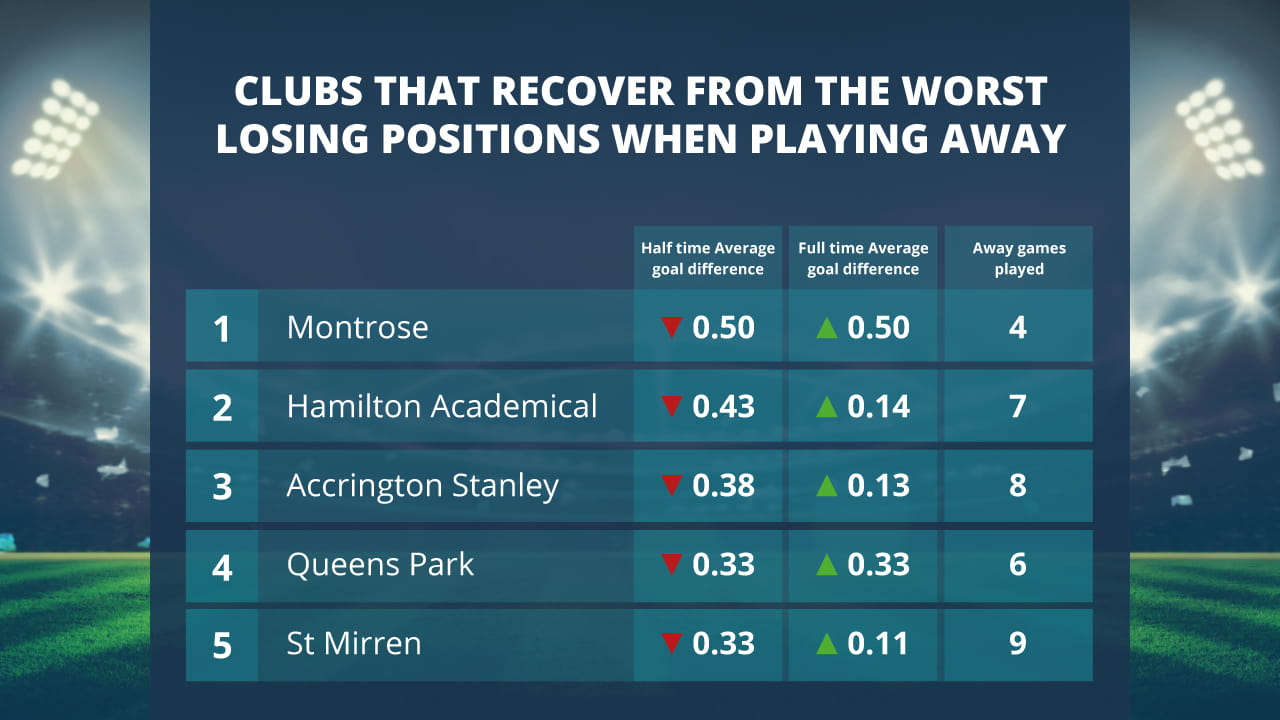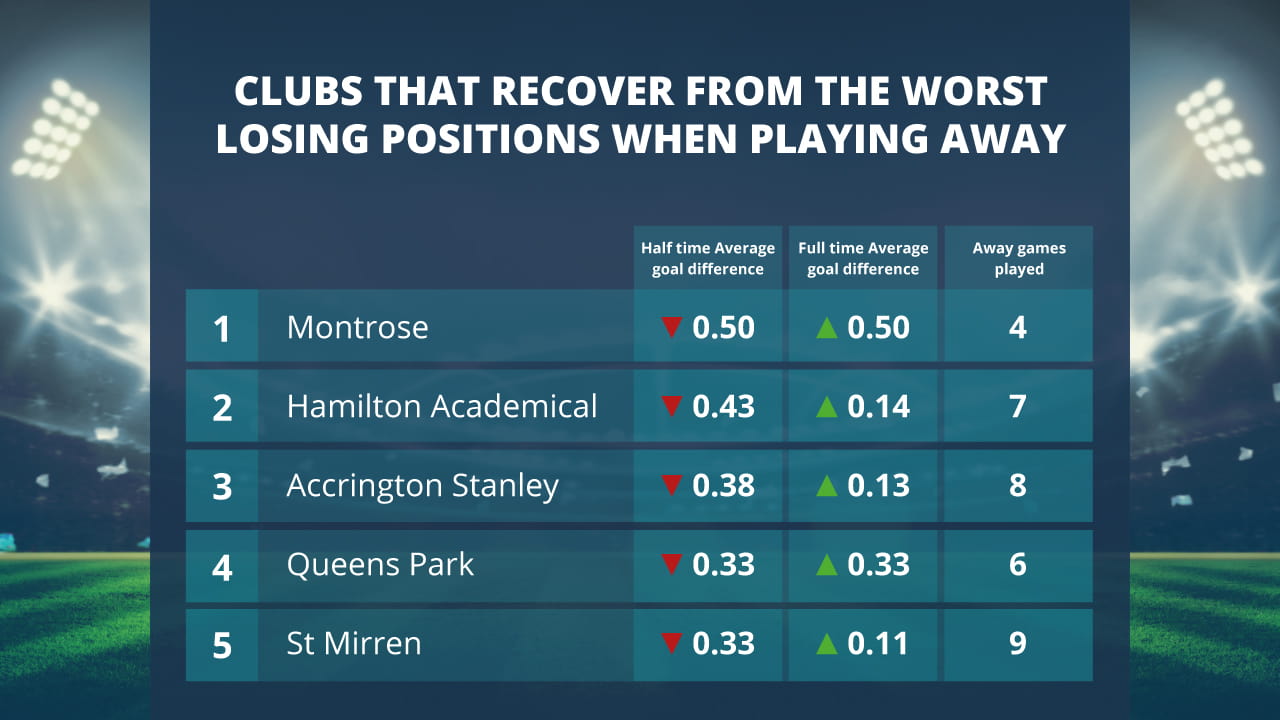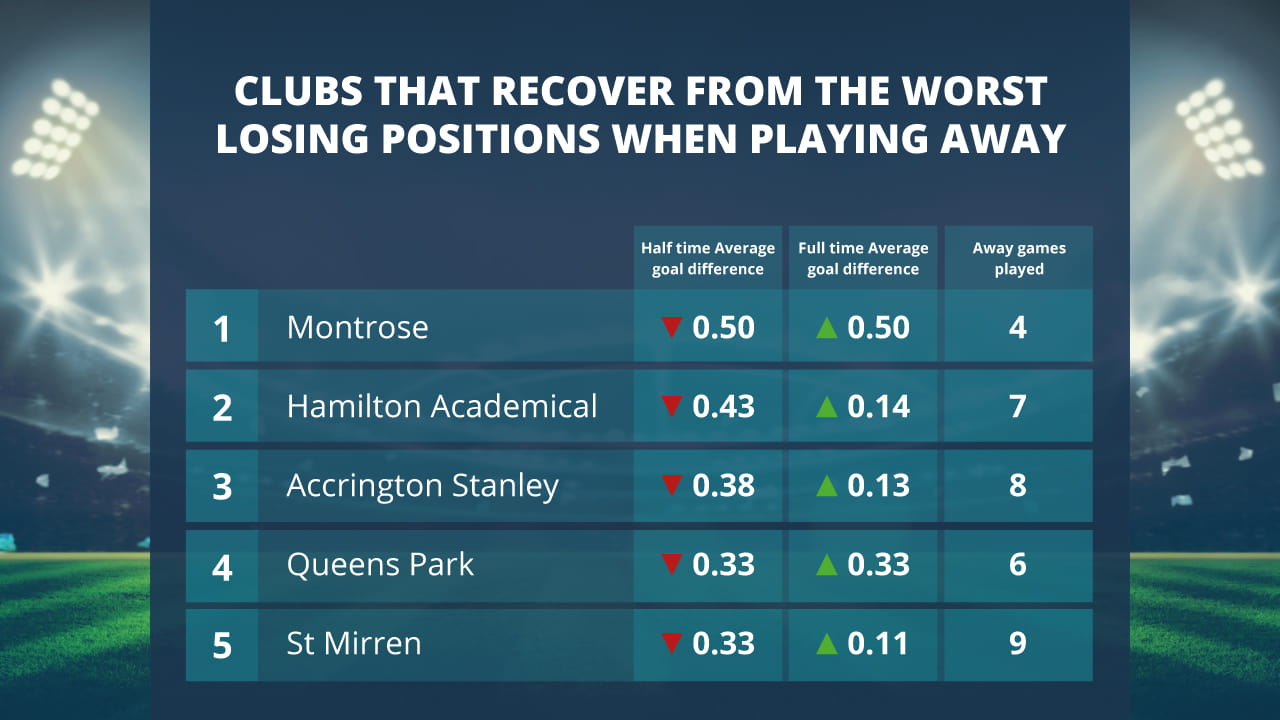 All football fans love action and arguably the most entertaining games to watch are ones where a team seems down and out with no way back, but then dramatically turn it around in scintillating fashion.
We three (comeback) Kings of orient are...
One of the three comeback kings during the winter period is Montrose, the Scottish League One side are (on average) losing by 0.5 goals per away day at half time. Give them another 45 minutes however and they're winning by 0.5 goals at full time.
Hamilton Academical and Accrington Stanley complete the royal trio. When on the road, both teams are losing at half time but have significant goal swings to finish the game in winning positions.
Extending the lead or piling on the misery
How fitting would it have been if Leyton Orient were one of the comeback kings? Instead, it's the opposite. Over their nine Christmas away days within the last five years, the O's go into the half time break 0.44 goals up, but end the game 0.44 goals down.
Teams such as Liverpool and Peterhead extend their half time leads by the largest margin, while the misery worsens for the likes of Elgin City, Cambridge United and Ipswich Town who lose both halves of football on average.
How far do fans have to travel to see their club score?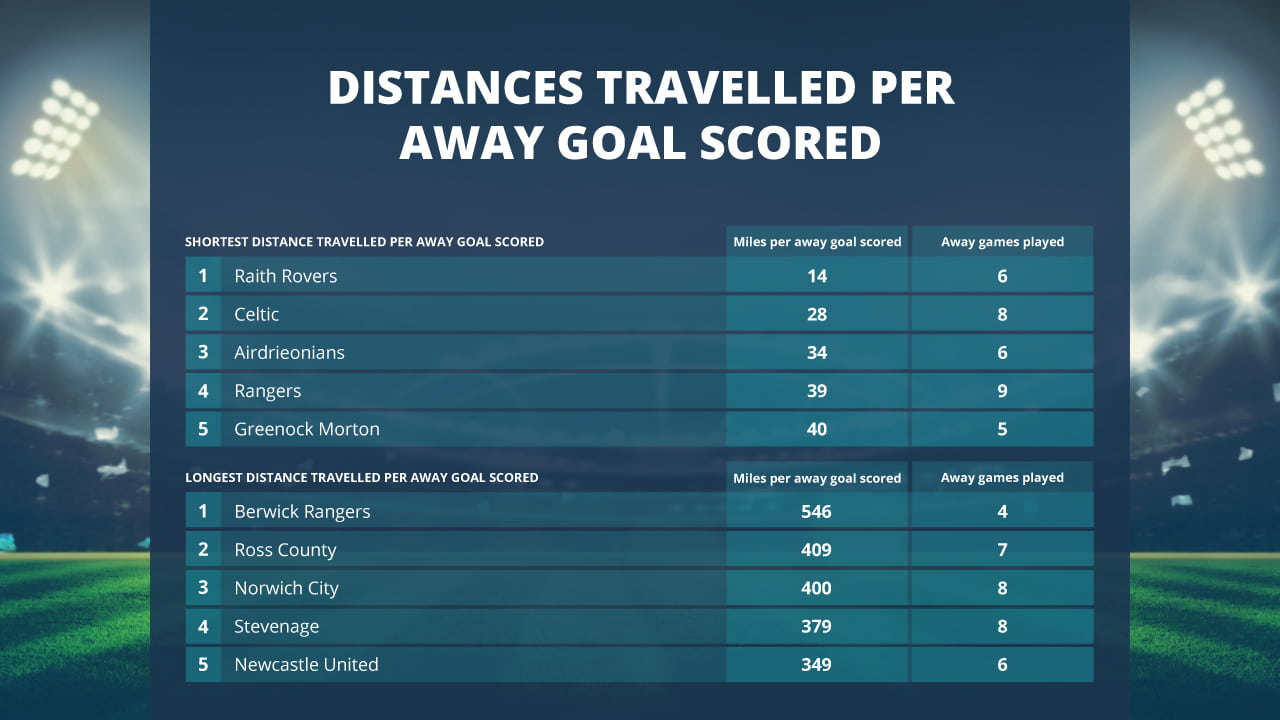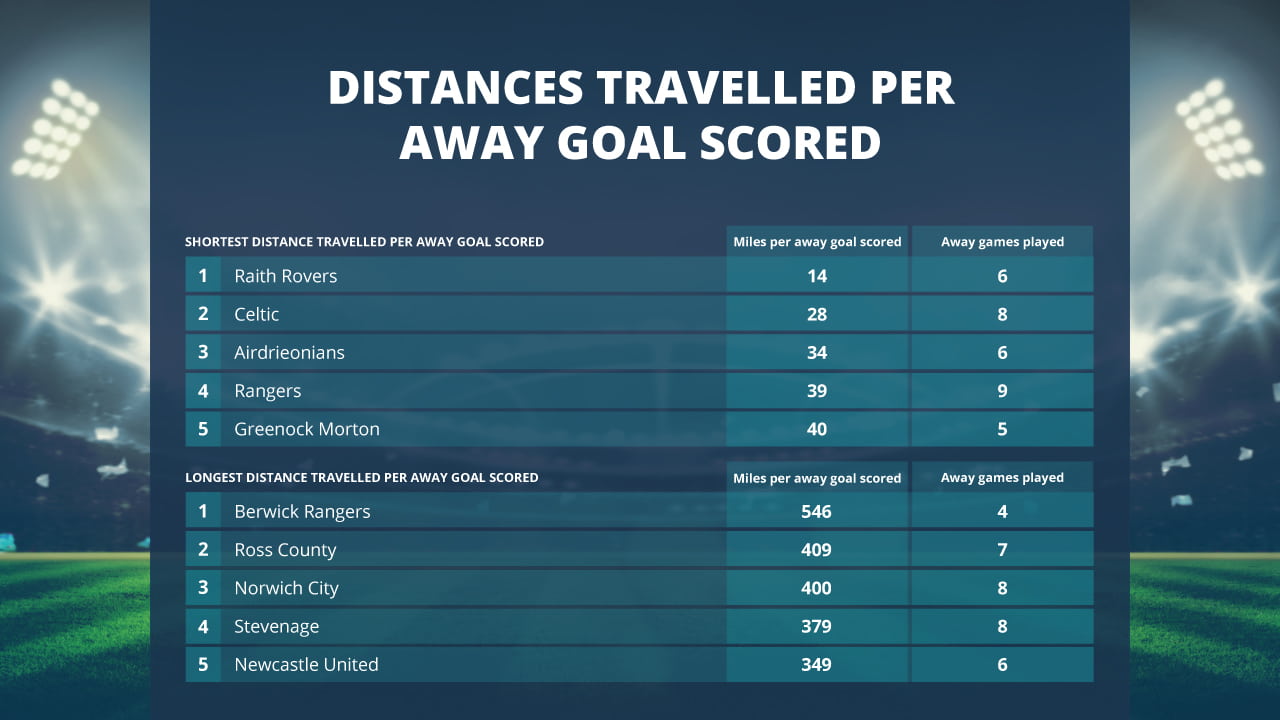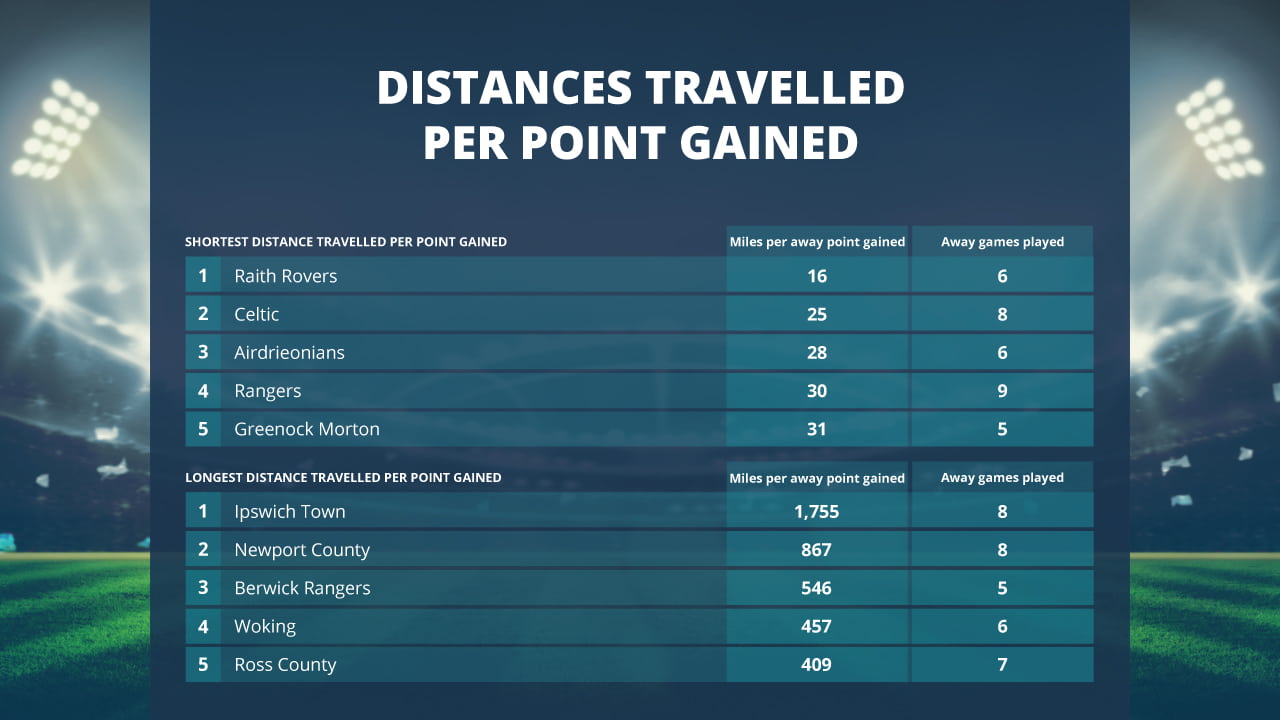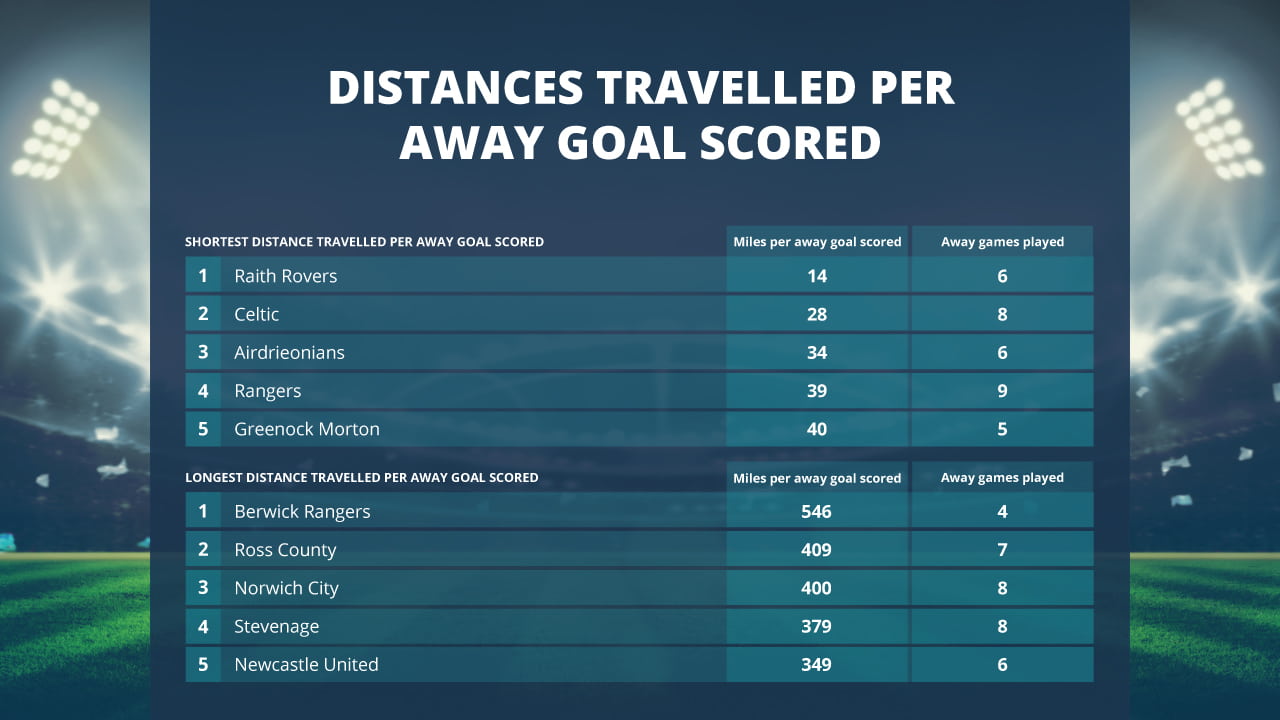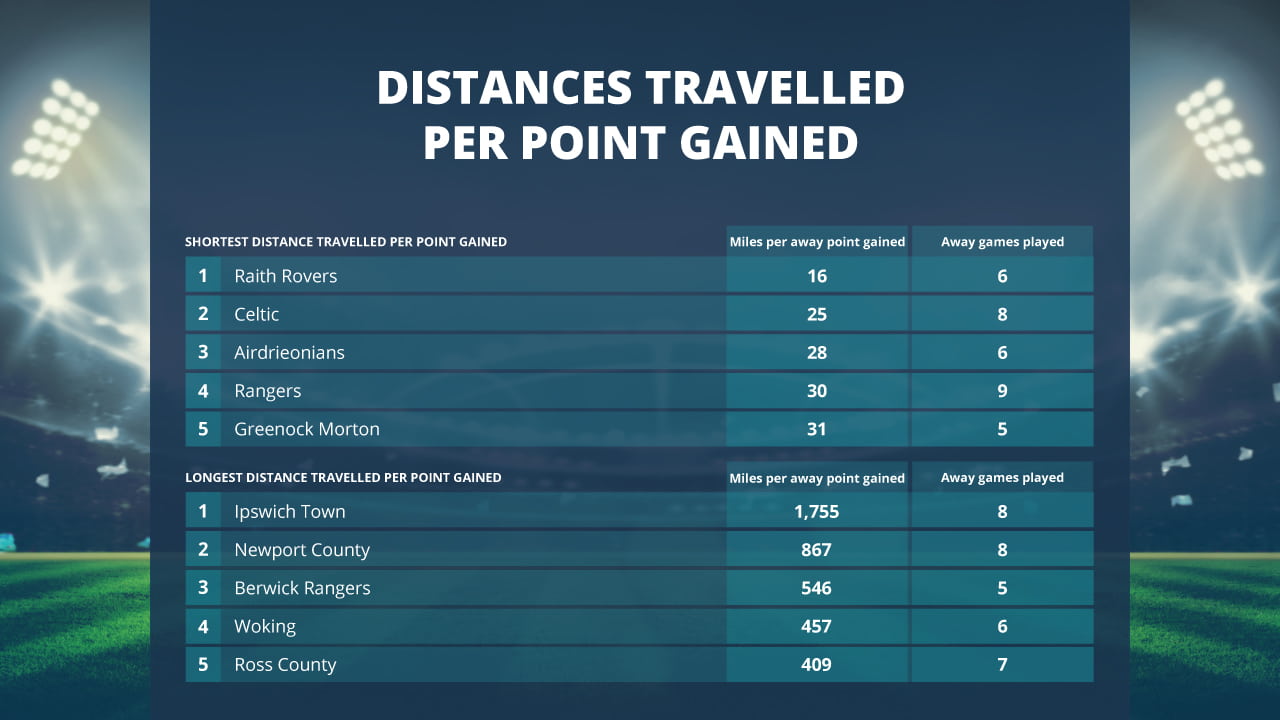 Travelling long distances to see your team play away is part and parcel of being a football fan and there's no better feeling than driving home after seeing a bunch of goals. Unfortunately, this can't be the case all the time.
Berwick Rangers see the least action, travelling an average of 546 miles per away goal scored.
Raith Rovers fans have to travel the least to see their team score at 14 miles per away goals scored. They only travel an average of 51 miles each Christmas, however.
In England, Chelsea's strikers enjoy their time away from home the most, travelling 48 miles per away goal scored.
How far do fans have to travel to see their team bring home a point?
Most football fans won't be too disheartened by a lack of goals, providing they come away with hard-earned points that is. But some clubs are notably worse than others when it comes to gaining points on the road.
Ipswich Town - having earned just one point whilst playing away - have to travel the furthest in order to score points over Christmas, averaging 1,755 miles per point over the last five years.
Newport County also struggle, travelling 867 miles per point gained.
Fans of Scottish clubs tend to travel shorter distances in order to see their team bring home points, but the average away day distance is also significantly shorter than English leagues.
Christmas away days at a glance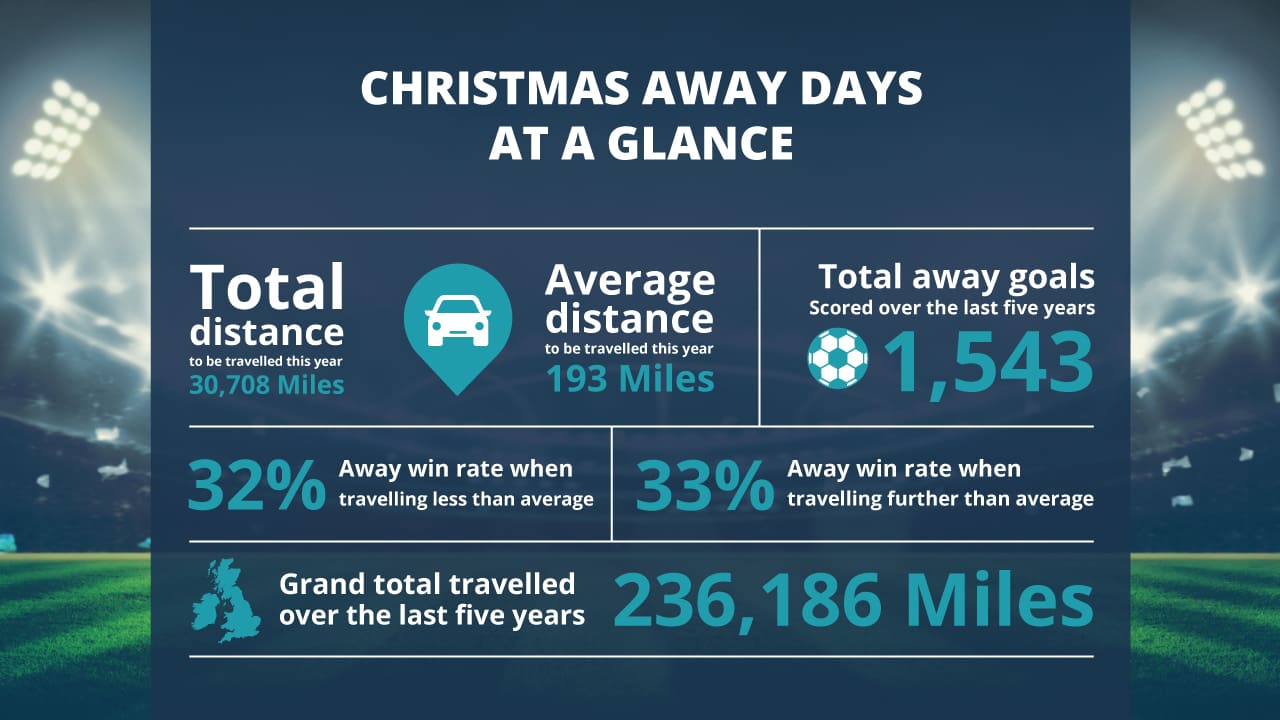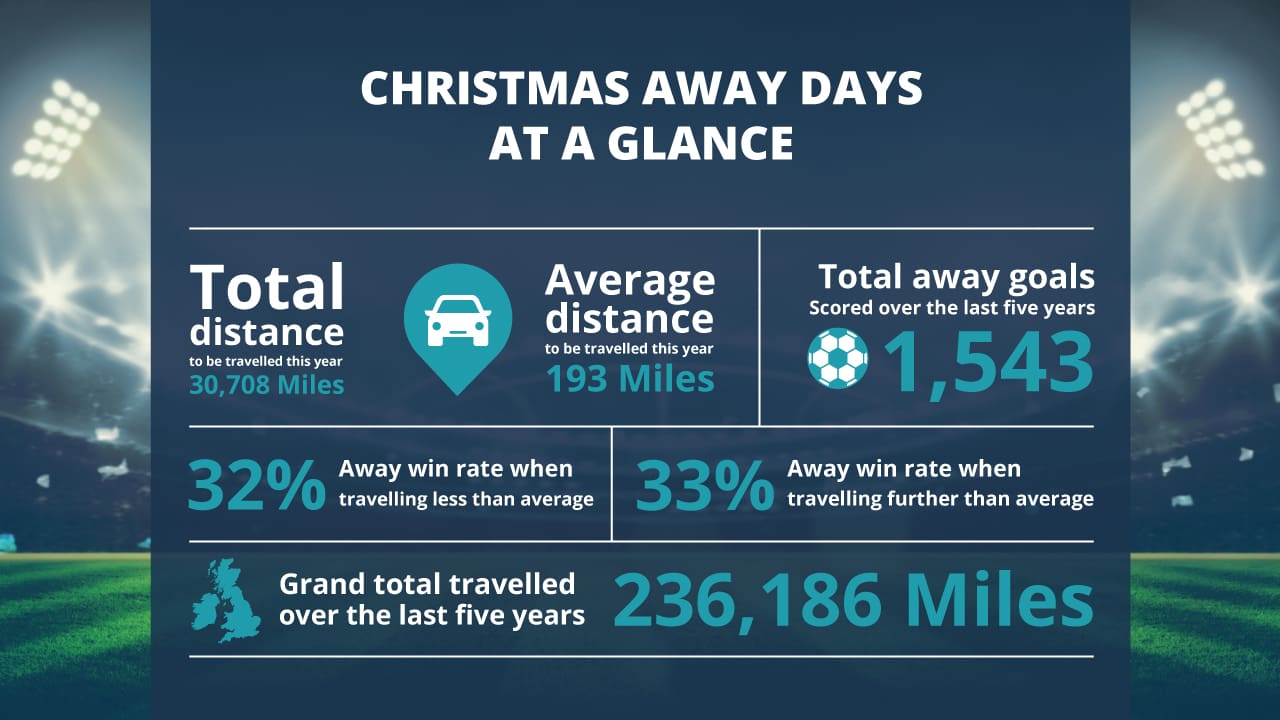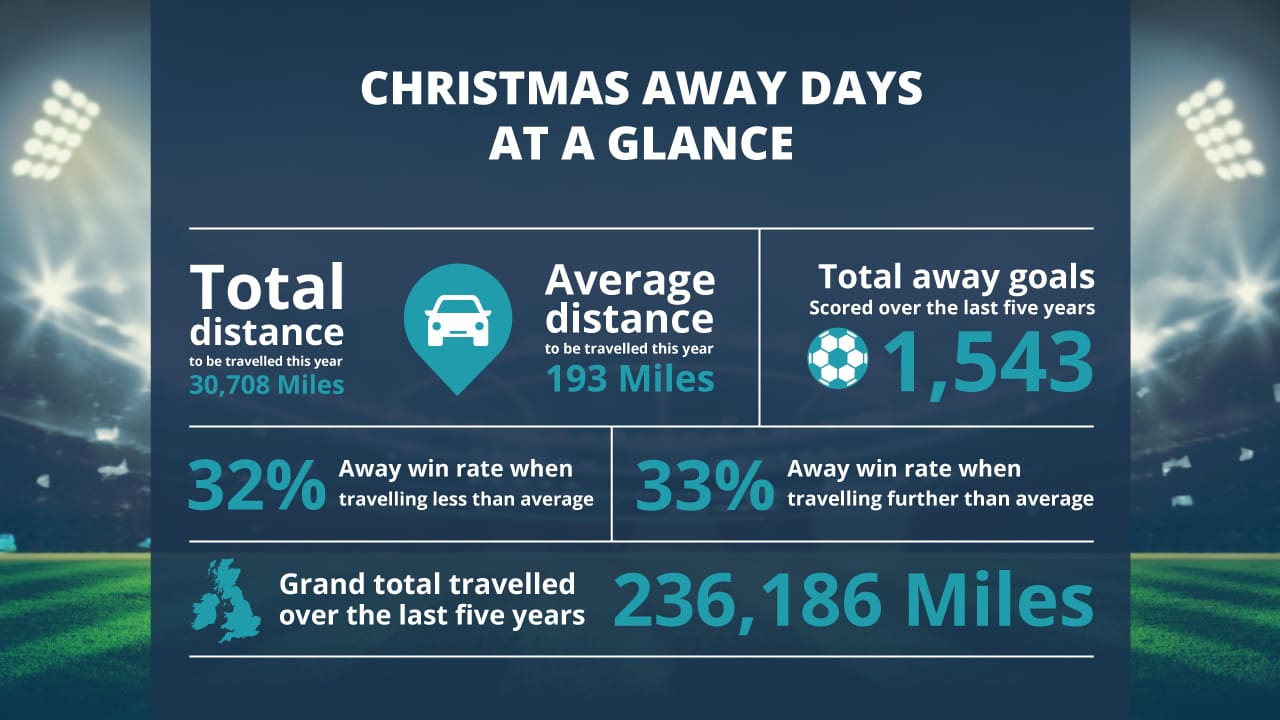 >
This year, football fans across the UK will be travelling a grand total of 30,708 miles over the two-week Christmas period. Averaging 193 miles per club, you'll be spending a lot of time driving home for Christmas if you were planning on following your team this winter.
By the end of this Christmas, clubs would have travelled a total of 236,186 miles from 2016 to 2022. A total of 1,543 goals have been scored away from home during the last five Christmas periods, and with another 200+ games to be played this year, all we want for Christmas is the same level of drama and excitement as delivered in previous years.
Home teams often come out triumphant, winning 42 percent of games during this period, while away teams win 33 percent.
Travelling further than average actually maintains this away win rate whereas travelling less than average sees this drop to 32 percent.
However, previous results don't indicate future performance, especially considering the drama of football. Win, lose or draw, there's something beautiful about travelling (sometimes crazy) distances around the UK following your club.
Additional data points for teams that weren't eligible
At the end of each season, there's triumphs and tribulations leading teams to be promoted and/or relegated through the football pyramid. This meant that some clubs didn't meet the required criteria of four home and/or four away games to be included in all areas of this study.
However, these clubs threw up some areas of interest that we thought were worth mentioning:
Havant & Waterlooville travel 565 miles per away point gained, but have only played two games in analysed leagues over the last five years.
Altrincham Town only travel 19 miles per away goal scored, scoring four goals in two games in analysed leagues.
Alloa Athletic fans also travel a small average of 15 miles to see their team score an away goal, scoring 8 away goals and travelling 118 miles.
Methodology
Only league games have been taken into consideration, not cup games. The data is based on stadium-to-stadium round-trip distance, calculated as the crow flies; distances may be longer dependent upon route taken.
Clubs were required to play at least four home and/or four away games in the defined leagues over the previous five years to be eligible for analysis.