Analysis: The UK's Sunniest Staycation Hotspots
18th May 2021
Naming the best UK locations for a holiday
As the UK continues along the roadmap to eased restrictions and more freedom, Brits are starting to set their eyes on some much-needed time away. However, with a number of rules and additional costs surrounding the visitation of some countries, more and more people are looking to holidays within the UK; commonly known as a staycation.
With that said, we decided to compile a list of the best locations to visit within the UK for a staycation. We've taken a number of factors into account, such as the cost of living and the cost of parking to name two examples. However, the most important factor is the weather at each location, including the average amount of sunshine and rainfall.
Top 10 Staycation Destinations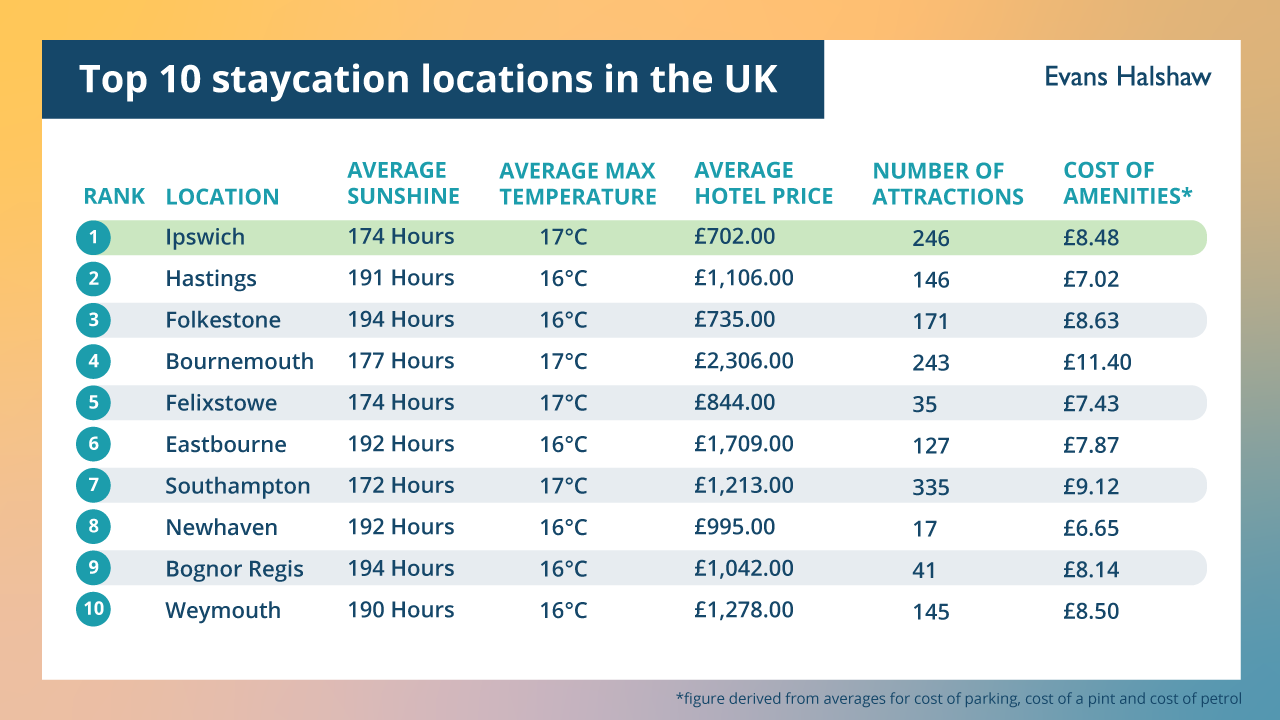 Our digital team have analysed weather and travel data for over 1,000 popular UK holiday destinations, and have subsequently produced a data-led ranking for the best staycation locations to travel to this year.
The data reveals that Ipswich is the number one location to visit overall. It may not be the sunniest compared to other locations, but it compensates for this with lower average hotel costs and plenty of attractions.
Despite having some of the most expensive hotel costs, Bournemouth has taken the fourth spot thanks to the amount of sun it gets, as well as the number of desirable attractions it provides for visitors.
With the joint highest amount of average sunshine complementing a respectable average max temperature, it could be argued that Bognor Regis deserves a higher position than ninth. However, the hotel costs are slightly higher than alternative locations within the top 10.
Sunniest Staycation Spots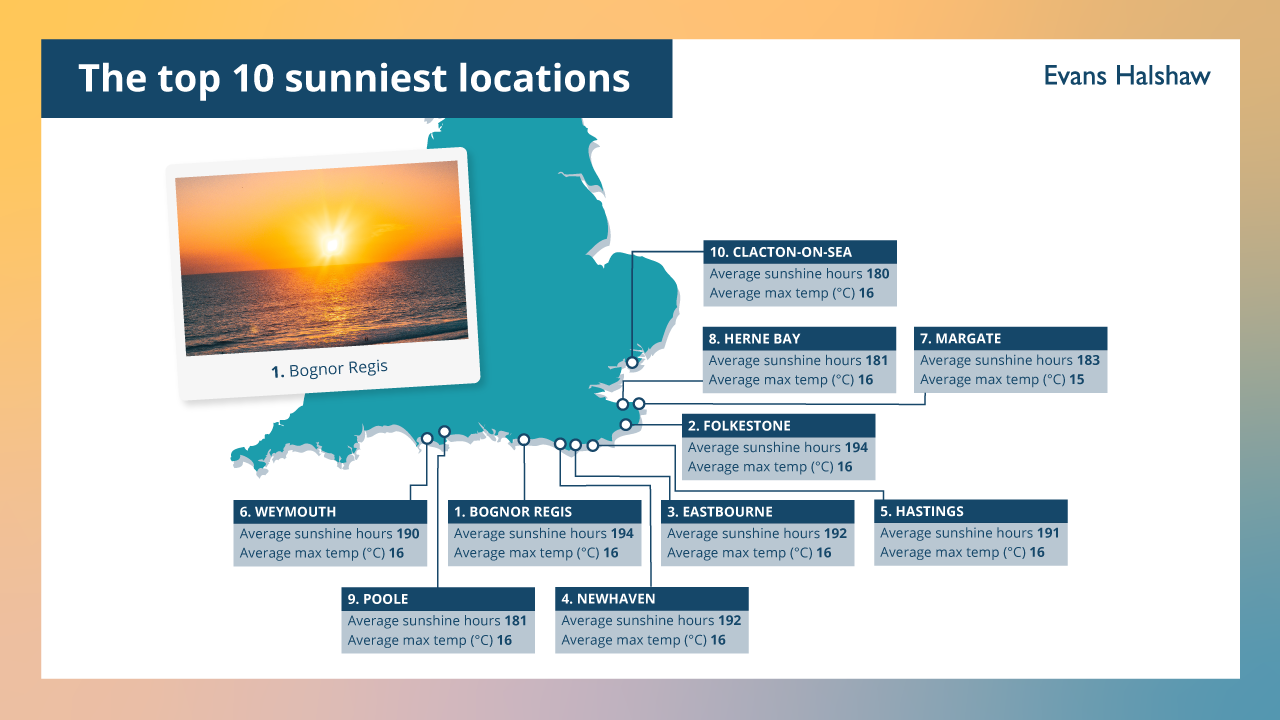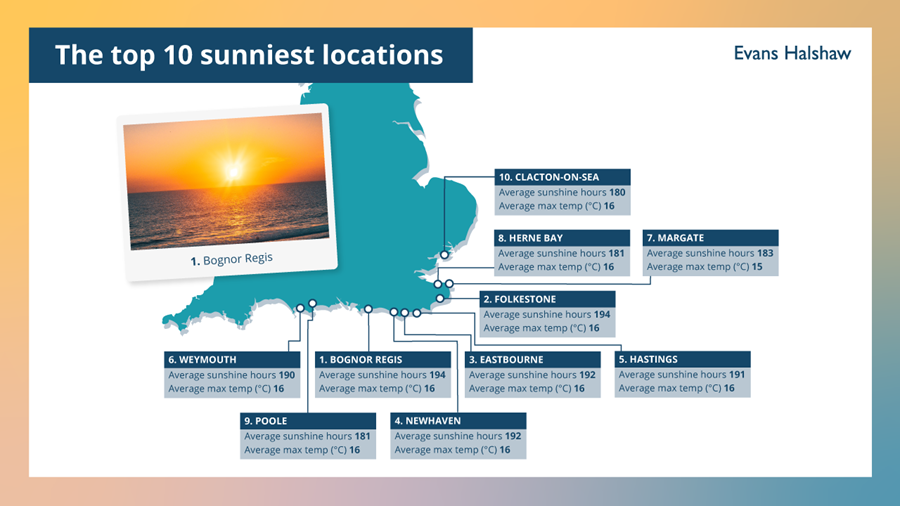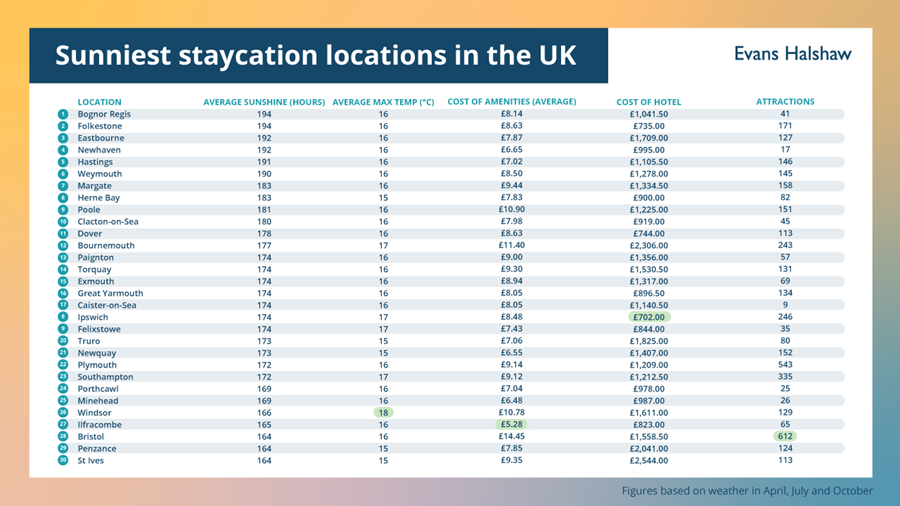 With so many potential locations to choose from in the UK, we used data from the Met Office to determine which towns/cities should feature within the top 30. By establishing which places get the most sunshine, and which have the highest temperature on average, we have been able to pick the sunniest staycation hotspots.
Bognor Regis and Folkestone, both located on the south coast of England, return 194 hours of sunshine and a max temperature of 16°C on average*. Those who don't fancy a trip to the coast, but still want heat, should enjoy a staycation in Windsor, a town widely recognised for being a residence of the royal family.
Located in the south east, Eastbourne may only offer 192 hours of sunshine on average, but it makes up for this minor shortfall with rich history, including Victorian hotels and a pier that was built in the 19th century.
*during April, July and October
Staycation Costs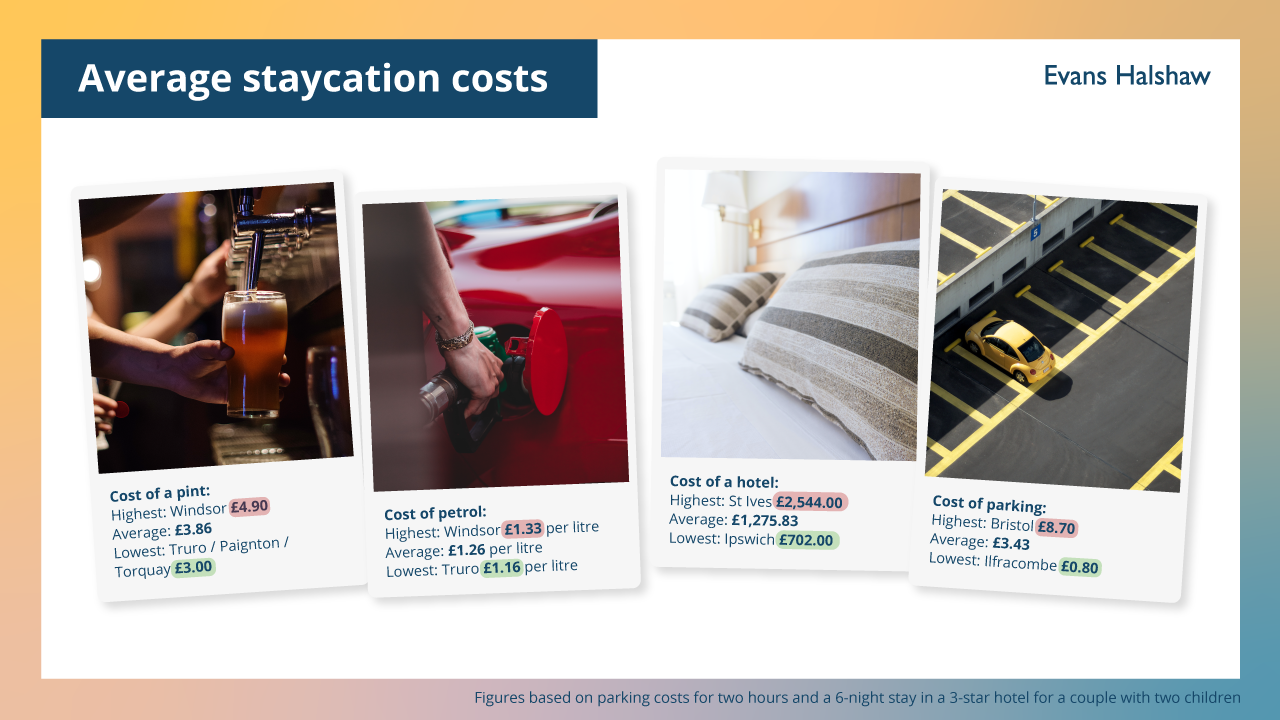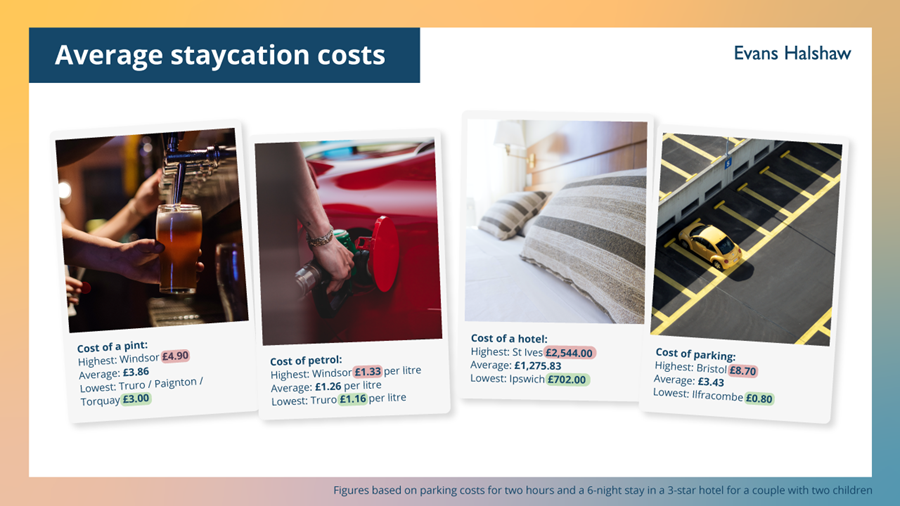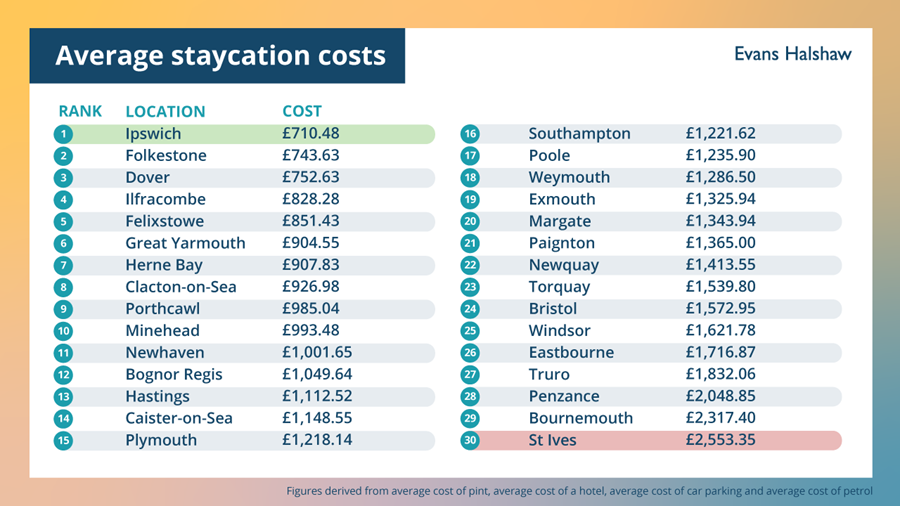 A key consideration when visiting any holiday destination is how much it's going to cost you once you're there. After all, you want to ensure you're not paying over the odds for meals out and drinks when an alternative location can offer the same for less.
Despite offering the most sunshine, Folkestone also manages to offer the lowest hotel prices, averaging £735 for a couple with two children staying for six nights. Although the cost of a pint* and two hours of parking* are slightly higher than other locations within the top 30, averaging £4.10 and £3.15 respectively, the low hotel cost makes up for it.
Those willing to make the journey to North Devon will find a small town called Ilfracombe. It may not get as much sunshine (165 hours) as other locations on this list, but it makes up for this with low prices on a pint (£3.30), parking (£0.80) and petrol (£1.18 per litre).
Although Bournemouth is notably costlier to visit, with higher hotel prices and car parking charges, it still has lower-cost options and will appeal to those looking to experience the Mediterranean-esque beaches it's renowned for.
*figures are derived from an average
Attractions Per Location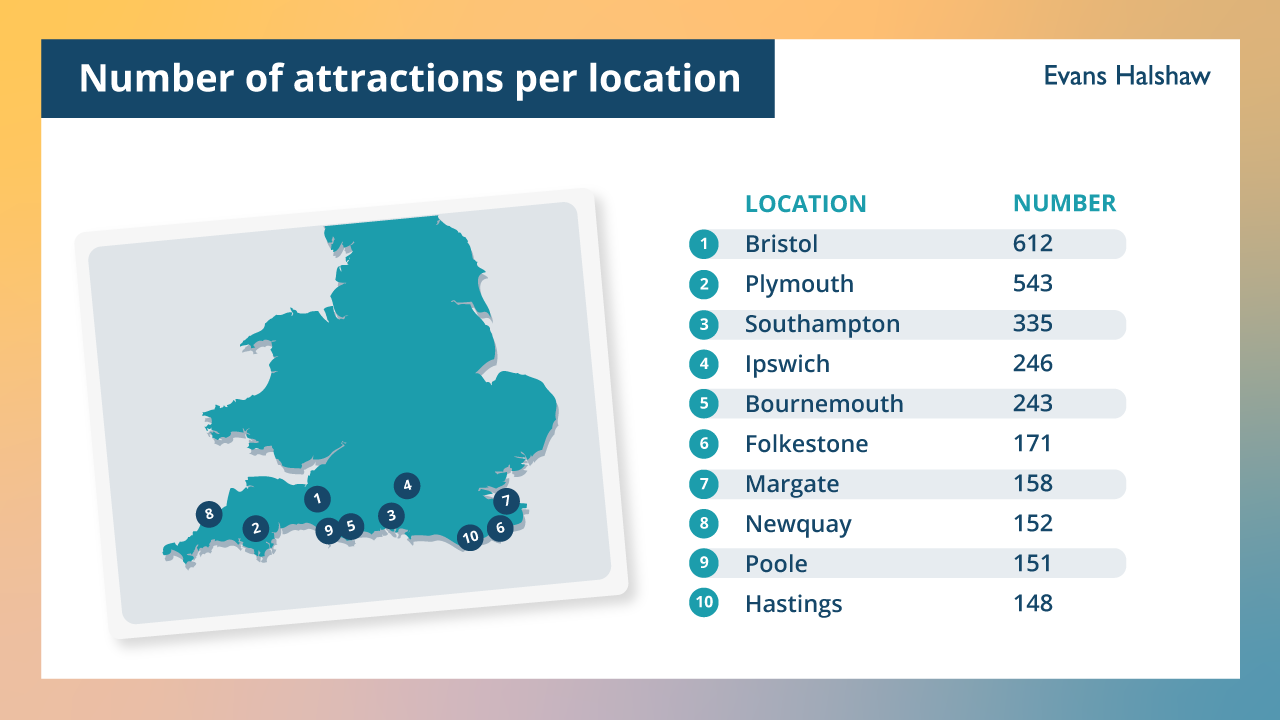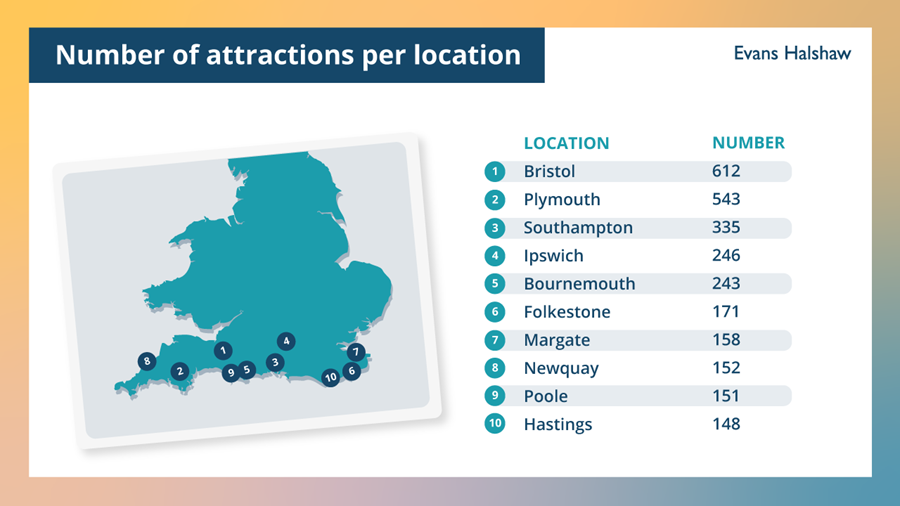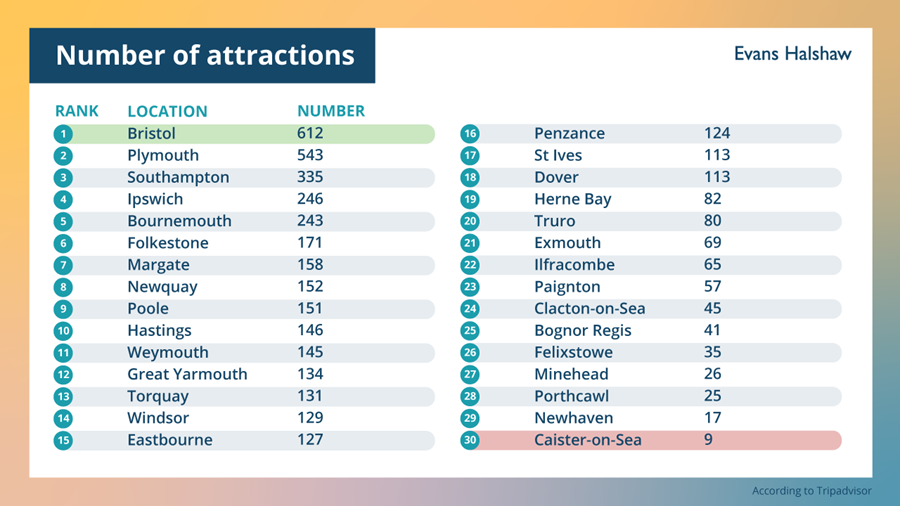 Us Brits are immensely fortunate to be surrounded by towns and cities that are brimming with attractions. From national parks to historical monuments, there's bound to be somewhere worth visiting regardless of whether you're a couple or family.
Bristol and Plymouth certainly aren't short of things to do, offering 612 and 543 attractions respectively*. Bristol boasts a remarkable amount of history, with the SS Brunel museum and Clifton Suspension Bridge proving testament to that.
With only nine things to do, it may seem hard to recommend Caister-on-Sea, but it offers stunning beaches and still provides attractions such as wildlife gardens. With that said, it's a location that looks to be ideal for couples wanting quiet time away.
*All figures are according to Tripadvisor
Average Hotel Price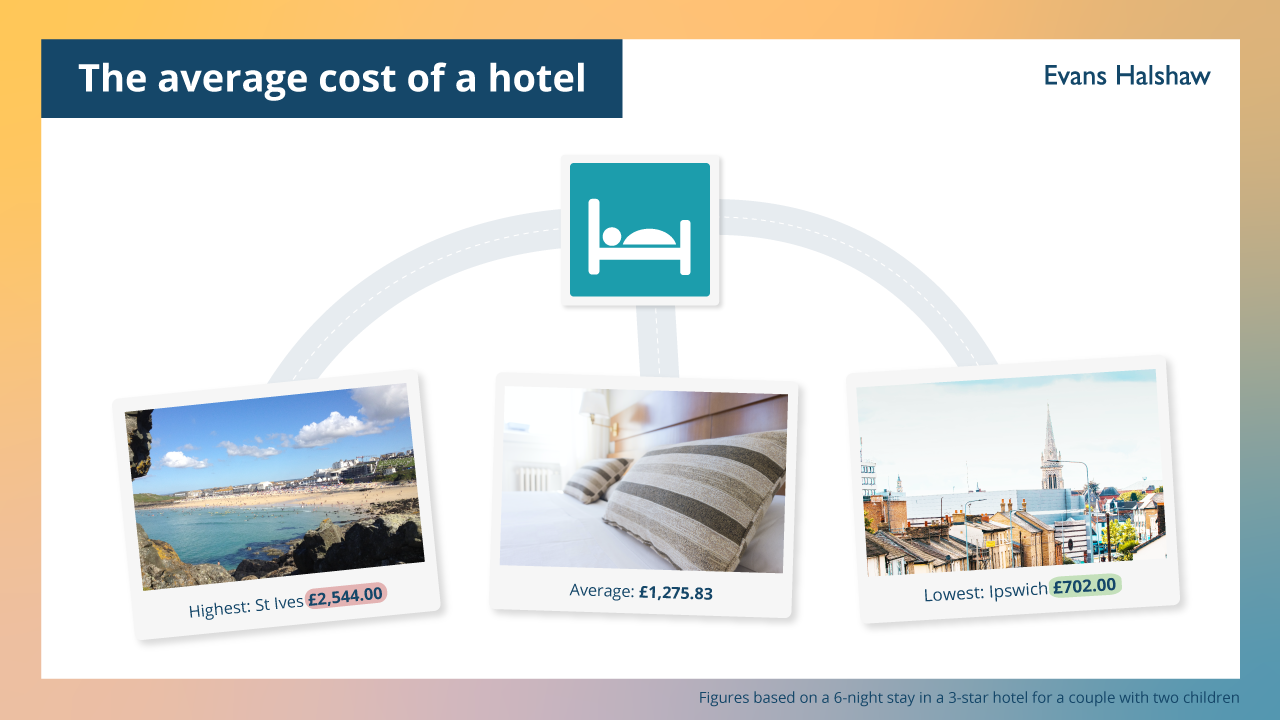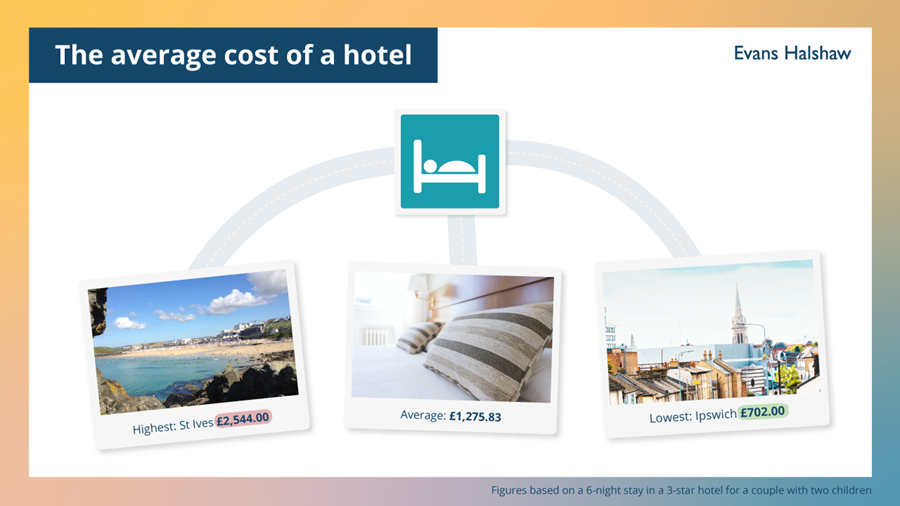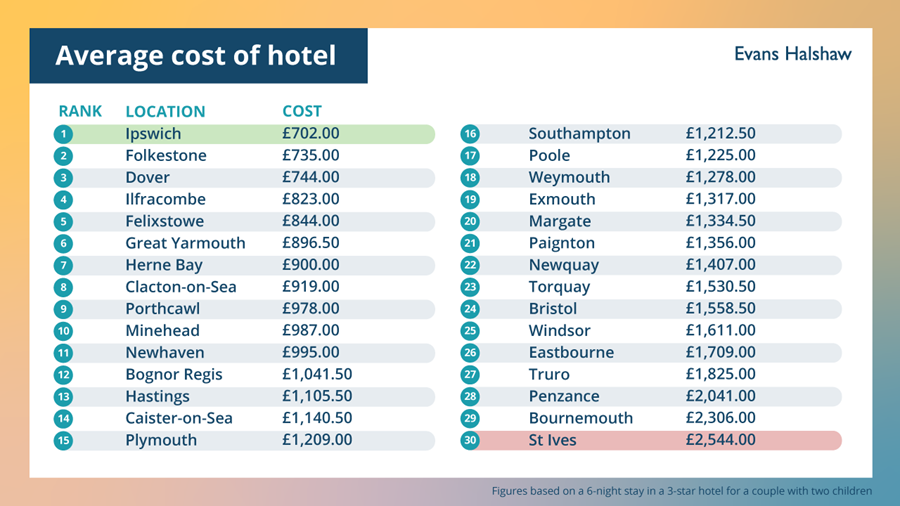 The data we've collated covers a 6-night stay in the middle of August for a young couple with two children. Naturally, if you don't have children, or you're not planning on staying for that long, then it's reasonably safe to assume you'll pay less than the provided figures.
As can be seen in the data, it's possible to save money on accommodation and still experience a great holiday destination if you're willing to travel further afield (your home location dependent).
For example, if you fancied a staycation along the coast, then our data suggests you could save up to £293.50 on an average 6-night stay if you decided to stay in Clacton-on-Sea instead of Southampton. However, the offset of that is Southampton has more attractions.
Average Parking Cost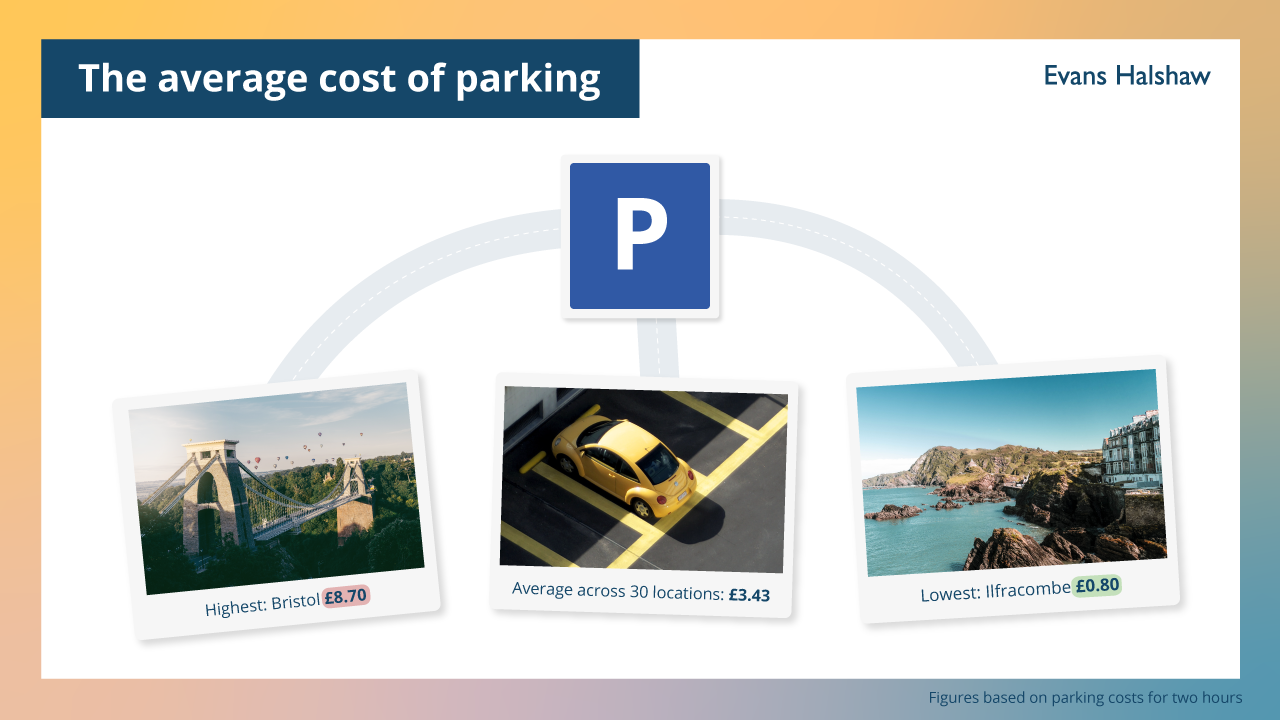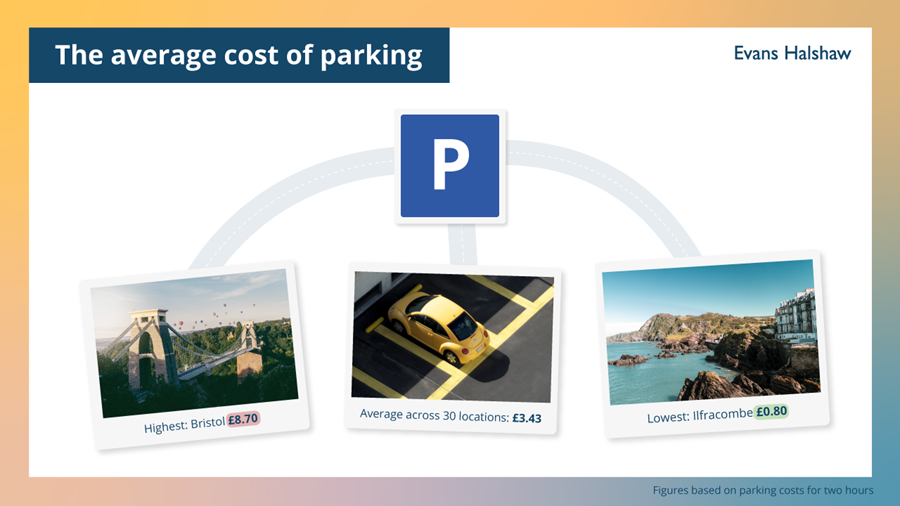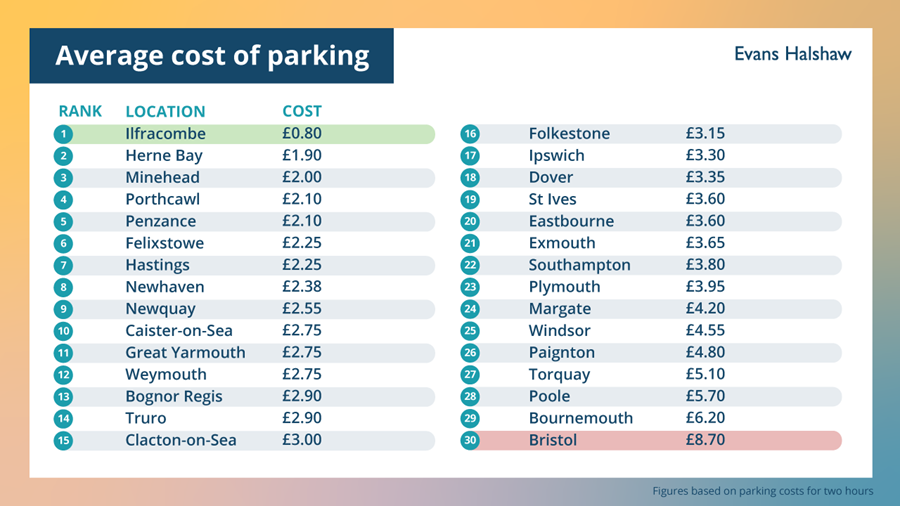 There are likely very few things that the British public can universally agree on, but we're willing to wager that having to pay for parking is something we all detest. With all of the attractions available at each of the locations listed - not to mention exploring the towns in general - it's important that parking charges aren't too excessive.
Although it has the most attractions, Bristol is the most expensive place to park on average, setting visitors back £8.70 for two hours. On the flipside, you have Herne Bay and Ilfracombe, which will only set you back £1.90 and £0.80 respectively.
The figures above are derived from an average, meaning you can find cheaper rates if you're willing to park slightly further away from where you were originally planning.
Which location takes your fancy?
Brits have access to some truly fantastic holiday destinations. And while they may not be the traditional summer holidays many of us hanker for, each location on this list offers a great opportunity to get out and experience something new. Thanks to the data above, you can make an informed decision that's best for you.
With the majority of motorists having been off the road for some time, we'd recommend giving your vehicle a much-needed check over before heading on a staycation. This handy guide is a great place to start if you're unsure about what you need to check before going on an adventure.
Kim Costello, Chief Marketing Officer for Pendragon, which owns Evans Halshaw, commented: "With continued restrictions on international travel many people will be considering a staycation this year rather than travelling abroad. Our data helps to highlight some of the UK's favourite holiday locations, as well as, unveiling a number of hidden gems which offer a great alternative to the traditional British break."
"Before heading on a road trip this summer we'd encourage drivers to complete a few simple checks on their vehicle including: tyre pressures, fluid levels, battery charge and brakes. For added peace of mind, drivers can book into their nearest Evans Halshaw retailer for a complimentary vehicle health check to ensure their vehicle is in good working order before travelling."