7 Things to Love About the Citroën C4 Cactus
10th Feb 2015
The Citroën C4 Cactus has proved to be a revelation in the UK market because of the funky, unique looks and innovative technologies that it features.
But why should you love it? Here are 7 very, very good reasons.
1. Airbump®
The Airbump® technology simply has to be the number one on the list, simply because it's a feature no other car that has ever been sold on UK shores has had. But what exactly is it, and what does it do?

The Airbump® panels on the front, side and rear of the C4 Cactus are designed to offer protection to the paintwork from bumps and scrapes that look minor at first but can actually be quite expensive to repair. Citroën is confident that being able to protect the car from these incidents will reduce overall ownership costs for drivers.

Airbump® is made from two layers of thermoplastic polyurethane, filled with air that cushions minor impacts, leaving the paintwork scratch and dent free. Tests by online car review sites have unscientifically proven that the panels are effective against car-paint enemies like wheelbarrows, bike handlebars and Frisbees. Carbuyer's Mat Watson chose to test the panels with a firm right-handed punch, and the Cactus stood up to the challenge with ease.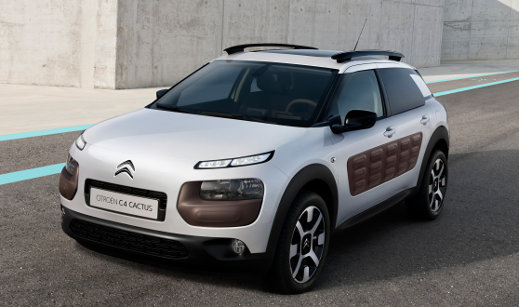 2. Lightness
The C4 Cactus may look like it has reasonably large exterior dimensions, but it's actually really light. Seriously light - the Cactus is some 200kg lighter than the regular Citroën C4, despite being taller and wider.

It's all thanks to some clever thinking from Citroën, as well as the omission of some features that we don't really need and the use of lightweight materials. The bonnet, for instance, is made from aluminium. The rear windows are pop-out only, saving 11kg, and the one-piece bench rear seat saves 6kg of weight - it all adds up. The lightest model weights 965kg, and to get a car of this size under a tonne is something of an achievement with all the safety equipment required on modern vehicles. Light weight has benefits for pretty much every aspect of a car, including handling, efficiency, performance and ride quality.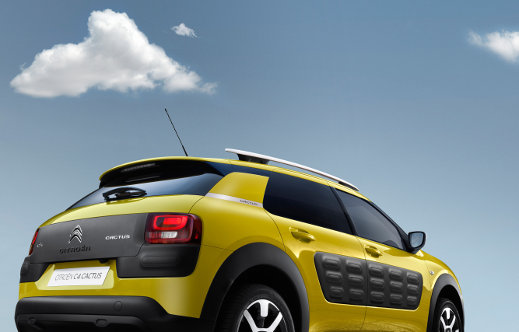 3. The Cactus is very, very efficient
You'll find one of three possible engines underneath the bonnet of a C4 Cactus. An 82 bhp PureTech petrol, a 110 bhp turbocharged PureTech petrol or a 1.6-litre BlueHDi 98 bhp diesel. They've all been highly tuned to deliver good, smooth performance as well as maximum efficiency.

Both the petrol variants manage just over 60 mpg on the combined cycle, while the BlueHDi diesel version manages a barely believable 83 mpg - meaning it can cost as little as 0.06p per mile to fuel the Cactus (with diesel prices at their current average of 113.87p per litre). Maximum fuel economy for the Cactus on the extra urban cycle is 91.1 mpg! CO2 emissions are impressive too, with emissions as low as 82 g/km on BlueHDi diesel models. ETG automatic versions are a little less efficient, but the diesel one still manages 80 mpg on average.
4. Not Every C4 Cactus is Green
There are 10 brilliant colours to choose from when you're deciding on which Cactus you want for your garden (drive).

Flat colours include, Hello Yellow, Polar White, Tapenade Grey, Sport Red and Blue Lagoon. Metallic colours include Arctic Steel, Shark Grey, Obisidan Black and Deep Purple, while the sold pearlescent colour is known as Pearl White.

The Airbump panels can also be chosen in different colours, other than the Black Airbump that comes as standard with every colour.

Stone Grey Airbump panels can be specified with Blue Lagoon, Arctic Steel, Shark Grey, Deep Purple and Pearl White exterior colours. Chocolate Airbump is available with Arctic Steel and Pearl White Exterior colours. Dune Airbump is available with Hello Yellow, Tapenade Grey, Obisidan Black and Pearl White exterior colours.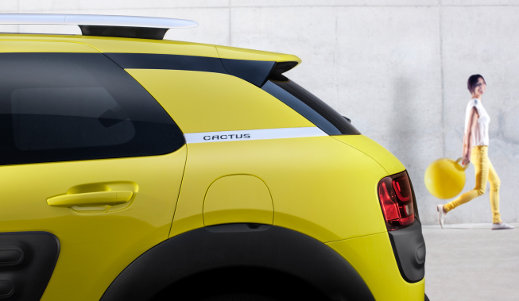 5. It's a high-tech vehicle
The 7-inch Touch Drive interface allows you to control all of the vehicle's primary functions easily and safely through one central touchscreen location on the dashboard. You can select different media sources, such as DAB digital radio, AUX and Bluetooth media streaming. Navigation and traffic information also feed through the system.

The touchscreen also controls the air conditioning settings, driving aids such as park assist and the rear view camera, as well as the Bluetooth telephone connection, with direct access to your phone's directory.
6. More innovations
Besides the Airbump, the C4 Cactus has plenty of other interesting innovations that make driving safer and more comfortable.

First on the list is the 'Airbag in Roof' technology which is… an airbag in the roof. This is important because the passenger airbag has been removed from the dashboard and placed in the roof, making cabin feel bigger by freeing up extra space.

Magic Wash! This is an innovative solution to the problem of over-spraying windscreen washer jets. Citroën has cleverly positioned the nozzles on the ends of the wiper blades, cutting overspray and reducing consumption of screen wash by 50%, according to Citroën. Saves weight too.

While many cars, including many Citroën cars, have panoramic roofs, the new innovation here is the advanced heat protection that the Cactus' roof incorporates. It filters out harmful rays to the power of category 4 sunglasses, protecting you and your family and because it does not require a sunblind, you get extra headroom too.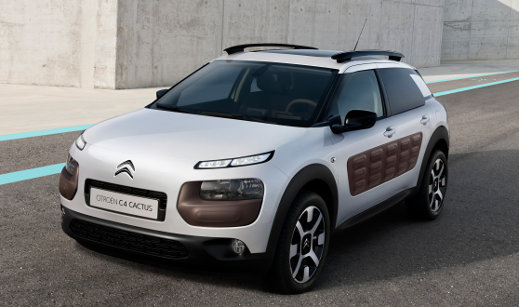 7. The appearance
There's something totally different about the Citroën C4 Cactus, it's instantly recognisable on the road. The proud front end, flowing lines, smooth curves and almost total absence of sharp edges make the Cactus look like a concept car. It's one of the few cars on the road that managed to keep its original design philosophy, and for that Citroën must be praised.
View Our Latest Citroën C4 Cactus Offers