Used Porsche Boxster for sale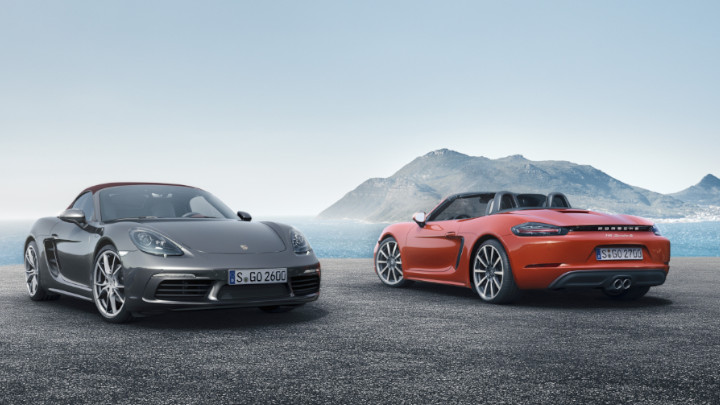 The Porsche 718 Boxster is a beautifully balanced roadster/sports car. It's essentially a convertible version of the Porsche 718 Cayman, although the Boxster story started almost a decade before the Cayman was born.
First appearing in 1996, the very first Boxster was a masterstroke from Porsche as it helped the company massively by boosting sales and introducing new buyers to the brand. The Boxster was the entry-level Porsche at the time and has since cemented itself as one of the finest sports cars you can buy.
Here we will be focusing on the fourth generation 718 Boxster, or '982 generation' as many enthusiasts refer to it. This version came along in 2016, and was also the first time the 718 part of the name was introduced, too.
Reasons to consider the Porsche 718 Boxster as a used car are listed below.
One of the finest handling sports cars on sale
A variety of exciting versions
Hugely fast and fun
More affordable than a Porsche 911
Engines and Driving Experience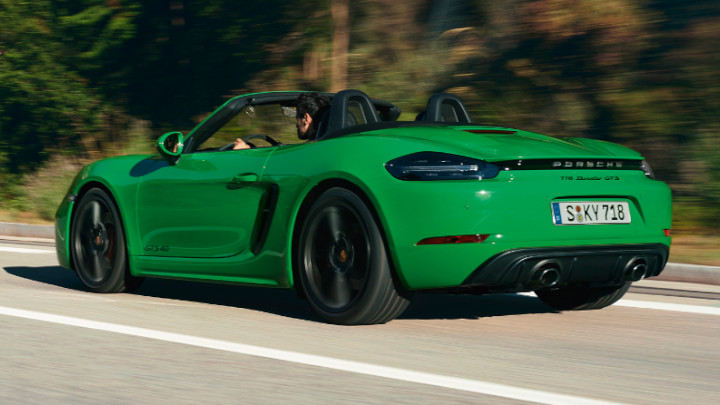 The Boxster has long been renowned for offering a textbook sports car package, with incredible handling, multiple exciting versions and of course the thrill of open-top sports car motoring. All engines are petrol powered and consist of:
718 Boxster/718 Boxster T:

2.0-litre 4-cylinder, 296bhp, 0 to 62mph in 5.1 seconds (manual), 4.9 seconds (PDK) or 4.7 seconds (PDK with Sport Chrono Package)

718 Boxster S: 2.5-litre 4-cylinder, 345bhp,

0 to 62mph in 4.6 seconds (manual), 4.4 seconds (PDK) or 4.2 seconds (PDK with Sport Chrono Package)
718 Boxster GTS 4.0: 4.0-litre 6-cylinder, 394bhp, 0 to 62mph in 4.5 seconds (manual) or 4.0 seconds (PDK) *Sport Chrono Package is standard on both transmissions
*718 Spyder: 4.0-litre 6-cylinder, 414bhp, 0 to 62mph in 4.4 seconds (manual) or 3.9 seconds (PDK) *Sport Chrono Package is standard on both transmissions
Boxster 25 Years 4.0-litre flat 6-cylinder, 395bhp, 0 to 62mph in 4.5 seconds (manual) or 4.0 seconds (PDK)
Models are identical in performance to their 718 Cayman counterparts, with the 25 years edition being a sole special edition to celebrate 25 years of the Boxster.
*Although the 718 Spyder does not feature the Boxster name, it's widely regarded as a convertible alternative to the 718 Cayman GT4.
Practicality and Running Costs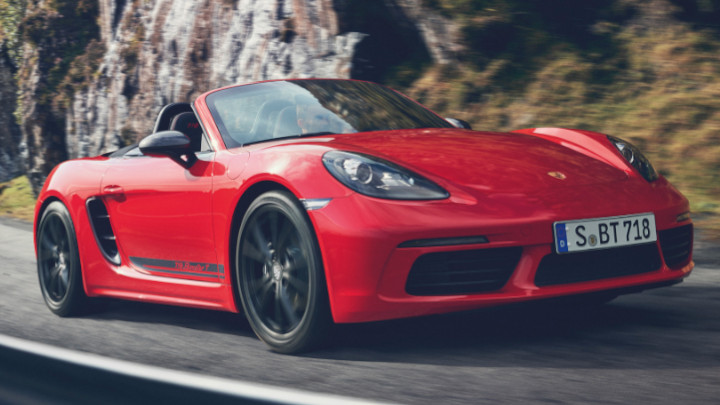 Nobody buying a convertible 2-seater sports car expects amazing practicality, but due to the 718 Boxster's mid-engined layout, Porsche have managed to give the car a 130-litre rear boot and a 150-litre frunk (front boot).
That means it's as practical as an Audi TT Convertible, which has a 280-litre boot, the same total boot space of the 718 Boxster. Although having a normal boot like in the TT is much easier to live with.
Being a low sports car, getting in and out is will be easier for some and harder for others, but once inside there is plenty of head and legroom for most drivers. You even get a decent-sized glove box and some useful cup holders too.
As for running costs, Porsche sports cars are some of the most focused available and require specialist care, which naturally isn't cheap. However, our partners at Stratstone Porsche will be able to take the best care of any Porsche 718 Boxster model with the upmost care.
Interior, Technology and Safety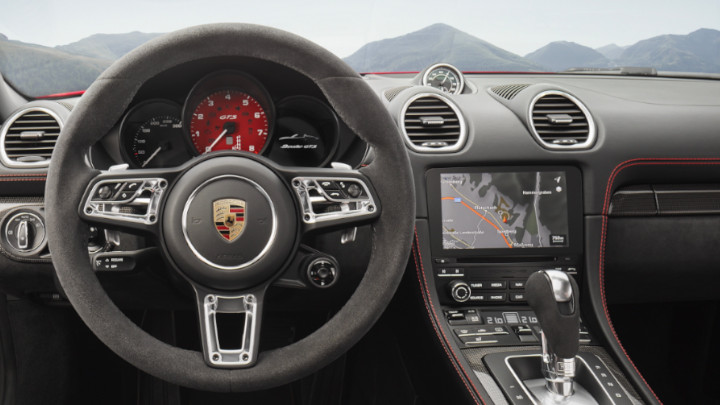 The interior of any 718 Boxster is a focused affair, which makes the driver feel very much a part of the occasion.
Alcantara is used throughout, a trend we see in many sports and supercars and adds to the high quality fit and finish to the 718 Boxster's interior. Clear dials and a crisp central infotainment screen ensure everything feels sharp and modern, which all tie up nicely to ensure the 718 Boxster's cabin is a fine place to spend time.
Entry-level 718 Boxster models can be surprisingly weak in their standard features, with things like leather being a cost option, so when buying used, look for examples that were specified generously from new.
As for safety, the 718 Boxster has not received a Euro NCAP score due to its higher sports car price and exclusivity. That said, the 718 Boxster range features safety tech which includes airbags, stability control, rollover hoops and specially strengthened steel around the windscreen and sides which again protect the occupants in the event of an accident.
Is the Porsche 718 Boxster right for me?
If you are after a textbook convertible sports car, the Porsche 718 Boxster is certainly one of the best. If, however, you want a coupé alternative, then the 718 Cayman may be more up your street.
Other premium convertible sports car alternatives come in the form of the popular Audi TT Convertible and BMW Z4. The Audi has a lovely interior but is not as sharp as the Porsche. The BMW has a metal folding roof which the others don't have, but again it isn't as focused as the 718 Boxster.
A Jaguar F-TYPE is another rival that's worth a look, but it's more of a grand tourer. It does sound better though.
With that in mind, if driver precision and sharpness is top of your list, then the Porsche 718 Boxster is still top dog, but as always, test drives will point you in the right direction.
Why purchase a used Porsche 718 Boxster through Evans Halshaw?
At Evans Halshaw, we have a wide variety of quality used vehicles for you to choose from. Each car is carefully selected by our expert teams before making its way through the rigorous preparation process, where it is inspected by a qualified technician and then fully valeted throughout.
All of our vehicles are fully HPI checked, giving you peace of mind when making a decision. In addition, we're able to offer same-day delivery on a selection of used cars, meaning you never have to wait for the car you want.
If you'd like some advice on picking the right car for you, or you've spotted a vehicle and want more information, please contact your nearest Evans Halshaw dealership, where one of our friendly associates will be more than happy to help.