Renault Reveals Electric Megane Prices
16th Jun 2022
By Chris Russon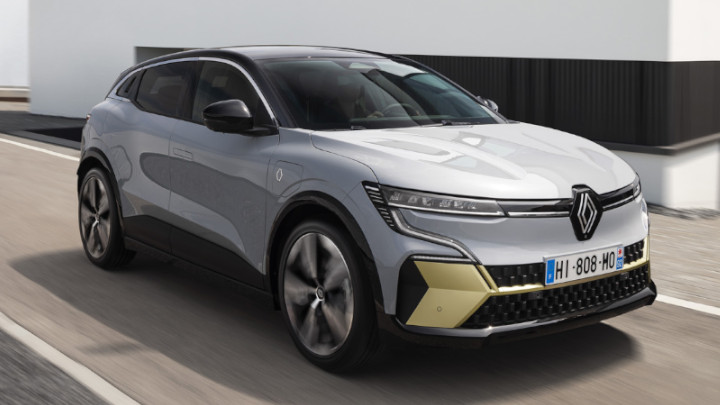 Renault has announced pricing and specification of its new Megane E-Tech all-electric model, which will be priced from £35,995 when it arrives later in the year.
The Megane E-Tech is the first of a new generation of electric vehicles built on Renault's CMF-EV platform and is styled within the brand's 'sensual tech' design language.
It's also the first model to wear the new 'Nouvel R' logo.
With an electric driving range of up to 280 miles, the car is fitted with a 12.3-inch dashboard display, a nine-inch multimedia display, and an Android Automotive operating system with integrated Google services.
The Megane E-Tech is powered by a 160kW electric motor which develops 218bhp, 221lb ft of torque and four levels of regenerative braking with a 0 to 62mph acceleration time of 7.4 seconds and a top speed of 99mph.
Recharging can be carried out in a variety of ways to suit the available infrastructure from a 3-point domestic socket, a 7.4kW wallbox, public charging stations of up to 22 kW, and DC fast-chargers up to 130kW.
The latter allows up to 186 miles of driving range to be added in 30 minutes. From a domestic supply, a full charge takes 18 hours, although the Megane E-Tech can be replenished to 80 percent capacity from a fast charger in just over an hour.
The battery is claimed to be the thinnest available in any electric vehicle at the moment and is only 110mm thick – 40 percent smaller than the battery Renault uses in its smaller ZOE EV.
Renault says this gives the Megane a lower centre of gravity to help the car's agility.
Recycled materials have been used on some of the interior trim while the dashboard is topped off with a textile finish while the Google system enables sat nav connectivity as well as other Android features which are updatable over the air.
The set-up is available on mid-grade Techno trim which is priced from £37,740, while a high grade Launch Edition specification will be offered from £39,240.
All models come with a hands-free key-card with keyless entry together with an array of safety and driver assistance systems including distance warning alert, traffic sign recognition, automatic emergency braking with junction assist and pedestrian/cyclist alerts, cruise control with speed limiter, driver drowsiness alert, emergency lane keeping assist with oncoming traffic and road-edge detection, hill start assist, and emergency e-call.
Renault says the Megane E-Tech has up to 26 driver assistance systems available, with 10 of them being featured on entry-level Equilibre cars.
Mid-range Techno grade adds adaptive cruise control with speed limiter and lane centring, traffic sign recognition with overspeed prevention, blind spot recognition and intervention, rear cross traffic alert with rear automatic braking, and front and rear park assist.
As well as the Google system, Techno versions also come with fully adaptive LED headlights among its features, while the Launch Edition has been created specifically for the British marker and sits on 20-inch alloys and comes with a Harman Kardon sound system and a surround view camera system.
Boot space ranges from 440 to a maximum of 1,332 litres, with additional room available under the boot floor. That capacity is larger than on the current plug-in hybrid Megane as a result of the battery pack for the E-Tech being slung under the car floor.
Prices correct as of 16/06/2022 and are subject to change.