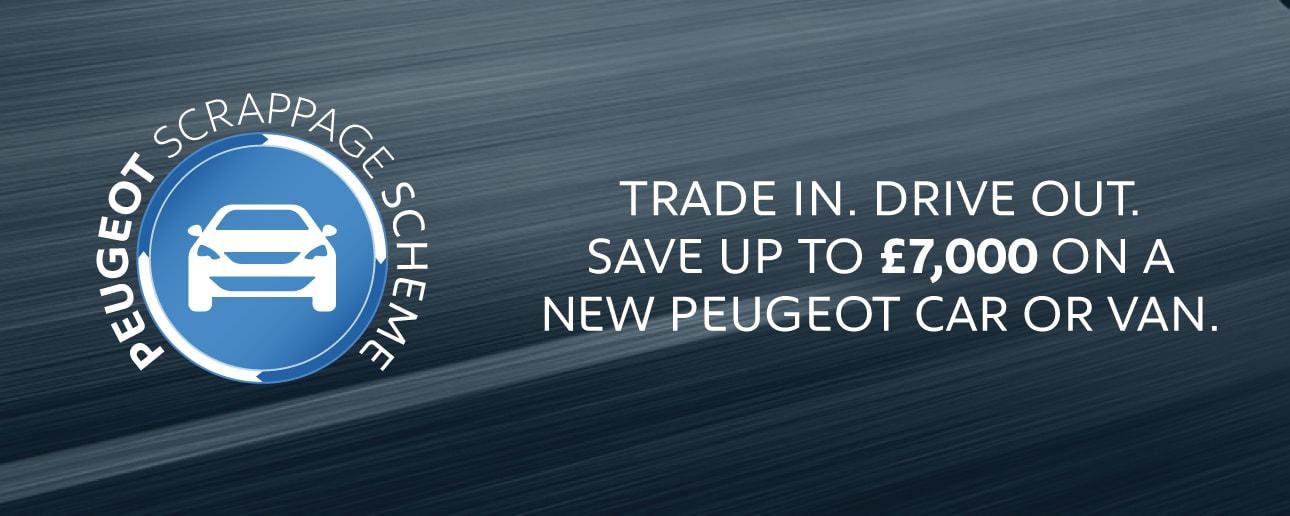 Sorry - this event has now ended.
Don't worry! We still have some fantastic offers on the new Peugeot range. Browse all of our offers today.


Looking For A Discount On A New Peugeot Car Or Van?
Do you want to get thousands of pounds discounted on a brand-new car whilst improving your fuel efficiency and lowering your vehicles emissions? You can with the Peugeot Scrappage Scheme.

What Is The Peugeot Scrappage Scheme?
Evans Halshaw is now offering customers the opportunity to benefit from the new Scrappage Scheme from Peugeot - available from now until the 31st March 2018. This programme allows you to save up to £6,000 on a new Peugeot car and up to £7,000 + VAT on a new Peugeot van, with offers available on almost all of the Peugeot range you are guaranteed to find the perfect car for you.

With the launch of this new scheme, Peugeot are hoping to head the way to lower CO2 emissions in Europe, with award winning new efficient engines, by trading over to a new Peugeot you will be doing your bit to help achieve that by reducing your own carbon footprint.

New Peugeots Available With Scrappage Scheme Deals
Whether you're after a new stylish city hatchback like the 208 or something bigger like the new award-winning 3008, we have huge savings of up to £7,000 across the Peugeot range.



Am I Eligible For The Peugeot Scrappage Scheme?
The Peugeot scrappage scheme is available to anyone who has a vehicle to trade in that is more than seven years old. Unlike many other manufactures, Peugeot are allowing both diesel and petrol customers to take full advantage of this chance to upgrade.

All you need to do is trade in your vehicle at any Evans Halshaw Peugeot dealership to get a huge saving on your brand-new Peugeot. Therefore, whether you have a car or van, petrol or diesel, you can apply as long as the vehicle has been yours for at least 90 days.

All vehicles traded in are scrapped responsibly and recycled where possible in conjunction with current legal guidance.


Why Buy A Brand-New Peugeot?
Peugeot's 100 years of engineering and development has enabled them to create innovative engines, designed to improve the driving experience with cleaner engines and lower running costs.

The Peugeot PureTech petrol engine has won of the International Engine of the Year Award in the 1.0 to 1.4-litre category, for the last three years. The 3-cylinder petrol engine combines efficiency with power allowing smaller engines to perform as well as the larger ones.

The Peugeot diesel engines are also clean, powerful and more efficient. Peugeot's BlueHDi engines meet Euro 6 standards due to a Selective Catalytic Reduction (SCR) and Particle Filtration processes. This enables the BlueHDi to deliver the cleanest diesel engine possible through a three-stage cleansing process which specifically targets the pollutants of diesel combustion; removes hydrocarbons and carbon monoxide; and reduces nitrogen oxides by up to 90% and eliminates 99.9% of particulates.


Terms and Conditions Apply
Savings are only available to eligible customers who trade in a qualifying vehicle first registered in the UK before 31st December 2010. V5C (Vehicle Registration Document) of the part exchange needs to match the new vehicle invoice and must have been in the current owners' possession for a minimum of 90 days. Scrappage offer available for customer orders declared between 7th September 2017 and 31st March 2018. Qualifying vehicle to be traded-in must either be a petrol or diesel car or van - no other vehicle types are eligible. The Peugeot Scrappage Scheme cannot be used in conjunction with any other offer including Peugeot and Dealer Employee Discounts.