Changes for Peugeot 3008 and 5008
23rd Aug 2022
By Chris Russon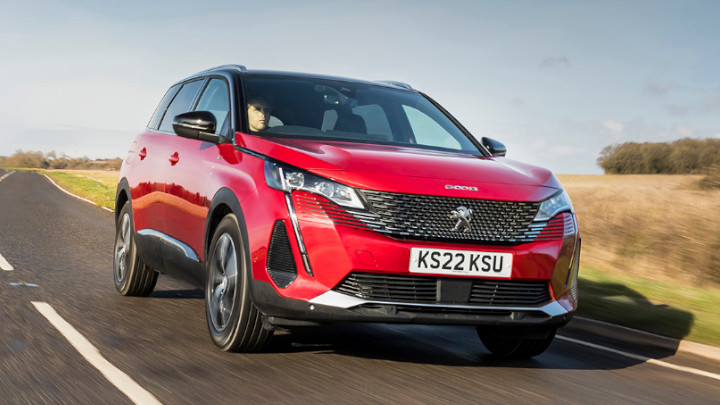 Changes are being made to the Peugeot 3008 and 5008 SUV ranges as the French carmaker continues its new trim line up and introduces plug-in powertrains across the 3008 series.
Active Premium + and Allure Premium + replace previous Active Premium and Allure Premium trim levels, with Allure trim no longer available.
Both the Peugeot 3008 and 5008 will now be available in Active Premium +, Allure Premium +, GT and GT Premium specification.
Active Premium + models receive several upgrades over previous Active Premium trim levels, including the addition of an Aluminium Pack with aluminium front door sills and pedals and on the 3008 18-inch alloy wheels and aluminium roof rails.
Also added is a dark tinted rear window and rear side windows.
Allure Premium + models also receive the Aluminium Pack, with the roof upgraded to a contrasting Black Diamond finish for added styling.
To satisfy growing demand for the Hybrid 225 e-EAT8 powertrain, the 3008 Hybrid range is being expanded to include the new Active Premium + trim, resulting in a lower entry price point for Hybrid customers.
Peugeot says the changes are being made without any increase to pricing with the exception of a £110 increase for models equipped with the latest 1.2-litre PureTech 130 engines which now meet Euro 6.4 standards.
The 3008 Hybrid Active Premium + versions will include additional elements over petrol and diesel 3008 variants, including a 10-inch touchscreen with navigation and voice recognition, a driver's seat manual lumbar support adjustment, a frameless rearview mirror and an advanced emergency braking system with video and radar assistance.
Active Premium + models across both 3008 and 5008 models also receive the EAT8 8-speed automatic transmission across both 1.2-litre PureTech 130 and 1.5-litre BlueHDi powertrains, with both 3008 and 5008 now sold exclusively with the automatic transmission.
This follows growing demand for automatic transmissions over manual gearboxes, with the majority of 3008 and 5008 customers in 2022 opting for automatic versions.
Prices correct as of 23/08/2022 and are subject to change.