Nissan Qashqai Confirmed as Britain's Best-Selling Car in 2022
05th Jan 2023
By Chris Russon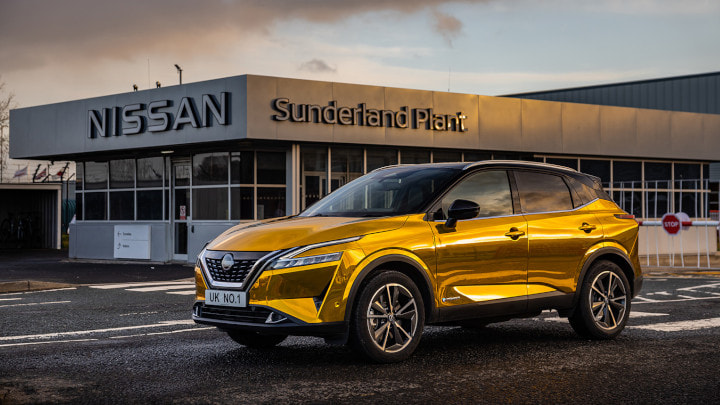 The Nissan Qashqai is the UK's favourite car of 2022 - and the first British-built model to top the annual sales charts for 24 years.
Figures released by the Society of Motor Manufacturers and Traders confirm that the home-grown Qashqai – which was designed in Paddington, engineered in Cranfield and is built in Sunderland – was the nation's best-selling car of the past 12 months.
A total of 42,704 new Qashqai models were driven off dealership forecourts across the UK in 2022 and the figure for December stood at 3,506, reported the SMMT.
To celebrate the achievement, an exclusive gold-wrapped Qashqai was created in honour of the 7,000 Nissan employees from around the UK that have contributed to its success.
Andrew Humberstone, managing director of Nissan Motor (GB) Ltd, said: ''This is a landmark moment for a landmark car and it's great to see how the latest generation Qashqai has struck a chord with car buyers here in the UK.
"We're absolutely thrilled to see this car's increasing success over the last 16 years, and it's a fitting tribute to the skills and talents of Nissan's excellent design, engineering, production and sales teams all around the UK."
Three generations of Qashqai have been on sale in the UK since it was first launched in 2007, all of which have regularly appeared among individual month's best-seller lists, however this is the first time it's been the year's best-selling car overall, and the first time a Nissan has topped the annual sales charts.
Built at Nissan's Sunderland plant, Qashqai is at the heart of a manufacturing operation that is fast becoming a blueprint for future UK automotive production.
Nissan's recently announced its EV36Zero plan which combines electric vehicles, renewable energy and battery production and will create a sustainable EV manufacturing hub in the north-east of England, supporting thousands of jobs at the plant and its supply chain, and supporting Nissan's journey to carbon neutrality by 2050.
A recruitment drive is currently underway at NMUK, seeking manufacturing staff to join its world-class team.
The latest generation Qashqai is the first model in Europe to be equipped with Nissan's e-POWER technology, which delivers the exciting sensation of driving an electric car without the need to plug in and recharge.
Nissan says that it is technology that's perfect for car buyers looking for lower emission motoring, but who aren't quite ready to embrace fully electric vehicles.
Since its launch in 2007 almost 3.8 million Qashqai models have been produced at Sunderland and the car accounts for 20 percent of UK produced models.