Introducing the All-New Ford Mustang
One of the most iconic names to grace the automotive world, the all-new Ford Mustang continues the famous muscle car's legacy in scintillating fashion. A four-seat 'fastback' coupé or convertible with powerful engines and a glorious exhaust note, it provides an experience like no other.
Powering the all-new Ford Mustang is Ford's fourth generation 5.0-litre V8 powertrain, spelling hours of endless fun when behind the wheel. Carving its very own character, other upgrades in areas such as technology and aesthetics are present on the all-new Mustang without forgetting its heritage.
The modern-day Mustang has been applauded for its ability to comfortably adapt to everyday life, and the all-new version continues this trend, offering supportive seats and the latest infotainment options.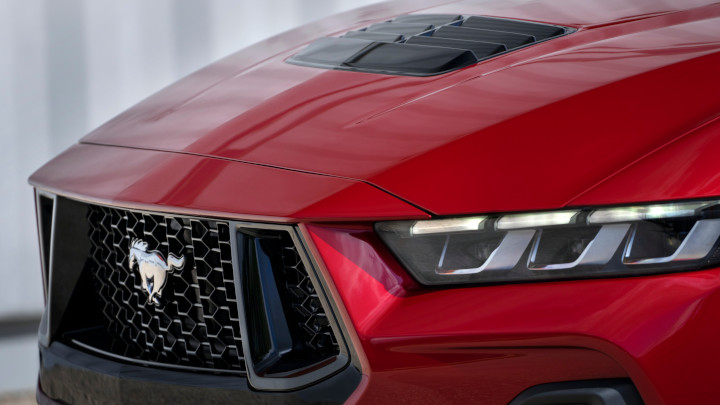 With a compelling presence, Mustang models have always stood out on the road, and the latest generation does exactly that. Clearly influenced by its original 1960s design, the all-new Mustang adds a modern twist to its muscular, broad design.
Each variation of the all-new Mustang will come with its very own front end, giving each model its own distinct personality. The design has been improved under the bonnet too, with a new engine cover, neater wire, fuel, and brake routings, and a black strut brace, allowing you to show off your Mustang with confidence.
There are a range of personalisation options available, with eye-catching colour options such as Blue Ember, Vapor Blue, and Yellow Splash being new additions to the Mustang colour palette. You're also able to choose between various alloy wheels and decide whether you want black or red Brembo brake calipers to round off your aesthetic.
In terms of practicality, the all-new Mustang is more versatile than many would expect. For example, convertible versions offer a boot space that's large enough for two golf bags, which proves handy in everyday life.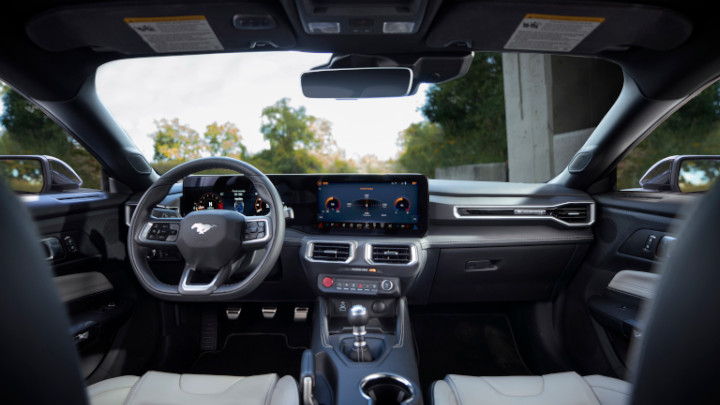 Ford have placed an emphasis on equipping the all-new Mustang with the latest in technology, and it offers an immersive experience that combines the best of past, present, and future.
The most noticeable difference is in the all-new Mustang's dashboard make-up, which now features a seamless digital-first approach as opposed to the traditional double-brow setup. At the heart of the large digital displays is Ford's intuitive SYNC 4 infotainment system, which houses various settings and driver controls.
Removing the physical buttons has allowed the all-new Mustang to have an interior that's sleeker and much more intelligent. The cockpit layout is driver-focused and incorporates tech such as wireless phone charging, the latest B&O 12-speaker sound system, and Ford's Electronic Sound Enhancement to feed the raucous exhaust note into the cabin.
As always, the all-new Mustang will feature a wide range of safety and driver assistance technology including adaptive cruise control, speed sign recognition, active pothole mitigation, and evasive steer assist. It can also be connected to the FordPass mobile app for ultimate security.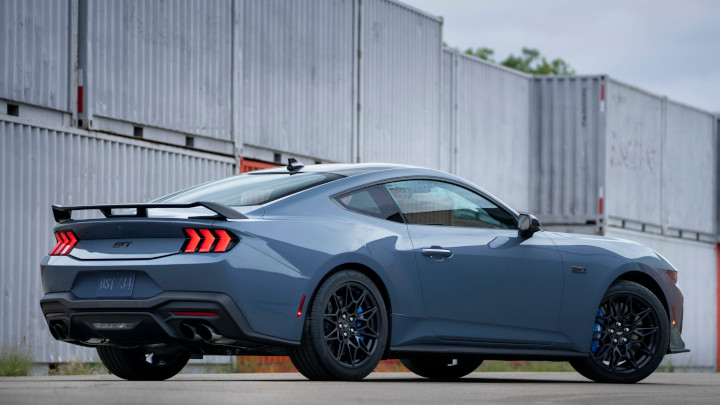 As electrified powertrains take the main stage, the all-new Ford Mustang is part of a dying breed, but its final day has certainly not come yet. Blessed with its usual 5.0-litre V8 powertrain, the all-new Mustang offers enhanced performance compared to its predecessors, and while official power outputs are yet to be confirmed, we can expect them to be eye-watering.
There are six interactive driving modes to choose from, including Sport, Drag, Track, and Slippery, catering for a variety of driver preferences and road conditions. Other features such as rev-matching, a quicker steering ratio, a dual air intake, and an optional MagneRide® active suspension system make the all-new Mustang one of the most exciting to date.
You can opt for either a 10-speed automatic transmission or a 6-speed manual, and a standard Performance Pack adds the likes of an Active Valve Exhaust and a sport limited-slip differential for extra precision and enjoyment.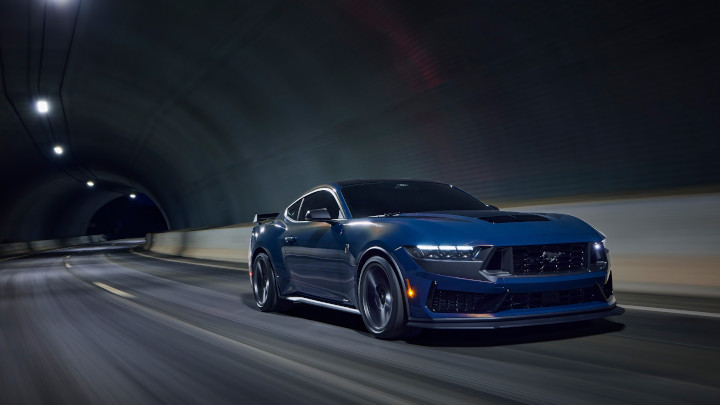 Making its debut as the ultimate track weapon, the all-new Mustang Dark Horse is an expression of Ford's motorsport pedigree and performance. Building on the foundations of the all-new Mustang GT, the Dark Horse is turned up another notch and is set to be the most track-focussed Mustang ever made.
Boosting the performance of the 5.0-litre V8 engine, adjusting the aerodynamic setup, and fine-tuning the steering response are just a few of the steps Ford have taken to ensure the Dark Horse lives up to expectations. Other hardware additions such as Brembo front fixed-piston brakes, staggered fitting wheels, and heavy-duty front dampers ensure the Dark Horse experience is one to behold.
The all-new Mustang Dark Horse looks the part too, coming with its own unique badging, a Blue Ember Metallic paint, and various digital enhancements to ensure its presence is felt both on track and off it.
The All-New Ford Mustang: Coming soon to Evans Halshaw Ford
With astonishing levels of performance, plenty of new technology, and an updated yet still iconic design, the all-new Ford Mustang will be a sight to behold when it hits British roads. With both coupé and convertible bodystyles to choose from and good everyday capabilities, it makes for a compelling ownership prospect.
If you'd like to find out more information regarding the all-new Ford Mustang, or to be first in line when the order books open, please contact your nearest Evans Halshaw Ford dealership.