Used Tesla Model X for sale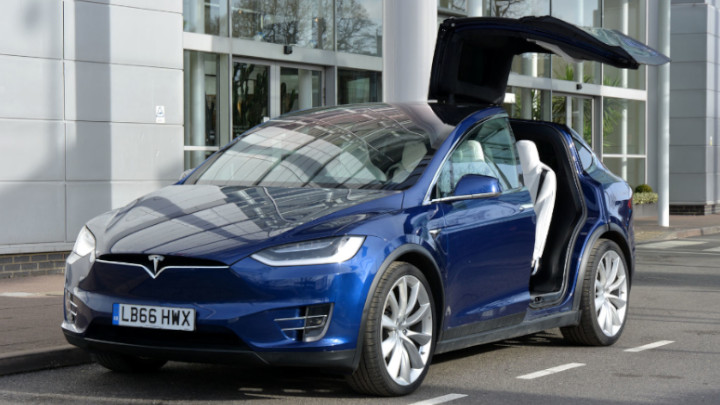 The Tesla Model X was first released in 2015, although it took until late 2016 for the UK to start seeing this unique American all-electric SUV.
Looking a little different to more mainstream SUVs on sale, the Model X is still capable of dealing with trickier terrain thanks to its all-wheel drive. Although it's fair to say that the majority of Model X buyers won't be purchasing one for their off-road capabilities, as like many Tesla vehicles, the Model X is rather rapid, as well as boasting other highlights, which include:
Interesting looks
Trick falcon-wing rear doors
'Ludicrous' mode
Amazing technological abilities
Capacious practicality
Multiple seating options
Engines and Driving Experience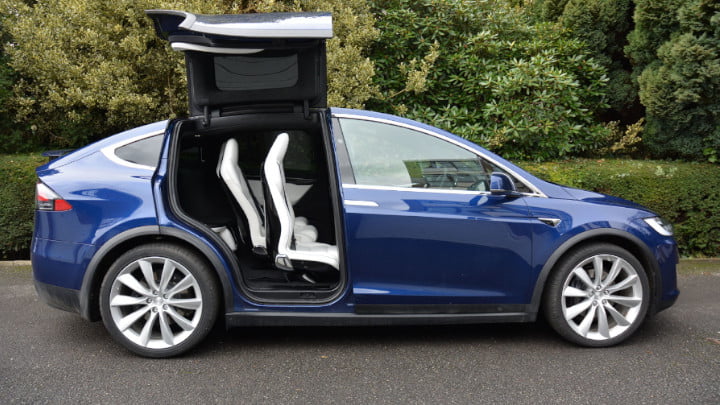 Weighing just under 2,500kg, the Model X isn't exactly agile but it sticks to the road a lot better than many other SUVs. This is due to the batteries sitting low in the body, lowering the centre of gravity, meaning body roll is minimal. And being a Tesla, all versions offer incredible pace.
Model choices change frequently, as is the nature with Tesla models due to their constant connectivity and updates. When first launched, models consisted of 60D, 75D, 90D and 100D. The higher the number, the higher the performance and spec. Although, the entry-level 60D and 75D could still go from 0 to 62mph in circa 6 seconds. Whilst the more potent 90D and 100D take just 4.8 seconds.
Later models ditched the numbers altogether and adopted names such as 'Performance' and 'Long Range'. The latter could still go from 0 to 62mph in around 4.5 seconds, whilst the Performance model could do it in around 3.5 seconds. But if you want hypercar pace, look out for the 'Performance Ludicrous' versions which can go from 0 to 62mph in a mind-bending 2.9 seconds, whilst 'Plaid' versions can complete the sprint closer to 2 seconds - yes, you read that right.
Practicality and Running Costs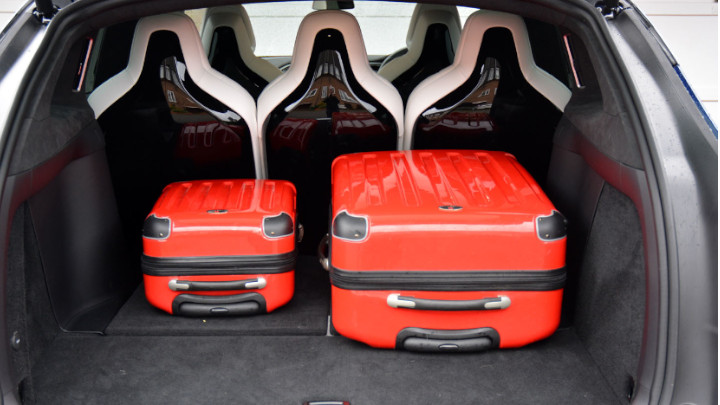 The Tesla Model X is an ultra-practical SUV, that also happens to be ridiculously fast. There is also the possibility to purchase versions with five, six or seven seats, too.
As for boot space, there's up to 2,180 litres to play with, along with a handy 187-litre front boot ensuring you're never wanting for more space with a model X. Passengers should have no problem getting comfortable either.
As for running costs, the Model X, like the Model S was once offered with free lifetime charging, as part of a Tesla promotion, which is transferable when selling the car. Therefore, if you can find an example with it you'll save a lot of money in charging. Although, if you have to pay to charge your Model X it will be substantially less than a petrol or diesel powered SUV, costing less than £30 even when using a supercharger and good for around 300 miles of range.
Servicing will also cost less due to no engine needing to be serviced, although consumables like tyres and brakes to name but a few will still require upkeep.
Interior, Technology and Safety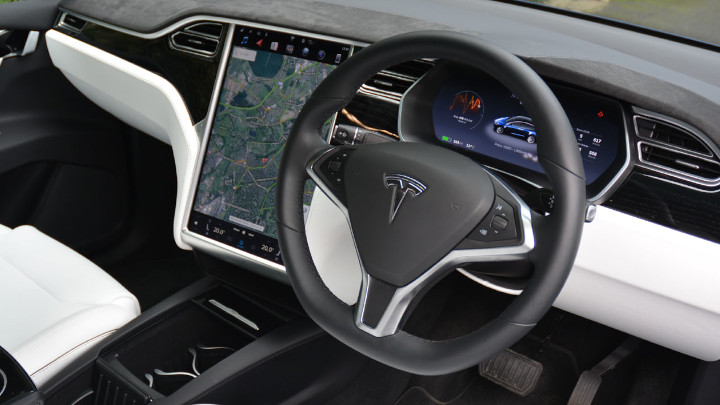 In typical Tesla fashion, and like the Model S, the interior of the Model X is dominated by the central portrait 17-inch touchscreen in which you can control all of the car's vast settings.
The dashboard is very clean with few buttons and is pleasant in its design, especially with its fully-digital instrument cluster. The overall quality will however not scare competitor SUVs, such as the Jaguar I-PACE, which is also fully-electric but feels more premium.
Being a Tesla, internet connectivity comes as standard. This means updates can be downloaded to the car, meaning even early Model X's feel bang up-to-date.
As for safety, the Model X was awarded the full five-star Euro NCAP score, thanks to features including:
Autopilot Driving Assistant
Autonomous emergency braking
Side collision avoidance
12 airbags
Four cameras
12 ultrasonic sonar sensors
Is the Tesla Model X right for me?
If you are after an SUV with incredible practicality, all-wheel drive, incredible speed and ultra-geeky technology, then the Model X is well worth a look at when buying used.
If you like things a little more conventional, a Jaguar I-PACE will be a better bet if you require better refinement and luxury. And if you prefer an SUV with unbeatable off-road capabilities, then the iconic Range Rover takes some beating, and is available with hybrid technology, too.
If you love technology and staying up-to-date with the latest innovations, a Tesla Model X is a perfect car for the tech-obsessed for sure.
Why purchase a used Tesla Model X through Evans Halshaw?
At Evans Halshaw, we have a wide variety of quality used vehicles for you to choose from. Each car is carefully selected by our expert teams before making its way through the rigorous preparation process, where it is inspected by a qualified technician and then fully valeted throughout.
All of our vehicles are fully HPI checked, giving you peace of mind when making a decision. In addition, we're able to offer same-day delivery on a selection of used cars, meaning you never have to wait for the car you want.
If you'd like some advice on picking the right car for you, or you've spotted a vehicle and want more information, please contact your nearest Evans Halshaw dealership, where one of our friendly associates will be more than happy to help.