Hybrid Juke Prices Announced
09th Jun 2022
By Chris Russon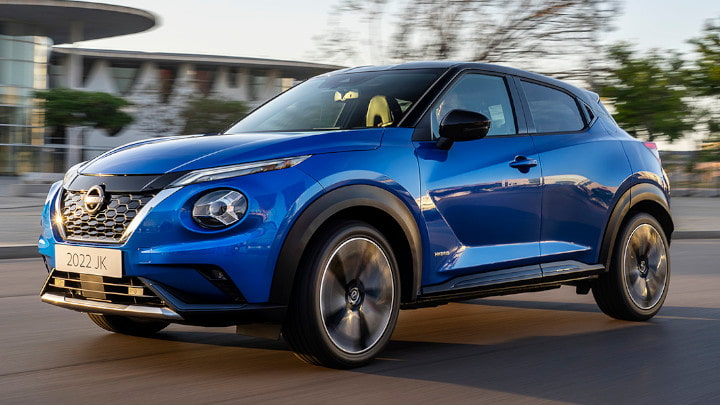 Hybrid versions of the Nissan Juke are about to be launched, and the car will be priced from £27,2500 – a premium of £1,730 over non-electrified models.
The Juke hybrid will sit alongside the existing Juke line-up and starts with N-Connecta grade, followed by the Tekna and Tekna+ with prices for the higher-grade models starting from £28,750 and topping out from £30,150.
Powered by a 1.6-litre petrol engine mated to an electric motor, Nissan says that the hybrid Juke can manage up to 56.5mpg with emissions of 114g/km which makes it the most fuel-efficient model in the range.
The petrol-electric powertrain develops a total of 143ps which results in a 0 to 62mph acceleration time of 10.2 seconds – quicker than non-hybrid versions.
All hybrid versions of the Juke will come equipped with Nissan's e-Pedal Step which allows the movement of the car to be controlled using just the accelerator pedal.
When the driver's foot is lifted from the accelerator, moderate braking is applied and will decelerate the car to a crawl of around 3mph.
Externally, the hybrid has a new front grille mesh design with a smaller aperture to optimise aero efficiency and hybrid badging fitted to the side and rear of the vehicle.
Inside the cabin, the driver's information display has been redesigned to give more information about the new electrified powertrain status, with the right-hand of the driver's two instrument dials showing speed and the left-hand dial a power gauge.
The button for e-Pedal is positioned in the centre console behind the switch for the electric parking brake, while a button to activate 100 per cent EV mode is set between two of the central air-vents.
For the introduction of the hybrid version a new Premiere Edition will be added to the range with a limited run of only 750 vehicles and will be priced from £28,250 when it arrives at the end of July.
Boot space on the hybrid has been reduced to accommodate the electrical systems and the capacity is down to 354 litres – 68 litres less than the petrol model - however, Nissan claims that the 1,237-litre maximum load space remains best in class.
Prices correct as of 09/06/22 and are subject to change.