Top 10: Low Insurance Used Cars Under £5,000
18th Aug 2022
Low insurance group cars
Car insurance is a key consideration for many motorists when searching through the classifieds.
There are a number of factors that are taken into consideration before you're provided with a car insurance quote. Although some factors, such as your age and experience, can't be helped, you can buy a car that occupies a low insurance group, which are ranked between 1 and 50. You can learn more about car insurance groups and what affects your premium in this handy guide.
Below, we've highlighted 10 great used cars that sit in low insurance groups. Better yet, these can all be had for less than £5,000.
Skoda Citigo
Insurance groups: 1 to 4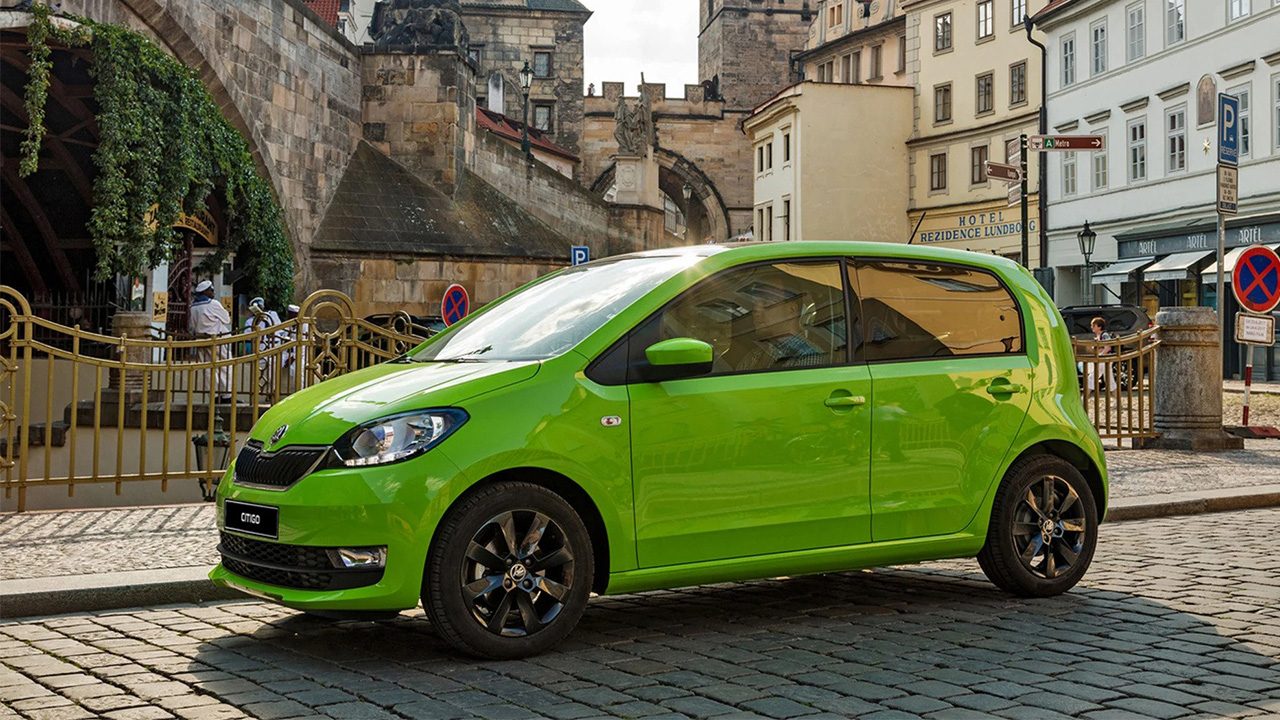 The Skoda Citigo is a small city car that doesn't exceed insurance group 4. In fact, the majority of Citigo models sit in insurance groups 1 and 2, which should prove beneficial when fetching car insurance quotes.
In essence, the Citigo is a Volkswagen up! underneath, since Skoda is owned by Volkswagen. That's a good thing though because that means the Citigo feels well made, despite being a more affordable car.
All versions of the Citigo are powered by a 1.0-litre petrol engine. It may not be the fastest in the world, but it'll return north of 50mpg without too much effort.
Both 3 and 5-door models are readily available, so you can buy a Citigo if you have a couple of children. The 251-litre boot is surprisingly good for this size of car, meaning you can do your weekly shop without worry.
Search Used Skoda Citigo
Nissan Micra
Insurance groups: 5 to 11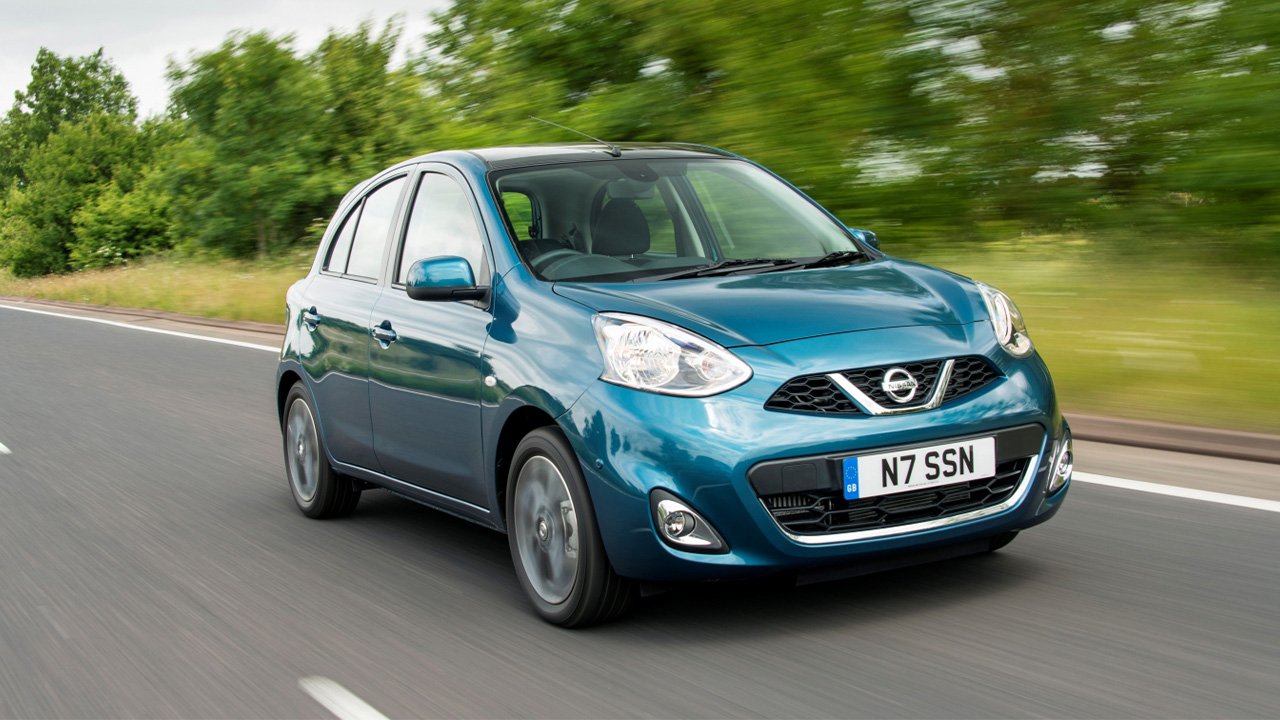 As reliable cars go, it's hard to go wrong with the humble Nissan Micra. The £5,000 budget won't get you a 2017 and onwards model, but it will get you the Micra made between 2010 and 2016.
The budget should get you a clean example in a decent specification, with Acenta, N-TEC and Tekna models readily available. Although, the insurance groups for the fastest versions of these models hover around 10 and 11.
1.2-litre petrol models are the most frugal as well as the cheapest to insure, and manage circa 55mpg on the combined cycle. The boot on the Micra is also bigger than you might expect, at 251 litres.
Thanks to its five doors and reasonably spacious interior, the Micra doubles up nicely as a car for young families.
Search Used Nissan Micra
Hyundai i10
Insurance groups: 1 to 7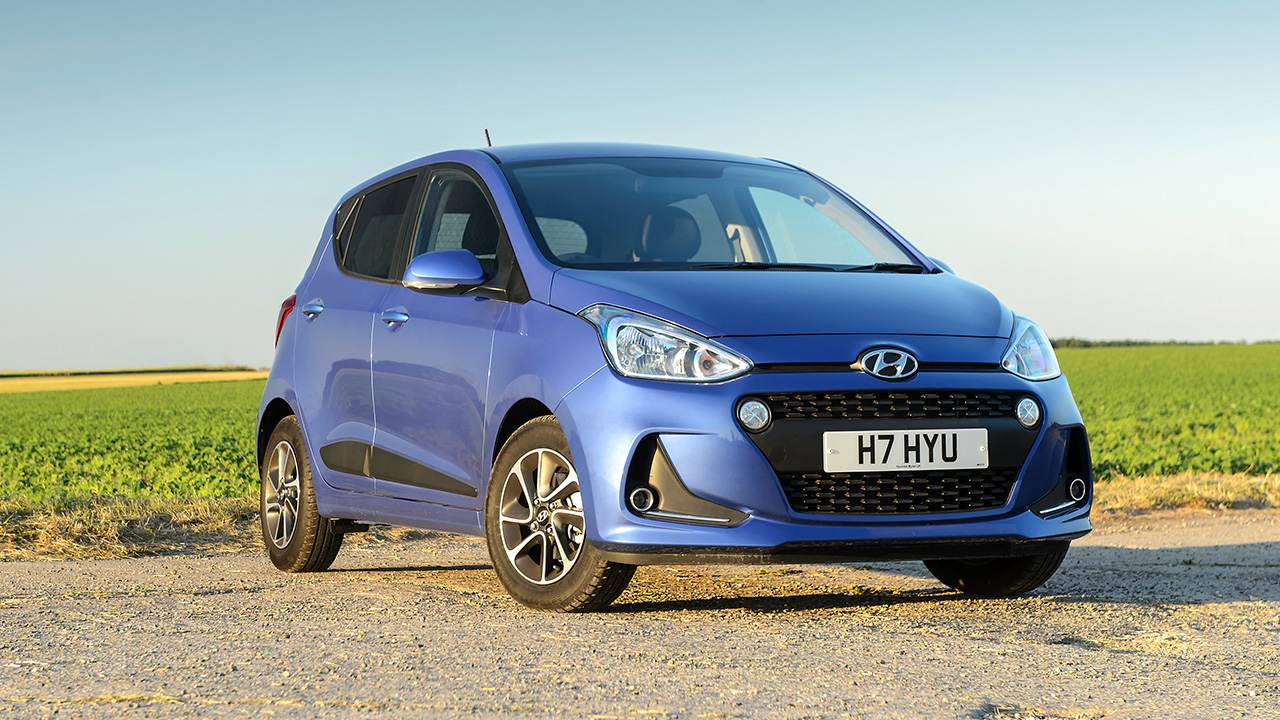 The Hyundai i10 is another little car that's surprisingly good fun to drive. Okay, it may not be the most powerful car ever thanks to the 1.0-litre and 1.2-litre petrol engines, but what it lacks in speed it makes up for in character.
In addition, the small petrol engines mean the i10 is frugal on fuel, with both units offering around 45 to 50mpg on a combined cycle. All versions of the i10 come with five doors as standard, which grants convenient access to the rear of the car, which comes in handy when fitting a child's seat.
Despite being a compact car, the i10 has a 252-litre boot, making it more than ample for day-to-day tasks such as shopping.
Search Used Hyundai i10
Ford Fiesta
Insurance groups: 3 to 19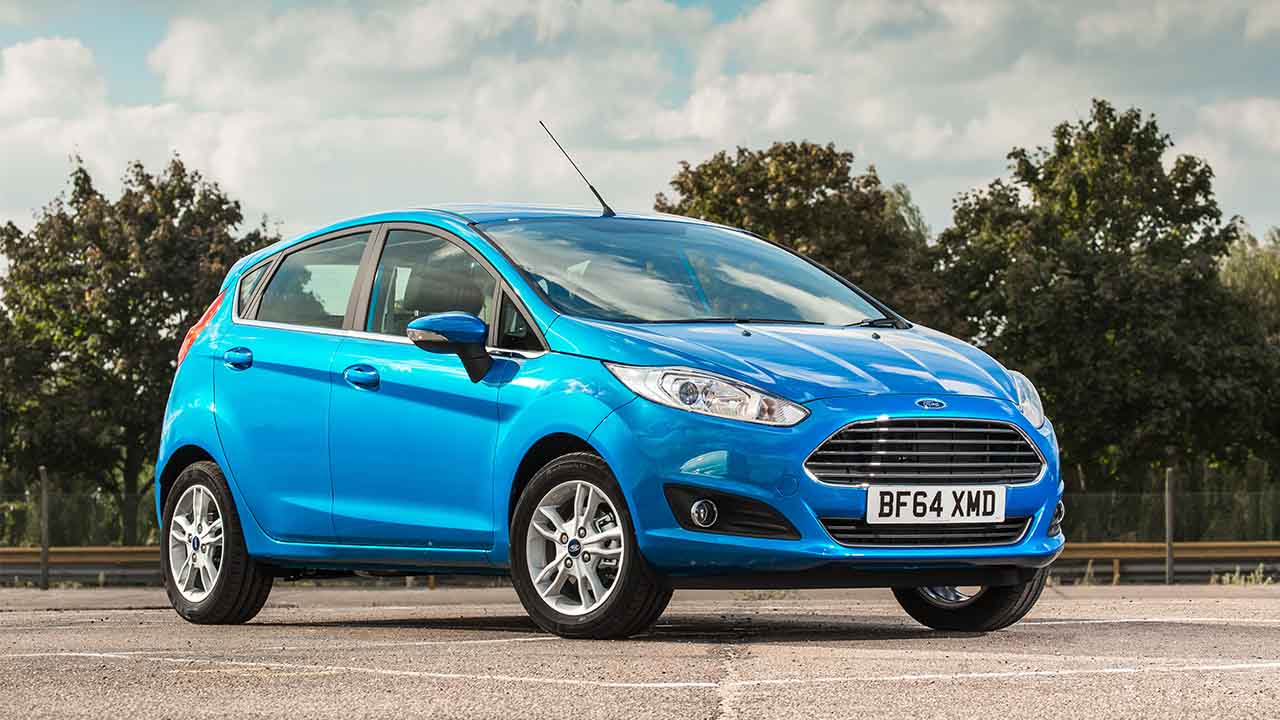 We're not entirely sure if any car can be described as a 'Jack of all trades', but we reckon the Ford Fiesta is pretty close.
For less than £5,000, you'll be looking at a Fiesta made between 2008 and 2017. That's okay though, they're still fun to drive, well-equipped across the range, relatively quiet on the motorway, and affordable to run.
That last point is why the Fiesta features here. Cars fitted with 1.25-litre and 1.4-litre petrol engines reside within low insurance groups, as does the frugal 1.4-litre diesel.
With 290 litres of boot space, and the choice between models with three or five doors, the Fiesta should appeal to anyone wanting something practical and affordable.
Search Used Ford Fiesta
SEAT Ibiza
Insurance groups: 3 to 24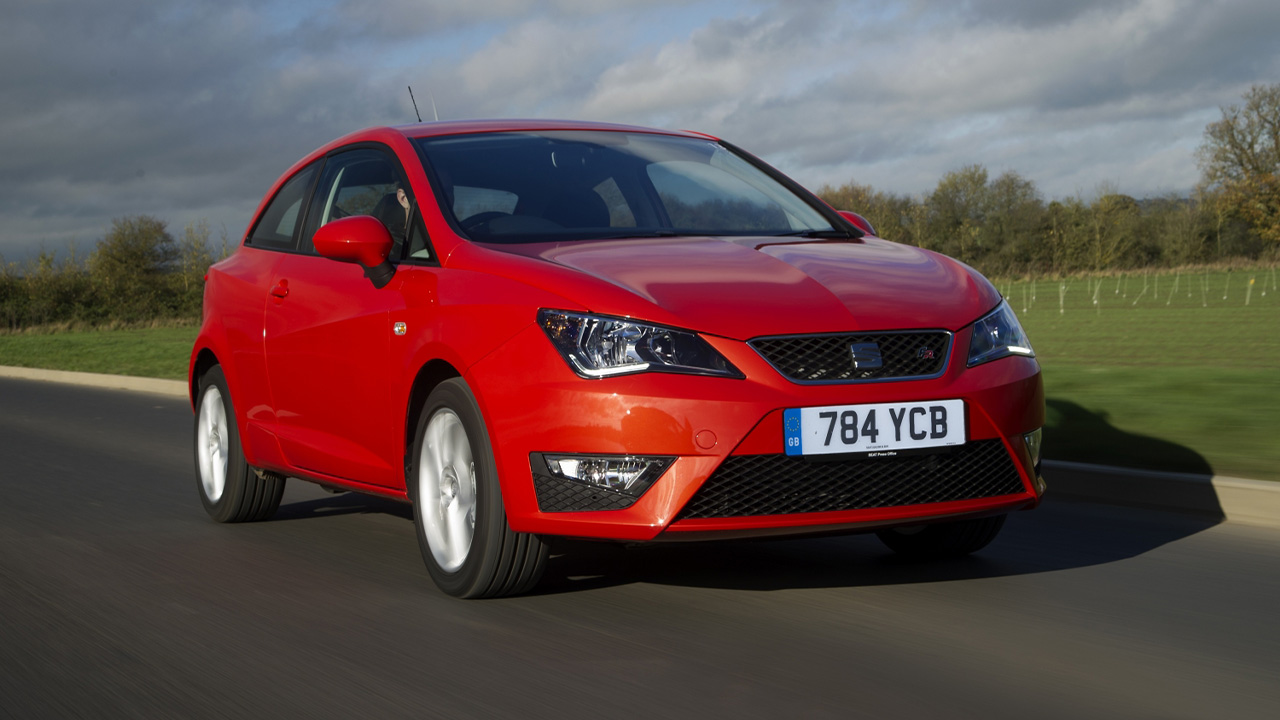 It's easy to recommend the SEAT Ibiza. After all, it's well made, good to drive and affordable to run. As you can see above, the Ibiza can occupy insurance groups as high as 24. However, for the purpose of this article, we're focusing on the models at the lower end, which include S, SE and Sport specifications.
Naturally, if you want the lowest possible premium, then you'll need to go for one of the least powerful engines. Thankfully, the 1.2-litre petrol and 1.4-litre diesel engines are still potent enough to keep up with modern traffic, yet will return circa 52mpg and 78mpg with minimal effort.
Unlike some of the cars on this list, the Ibiza is available as a 3-door (and not just a 5-door). This may suit you if you're a young driver who wants something that looks sleek.
Search Used SEAT Ibiza
Peugeot 108
Insurance groups: 6 to 13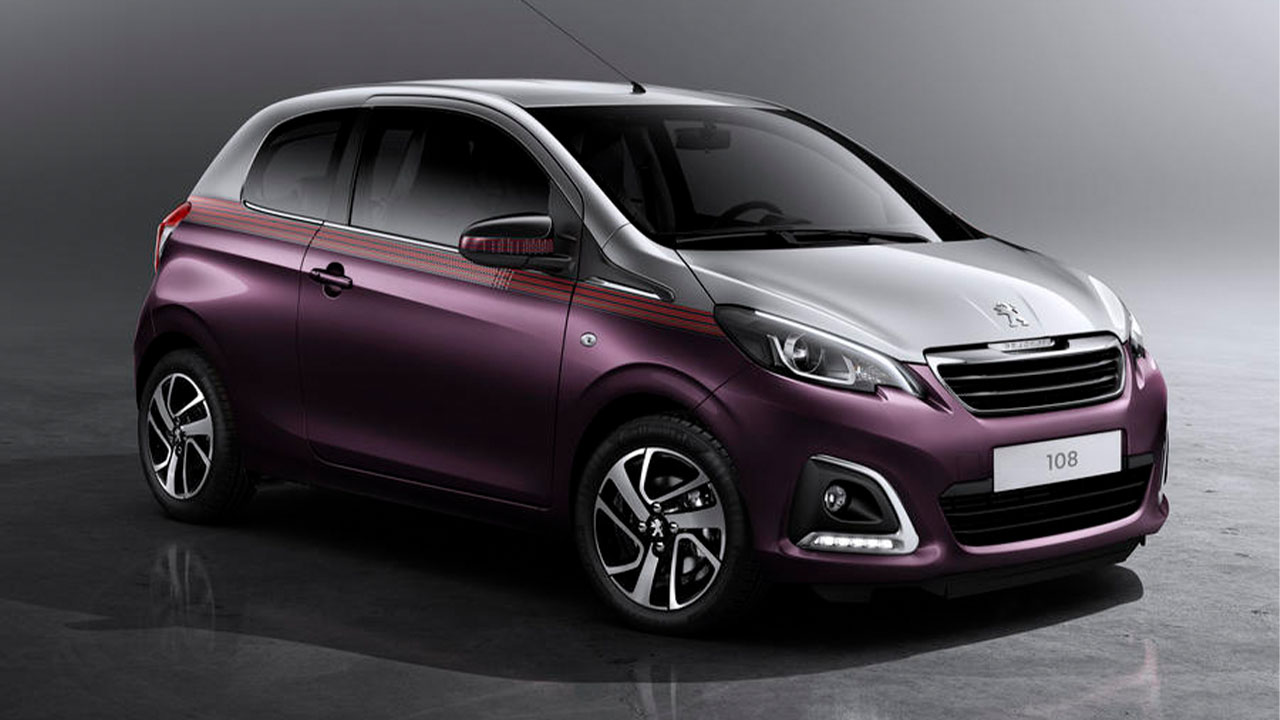 Although it's the Peugeot 108 we're highlighting here, you could easily replace it with the Citroën C1 or Toyota AYGO of the same generation. And that's because they're the same car underneath thanks to a collaboration between the three brands.
These cars have been popular choices since the originals were released in 2005. The latest models (the 108 is pictured) are fresher to look at, nicer to drive and can be had for a reasonable outlay.
You can choose between a 1.0-litre or 1.2-litre petrol engine. Neither will be particularly fast, but these cars don't weigh much so will feel spritely around town. Importantly though, they'll return circa 60mpg, which is always welcome.
In addition, you can either have a 3 or 5-door car, depending on your preference and requirements. The boots for the 108 and C1 aren't massive at around 196 litres in size, but they're slightly bigger than the AYGO (168 litres), which gains slightly more rear legroom.
Search Used Peugeot 108
Vauxhall Corsa
Insurance groups: 2 to 19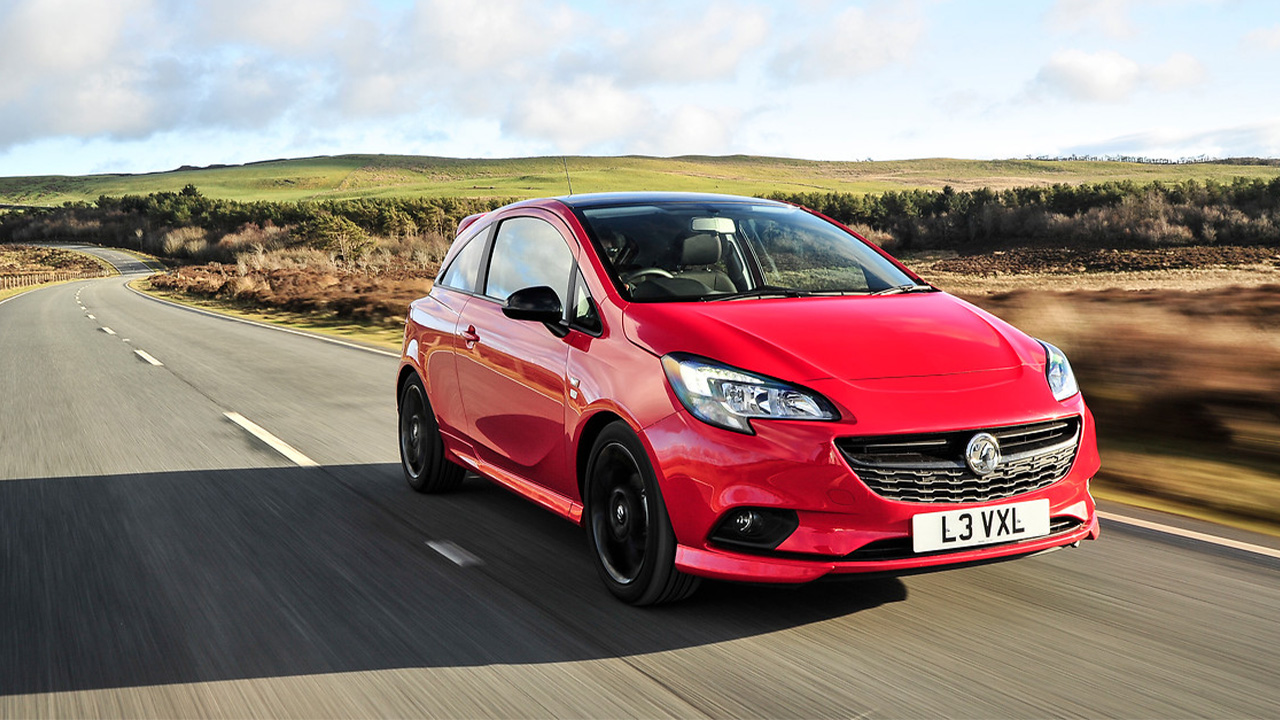 A firm favourite among young drivers and those who simply want a respectable car that's affordable to run, the Vauxhall Corsa is well worth a look.
At this price point, you'll find plenty of Corsa 'D' examples, which were made between 2007 and 2014. However, the newer Corsa 'E', which was introduced in 2014, can be had within budget, so we're going to focus on them.
To benefit from low insurance premiums, you'll need to opt for a model fitted with the regular 1.2-litre or 1.4-litre petrol engines because they hover around insurance group 3 and 4. They'll even return around 50mpg to help keep running costs down.
The 3-door versions of the Corsa are popular because of how sleek they look, although the 5-door cars will naturally prove beneficial if you have a young family.
Search Used Vauxhall Corsa
Kia Picanto
Insurance groups: 2 to 12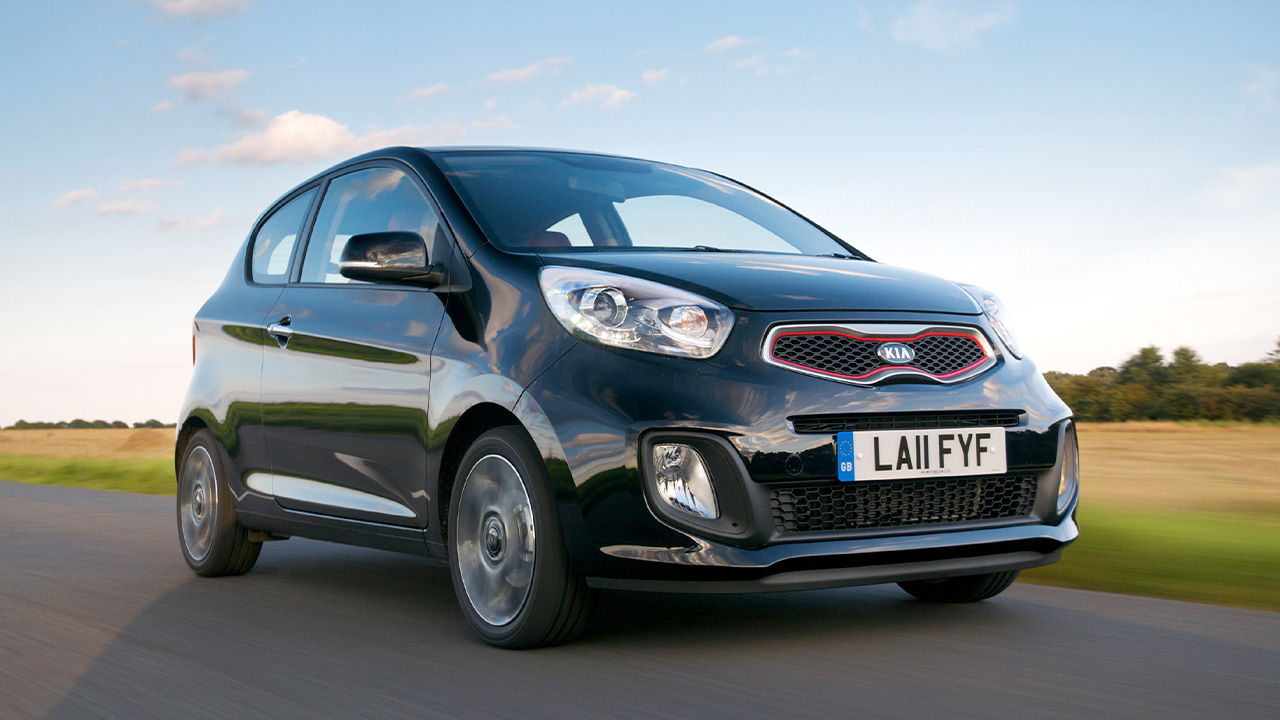 The Kia Picanto represents great value on the used car market, with a variety of clean examples available for less than £5,000.
Entry-level '1' models will ensure you can achieve the lowest possible insurance quotes (they sit in group 2); that's because they come with a 1.0-litre petrol engine that produces 65bhp. It isn't fast by any means, but it'll return around 62mpg and still prove peppy enough around urban areas.
Naturally, you can go for quicker models, with a 1.25-litre petrol engine producing 84bhp also available. Models fitted with this engine typically occupy insurance group 5, so it might be worth paying extra for the grunt. The Picanto feels reasonably spacious inside thanks to the high roofline, while the boot is rated at 255 litres, making it bigger than most rivals.
Search Used Kia Picanto
Citroën C3
Insurance groups: 5 to 21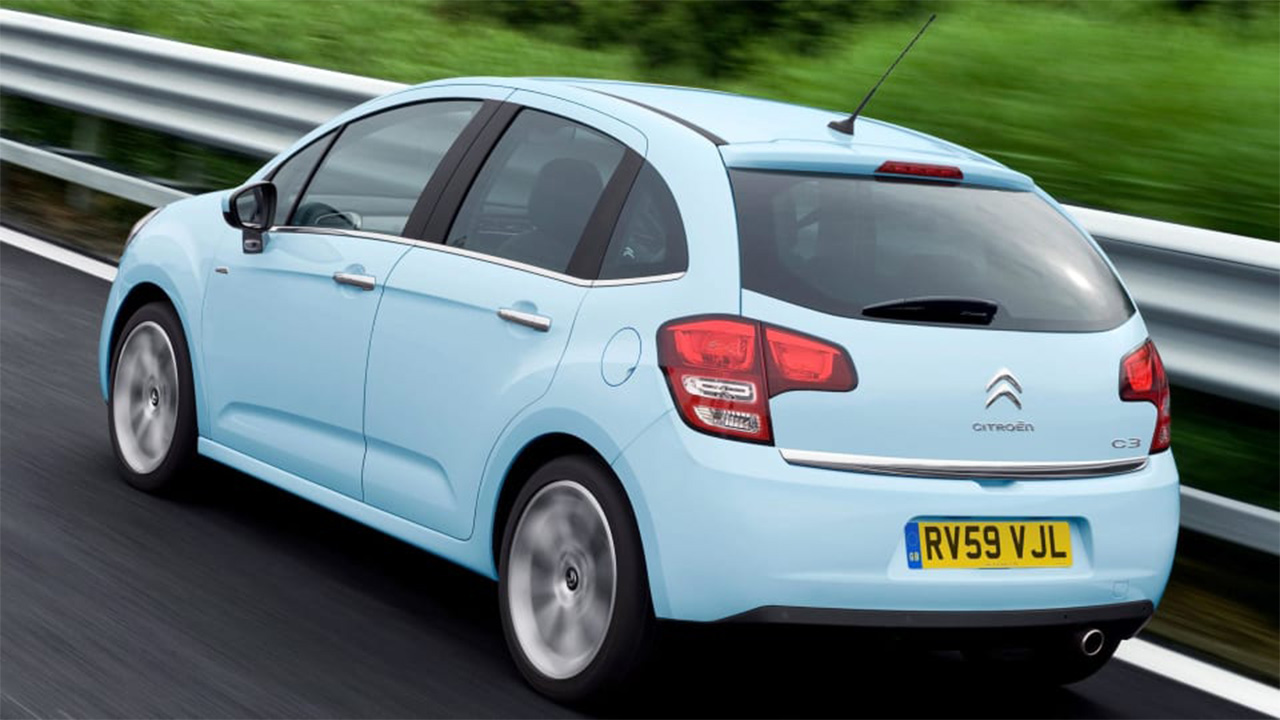 The Citroën C3 is another car that provides more space than a typical city car. Its useful 282-litre boot is one of the largest in this list. The petrol ones are the cheapest to insure, with 1.1-litre petrol VT models rated at just group 5.
Diesel models occupy relatively low groups too, with most sitting below group 10. In fact, you'd be hard pressed to find a diesel car with a lower insurance group than that. Combined economy is 64.2mpg on a 1.4-litre HDi VT model (insurance group 8).
VT models aren't really the last word in specification, but it makes them good value. Remote central locking, electric front windows, and steering wheel audio controls are the plus points. A CD and MP3 compatible stereo is present though, so that should keep you entertained at least. The aforementioned Airdream+ model adds rear parking sensors, alloy wheels and tinted windows to the mix.
Search Used Citroën C3
Dacia Sandero
Insurance groups: 2 to 12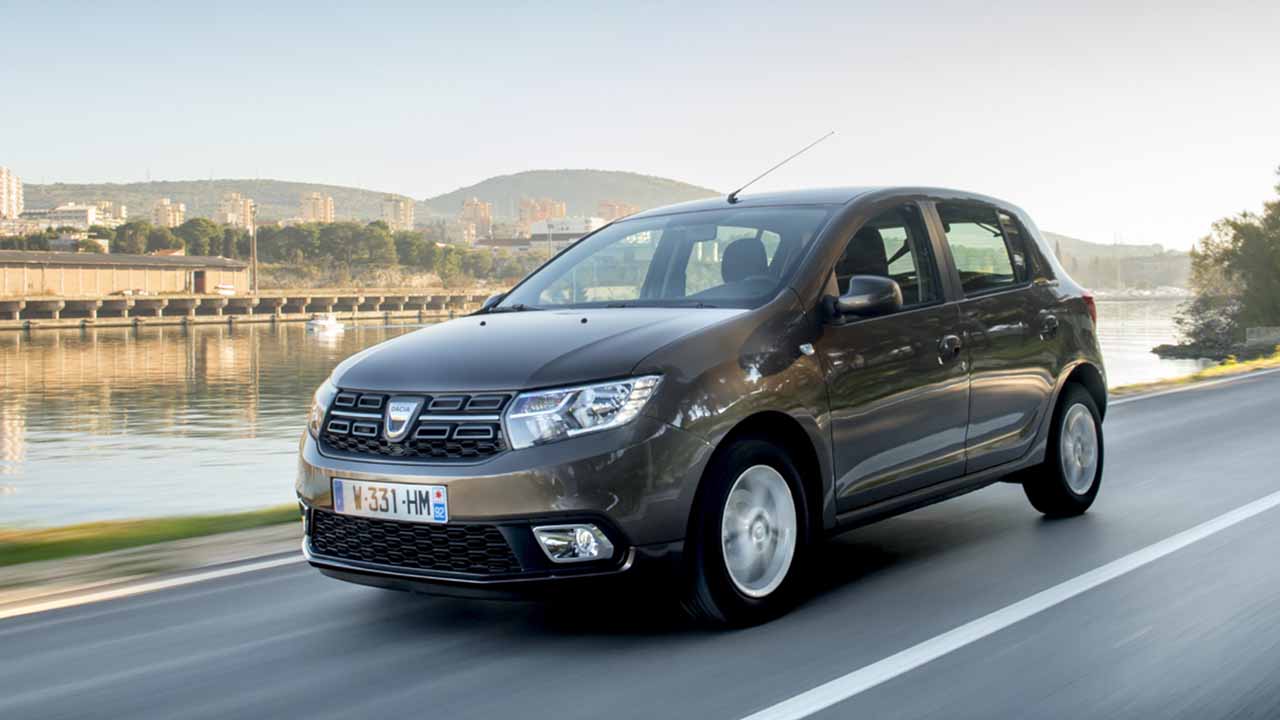 There's much to be said for the simplicity and affordability of the Dacia Sandero, which reflects in the low insurance groups each model occupies.
At this budget, the majority of models will house a 1.2-litre petrol engine under the bonnet. Thankfully, examples fitted with this engine also reside within the lowest insurance groups. If you don't mind paying more on your insurance, then the 1.5-litre diesel is easy to recommend if you cover enough mileage every year.
Entry-level Access models are best avoided unless you don't mind a car that's pretty spartan inside. If you can find a Comfort specification within budget, then we'd recommend one since they come with equipment such as air-conditioning, cruise control and front electric windows.
Search Used Dacia Sandero
Discover your next car with Evans Halshaw
In the past, going for a car in a low insurance group typically meant you'd be looking at examples that were underpowered or sparse inside. Times have changed though, and with some great cars available for less than £5,000, you can enjoy a good car as well as reasonable insurance premiums.
At Evans Halshaw, we have a wide variety of used cars available for you to choose from. And if you want to explore upping your budget, then we can offer a range of tailored finance packages to suit your needs and requirements.