A more compact all-wheel drive package
For many, when they think of a 4x4 or all-wheel drive vehicle, they think of a large SUV. However, what happens if you like the idea of dependable all-wheel drive, but want it in a more compact package?
Well, here's some good news, as manufacturers understand that there are many benefits of smaller cars having all-wheel drive. This is due to multiple factors, such as:
Enhanced safety, due to increased traction, grip and stability
Easier to drive and control in all-weather driving
Increased driver confidence
We therefore decided to put together a list of cars which feature useful all-wheel and four-wheel drive, that aren't necessarily a large, chunky SUV.
BMW 1 Series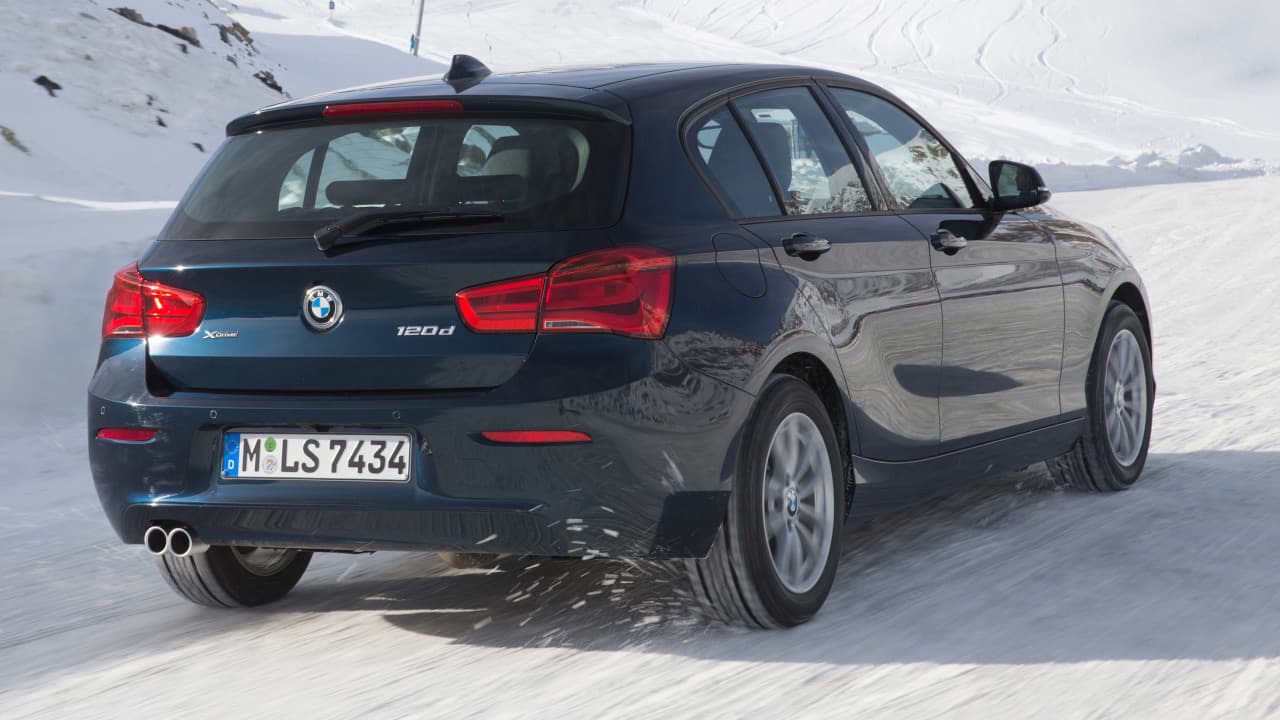 Famous for making rear-wheel drive cars, BMW also offer four-wheel drive versions of some of their most popular models. One of these happens to be their hugely popular entry-level hatchback, the BMW 1 Series.
Available in rear-wheel drive, front-wheel drive and all-wheel drive, the BMW 1 Series really does offer a package for all types of driver. Rear-wheel drive M140i performance versions will appeal to the petrolhead, front-wheel drive versions will suit most drivers, whilst all-wheel drive (BMW call it xDrive) will suit those looking for all-year round safety, dependability and grip.
Second generation '120d' models can be had with all-wheel drive, sporting 184bhp from their 2.0-litre diesel engine, and usually have nice specifications too, including metallic paint, leather interiors, M sport styling and many other BMW refinements. They will also return over 50mpg.
You will also find a 360-litre boot, and models available with five or three-door styling. The later third generations 1 Series models with all-wheel drive come in the form of the M135i performance versions, and are only available with five-doors.
Search Used BMW 1 Series
Suzuki Swift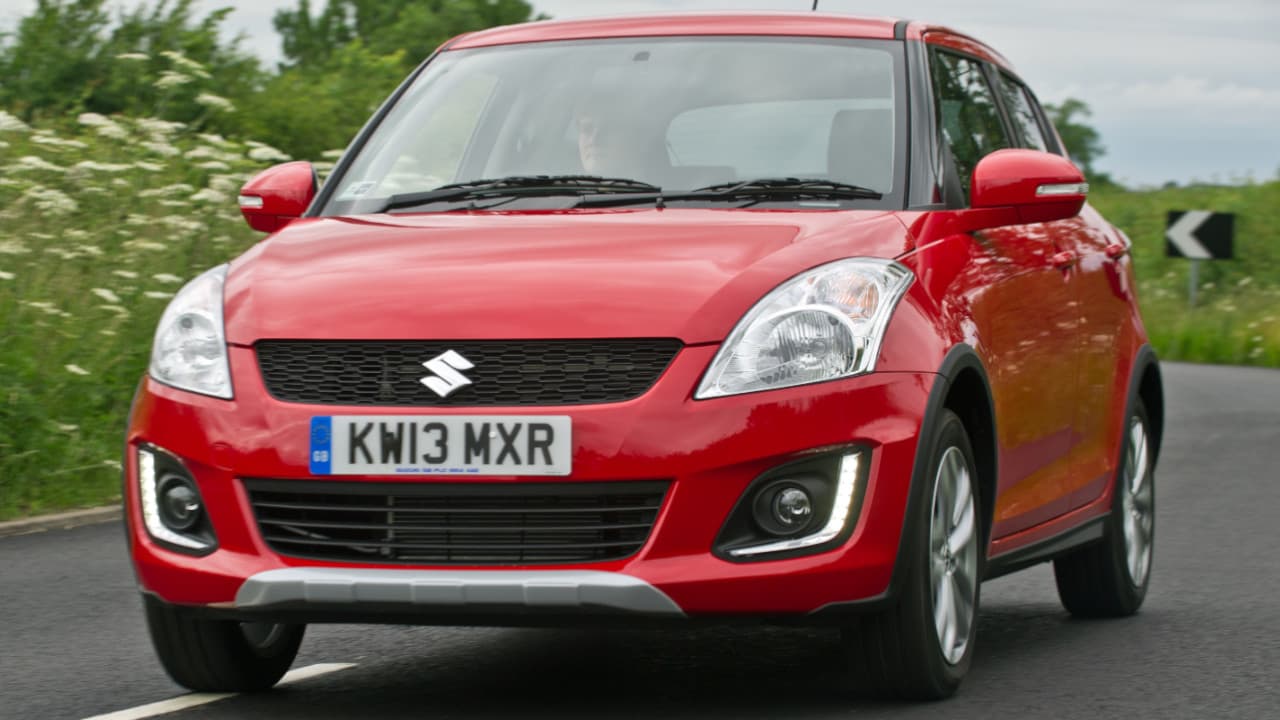 The humble little Suzuki Swift. A supermini ideal for tight cities due to its nippy character and compact proportions. Usually found sporting a front-wheel drive set-up, like most superminis, but the guys at Suzuki decided to also offer it with four-wheel drive.
All 4x4 Suzuki Swift models also come with five-doors and a boot which can cater for the weekly shop with ease, due to the 265 litres available. Their peppy 1.2-litre petrol engines produce 93bhp and are great for city driving, and are also relatively quiet at speed.
With four-wheel drive thrown into the mix, the Suzuki Swift offers a rather rare and unique package, as there really aren't many cars of this size offering the dependability of all-wheel drive.
It will be more than compliant come the winter months in the UK, and you'll have no trouble with grip. And despite the Swift being a petrol, the small 4-cylinder unit will still return over 50mpg.
Search Used Suzuki Swift
Fiat Panda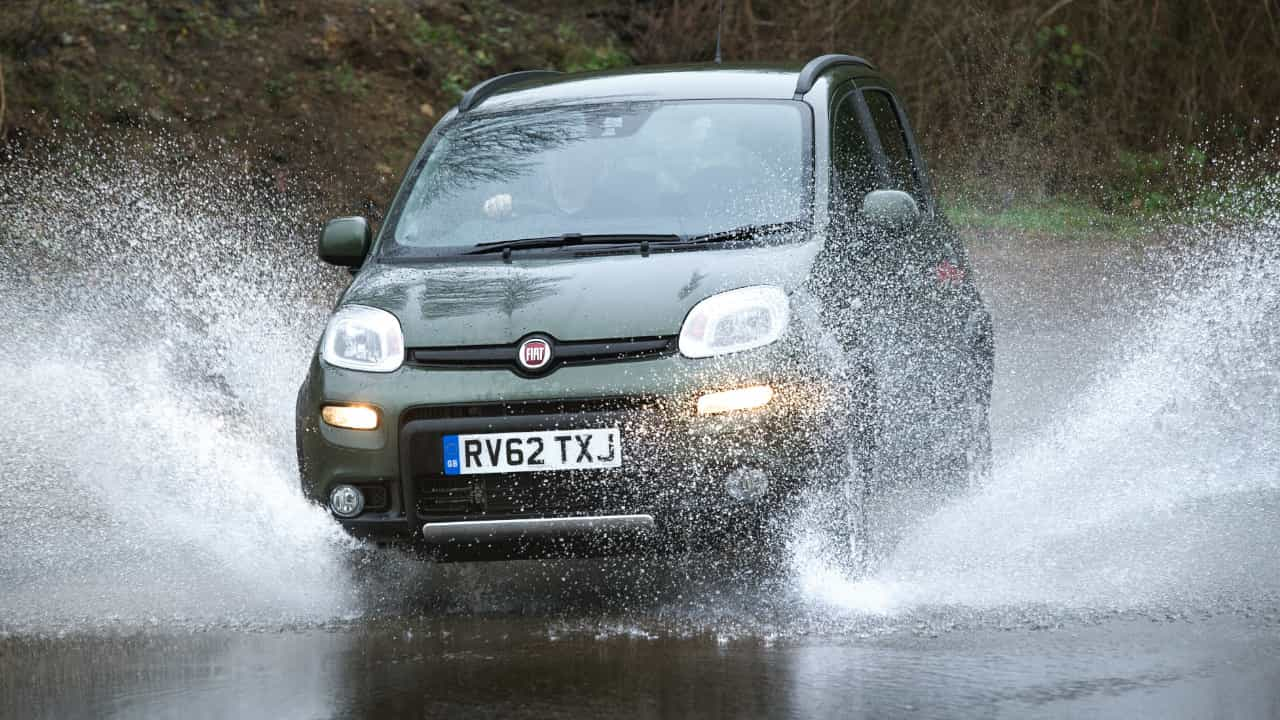 Nothing says textbook compact 4x4 like the Fiat Panda. Arguably the best ultra-compact four-wheel drive car out there, the Panda has been creating a legacy since 1980 when Fiat launched the first generation.
The second generation came along in 2003 and you are more likely to find these models for bargain prices, considering how spacious and dependable they are. They make for ideal workhorses, perfect for tip runs in all weathers.
Third generation models came about in 2011 and also offer great value. These are more 4x4 looking too, with steel bash plates, black plastic bumpers and enhanced wheel arch extensions all combining to make the humble Panda look like it's been putting extra time in at the gym. It also means the Panda can be used off-road with ease if needed.
Petrol and diesel versions are available to suit various preferences, with the petrol hitting over 50mpg, whilst 60mpg is possible in the diesel versions. If you're after a compact, yet spacious 4x4 vehicle, the Panda is a legend for all the right reasons and is definitely worth considering.
Search Used Fiat Panda
Volkswagen Golf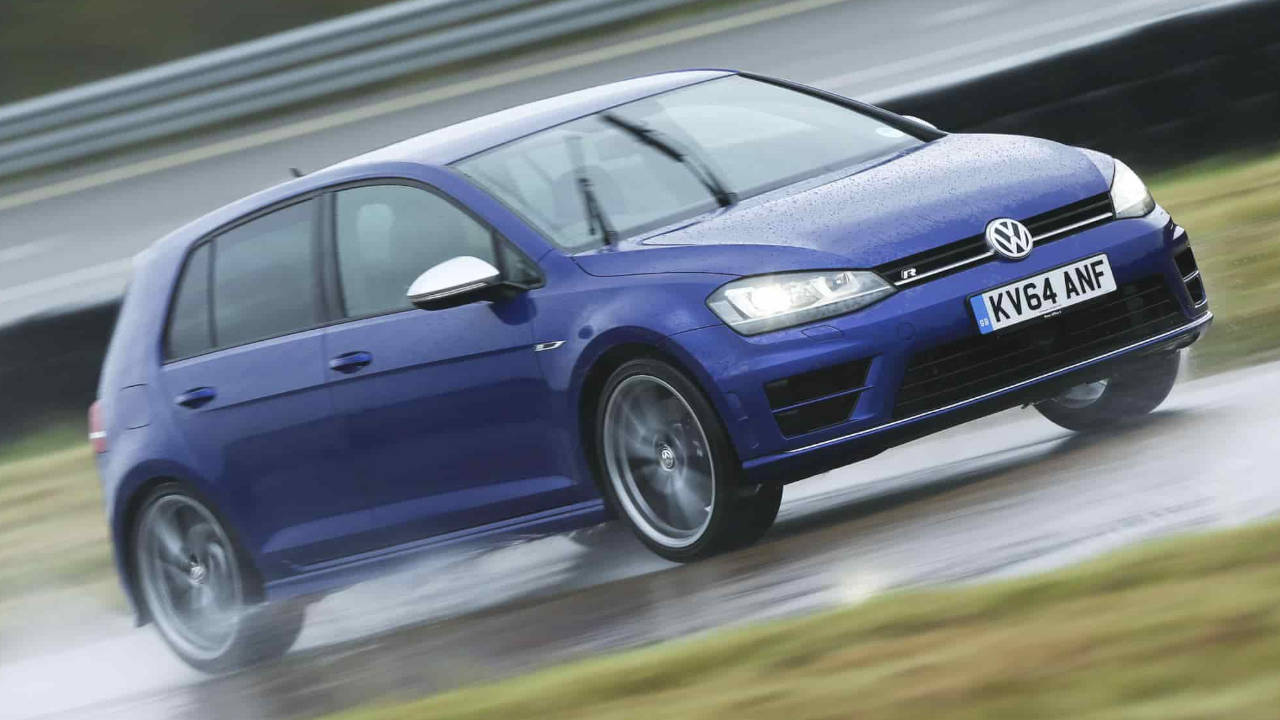 There are some cars which offer a fantastic all-round package. The Golf is perhaps one of the best, if not the best do-it-all car made by German manufacturer, Volkswagen.
Available with three or five-doors, lots of engine choices, a large boot, excellent safety, fine interior quality and decent reliability, the Golf does it all. The Golf is rather classless too, meaning certain models won't look out of place in a supermarket car park or outside a swanky five-star hotel.
It comes as no surprise then, that the Golf is also available with all-wheel drive. However, it's only available in the high performance R variant only, helping the car lay down all of its power no matter the weather, or if the road surface is poor.
Available with either three or five doors, the Golf R's styling is quite reserved. The only real indication of its power comes from its quad exhausts. And of course the 300bhp nestling under the bonnet, good for 0 to 62mph in just under 5 seconds when choosing the DSG transmission.
Search Used Volkswagen Golf
Audi A3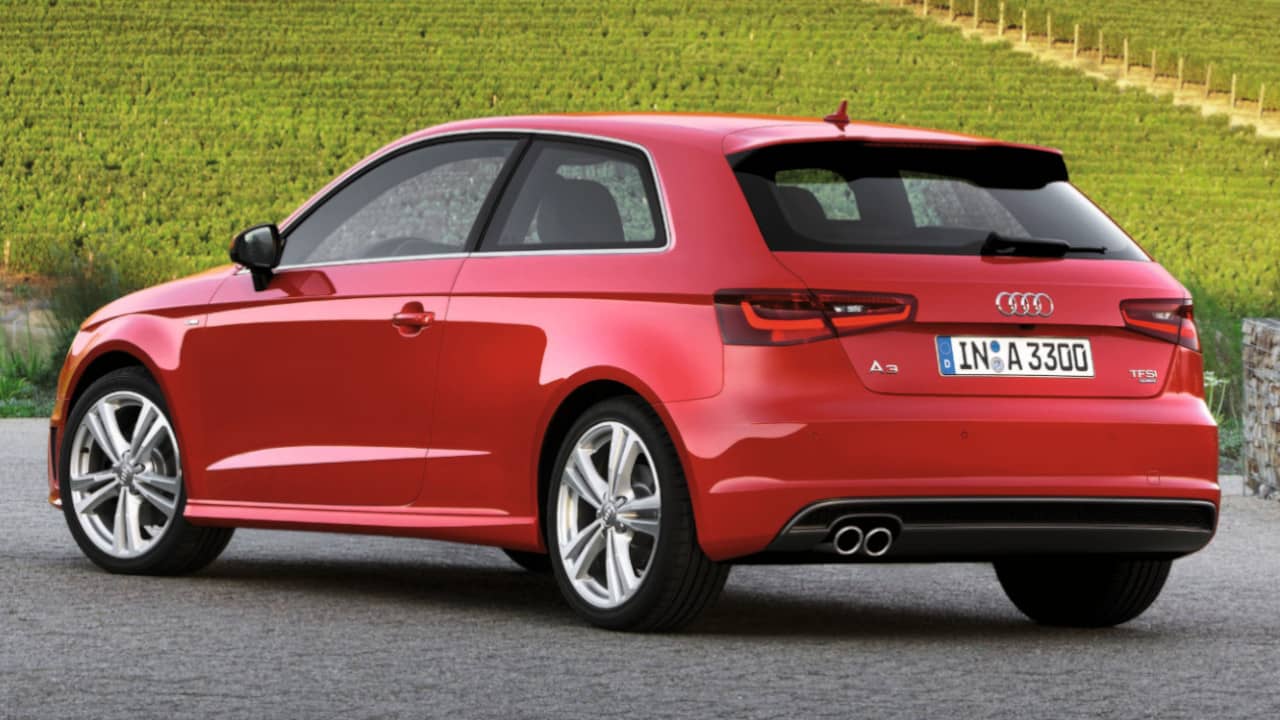 You can't really mention all-wheel drive cars without mentioning an Audi. The legendary Quattro name resonates, expressing how any Audi fitted with this comprehensive all-wheel drive system will not struggle, no matter the weather, or road surface. Ideal for the UK's mainly wet and poor road conditions, that's for sure.
Quattro was made famous by Audi's rally success with the aptly name Audi Quattro, and thanks to its success Audi started fitting the all-wheel drive system to many of its road-going cars.
The A3 is one of Audi's most compact cars, going up against the BMW 1 Series, Mercedes-Benz A-Class and VW Golf. Unlike its VW Audi Group sibling (VW Golf) the A3 offers Quattro via a multitude of A3 models - not just a performance version.
The 2.0-litre TDI Quattro S Line is a great package, with 148bhp it can return just under 60mpg and is pretty quick with 0 to 62mph happening in a respectable 8.3 seconds. You can also find the A3 in a smart hatchback or handsome saloon version too.
Search Used Audi A3
Mercedes-Benz A-Class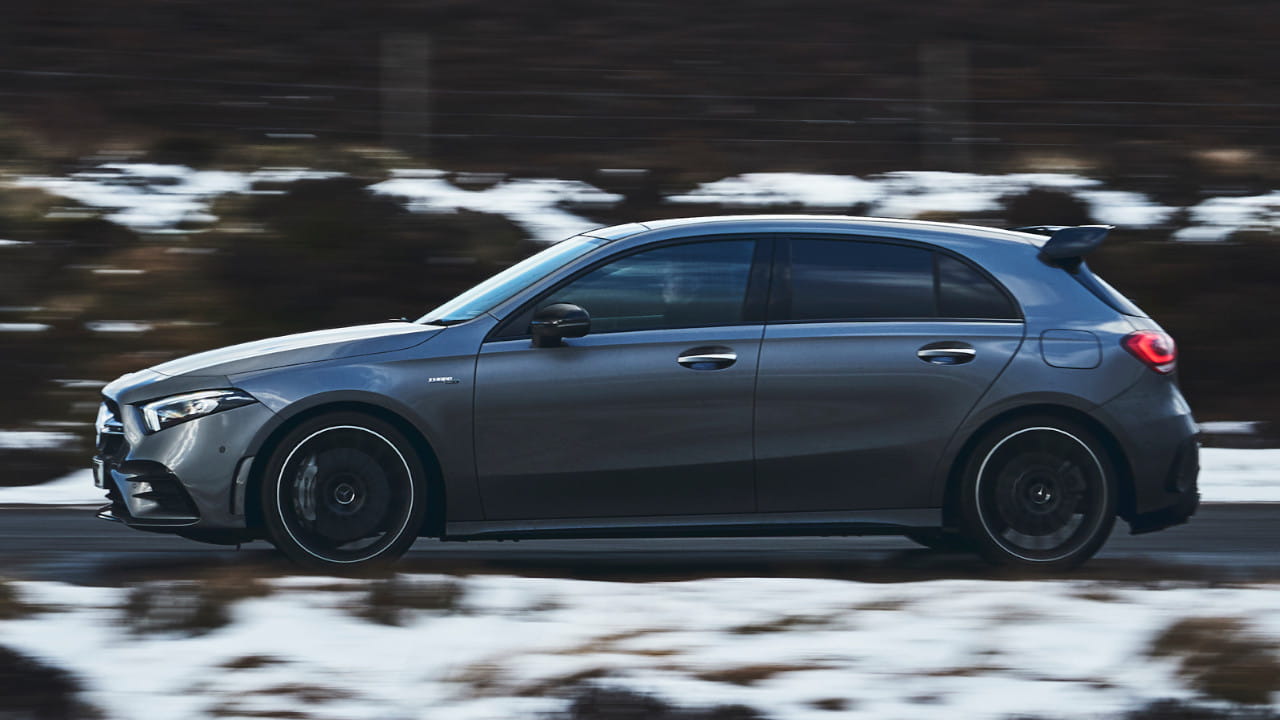 Having mentioned BMW and Audi, it was only natural a Mercedes-Benz would be mentioned too.
Like the other pair of German manufacturers, Mercedes-Benz offer a performance all-wheel drive A-Class in the form of AMG versions - mainly the A 35 and A 45. But there are also less-sportier versions of the A-Class, that also offer Mercedes' 4MATIC all-wheel drive technology.
A250 petrol versions offer great performance thanks to a 215bhp petrol engine, whilst the 175bhp diesel A220 D offers decent 55mpg economy.
With five doors as standard, the A-Class also has plenty of practicality benefits, along with a large boot, capable of swallowing most things you'd normally throw in the boot from time to time. Being a Mercedes-Benz, quality is decent too from the cabin ambience to the infotainment and general vibe of the car.
If, however, you do fancy a performance A-Class, then the AMG versions offer all the performance, comfort and do-it-all ability you could possibly need.
Search Used Mercedes-Benz A-Class
Search small 4X4 cars with Evans Halshaw
We currently have a comprehensive selection of used cars available, some with the all-important all-wheel and four-wheel drive, which we have talked about above.
Why not browse our used car stock and see if you can find the perfect used car for you today.