New Vauxhall Corsa: 5 Things That Caught Our Eye
30th Jan 2020
Vauxhall are well-seasoned when it comes to the creation of desirable everyday cars, it's why previous iterations of the Corsa have sold so well. So, it's no great surprise to see that the latest generation of Corsa brings an exciting new design, both inside and out, that distinguishes itself from the rest of the competition.
In fact, Vauxhall's very own slogan for the new Corsa is: 'Generic, generic, generic, iconic'. Those are certainly bold words, but given the appearance of the New Corsa and the advanced technology it offers for such a reasonable outlay, we're hard pushed to find a counter-argument. On top of this, the New Corsa has also gone all-electric, bringing it bang up-to-date with modern times.
There's certainly plenty to love about the New Corsa, so we decided to narrow it down to five things.
It's Gone Electric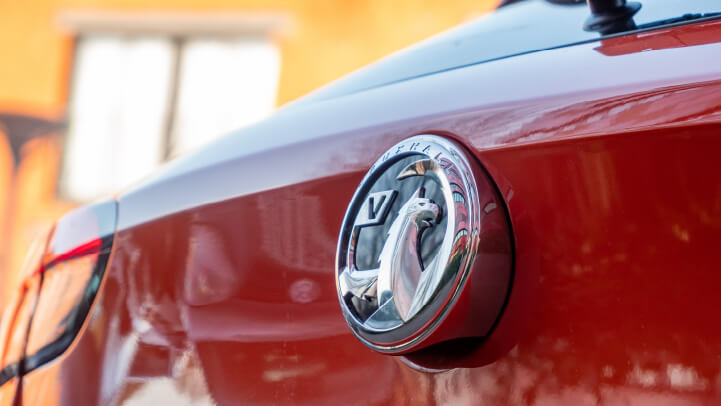 This is an exciting prospect, the New Vauxhall Corsa is available as an all-electric variant. Under the handsome body lies a 50 kWh battery, which can provide the driver with up to 209 miles of range on a full-charge. It's even pretty peppy, with a 0-60 mph time of just 7.6 seconds.
There's a number of benefits of going for the New Electric Corsa, which make it an even more appealing option:
Silent drivetrain
Zero emissions
Rapid charge to 80% in just 30 minutes
Cheaper servicing
Accessible performance at any speed
The petrol-powered Corsa we went for a spin in is already a fun car to drive, so we're very excited to experience the all-electric variant, because we reckon it will be a game-changer!
That Interior
If the fresh exterior design or introduction of an electric drivetrain don't do it for you, then you will love the bold interior Vauxhall have implemented with the New Corsa. The materials throughout the cabin look and feel much better quality than a car at this price point has a right to have, while the addition of a beautifully incorporated 7" colour touch screen really gives the New Corsa a premium finish.
What really impressed when we went for a drive is the excellent refinement Vauxhall have achieved with the New Corsa; now can you imagine how quiet the Electric Corsa will be on a daily basis? There's more space inside compared to the previous generation, while the impressive 309 litre boot capacity is very handy for the weekly trips to the supermarket! Overall, the New Corsa is a very relaxing place to spend time on a daily basis.
It's Packed with Tech!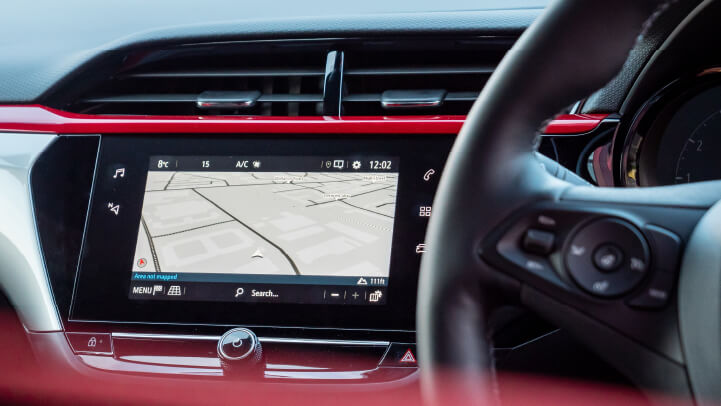 Vauxhall are never shy when it comes to packing their cars with desirable technology. For example, even in entry-level 'SE' trim, the New Corsa boasts LED lights, Rain-sensitive windscreen wipers, IntelliLink touchscreen infotainment, air-conditioning and a leather-covered steering wheel; that's very generous!
Opt for a higher spec Corsa and you get access to a number of other desirable features, which can include:
IntelliLux LED Matrix Headlights (the lights automatically adapt, basically)
Rear view camera
Adaptive cruise control
Satellite navigation
Apple CarPlay and Android Auto
Vauxhall have also been busy packing the New Corsa with safety features. The Lane Assist was very effective, while the Side Blind Spot Alert is guaranteed to be a life saver one day! There's even a system that detects if you are getting drowsy and will warn you to take a needed break!
The 8-speed Automatic Gearbox
It's weird to think that the concept of a gearbox with eight gears was non-existent just over a decade ago. Yet, here we are in 2020, looking at the New Corsa that's available with just that!
EU regulations mean modern cars are forever being constricted on emissions and fuel efficiency, but the introduction of the brilliant 8-speed automatic gearbox has taken the New Corsa up a level. Acceleration is effortless, and the gearbox always knows which gear you need to be in to access the power required to make swift progress. There's even flappy paddles on selected models, which is just amazingly cool.
Vauxhall Connectivity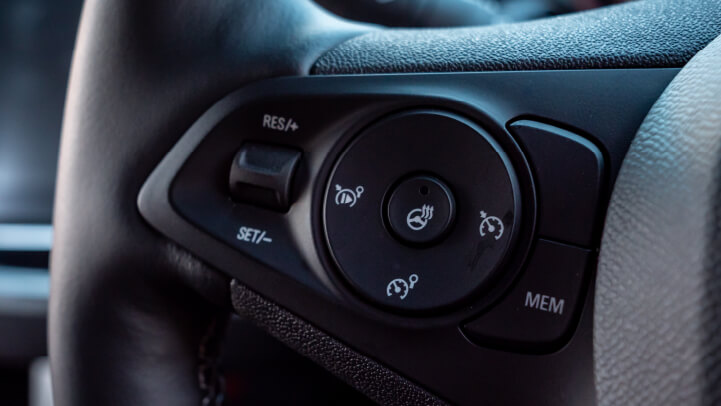 In the modern era of smartphones and other technologically advanced toys, it's important that cars offer exceptional levels of connectivity. Vauxhall clearly agree with that statement, which is why the New Corsa is perfect for tech lovers!
The New Corsa's clever infotainment system boasts Apple CarPlay and Android Auto, which although nothing new, are complemented by voice control to call up your favourite songs and play them through the Bluetooth. The New Corsa also boasts a feature called 'Vauxhall Connect', which allows you to call for help at the touch of a button in the event of a breakdown or emergency - 24/7, 365 days a year.
If that wasn't enough, you can even get live navigation services and vehicle diagnostic info through the MyVauxhall app. Having tried the app, it works very well and helps massively when planning a journey; thoroughly recommended!
We reckon the New Vauxhall Corsa is going to be a game-changer because of its fresh new design, amazing interior and technological advancements. We recommend taking a test drive at your nearest Evans Halshaw Vauxhall and experiencing the above points for yourself, we think you'll agree with us.