Townstar EV Van Revealed by Nissan
17th Aug 2022
By Chris Russon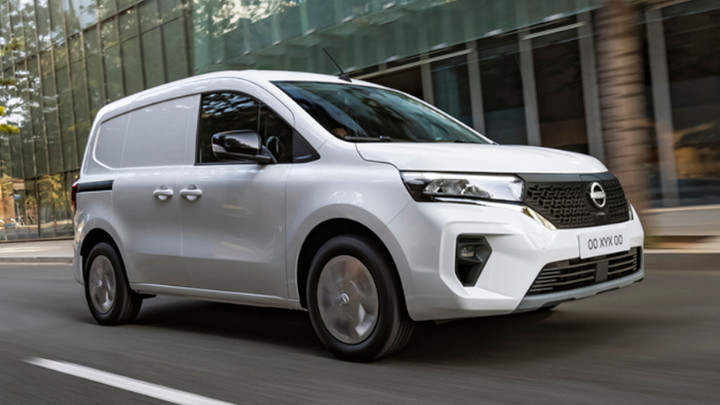 Nissan has revealed the pricing structure for variants of its new compact van, the Townstar.
The successor to the e-NV200, the Townstar is primed to future-proof business operations and accelerate the transition towards electrification.
However, it'll be offered with a petrol powertrain in addition to the zero emission electric option.
For those looking towards zero emission motoring, prices will start from £29,945 for a short-wheelbase Townstar equipped with a 45kWh battery, with a range of up to 183 miles combined or up to 269 miles in city cycle.
Alternatively, a 1.3-litre TCe petrol version is available and is fully compliant with the latest Euro 6d- emissions regulations, delivering 128bhp of power and 176ft lb of torque, offering power and efficiency in equal measure.
Petrol versions of the Townstar start from £19,475.
The Townstar brings a suite of more than 20 technologies to the compact van segment and will feature a broad range of safety systems and advanced driver assistance features such as intelligent emergency braking, hands-free parking, intelligent cruise control and an around view monitor.
The line-up comprises four trim levels - Visia, Acenta, Tekna and Tekna+ - with the Townstar capable of providing payload limits of up to 600kg in short wheelbase versions and 800kg in long wheelbase format.
The maximum braked towing capacity is 1,500kg.
Electric versions of the Townstar are priced from £29,945 and will come with an 11kW (Visia grade) or 22kW AC (Acenta grade on) on-board charging system which will be class-leading.
As with its e-NV200 predecessor, there will also be a DC rapid charging connector standard from Acenta grade, which can recharge the battery to 80 percent in a little over 40 minutes.
Prices for all-electric short-wheelbase examples range upwards to £34,845 for a Tekna+ model. Long-wheelbase all-electric Townstar varies in price from £31,245 for Visia models  to £35,845 for the range topping Tekna+.
On petrol versions, the £19,475 price tag applies to a SWB Visia trim-level vehicle, powered by Nissan's 1.3-litre TCe petrol engine and with a six-speed manual transmission.
The most expensive short-wheelbase petrol-powered Townstar, in top-of-the-range Tekna+ specification, comes in at just £23,125.
Prices for long-wheelbase petrol versions range from £20,775 to £24,425.
The Townstar is covered by a pan-European five-year or 100,000-mile warranty, in addition to an eight-year or 100,000 miles battery warranty for the EV version.
The official start of sales will be October 1 2022 for the petrol version and December 1 2022 for the EV version, and pre-orders will open from August 22.
Prices correct as of 17/08/22 and are subject to change.