Kia Reveals Large Electric SUV
29th Mar 2022
By Chris Russon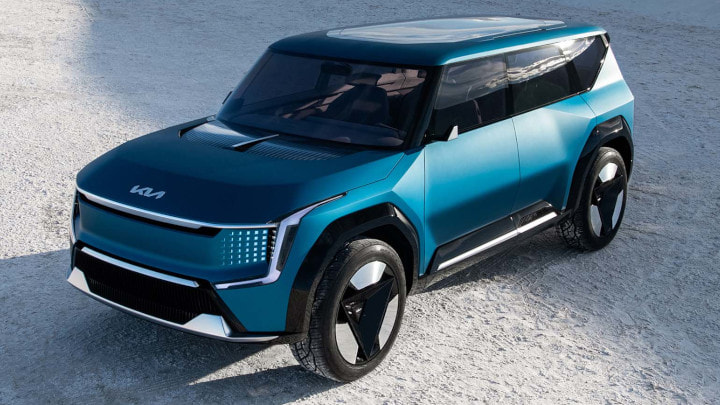 An all-electric large SUV from Kia will be on the road in 2023, the Korean carmaker has announced.
Following on from the launch of its futuristic battery-powered EV6 coupe crossover, the company has released a series of images of its Concept EV9 – a production model of which has been confirmed for Europe.
"The Kia Concept EV9 is another important marker for us in what has been an incredible journey so far for the new Kia brand" said Karim Habib, senior vice president and head of Kia's Global Design Centre.
"Having made our intentions clear – to become a global leader in sustainable mobility solutions – we have had to carefully assess how the near- to medium-term future will impact every type of vehicle and model. This includes the SUV."
Although precise details of the new model are still under wraps, Kia says the EV9 is based on its advanced Electric Global Modular Platform (E-GMP) and is a high-tech, flex lifestyle vehicle that is powered by a zero-emissions all-electric powertrain.
Mr Habib added: "In the Concept EV9, we are showcasing how the SUV of today can evolve to play a fundamental role in the sustainable mobility era. The nucleus of the Concept EV9 is a cutting-edge exterior design, a contemporary and innovative tech-based interior space and an advanced all-electric powertrain. And these are the core principles that will shape our future SUV creations."
The Concept EV9 is 4,930mm long, 2,055mm wide and 1,790mm high with a wheelbase of 3,100mm – putting it in the same league as the Land Rover Discovery.
Kia's trademark Tiger nose has been reworked for the model, with a full body coloured front and a new grille which includes a star cloud pattern display that's concealed behind the body panel when not in use.
The re-styled grille and 'Digital Tiger Face' have resulted in a new air vent design that reduces frontal mass and greatly improves aerodynamics.
The hood vent duct area is utilised as a solar panel, helping to regain some of the electric energy that the Concept EV9 uses, which Kia says gives BEV owners an alternative source of energy when they are not close to a charging station.
Interior features include two special modes which can be used when the vehicle is not moving – a Pause Mode and another called Enjoy.
In the Pause Mode, the seats switch around to enable occupants seated in the first-row and third-row to face each other. The second-row seats fold down and become a table, completing a first-class lounge arrangement.
The Enjoy setting opens the interior into a 'breakout' space by turning around the three-row seat configuration. In this mode, the tailgate opens, giving all occupants the opportunity to connect with the outside environment while sitting inside the vehicle.