Ford Creates Electric Super-Transit
24th Jun 2022
By Chris Russon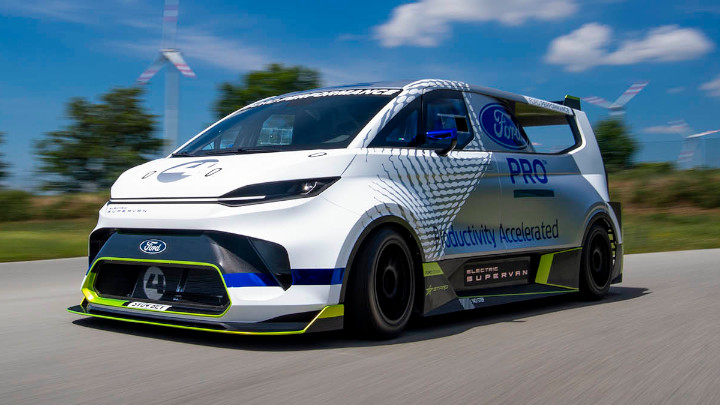 An all-electric supervan packing some 2,000ps and capable of accelerating to 62mph in under two seconds has been unveiled by Ford.
The fourth ultra-high performance one-off model Ford is based on the soon-to-arrive Ford E-Transit Custom and made its debut at this year's Goodwood Festival of Speed.
With four electric motors, a 50kWh liquid-cooled battery and a bespoke control system, the Ford Pro Electric SuperVan sits on a purpose-built, track-ready chassis which includes components from the E-Transit Custom as well as the company's SYNC in-cab touchscreen technology and additional functionality to control the vehicle's unique capabilities.
The demonstrator vehicle was developed in secret by Ford Performance and electrified rally and racing specialists STARD in Austria, with exterior design by the Ford Design team in Cologne, Germany.
"We're bringing SuperVan into the 21st century with 2,000ps of all-electric power for unmatched excitement and unmistakeable styling inspired by the new E-Transit Custom. But performance isn't all about horsepower – the Electric SuperVan's processing power means engineers can use real-time vehicle data to optimise its performance, just like on a top-level racing car," said Mark Rushbrook, global director, Ford Performance Motorsports.
Ford's first SuperVan was revealed in 1971 and featured a mid-mounted engine taken from the Le Mans-winning Ford GT40 to create a Transit Mk.1 unlike any other.
The formula was taken further for SuperVan 2 when a glassfibre version of the Transit Mk.2 body was draped over the monocoque and 590ps Cosworth V8 of Ford's C100 racing car. This vehicle was later reborn as the facelifted Transit Mk.3 lookalike SuperVan 3, powered by a 650ps Cosworth HB engine shared with Formula 1 cars of the era.
At Goodwood, the Electric SuperVan was driven by Le Mans racer and electric record-setter Romain Dumas ,who holds the electric lap record at the Nordschleife circuit in Germany, where he won four Nurburgring 24 Hours races.
Dumas' diverse experience also includes the 24 Hours of Le Mans' outright distance record, an FIA World Endurance Championship title and a class victory at the Rallye Monte Carlo.
Not only is the new incarnation the fastest SuperVan ever - as well as the cleanest with no emissions - it has a load space behind the driver and a door in the bodyside for loading and unloading cargo.
The battery pack is mounted for optimum weight distribution and a low centre of gravity, and can be fully recharged in around 45 minutes using a standard electric vehicle fast-charger.
Among its special features, the SuperVan includes what Ford calls a Tyre Cleaning Mode which fully brakes one axle while spinning the other, creating impressive burnouts on the front or rear axles that help clean and warm the tyres before performance runs.