Dacia Marks Its 10-Year Anniversary in UK Car Market
16th Feb 2023
By Chris Russon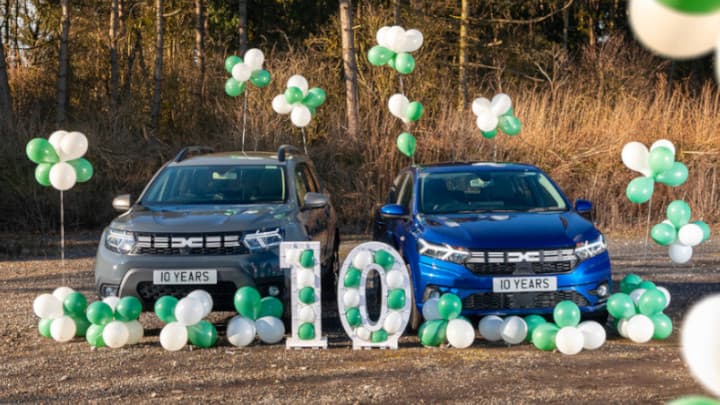 Dacia is celebrating its 10th anniversary in the UK with a look back at its achievements since its first model was sold in 2013.
Since then, a total of 240,010 Dacias have been sold in Britain, with the brand now commanding more than three percent of the UK car market.
Its most popular model is the Duster SUV, which accounts for 88,488 sales over the past 10 years.
The Sandero Stepway crossover has notched up 71,236 sales, while 59,987 examples of the Sandero supermini have been sold.
In fact, it was a Sandero that was the first ever Dacia registered in the UK, with the owner taking delivery of the top-of-the-range Laureate version in January 2013.
The original flagship trim level was ordered on 62,273 vehicles, followed by Comfort on 46,172 examples, while 28,340 customers chose the more recent Prestige specification.
Last year, the Dacia story continued with the beginning of a new chapter following the reveal of its bold new visual identity, rolled out simultaneously across its entire range – a first in the automotive industry.
With new colours and the recognisable Dacia Link emblem, all Dacia Dealerships in the UK will feature the new identity by 2024, with over 70 percent by the end of this year.
Dacia increased its sales volume in 2022 by 55 percent compared to 2021, selling 27,313 vehicles with 94 percent finding homes with retail customers.
Against the backdrop of a very challenging market that was down 40,000 units year-on-year and with the world still emerging from a global pandemic, this result confirms that Dacia is on track to surpass its 2019 performance when it sold a record 30,951 vehicles in the UK.
Sandero sales were up 34 percent against 2021, as the hatchback increased its market share to over three percent in its retail segment, while the Sandero Stepway recorded a huge year-on-year uplift of over 85 percent to sell 8,198 units. The increase saw it take 6.22 percent of the growing compact SUV market, with the model's retail sales improving by 91 percent.
Finally, the rugged Duster grew it's sales by more than 19 percent, with 10,618 vehicles sold. This reaffirms its strong position in the competitive C-SUV segment by significantly outgrowing the market's growth of 4.4 percent.
Luke Broad, Dacia brand director for the UK, said: "Ten years on and Dacia has grown and innovated, but our focus on providing UK car buyers with an unrivalled blend of quality and value is as strong as it's ever been.
In many ways, our success over the last decade is only the beginning, with Dacia now firmly established and widely recognised for redefining the essentials. As we enter an exciting new phase and as the brand continues to be bolder and continually push the boundaries, there's no mistaking that Dacia is here to stay."