Left-Hand Drive for Citroën's Little Ami
24th May 2022
By Chris Russon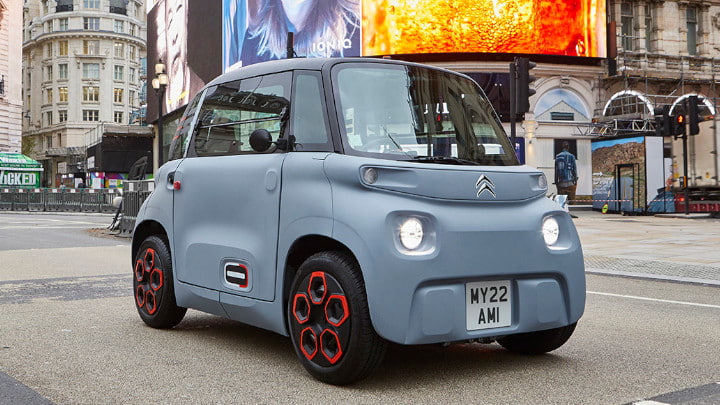 With a range of up to 46 miles and a recharge time of three hours, all versions of Citroën's Ami sold in the UK will be left-hand drive.
Prices for the tiny Citroën Ami electric micro car will start from £7,695 when the battery-powered quadricycle goes on sale later in the year.
Three trim levels will be available, as well as a light goods van Ami Cargo variant.
Standard specification includes a digital speedometer, LED front and rear lights, a panoramic glass sunroof and a USB charging port.
A Colour Pack costs around £400 and adds colour-coded wheel trims and rear pillar decals as well as three dashboard storage boxes, a dashboard bag hook, exterior door capsules, two door storage nets and two black floor mats – all with colour-coded trim.
Two higher trim levels – Ami Pop and Ami Vibe – see the tiny 2-seater getting extra equipment including a rear spoiler and decorative roof rails.
The Ami Pop and Ami Vibe are supplied with their customisations fitted at the factory and are priced at £8,495 and £8,895 respectively.
For businesses carrying out short distance or last-mile deliveries, the all-electric My Ami Cargo is offered in a single specification, priced at around £7,995.
In place of the passenger seat the Cargo features a modular storage area that can be configured for a range of business needs which consists of a modular upper surface featuring a 'mobile office' layout, a divider between the driver and cargo areas, a modular cargo floor with two positions, and a lidded box in the rear creating 260 litres of storage space.
Coupled with the interior storage already present on-board, My Ami Cargo offers a total load capacity of 400 litres.
All versions of the Ami feature a 6kW electric motor, allowing the new model to reach a top speed of 27.9mph, and a 5.5kWh battery that gives it a range of over 46 miles and the Ami will be exclusively sold online.
All prices correct as of 25/05/22 and are subject to change.