Vauxhall Socks It With Special Corsa
20th Jun 2022
By Chris Russon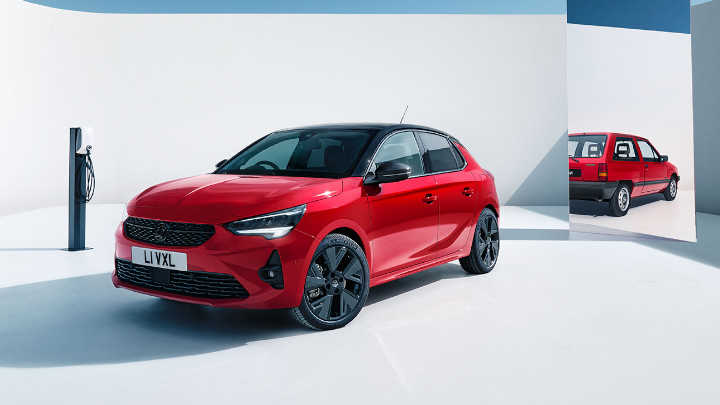 A limited run of 1,000 Vauxhall Corsa-e models are being produced to mark 40 years of superminis by the British car brand - and each version comes with a special pack of socks.
The Corsa-e Anniversary Edition comes with a range of styling updates inspired by Vauxhall's heritage, with the first Corsa – which was badged the Nova in the UK - having been unveiled 40 years ago in 1982.
The Anniversary Edition is available exclusively in a new red metallic paint finish, inspired by the Carmine Red colour from the original Nova, and comes with further exterior and interior upgrades.
A black grille with black front and rear Vauxhall Griffin badges is included on all Anniversary Edition models, alongside black Corsa lettering at the rear and 17-inch alloy wheels in gloss black, with matt grey inserts.
Inside, the Anniversary Edition features a modern interpretation of the classic Nova's tartan seat fabric.
The chequered front sports seats are accompanied by a presentation box with four pairs of socks that are inspired by the pattern found in the original 1980s Nova SR and the one found in the Corsa-e Anniversary Edition. Each pattern comes in both small and large sizes.
Based on the GS Line version, the Corsa-e Anniversary Edition is priced from £31,000 and can be ordered online only.
Standard equipment on the anniversary model includes front and rear parking sensors, a 180-degree panoramic rear-view camera and blind-spot alert, as well as heated front seats and a heated steering wheel.
Infotainment includes a 7-inch colour touchscreen with satellite navigation, DAB digital radio, Bluetooth and Apple CarPlay/Android Auto, while driving information is displayed via a similarly sized digital instrument cluster.
Driver assistance features fitted as standard include lane departure warning with lane keep assist, speed sign recognition, driver drowsiness alert and automatic emergency city braking.
Completing the Anniversary Edition's transformation is a black dashboard strip and interior number plate, highlighting the Nova and Corsa's 40-year heritage in the UK.
Approximately 500,000 Novas were sold in the UK from 1983 to 1992, before its successor, the Corsa B, was launched in 1993.
Now in its fifth generation, more than two million Corsa models have been sold in the UK to date.
Launched in 2019, the current Corsa was UK's best-selling car in 2021 and leads the sales charts so far this year, while in May 2022 the Corsa-e was the UK's best-selling electric supermini.
The Corsa-e Anniversary Edition is powered by a 136ps electric motor and has a range of up to 222 miles on a single charge. An 80 per cent recharge of the car's battery takes 30 minutes to complete from a fast charge.
Prices correct as of 20/06/22 and are subject to change.