Kia Introduce The All-Electric SUV: The Kia EV9
15th Mar 2023
By Chris Russon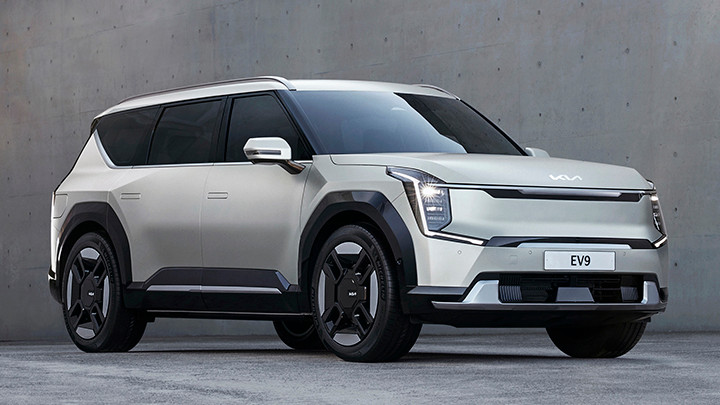 Kia has revealed images of the exterior and interior design of the Kia EV9, its first 3-row electric flagship SUV.
The company says the look of the EV9 is inspired by Kia's 'Opposites United' design philosophy.
"The Kia EV9 breaks new ground, aiming to redefine standards for design, connectivity, usability and environmental responsibility," said Karim Habib, executive vice president and head of the Kia Global Design Centre.
"The Kia EV9 offers customers an exceptionally high-quality proposition and a fresh EV perspective in the family SUV sector. This new vehicle typology provides instinctive experiences and excellent comfort for not just the driver, but all occupants, through innovative use of space, technology, and design."
The front of the EV9 has clear-cut lines and body surfaces, which 'show off confidence, clarity, and calmness in equal measure'.
Accentuated by a 'Digital Pattern Lighting Grille' and vertical headlamps, the EV9's signature 'Digital Tiger Face' imparts a visionary and futuristic look and feel, says Kia.
The Digital Tiger Face features two clusters of small cube lamps within the bodywork adjacent to each headlamp.
The EV9 also has a 'Star Map LED daytime running lights (DRL)' which the brand says creates a new illumination experience and delivers a sophisticated animated lighting pattern that will denote Digital Tiger Face for the brand's future EV models.
Formed from a polygonal design language, the side profile of the EV9 combines a strong and indisputable SUV identity with exceptional aerodynamic efficiency.
Dynamic triangular bumper structures and highly pronounced geometric wheel arches combine with the fuselage body, while flush door handles and a tapered back roofline create a sense of motion.
At the rear of the vehicle, the EV9 has a clean-cut tailgate and slim rear lights that mirror the design of those at the front.
Offered in two formats with either six or seven seats, Kia took feedback from families to evaluate seating configurations and features to ensure the EV9 delivers equality of space, comfort, and experience for all occupants without placing all of its focus on the driver.
Occupants sitting in the first and second-row seats can simultaneously recline their seats to relax and rest when the EV9 is charging.
The seats in the second row can be swivelled 180 degrees so that occupants can interact with those sitting in the third row. The third-row seats also offer cupholders and charging points for mobile devices.
The interior sees a floating panoramic dashboard extends from the steering wheel to the vehicle's centre with two 12.3-inch touch screens integrated with one 5-inch segment display with physical buttons that are kept to a minimum.
The Kia EV9 will make its global premiere in late March, when Kia will disclose all product information and roll out a global campaign with the slogan, 'Here to reshape the way we move'.