Kia EV6 GT to Replace Stinger as Flagship Model
10th Nov 2022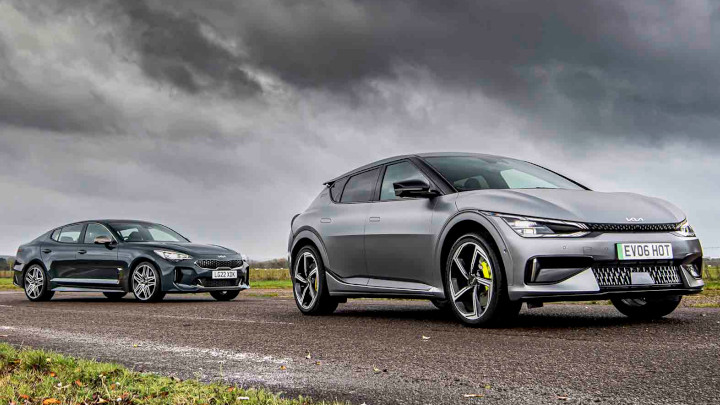 The sun is setting on Kia's hugely impressive Stinger sports coupe as the Korean giant prepares for the arrival of its new all-electric flagship grand tourer, the EV6 GT.
Although it's still in production in South Korea, the Stinger has been withdrawn from sale in the UK, although dealers will continue to fulfil all existing customer orders.
The Stinger first burst on to the scene in 2017 as the Kia brand's so-called 'halo' model and made a huge impact amongst driving enthusiasts, playing an important role in transforming perceptions of Kia in recent years.
Powered by a 3.3-litre, twin-turbocharged V6 engine, the Stinger has been – for several years – Kia's fastest-accelerating car to date, achieving the 0 to 62mph sprint in 4.7 seconds. But its replacement as Kia's flagship model will be even quicker.
Waiting in the wings to take the Stinger's place is the all-electric, zero-emissions EV6 GT, which not only takes the Stinger's crown for fastest-accelerating Kia, sprinting from 0 to 62mph in 3.5 seconds, but is also the most powerful production car that Kia has ever made, with its dual-motor electric powertrain producing 577bhp and 546lb ft torque.
First deliveries of the new model are promised before the end of the year, and Kia UK's president and CEO Paul Philpott believes it is a more than worthy replacement for the Stinger. He says: "…the EV6 GT is the ideal car to take the baton from the Stinger in the UK. Our future product plan has a major focus on electrification, and globally Kia plans to offer a line-up of 14 EVs by 2027. Combining high-performance capabilities with an incredible design and a long-range electric powertrain, the EV6 GT is an important part of this plan, and a true new flagship for the Kia brand."
The EV6 GT is based on a modified version of Kia's Electric Global Modular Platform (E-GMP), with the long-range 77.4kWh battery placed beneath the car's flat cabin floor. Official WLTP tests credit it with a driving range of up to 265 miles, and it also boasts 800V charging technology, enabling it to recharge from 10 to 80 percent in 18 minutes from an ultra-rapid charger.
Compared to other EV6 variants, the EV6 GT boasts bespoke chassis and powertrain features including performance brakes, optimised steering and reworked suspension. An updated Drive Mode Select system offers a new 'GT Mode', allowing drivers to customise their driving experience and unleash the car's full performance capabilities.