Full Details Released for the Kia EV9: Features and Specifications
30th Mar 2023
By Chris Russon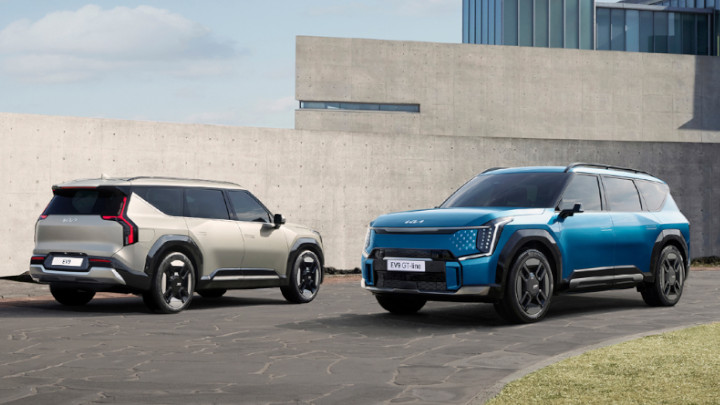 Kia has revealed full details of the Kia EV9, its first 3-row seat electric flagship SUV that brings fresh thinking, design, and technology to the sector.
Based on Kia's Electric Global Modular Platform (E-GMP), the EV9 ensures athletic performance, complemented by a targeted all-electric range over 336 miles.
Ultra-fast 800-volt charging capability enables the EV9 battery pack to be replenished with sufficient charge to power the vehicle for 149 miles in approximately 15 minutes.
Numerous technological breakthroughs include the Highway Driving Pilot (HDP) system, available in the Kia EV9 GT-line in the future, enabling conditional Level 3 autonomous driving in selected markets.
Ho Sung Song, president and CEO said: "The Kia EV9 transcends all aspects of traditional SUV thinking and represents the pinnacle of Kia's design and engineering capabilities.
Created to meet the needs of all family members, the EV9 also spearheads Kia's rapid transition to a sustainable mobility solutions provider, not just by its advanced EV architecture, but also through the numerous recycled and sustainable materials used in its creation."
Kia will begin offering pre-order of the EV9 for the Korean market in the second quarter of 2023. The Kia EV9 will go on sale in selected global markets from the second half of the year.
The EV9 has a 3,100mm wheelbase, supported by a choice of 21-inch, 20-inch or 19-inch wheels. With an overall length of 5,010mm, it stands at 1,980mm wide and 1,755-mm tall.
The SUV's signature 'Digital Tiger Face' showcases its unique identity, which is accentuated by the 'Digital Pattern Lighting Grille' and vertical headlamps, giving the EV9 a visionary and futuristic look.
The Digital Tiger Face also features two clusters of small cube lamps adjacent to each headlamp. The EV9's 'Star Map' LED daytime running lights create a sophisticated animated lighting pattern that will signify Kia's Digital Tiger Face for future EV models, while providing a new illumination experience.
As well as the standard model, Kia has unveiled the GT-line model design, which features a unique aesthetic that distinguishes it from the standard model.
The front and rear bumpers, wheels, and roof rack have undergone a transformation, and the GT-line features a distinctive black colour palette exuding a strong and assertive presence, setting it apart from its standard counterpart. Notably, the GT-line includes an exclusive 'Digital Pattern Lighting Grille' that adds an element of dynamism and sophistication to its already impressive design.
The Kia EV9 offers a range of seating options that cater to diverse needs. It offers 7-seater and 6-seater configurations and a variety of second-row seat options, totalling to four, suitable for different situations such as moving, charging, and resting.
The first-row features relaxation seats that ensure a comfortable resting posture. The second row, for the first time among global EV models, offers four seating options, including 3-seater bench seats, basic-type, relaxation-type, and swivel-type 2-seater independent seats, providing customers with a variety of usage methods to choose from.
When equipped with the second-row relaxation seats, the EV9 allows first and second-row occupants to recline together while the SUV is charging. With the swivel seat option, the second-row seats swivel 180 degrees to enable conversations with those seated in the third row. Occupants in the third row are provided with charging points and cupholders.
The EV9 features a broad choice of electric powertrain configurations based on the E-GMP and using Kia's fourth-generation battery technology. A 76.1-kWh battery is offered exclusively with the Rear Wheel Drive (RWD) Standard model, while a 99.8-kWh battery is fitted in both the RWD Long Range and All-Wheel Drive (AWD) variants.
The RWD Long Range model uses a 150 kW/258lb ft electric motor, endowing the SUV with the ability to accelerate from 0 to 62mph in 9.4 seconds. Also powered by a single electric motor, albeit a more powerful 160 kW/258lb ft variant, the Standard RWD EV9 can accelerate from 0 to 62mph in 8.2 seconds.
The AWD variant is equipped with two electric motors that together unleash a total power output of 283 kW and a combined torque of 443lb ft. This potent combination enables the SUV to surge from 0 to 62mph in just 6.0 seconds.
The EV9 comes with Vehicle-to-Load (V2L) functionality through its Integrated Charging Control Unit (ICCU), enabling the discharging of energy from the vehicle battery. Families can use up to 3.68 kW of power for laptops or camping equipment.
The EV9 features Remote Smart Parking Assist 2 enabling the EV9 to park itself without the need for driver intervention, Rear Cross-Traffic Collision-Avoidance Assist, Blind-Spot Collision-Avoidance Assist, Lane Keeping Assist, and Intelligent Speed Limit Assist. There's also navigation-based Smart Cruise Control and Highway Driving Assist 2 and up to 10 airbags.