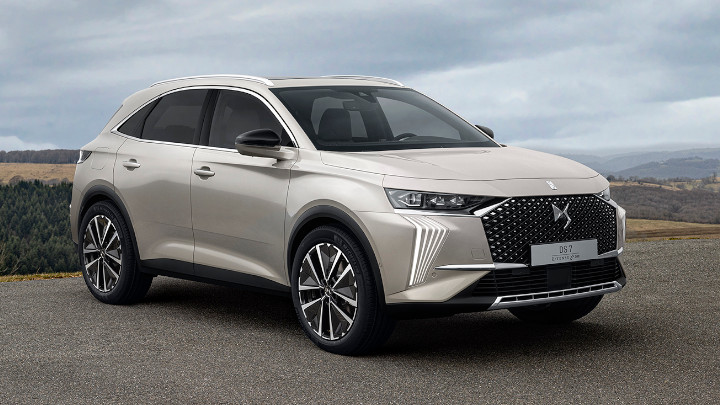 A new-look large SUV has been revealed by French luxury brand DS in the shape of a refreshed DS 7 that's dropping the CROSSBACK name.
Five years after it launched DS as a standalone brand, the new DS 7 will be arriving in September.
The new DS 7 will be available with a choice of three plug-in petrol-electric hybrid powertrains, as well as a diesel option.
A stunning light array front and rear features pixel LED headlamps with distinctive daytime running lights flowing into the forward air dam, while at the back a vortex-effect is used in slimmer style light clusters.
The boot lid and badge have been reworked with sharper lines, while DS AUTOMOBILES lettering replaces the previous 'CROSSBACK' badge.
The plug-in line up comes with three power options developing either 225, 300 or 360hp, with the lower powered front-wheel drive version using a PureTech 180 engine mated to a 110hp electric motor.
Four-wheel drive is fitted to the DS 7 E-TENSE 300 and DS 7 E-TENSE 360 which have a PureTech 200 motor as well as 110hp and 112hp electric motors on each of the axles.
All have 8-speed automatic transmissions, while DS will also be offering a 103 BlueHDi diesel engine in the new model.
Performance details are still to be announced, but DS has revealed that the DS 7 E-TENSE 360 has a brisk 0 to 62mph acceleration time of 5.6 seconds with an electric-only range of up to 40 miles, and a recharging time of two hours.
As with the DS 7 CROSSBACK, four trim levels will be available and at launch the new DS 7 line up will include a limited edition La Premiere specification based on top range Opera trim.
Inside, the new DS 7 has a redesigned 12-inch touchscreen with a widget-based menu for controlling the navigation, ventilation, and audio systems.
A new large 12-inch digital instrument panel, with multi-function displays that can be changed and personalised, features refreshed graphics with information such as energy flow on plug-in hybrid versions.
Technology remains high, and the new model retains DS's camera-based active scan suspension, a night vision set-up as well as a new driver attention monitoring system.
It's also fitted with a level 2 compliant semi-autonomous driving mode that uses adaptive cruise control to initiate stopping and restarting without the driver intervening, and an aid that enables the driver to keep the car either where it is or where they position it in the lane.
Prices are still to be announced, but DS says order books for the new model will open in August 2022, with the first vehicles appearing in DS Stores the month after.