New Extreme Trim for Dacia Jogger, Duster and Sandero Stepway
02nd Mar 2023
By Chris Russon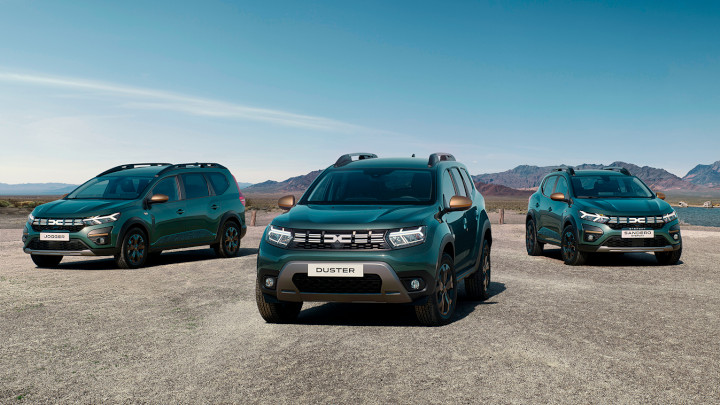 Bargain-brand Dacia is launching a new range-topping Extreme trim on the Sandero Stepway, Duster SUVs and Jogger MPV aimed at those who enjoy the great outdoors.
The new trim level sees the introduction of an Extended Grip system on the cars, which boosts their ability to handle tough surfaces.
The company will also be launching a Sleep Pack for the Jogger, which converts the car into a mobile bedroom.
It is the first of a new range of InNature accessories Dacia will be launching, which also include blackout blinds and a 'smart' tent.
Lionel Jaillet, in charge of product performance at Dacia, said: "Having launched our new brand identity across all our models, we are now launching a new trim level across several models in the Dacia range.
The Extreme trim level encapsulates Dacia's outdoorsy spirit and gives even greater meaning to our brand promise. Sandero Stepway, Duster and Jogger will all be available in the Extreme trim level, which boasts a unique adventurous look and features that complement outdoor activity equipment."
The removable Sleep Pack is compatible with all Dacia Jogger trim levels and features a 220-litre storage box that can be accessed with the double bed unfolded or folded.
Dacia says it can be set up in less than two minutes, requiring only the removal of the third-row seats.
The entire pack weighs less than 50kg and includes a 190cm by 130cm mattress and once fitted the Jogger still offers 60cm of headroom.
If more sleeping space is needed, a smart tent is also available that can be connected to the Jogger's open tailgate, while blackout blinds for all windows offer privacy and light control.
The Sleep Pack and other InNature accessories will be available to order at the same time as a new Jogger, or can be added at any time separately.
While the Duster is available with all-wheel-drive, the new grip system on the Sandero Stepway and Jogger Extreme uses an adjustment in their electronic stability control systems to maximise traction on loose surfaces.
All three vehicles come in a green paint finish with copper brown mirror caps, wheel centres, the rear Dacia logo and roof bar emblems.
The Sandero Stepway and Jogger also feature copper drown detailing on the front fog lights, plus a topographical pattern on the front doors and side guards.
The Duster carries a similar design on the door pillars, protective wheel arch flares and snorkel, while all three models see the introduction of a new upholstery material called MicroCloud which has a velvet-like soft feel appearance but is hard-wearing and easy-to-clean.
Prices will start from £16,745 for the Sandero Stepway Extreme, £19,695 for Duster Extreme and £19,445 for Jogger Extreme.
The new trim line is available to order now, with the Sleep Pack following in the second quarter of 2023.
Prices correct as of 02/03/23 and are subject to change.